Map of Texas – Cities and Roads
About the map
This Texas map contains cities, roads, rivers, and lakes for the Lone Star State. For example, Houston, San Antonio, and Dallas are major cities shown in this map of Texas. But other densely populated cities include Austin (state capital), Fort Worth, El Paso, and Corpus Christi.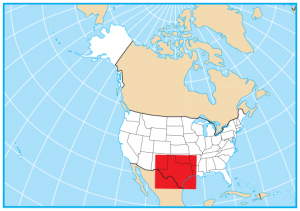 The state of Texas has Tex-Mex culture with its Mexican neighbors. Texas fuses the two cultures really well in everyday life. Football is like a religion, especially the sport of college football. And yes, Texas is known for its cattle ranches and cowboys. The motto for Texas is Everything's bigger in Texas. But there's some truth to that because it was its own country at one time.
Texas is located in the south of the United States and borders New Mexico, Oklahoma, Arkansas, Louisiana, and the Gulf Coast. It's the second-largest state in the United States (after Alaska) with a diverse landscape. This includes forested land in East Texas, the Rio Grande Valley delta in the south, the Panhandle Plains in the north, and Big Bend Country in the westernmost part of Texas.
Texas map collection
You are free to use our map of Texas for educational and commercial uses. Attribution is required. How to attribute?
State capital
Austin
Major cities and towns
Houston
San Antonio
Dallas
Austin
El Paso
Fort Worth
Abilene
Amarillo
Arlington
Beaumont
Brownsville
Corpus Christi
Irving
Laredo
Lubbock
McAllen
Pasadena
Plano
Waco
Garland
Wichita Falls
Baytown
Bryan
Cleburne
College Station
Conroe
Del Rio
Denton
Galveston
Georgetown
Harlingen
Huntsville
Killeen
Kingsville
Lake Jackson
Longview
Lufkin
McKinney
Midland
Mission
Nacogdoches
New Braunfels
Odessa
Paris
Port Arthur
San Angelo
San Marcos
Sherman
Socorro
Temple
Texarkana
Texas City
Tyler
Victoria
The Woodlands
Pharr
Cedar Park
Big Spring
Interstate highways
Interstate-10 (I-10)
Interstate-20 (I-20)
Interstate-27 (I-27)
Interstate-30 (I-30)
Interstate-35 (I-35)
Interstate-37 (I-37)
Interstate-40 (I-40)
Interstate-45 (I-45)
Lakes, rivers and creeks
Pecos River
Amistad Reservoir
Nueces River
Falcon Reservoir
Rio Grande
Canadian River
Red River
Prairie Dog
Brazos River
Lake Whitney
Leon River
Colorado River
Gulf Of Mexico
Matagorda Bay
Llano River
Lake Texoma
Sabine River
Trinity River
Sam Rayburn Reservoir
Neches River
Toledo Bend Reservoir
Lake Texarkana
Lake O' The Pines
Cedar Creek Reservoir
Lake Meredith
San Antonio Bay
Baffin Bay
Landmarks in Texas
Llano Estacado
Glass Mountains
Chisos Mountains
Edwards Plateau
Guadalupe Mountains
Davis Mountains
Chinati Peak
Guadalupe Peak
Mount Livermore
Emory Peak
Galveston Island
Matagorda Island
San Jose Island
Mustang Island
Padre Island
Minor towns and populated places
Albany
Alice
Alpine
Andrews
Angleton
Anson
Aspermont
Athens
Ballinger
Bay City
Beeville
Bonham
Borger
Bowie
Brady
Brownfield
Brownwood
Buffalo
Burnet
Canadian
Canyon
Carrizo Springs
Carthage
Channing
Childress
Cisco
Clarendon
Clarksville
Coleman
Colorado City
Columbus
Corsicana
Cotulla
Crockett
Crystal City
Cuero
Dalhart
Dumas
Eden
Edna
Ennis
Fairfield
Falfurrias
Floydada
Fort Stockton
Fredericksburg
Freeport
Gainesville
George West
Gladewater
Goldthwaite
Goliad
Gonzales
Graham
Hallettsville
Hamilton
Henderson
Hereford
Hillsboro
Hondo
Jacksonville
Jasper
Johnson City
Junction
Kermit
Kerrville
Kilgore
La Grange
Lamesa
Lampasas
Levelland
Littlefield
Livingston
Luling
Madisonville
Marfa
Marlin
Marshall
Mason
McCamey
Mexia
Monahans
Mount Pleasant
Muleshoe
Nederland
Orange
Paducah
Palacios
Palestine
Pampa
Pecos
Perryton
Plainview
Port Isabel
Port Lavaca
Post
Robstown
Rocksprings
Rusk
San Augustine
Seguin
Seminole
Seymour
Shamrock
Sinton
Snyder
Sonora
Stamford
Stephenville
Stratford
Sweetwater
Tahoka
Uvalde
Van Horn
Vega
Vernon
Wharton
Woodville
Presidio
Guthrie
Ozona
Sanderson
Eagle Pass
Rosenberg
City Maps of Texas
References