Florence, Italy Map
Are you ready to travel to Florence, Italy? If you are, we'd love to equip you with our Florence map collection before you go.
Our map collection contains a highway/road map, a reference map, an interactive map, and a list of things to do.
So, grab your map and get ready to explore the city known for its Renaissance art and architecture.
Jump To: Interactive Map | Printable Road Map | 10 Things to Do | Reference Map
Florence map collection
Interactive Map of Florence
Florence is the capital of Tuscany in Italy, where history and culture blend seamlessly with modernity and innovation. The best way to get to know it is by exploring it on your own with an interactive map. This map provided by Google provides a detailed layout of the streets, landmarks, and attractions that are scattered throughout the city.
Florence Road Map
Our Florence road map can help show you the way to anywhere you want to go in the city. Although Florence is smaller and more self-contained than Rome, it has an intricate road system. To get familiar with it, you can use this free road map that you can download and print.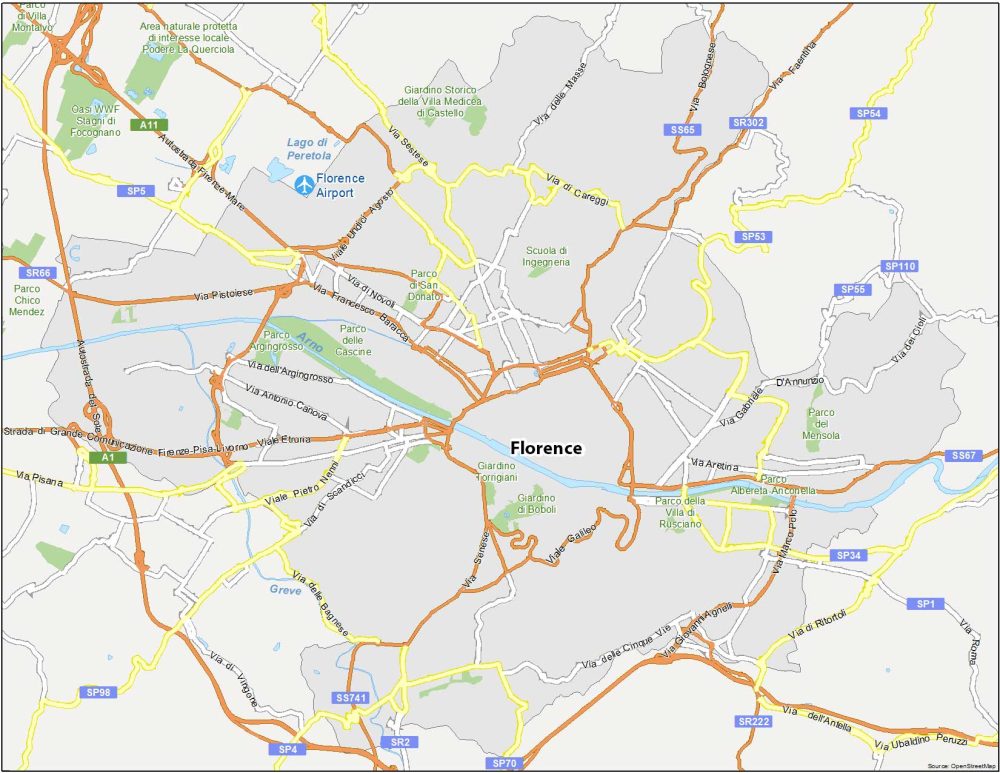 Highways: A1, A11, SP1, SR2, SP34, SP53, SP54, SP55, SP66, SS67, SP70, SP110, SR222, Autostrada del Sole, Autostrada Firenze-Mare
Major Roads: Via Aretina, Via Gabriele D'Annunzio, Via di Novoli, Via Francesco Baracca, Via di Scandicci, Via delle Bagnese, Via delle Cinque Vie, Via Senese, Viale Galileo, Via di Ritortoli, Via dell'Antella, Via Ubaldino Peruzzi, Via Pisana, Viale Etruria, Via Pistoiese, Via Sestese
10 Things To Do in Florence
Florence has a rich and fascinating history, which is evident in its many landmarks, monuments, and museums. From the stunning architecture of the Duomo and Palazzo Vecchio to the world-renowned Uffizi Gallery and Ponte Vecchio, there is no shortage of sights to see and experiences to be had in Florence. Use our attractions map to find the top sights and locations in the city.
Florence is the capital of Tuscany and is located in the central region of Italy. Here are the top 10 things to do that we recommend seeing.
Cathedral of Santa Maria del Fiore
Uffizi Gallery
Ponte Vecchio
Piazzale Michelangelo
Palazzo Vecchio
Piazza della Signoria
Basilica of Santa Croce in Florence
Accademia Gallery
Central Market
Piazza del Duomo
Florence Reference Map
Florence is a relatively small city, which makes it easy to explore. A good map can help you navigate the sights that make this city so charming. On this map, you'll find reference information such as localities, parks, and highways. You'll also get a half-decent layout of the city to get better acquainted with it.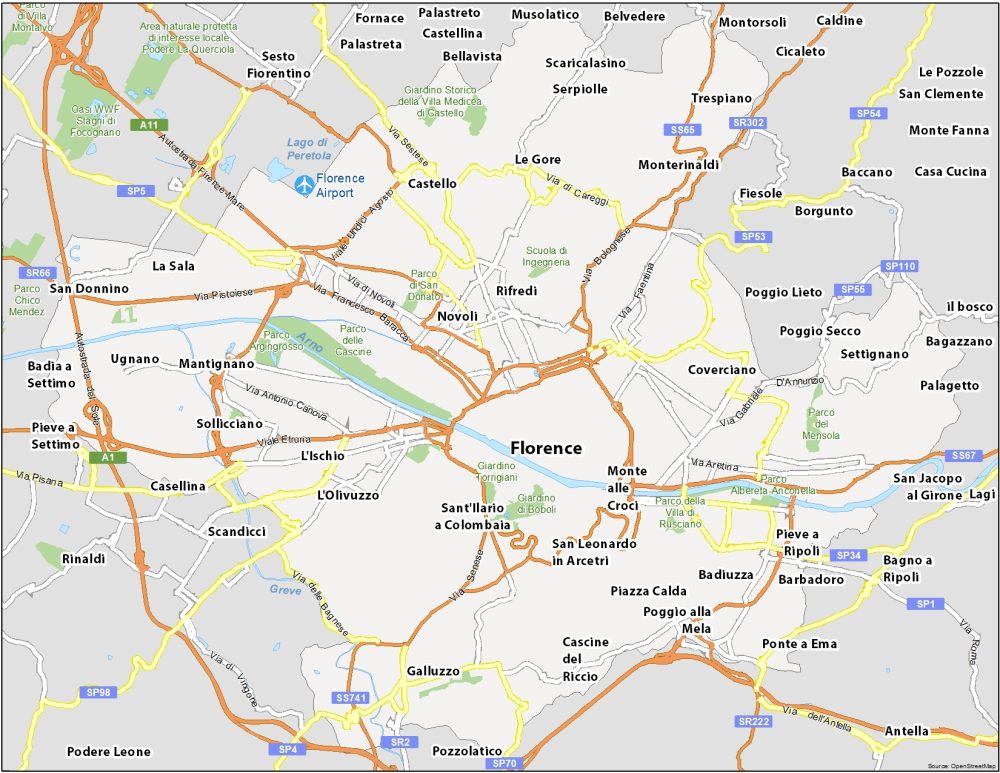 Airports: Florence Airport
Water Features: Arno River, Greve River, Lago di Peretola
Parks: Parco delle Cascine, Parco del Mensola, Parco di San Donato, Parco della Villa di Rusciano, Parco del Mensola, Parco Chico Mendez
Communities: Novoli, Rifredi, Coverciano, Castello, Mantignano, Sollicciano, Casellina, L'Ischio, L'Olivuzzo, Galluzzo, Badiuzza, Serpiolle, Ugnano, San Donnino, Pieve a Ripoli
References
Italian cities map collection