Naples, Italy Map
Our Naples map collection displays highways/roads, reference information, and a list of things to do.
We allow you to download each map, which you can use to help navigate Naples and the southern part of Italy.
So whether you're a first-time visitor or a seasoned traveler, these maps will help you discover why Naples is such a special place to visit.
Jump To: Interactive Map | Printable Road Map | 10 Things to Do | Reference Map
Naples map collection
Interactive Map of Naples
As one of the most continuously inhabited cities in the world, Naples has left its mark on the city's architecture, culture, and cuisine. In this map, we will explore the city of Naples and much more. This interactive map includes its neighborhoods and some of the top destinations that make it such a unique and fascinating place.
Naples Road Map
If you're looking to take a road trip to Naples, Italy, we have the perfect map for you. You'll find motorways and major roads with street names and highway numbers. Download this Naples road map today for stellar location information for the third-largest city in Italy.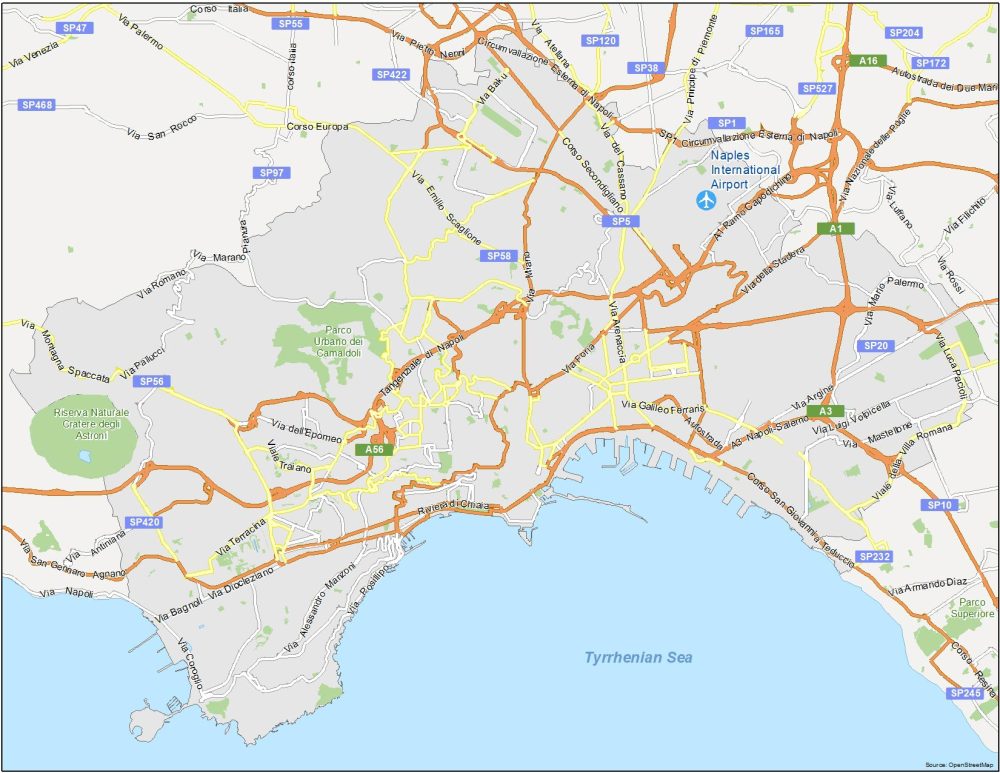 Highways: A1, A3, A16, A56, SP1, SP5, SP10, SP20, SP38, SP55, SP58, SP97, SP120, SP232, SP527
Major Roads: Via Arenaccia, Via Foria, Via Galileo Ferraris, Via Emilio Scaglione, Corso Secondigliano, Via del Cassano, Tangenziale di Napoli, Via dell'Epome, Viale Traiano, Via Terracina, Via Alessandro Manzon, Via Luigi Volpicella, Via Argine, Via Nazionale delle Puglie, Circumvallazione Esterna di Napoli, Via Pietro Nenni
10 Things To Do in Naples
Don't miss out on the various attractions of Naples, Italy. First, we recommend visiting Pompeii. This famous archaeological site in the world is only 24 kilometers away. At this historic site, you can explore the ruins of an ancient Roman city. Next, you should explore the historic center of Naples. This UNESCO World Heritage Site is full of beautiful churches, palaces, and piazzas to explore. Finally, you have to eat pizza in Naples. As the birthplace of this popular food, make sure you try out its classic Neapolitan pizza.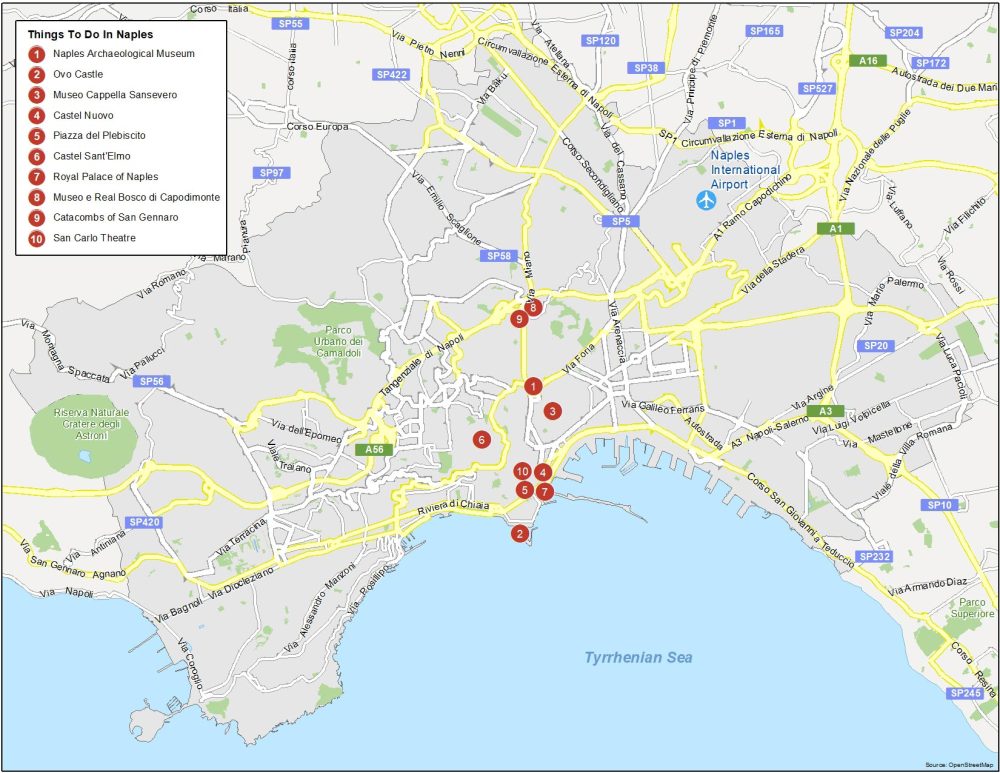 Naples is the capital of Campania and the third-most populous city in Italy (after Rome and Milan). Here are the top 10 things to do that we recommend seeing.
Naples National Archaeological Museum
Ovo Castle
Museo Cappella Sansevero
Castel Nuovo
Piazza del Plebiscito
Castel Sant'Elmo
Royal Palace of Naples
Museo e Real Bosco di Capodimonte
Catacombs of San Gennaro
San Carlo Theatre
Naples Reference Map
This reference map shows the primary localities of Naples, the third-largest city in Italy. Located in the southern part of Italy, nestled along the coast of the Tyrrhenian Sea, you'll also find parks, airports, and other identifying features.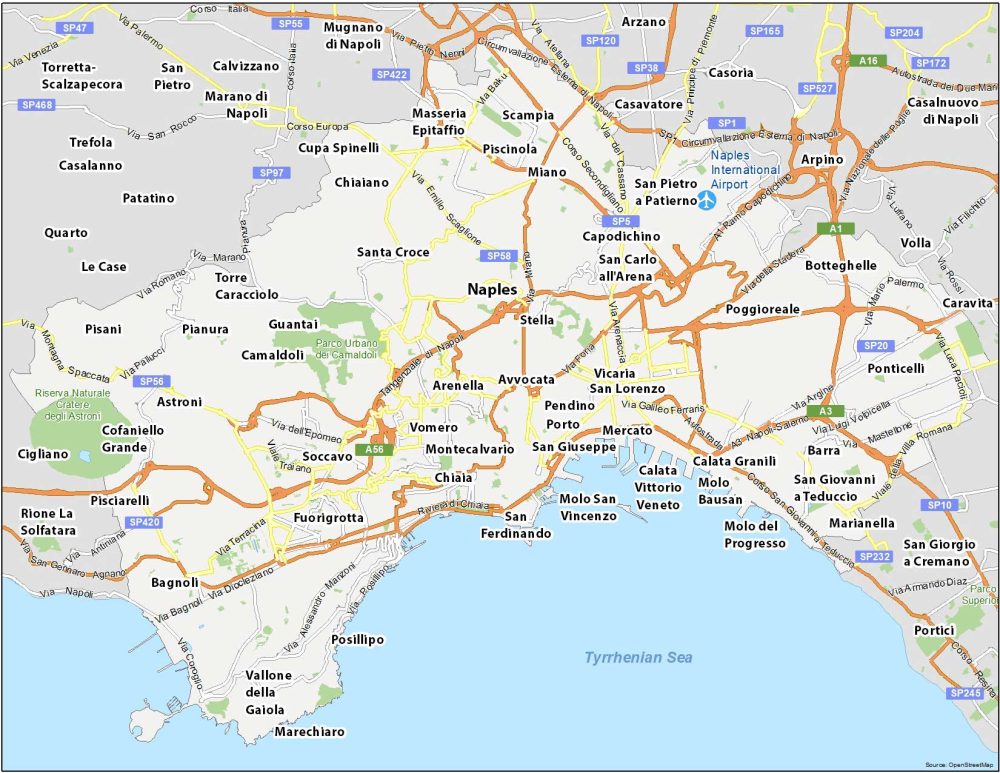 Airports: Naples International Airport
Water Features: Tyrrhenian Sea
Parks: Parco Urbano dei Camaldoli, Riserva Naturale Cratere degli Astroni
Communities: Avvocata, Arenella, Vomero, Montecalvario, Chiaia, Fuorigrotta, Soccavo, Santa Croce, Chiaiano, Miano, Piscinola, Scampia, Posillipo, San Ferdinando, Molo Bausan, Calata Granili, San Giovanni a Teduccio, Marianella
References
Italian cities map collection