Rome Map
When in Rome… You're going to need a good map to know where you're going. That's where our Rome map collection comes in handy.
In our set of modern maps of the city of Rome, we provide the locations of highways/roads, things to do, and places of interest. We have another article dedicated to showing a map of attractions in Rome.
Whether you're visiting Rome for the first time or are a seasoned traveler, these maps can help you make the most of your time in the Eternal City.
Jump To: Interactive Map | Printable Road Map | 10 Things to Do | Reference Map
Rome map collection
Interactive Map of Rome
Rome is a city that has captivated the world for centuries with its rich history, stunning architecture, and (of course) amazing cuisine. From the ancient ruins of the Colosseum and the Roman Forum to the grandeur of the Vatican City, Rome offers a unique blend of the past and the present. This interactive map is meant to help you get a closer look at Rome, highlighting the essential landmarks and attractions.
Rome Road Map
A road map of Rome is a necessary tool for anyone planning to explore Rome by car. With its winding streets and long-distance highways, navigating Rome can be a challenge even for the most seasoned travelers. A good road map of Rome not only helps you find your way around the city but also provides a wealth of information about the various ways to find any point of interest in Rome.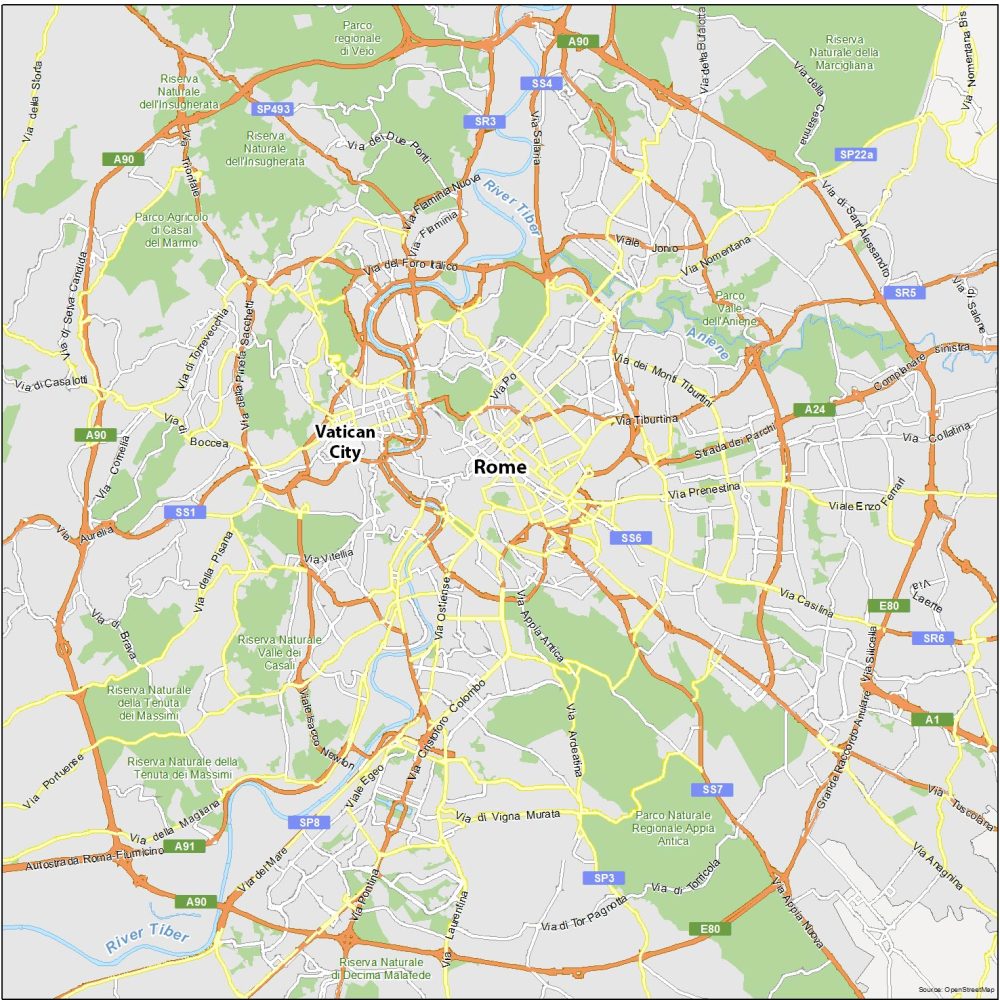 Highways: A90, E90, SS1, SP3, SR3, SS4, SR6, SS6, SS7, SP8, SP22a
Major Roads: Via Vitellia, Via di Torrevecchia, Via di Boccea, Via Prenestina, Via del Foro Italico, Via Flaminia, Viale Jonio, Via Nomentana, Via Ostiense, Via del Mare, Viale Egeo, Via di Vigna Murata, Via di Tor Pagnotta, Via di Torricola, Via Pontina, Via Salaria, Viale Palmiro, Via Portuense
10 Things To Do in Rome
To truly appreciate the beauty and depth of Rome, Italy, it's essential to have a good understanding of its layout and landmarks. This map gives you exactly that with the inclusion of key landmarks and attractions. From its historical Colosseum to the iconic Pantheon, this attractions map of Rome can help you plan your itinerary and make the most of your time in the city.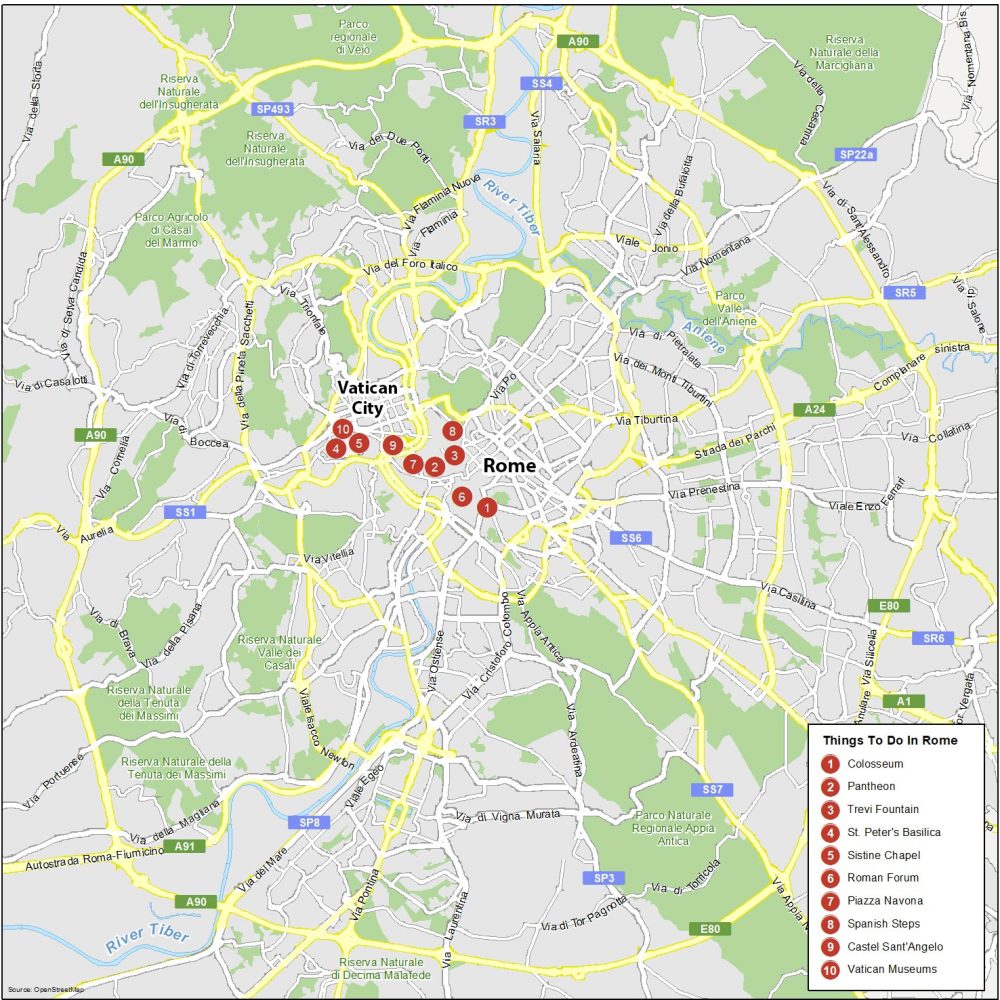 Rome is the capital and most populous city of Italy. Here are the top 10 things to do that we recommend seeing.
Colosseum
Pantheon
Trevi Fountain
St. Peter's Basilica
Sistine Chapel
Roman Forum
Piazza Navona
Spanish Steps
Castel Sant'Angelo
Vatican Museums
Rome Reference Map
Thinking about adventuring around Rome? Our reference map of Rome can be an invaluable resource for anyone exploring the Eternal City. With its neighborhood and locality information, you'll be able to better understand the layout of the city.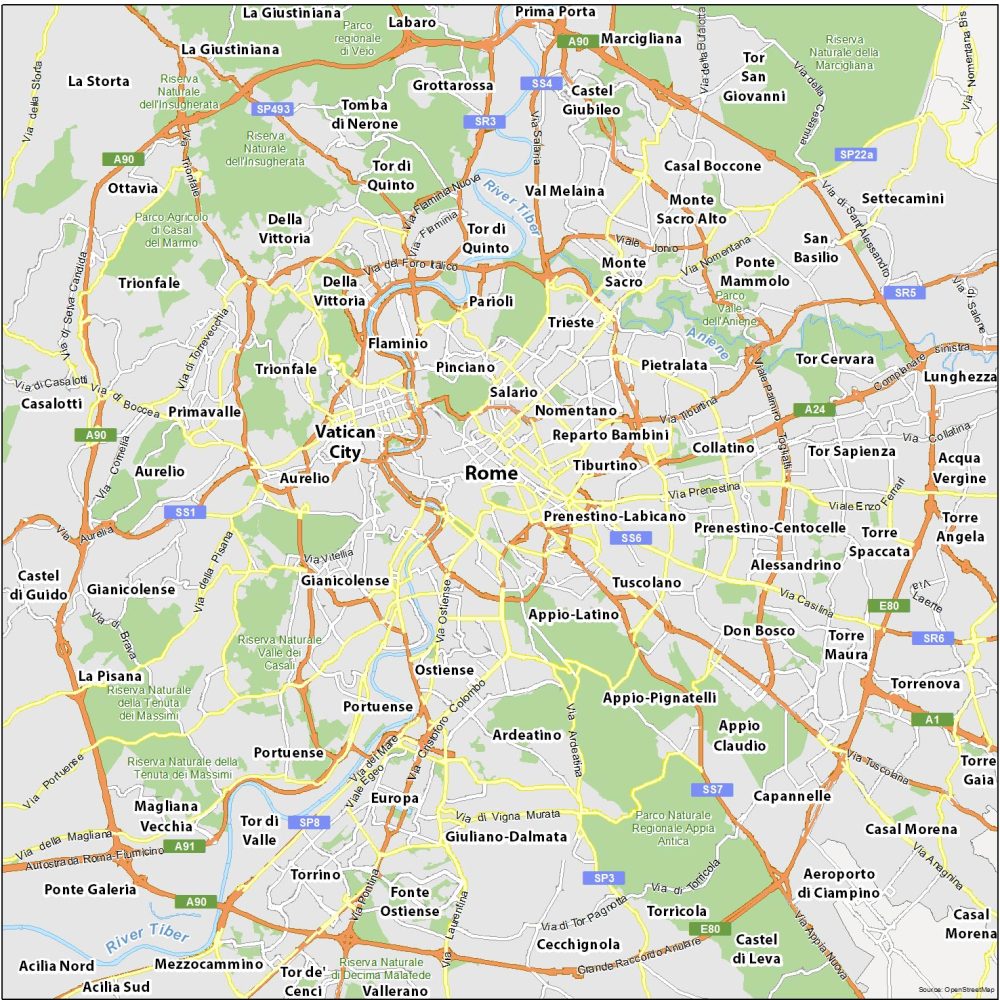 Water Features: River Tiber, River Aniene
Parks: Parco Naturale Regionale Appia Antica, Parco Valle dell'Aniene, Parco Agricolo di Casal del Marmo, Riserva Naturale dell'Insugherata, Riserva Naturale Valle dei Casali,
Communities: Vatican City, Salario, Nomentano, Tiburtino, Prenestino-Labicano, Aurelio, Flamini, Pinciano, Pietralata, Trieste, Parioli, Val Melaina, Della Vittoria, Gianicolense, Trieste, Primavalle, Collatino, Gianicolense, Trionfale, Tomba di Nerone, Castel Giubileo, Tor Sapienza, Capannelle, Appio-Pignatelli, Giuliano-Dalmata, Torricola
References
Italian cities map collection