Milan, Italy Map
Our Milan map collection contains the perfect assortment of location-based information to get out and enjoy Milan, Italy.
Milan is a city that has long been known as the world's fashion capital, but it offers so much more than just designer shopping.
In this map collection, you'll be able to see highways, roads, waterways, parks, localities, and things to do.
Jump To: Interactive Map | Printable Road Map | 10 Things to Do | Reference Map
Milan map collection
Interactive Map of Milan
Milan is a city that is rich in culture, history, and beauty. Whether you're planning your first trip to Milan or looking to explore more of this dynamic city, this interactive map provided by Google can help you make the most of your time in Italy's fashion capital. You'll find restaurants, hotels, museums, and all the amenities by using the map below.
Milan Road Map
Our road map of Milan displays the highway and road network of Milan. You'll also find street names and highway numbers so you always have a point of reference. The importance of a road map is critical for getting you from point A to point B. Download our Milan road map and start using it today.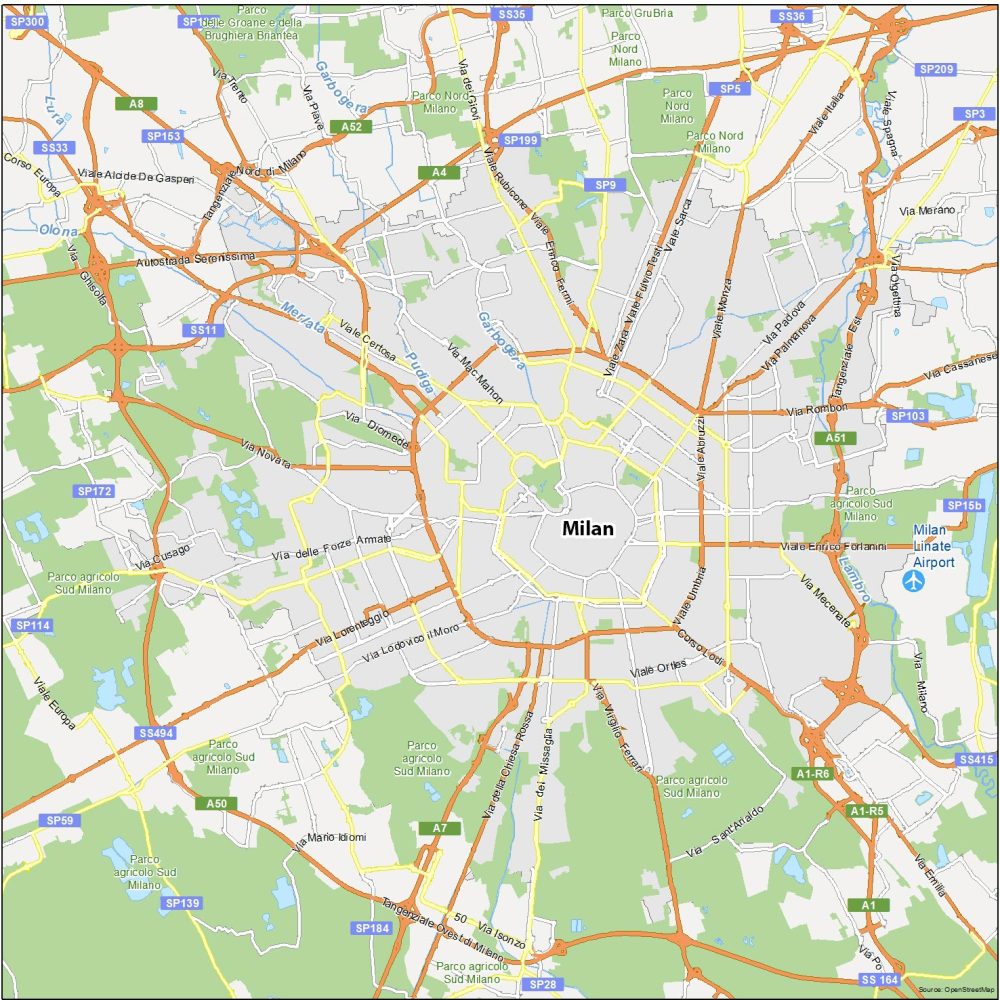 Highways: A1, A4, A7, A8, A50, A51, A52, SP3, SP9, SS11, SP28, SS33, SP59, SP103, SP114, SP153, SP184, SP199, SS494,
Major Roads: Via Lodovico il Moro, Via Mac Mahon, Via Diomed, Via delle Forze Armate, Via Lorenteggio, Via della Chiesa Rossa, Via dei Missaglia, Viale Ortles, Via Virgilio Ferrari, Viale Umbria, Via Mac Mahon, Viale Monza, Via Palmanova, Vaile Abruzzi, Viale Italia, Via Sant'Arialdo
10 Things To Do in Milan
At the top of our list of things to do is the Duomo di Milano. This Gothic cathedral took over 600 years to complete and is one of the largest churches in the world. Next, we recommend you explore the Galleria Vittorio Emanuele II. This is one of the world's oldest shopping malls and is a must-see for anyone interested in fashion and design. Finally, you should also check out the famous painting Leonardo da Vinci's "Last Supper", which is located in the Santa Maria delle Grazie.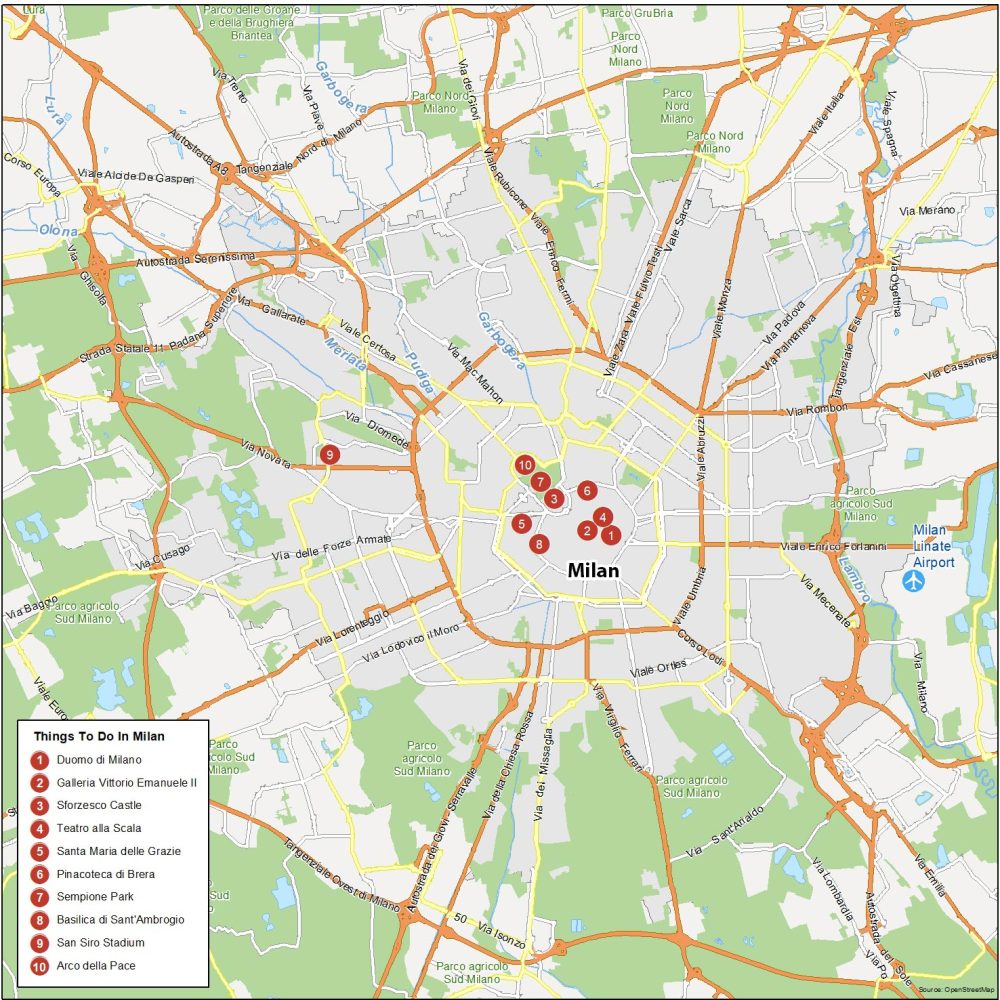 Milan is the capital of Lombardy and the second-most populous city in Italy (after Rome). Here are the top 10 things to do that we recommend seeing.
Duomo di Milano
Galleria Vittorio Emanuele II
Sforzesco Castle
Teatro alla Scala
Santa Maria delle Grazie
Pinacoteca di Brera
Sempione Park
Basilica di Sant'Ambrogio
San Siro Stadium
Arco della Pace
Milan Reference Map
This reference map of Milan can help you make the most of your time in one of Italy's most fascinating cities. You'll get to see popular areas of the city embedded with Milan's highway system. You'll also find parks, waterways, and much more.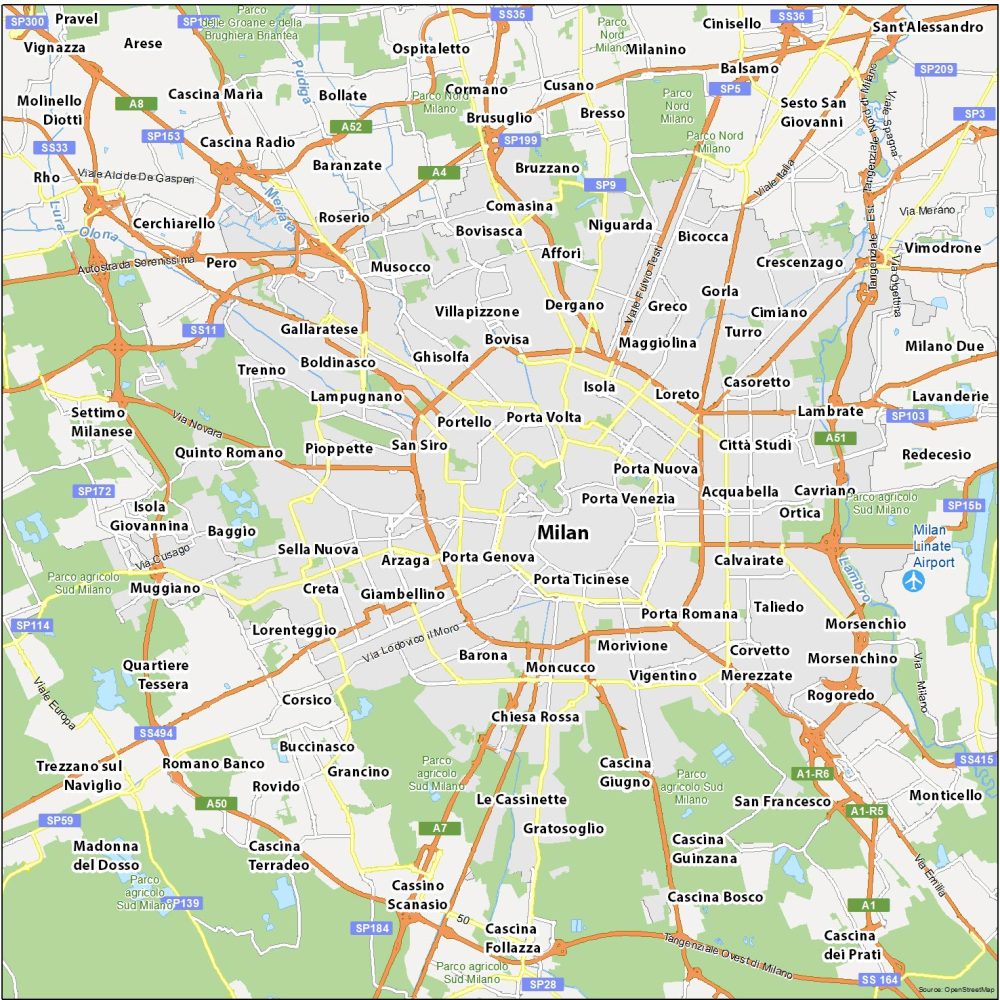 Airports: Milan Linate Airport
Water Features: Lambro, Lura, Olona, Merlata, Pudiga
Parks: Parco agricolo Sud Milano, Parco Nord Milano, Parco delle Groane e della Brughiera Briantea
Communities: Porta Genova, Porta Venezia, Porta Nuova, Porta Volta, Isola, Portello, San Siro, Barona, Moncucco, Morivione, Vigentino, Giambellino, Arzaga, Sella Nuova, Creta, Lorenteggio, Bovisa, Villapizzone, Dergano, Ghisolfa, Lampugnano, Pioppette, Greco, Affori, Musocco, Boldinasco, Trenno, Cimiano, Gorla, Crescenzago, Lambrate
References
Italian cities map collection