Map of Italy – Cities and Roads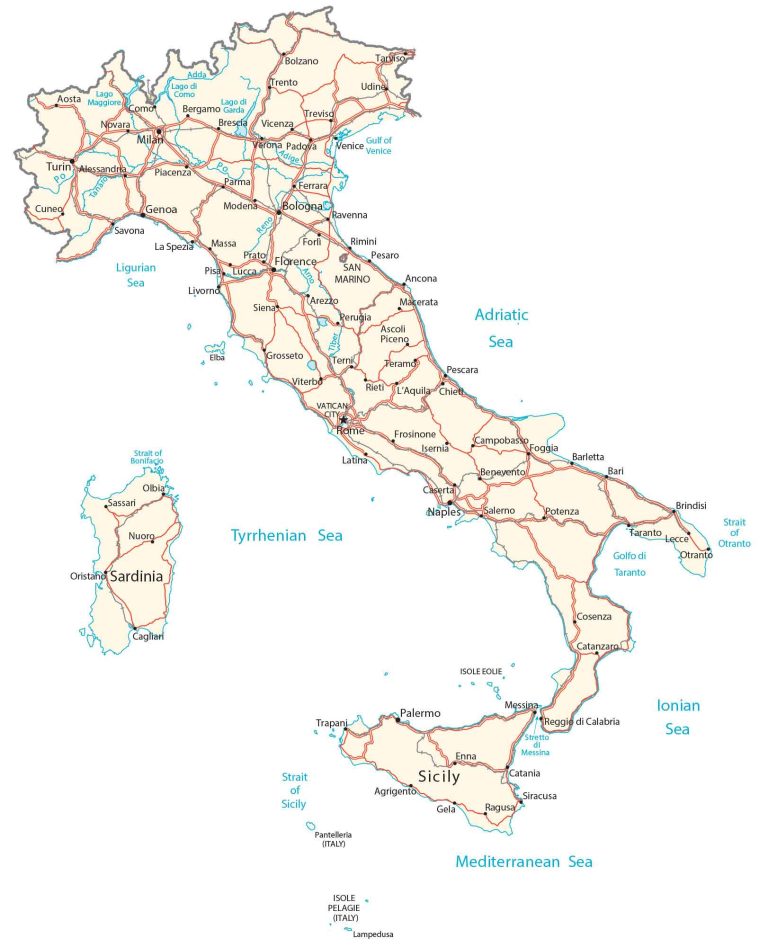 Download
This map of Italy contains major cities, towns, roads, lakes, and rivers. Satellite imagery and a terrain map show its topography like the Alps, the Apennines, and Po Valley.
You are free to use our Italy map for educational and commercial uses. Attribution is required. How to attribute?
About the map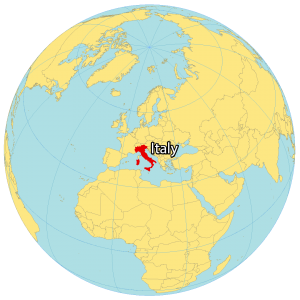 Italy is located in southern Europe along the Mediterranean Sea. It borders 4 countries to the north including France, Switzerland, Austria, and Slovenia. Also, the microstates of San Marino and Vatican City are enclaves completely surrounded by Italy.
Italy is known for its art, architecture, culture, fashion, and food. Rome is the capital and largest city in Italy. But Milan, Naples, and Turin are other large cities.
Italy looks like the shape of a boot because of how its peninsula extends southward into the Mediterranean Sea. The country's landmass also includes Sicily and the island of Sardinia in the west, across the Tyrrhenian Sea.

Italy in Google Maps
IMAGERY
Italy Satellite Map
Altogether, Italy occupies an area of 301,340 square kilometers (116,350 sq mi). This makes its landmass smaller than Poland and larger than New Zealand. The country shares a coastline of about 7,600 kilometers (4,722 miles).
According to the FAO, forests cover 31% of Italy. Whereas 41% of Italy's landmass is set aside for agriculture. The climate in Italy is mostly Mediterranean with hot, dry summers and cool, wet winters. While Po is Italy's longest river, Lake Garda is Italy's largest lake at 368 square kilometers (142 sq mi).
PHYSICAL
Italy Physical Map
The terrain in Italy is very rugged, with plains and coastal lowlands. For instance, the Alps and the Apennines are the two major mountain chains, which occupy about 35% of Italy. The Apennine Mountains is a 1,200 kilometers long mountain chain along the Italian peninsula.
Whereas the Alps lie in the north along its northern border. Within the Alps, it contains Mont Blanc (Monte Bianco in Italian). At 4,808.7 meters (15,777 ft), it's Italy's tallest mountain. Italy is also home to active volcanoes.
Not only is Mount Etna in Sicily the largest active volcano in Italy, but it's the largest in all of Europe. Other than its mountain chains, Po Valley is the largest plain below the Alps to the Adriatic Sea.
ADMINISTRATION
Italy Provincial Map
There are 20 regions in Italy, which are the first-level administrative units. Italy divides each unit geographically and administratively. Next, the second-level administrative units are provinces. Their main function is for local planning, zoning, as well as police and fire services.
Italian cities map collection