Map of Fresno
This Fresno map features highways/roads, points of interest, and things to do. If you want an interactive map, then orient yourself and explore the city of Fresno, California on Google Maps below.
Fresno is located in central California in the San Joaquin Valley of California and has a population of around 525,000. This makes it the most populous city that's completely part of inland California.
No matter why you decide to visit, it's a great place to visit, live, study and work. Print these Fresno maps to gain a wider perspective of this beautiful city. You'll also understand why Fresno is home to many of California's important parks, museums, galleries, and landmarks.
Jump To: Interactive Map | Printable Road Map | 10 Things to Do | Reference Map
Fresno map collection
Interactive Map of Fresno
With this interactive map, you'll be able to discover the best places to eat and drink, shop, and stay. Get a comprehensive map of Fresno, California with detailed information on the top attractions, businesses, tourist attractions, and even local restaurants in the area.
Fresno Road Map
This map is a great way to get around and see the beautiful city that is Fresno. Plan your trip with ease. With this map, you can find the quickest way to get to your destination. But if you want to travel outside the city, make sure to take a look at our California road map which provides an overview of statewide travel.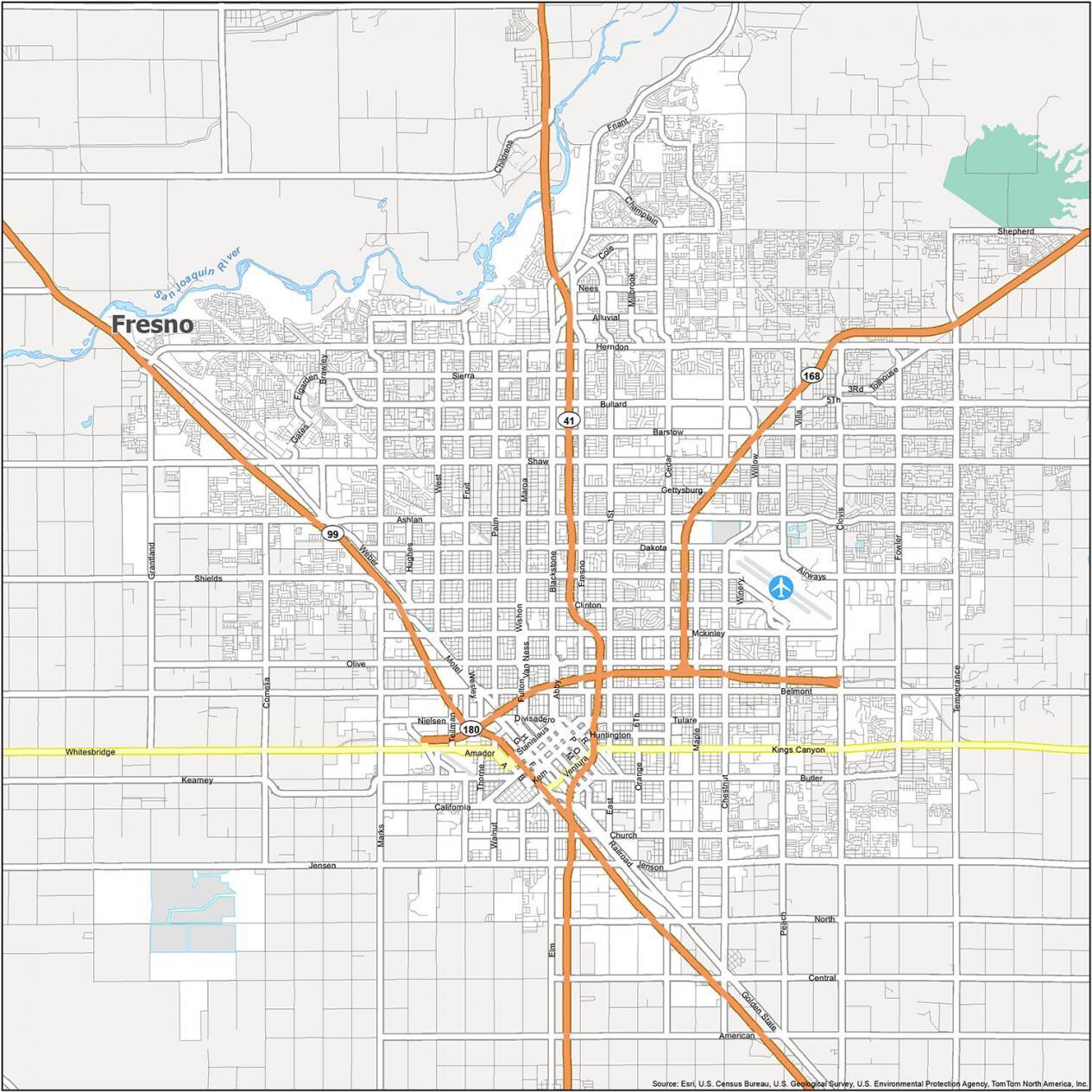 US Highways: 2, 41, 99, 168, 180
Major Roads: 1st St, 6th St, 7th St, Abby St, Airport Rd, Alluvial Ave, Andersen Ave, Audubon Dr, Barstow Ave, Beechwood Ave, Belmont Ave, Brawley Ave, Broadway St, Butler Ave, California Ave, Cedar Ave, Champlain Dr, Chandler Ave, Chestnut Ave, Church Ave, Clinton Ave, Copper Ave, Cornelia Ave, Dakota Ave, Figarden Dr, Fowler Ave, Franklin Ave, Fresno St, Friant Rd, Fulton St, Gates Ave, Gettysburg Ave, Golden State Blvd, Grantland Ave, Hughes Ave, Hughes West Diagonal Ave, Huntington Blvd, International Ave, Jenson Byp, Kearney Blvd, Kings Canyon Rd, Los Angeles St, Maple Ave, Mariposa St, Martin Ave, Martin Luther King Jr Blvd, McKinley Ave, Nees Ave, Northridge Ave, Olive Ave, Orange Ave, Pacific Ave, Palm Ave, Parkway Dr, Peach Ave, Shaw Ave, Sierra Ave, Sommerville Dr, Stanislaus St, Thorne Ave, Trinity St, Tulare St, Ventura St, Walnut Ave, Weber Ave, Wesley Ave, Willow Ave, Winery Ave, Wishon Ave
10 Things To Do in Fresno
This map of Fresno, California will give you the perfect overview of what the city has to offer. From the city center to historical sites, attractions, and more, you'll be surprised how easy it is to explore Fresno. Some of its highlights include its zoo, gardens, museums, and trails.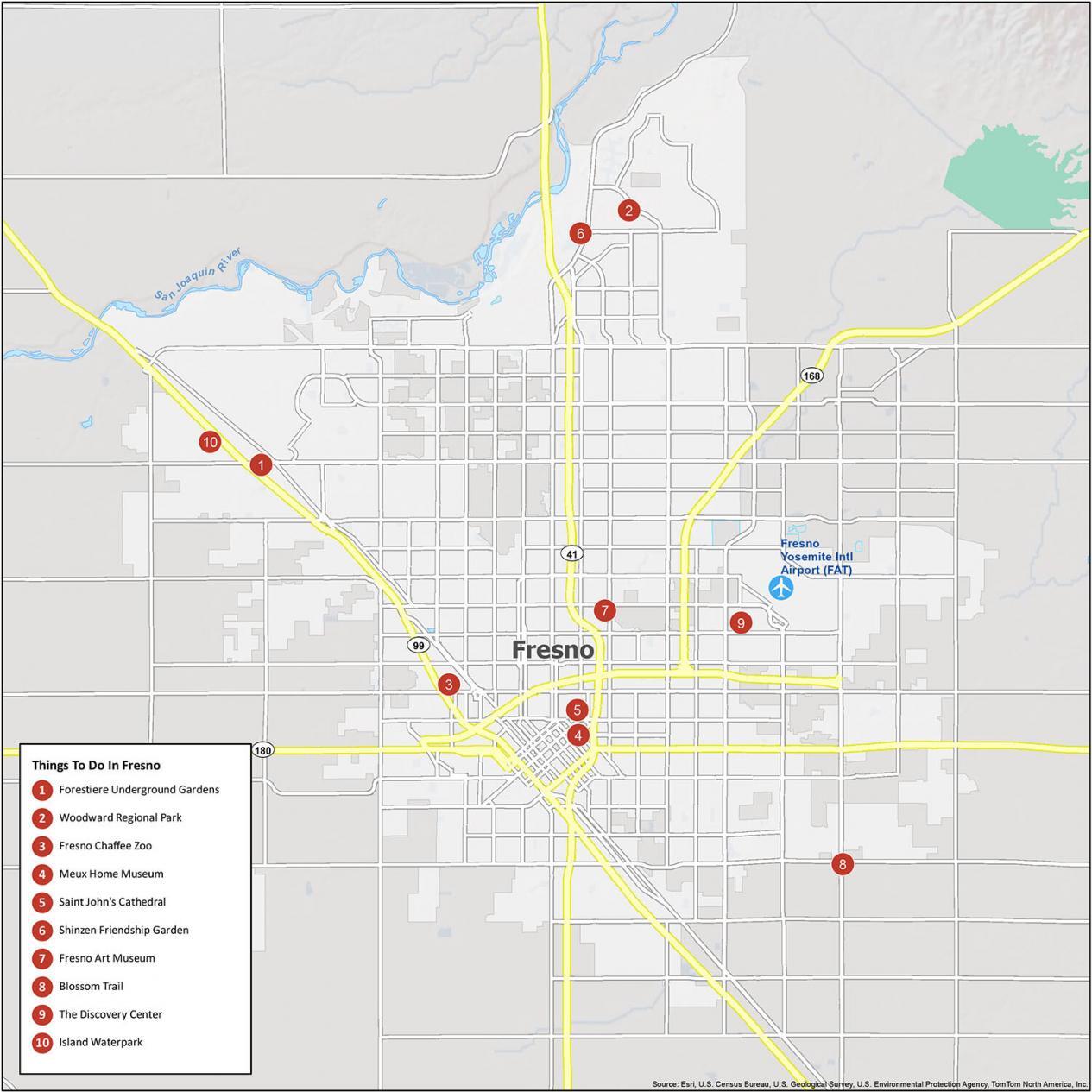 One of the nice things about Fresno, California is that you're a close distance away from Yosemite National Park. But it has much more to offer than just this. If you ever plan to travel to Fresno, California, we recommend checking out these tourist attractions.
Forestiere Underground Gardens
Woodward Regional Park
Fresno Chaffee Zoo
Meux Home Museum
Saint John's Cathedral
Shinzen Friendship Garden
Fresno Art Museum
Blossom Trail
The Discovery Center
Island Waterpark
Fresno Reference Map
Now, you can get a sense of the city and find out all the things to do with this map. This map is a must-have for anyone traveling to the destination. For instance, you can find out more about rivers and populated areas just outside the city.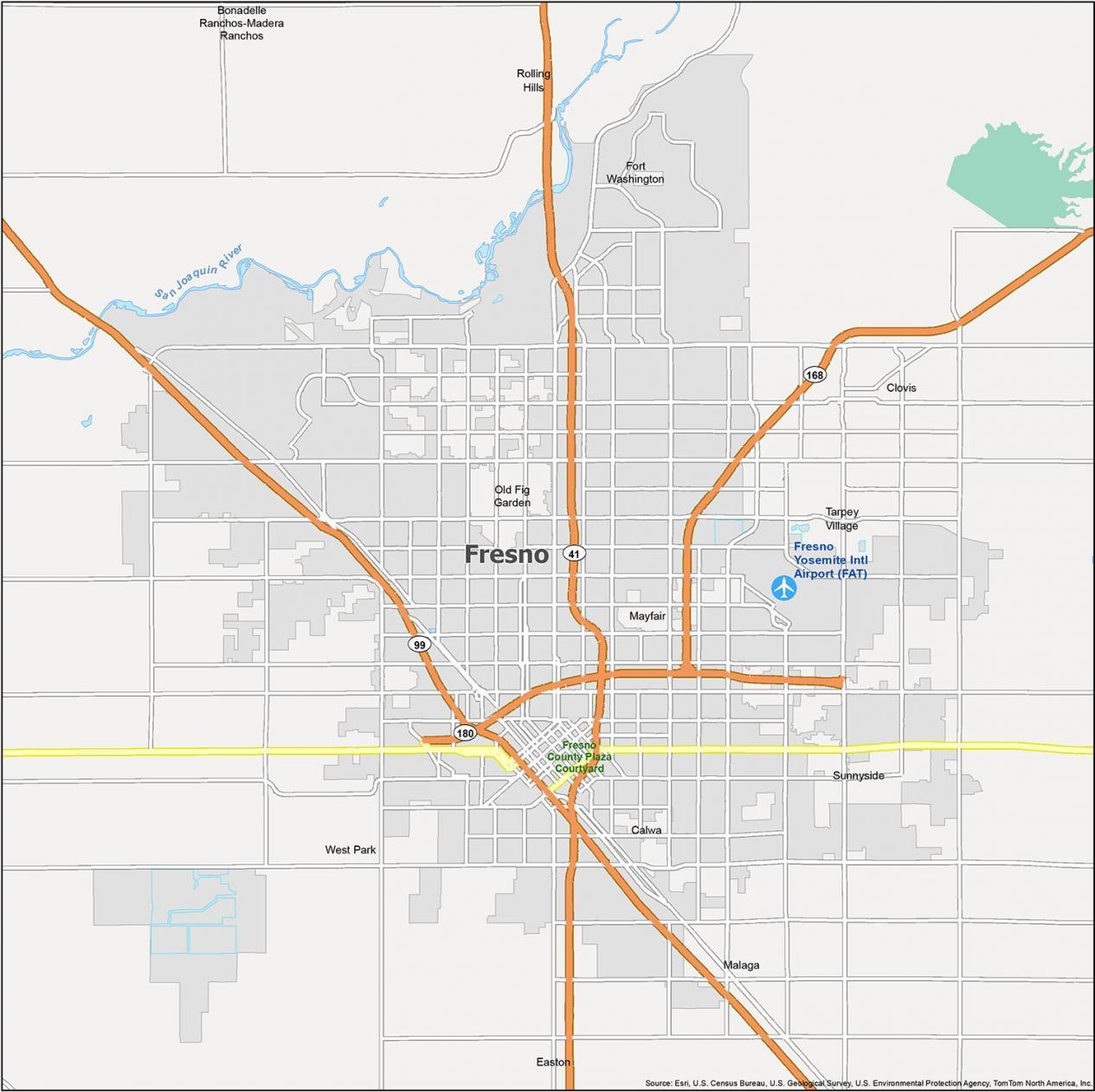 Airports: Fresno Yosemite International Airport (FAT)
Cities: Clovis, Fresno
Census-designated place (CDP) Bonadelle Ranchos-Madera Ranchos, Calwa, Easton, Fort Washington, Malaga, Mayfair, Old Fig Garden, Rolling Hills, Sunnyside, Tarpey Village, West Park
Water features: San Joaquin River
Fresno, California maps
California map collection