Kansas City Map, Missouri

Map of Kansas City
The strange thing about Kansas City is that it's not located in the state of Kansas. It's actually in its neighbor state of Missouri. But despite its odd location, it's a pretty neat place to live. If you plan to go to Kansas City, make sure to print our Kansas City map collection before you go.
Kansas City is the perfect city for a weekend getaway or a stop on your way to explore the American Midwest. Whether you're looking for a weekend trip with your friends or a family vacation, you'll find plenty to do in Kansas City.
From beautiful parks to quirky museums and historic sites, Kansas City also embraces diversity and is home to a diverse population. But best of all, Kansas City has a ton of things to see and do, making it a great place to visit for any kind of traveler.
Jump To: Interactive Map | Printable Road Map | 10 Things to Do | Reference Map
Kansas City map collection
Interactive Map of Kansas City
Looking for the best hotels, bars, attractions, and restaurants? This interactive map is perfect for you to discover the best places to visit in the heart of Kansas City. For example, you can explore its surrounding area in more detail in this interactive map. It has all the major places of interest, restaurants, shops, parks, and attractions so you can navigate around better in the city. Whether you're just passing through or staying for a while, this map will provide everything you need to know to explore the city in an easy and convenient way.
Kansas City Road Map
From historic landmarks to charming neighborhoods and everything in between, there's a reason why Kansas City is getting more and more attention from travelers and locals alike. But how do you navigate from place to place? This road map provides highlights of major highways, interstates, and state routes. It also includes the entire city with a color-coding by type of road. It's your trip, so you can better navigate the highways and byways of Kansas City. Make sure to print this off and keep it handy so you'll be able to take the best routes and get the most out of your trip. But if you're going to make a road trip outside the city, then try out this Missouri road map for highway and street information.
Interstate Highways: I-29, I-35, I-70, I-435, I-470, I-635, I-670
US Highways: 9, 24, 40, 45, 56, 69, 71, 78, 92, 150, 152, 169, 210, 283, 291, 350,
Parkways/Expressways: Blue Pky, Roanoke Pky, Shawnee Mission Pky, Swope Pky, Ward Pky
Major Roads: 5th St, 6th St, 23rd St, 31st St, 47th St, 64th St, Armour Rd, Arrowhead Trfy, Barry Rd, Belleview Ave, Cookingham Dr, Euclid Ave, Front St, Frontage Rd, Grand Blvd, Hampton Rd, Independence Ave, Karnes Blvd, Madison Ave, Michigan Ave, Noland Rd, Oak Trfy, Paseo Blvd, Prospect Ave, Raytown Rd, Southwest Trfy, Stadium St, Summit St, Troost Ave, Truman Rd, Van Brunt Blvd, Vivion Rd, Volker Blvd, Winner Rd
10 Things To Do in Kansas City
One of the best things about Kansas City is that it is full of things to do. With this map, you can explore the city, as well as find out the main attractions in Kansas City. Use our map to find the best places to visit and hidden gems to discover on your next trip. Get excited about your next vacation with this gorgeous map of the city, which is perfect for planning a visit. By using this map, you will know exactly where you are going and can avoid getting lost.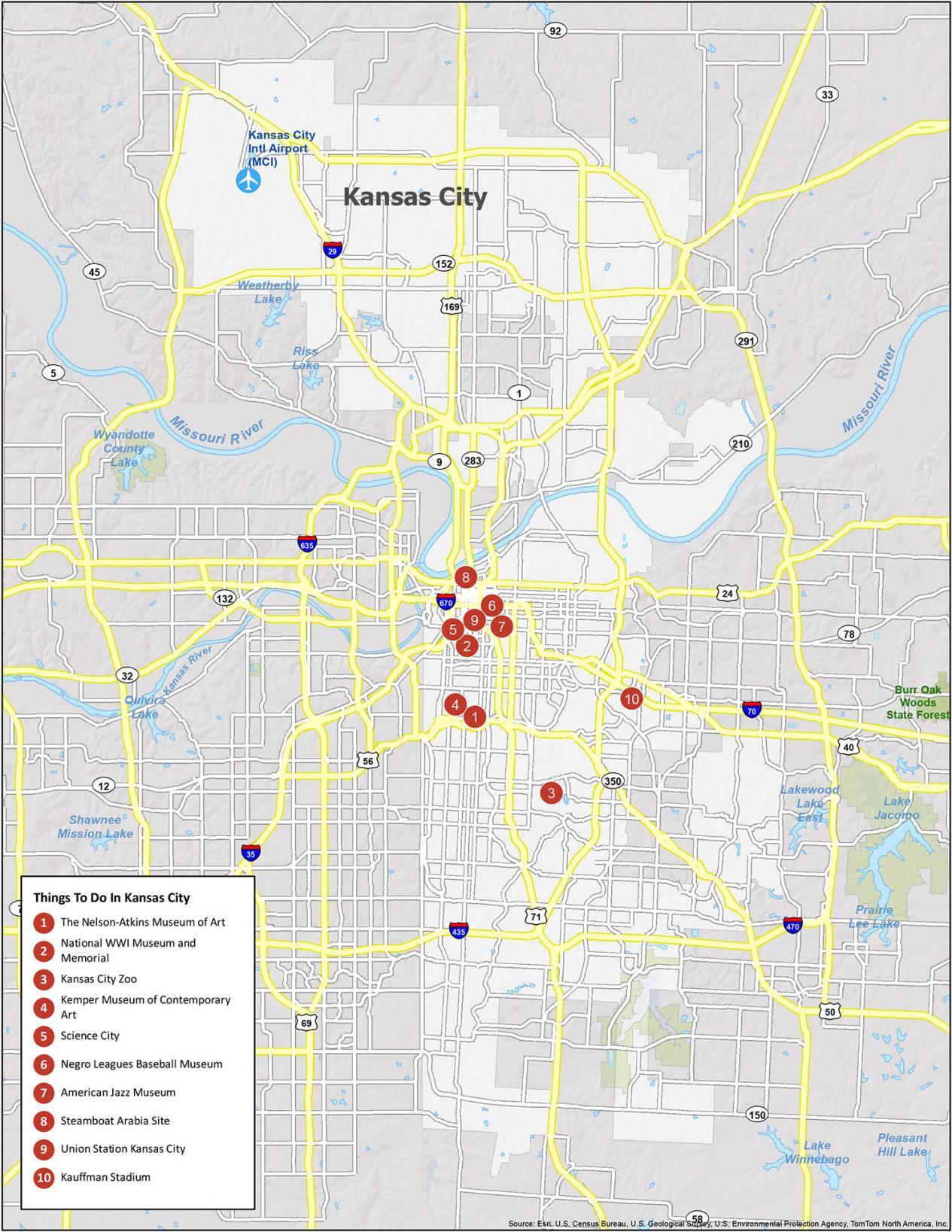 Kansas City is known for barbecue and jazz. It's also the largest city in the state of Missouri. To say the least: the atmosphere is vibrant with some of the best food in the country. The Missouri River (the longest river in North America) cuts right through the city splitting it into north and south. If you ever plan to go, check out our list of travel recommendations for Kansas City.
The Nelson-Atkins Museum of Art
National WWI Museum and Memorial
Kansas City Zoo
Kemper Museum of Contemporary Art
Science City
Negro Leagues Baseball Museum
American Jazz Museum
Steamboat Arabia Site
Union Station Kansas City
Kauffman Stadium
Kansas City Reference Map
This map provides reference information on all of the major landmarks, parks, and points of interest in the city. And while you might think that Kansas City is only a place for indoor activities, it has its fair share of parks, lakes, and nature throughout the city. You can find everything you need to know about Kansas City in this easy-to-use city map. Save yourself time by being prepared before you head out on your next trip.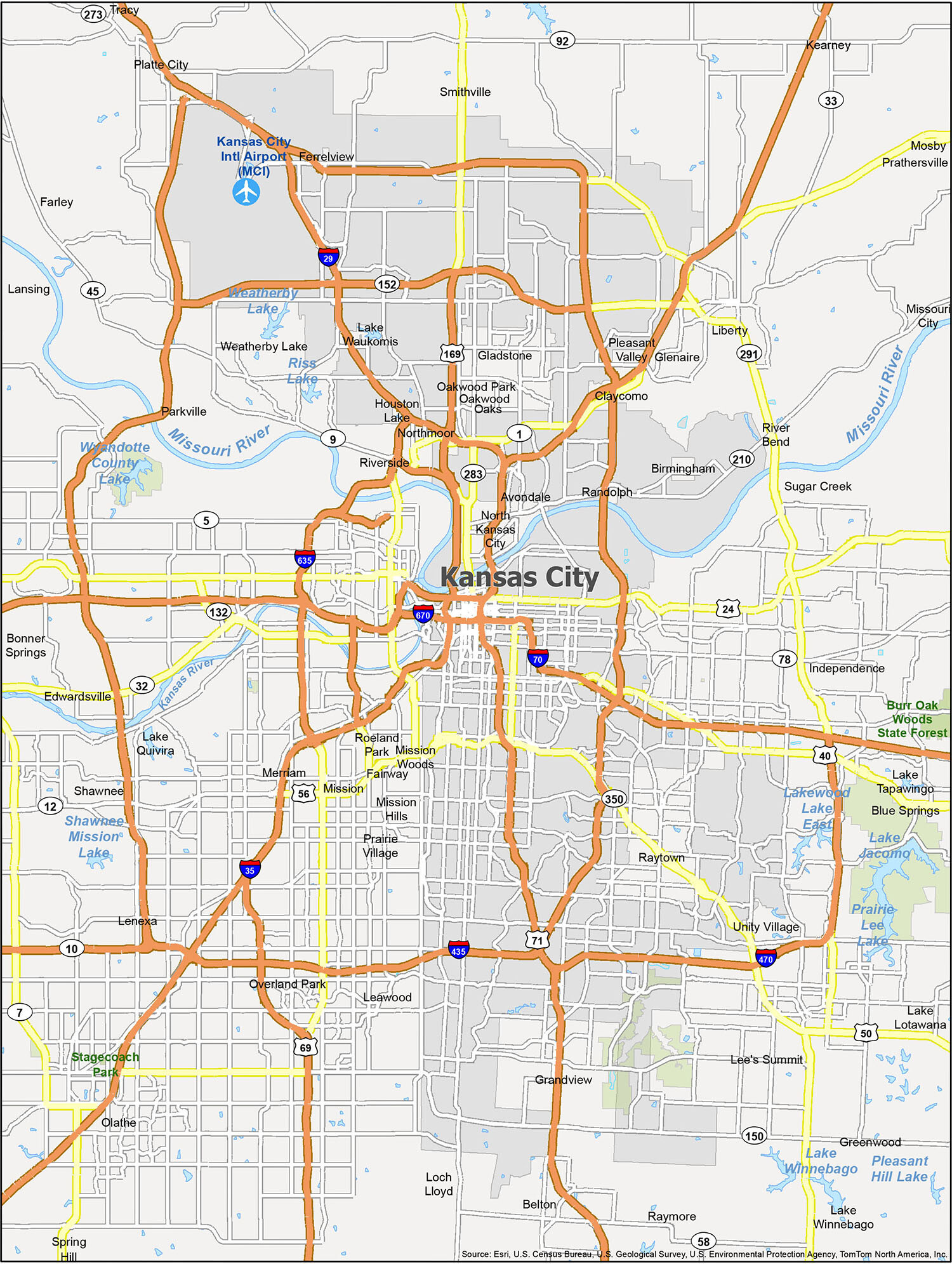 Airports: Kansas City International Airport (MCI)
Villages: Birmingham, Claycomo, Farley, Ferrelview, Loch Lloyd, Oaks, Oakview, Oakwood, Oakwood Park, Prathersville, Randolph, River Bend, Unity Village
Water Features: Lakewood Lake East, Lake Winnebago, Pleasant Hill Lake, Missouri River, Kansas River, Riss Lake, Weatherby Lake,
Cities: Avondale, Belton, Blue Springs, Bonner Springs, Edwardsville, Excelsior Springs, Fairway, Gladstone, Glenaire, Grandview, Greenwood, Houston Lake, Independence, Kansas City, Kearney, Lake Lotawana, Lake Quivira, Lake Tapawingo, Lake Waukomis, Lake Winnebago, Lansing, Leawood, Lee's Summit, Lenexa, Liberty, Merriam, Mission, Mission Hills, Mission Woods, Missouri City, Mosby, North Kansas City, Northmoor, Olathe, Overland Park, Parkville, Platte City, Platte Woods, Pleasant Hill, Pleasant Valley, Prairie Village, Raymore, Raytown, Riverside, Roeland Park, Shawnee, Smithville, Sugar Creek, Tracy, Weatherby Lake, Westwood, Westwood Hills
Kansas City map collection
Missouri map collection
References