Map of Las Vegas
Las Vegas is nicknamed "The City that Never Sleeps" because it entertains you every minute of your stay. Use this Las Vegas map collection with highways, roads, attractions, and things to do.
The vastness of Las Vegas Nevada is what makes it such a spectacle for travelers. From the neon lights to the glitz and glamour to the casinos, it has all the right ingredients to entice people from around the world.
No matter what your tastes are, you can get it all here. But first, you need to know where to find it. Check out everything from the Las Vegas Strip and more starting with this interactive map of Las Vegas just below.
Jump To: Interactive Map | Printable Road Map | 10 Things to Do | Reference Map
Las Vegas map collection
Interactive Map of Las Vegas
Vegas is an incredible city to explore. The city is filled with history and great attractions. There are plenty of places to find an incredible night out in Vegas. But with all the great things to do, it can be challenging to know where to start. Choose your own adventure with this interactive map featuring points of interest, places to eat, drink, shop, and more.
Las Vegas Road Map
The Strip is the major public road that runs north-south across the heart of the city of Las Vegas, Nevada. It is one of the most popular tourist destinations in the United States as well as a major gambling center. The Strip is roughly 4 miles (6 km) long on Las Vegas Blvd and parallels the historic U.S. Route 15. Some of the world's most famous attractions like Bellagio, The Venetian, and Caesars Palace, are located along the Strip. But if you're looking to get outside the city, learn more about the highways and major roads with this Nevada road map.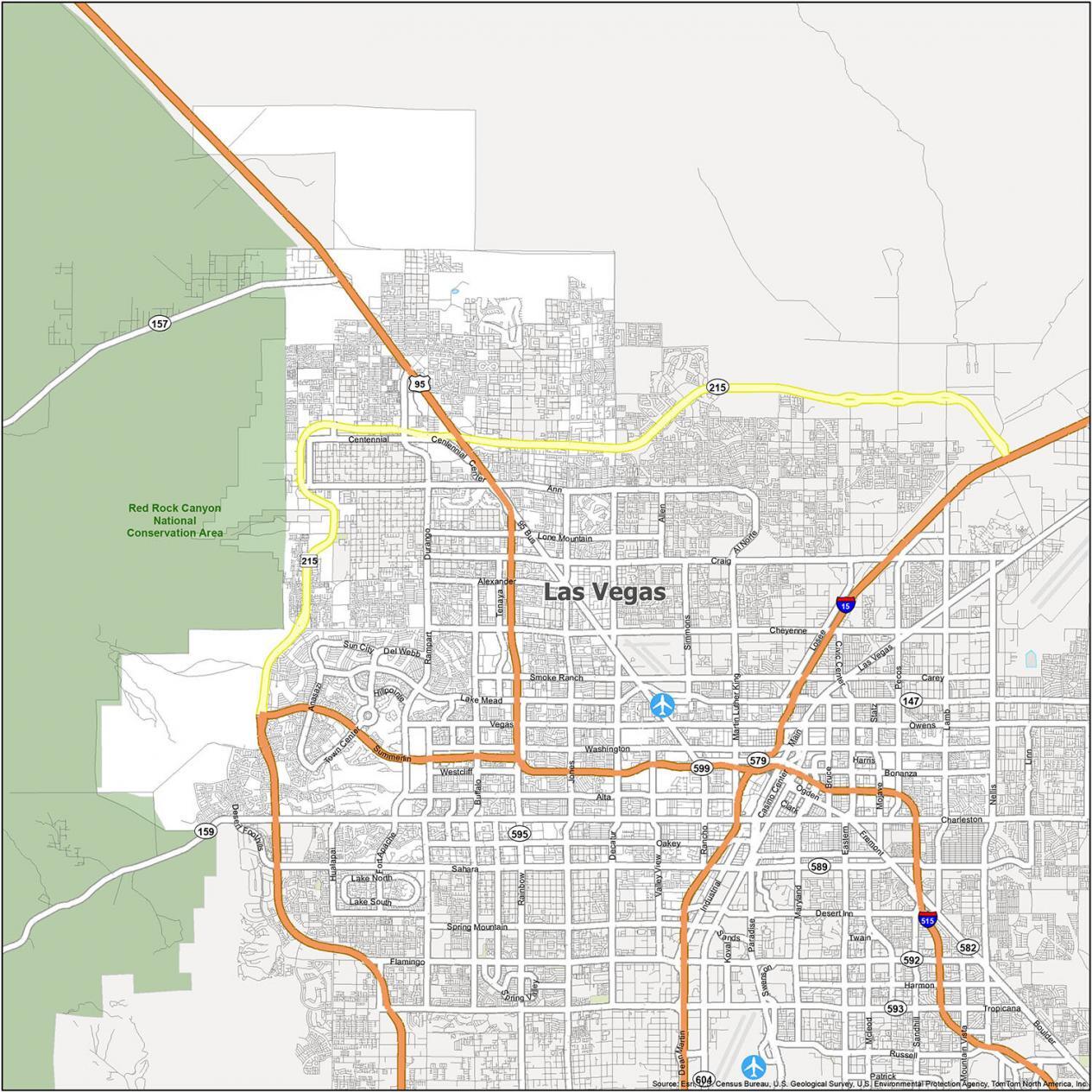 Interstate Highways: I-15, I-515
US Highways: 95, 157, 159, 215, 582, 589, 595, Boulder Hwy,
Parkways: Summerlin Pky
Major Roads: Charleston Blvd, Craig Rd, Eastern Ave, Fremont St, Kyle Canyon Rd, Martin Luther King Blvd, Nellis Blvd, Rainbow Blvd, Rancho Dr, Sahara Ave
10 Things To Do in Las Vegas
Whether you're looking for family fun, nightlife, dining, outdoor activities, or something else, we've got you covered. From the fountains at Bellagio to the Las Vegas Strip, this world-class city has plenty of things to see and do. If you're planning on visiting Las Vegas soon, we've compiled a list of the top 10 things to do in Las Vegas. But they're not all located on the strip so be prepared to travel a bit.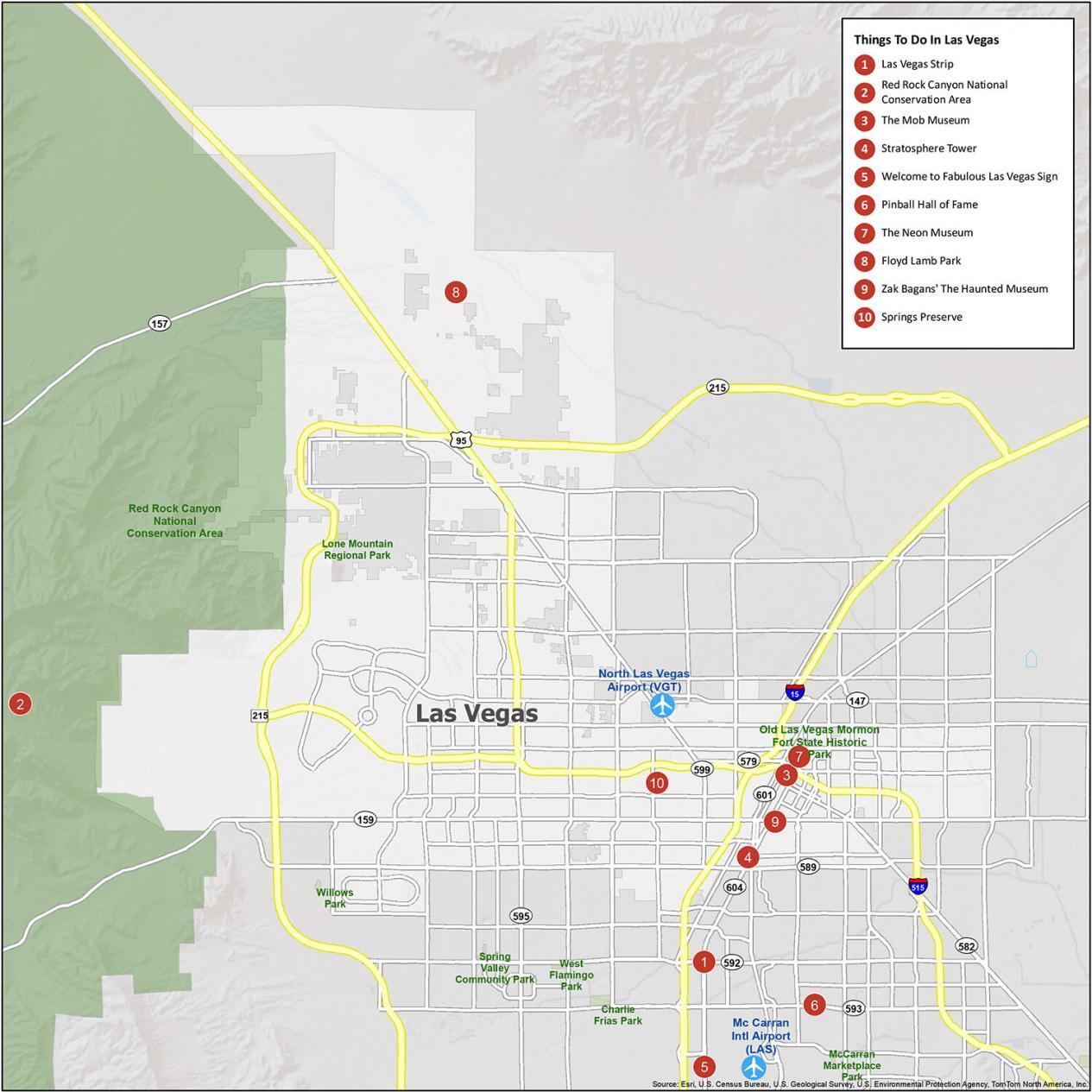 Las Vegas is the "city that never sleeps" because of its entertainment, gambling, and a whole host of Vegas shows. But at the same time, they have pretty neat museums like the Mob Museum, Neon Museum, and Pinball Hall of Fame. If you ever plan to go, here is our list of travel recommendations for Las Vegas.
Las Vegas Strip
Red Rock Canyon National Conservation Area
The Mob Museum
Stratosphere Tower
Welcome to Fabulous Las Vegas Sign
Pinball Hall of Fame
The Neon Museum
Floyd Lamb Park
Zak Bagans' The Haunted Museum
Springs Preserve
Las Vegas Reference Map
There's no better way to navigate the city than with a reference map to show you the best places to visit. Plus, with a map of the city, you can plan your trip before you leave and make sure you see the most important attractions. While most people go to Las Vegas for the excitement, there are also a lot of parks that you can enjoy too. Take a look at this map to find major parks in the city if you want a bit of quiet time by yourself.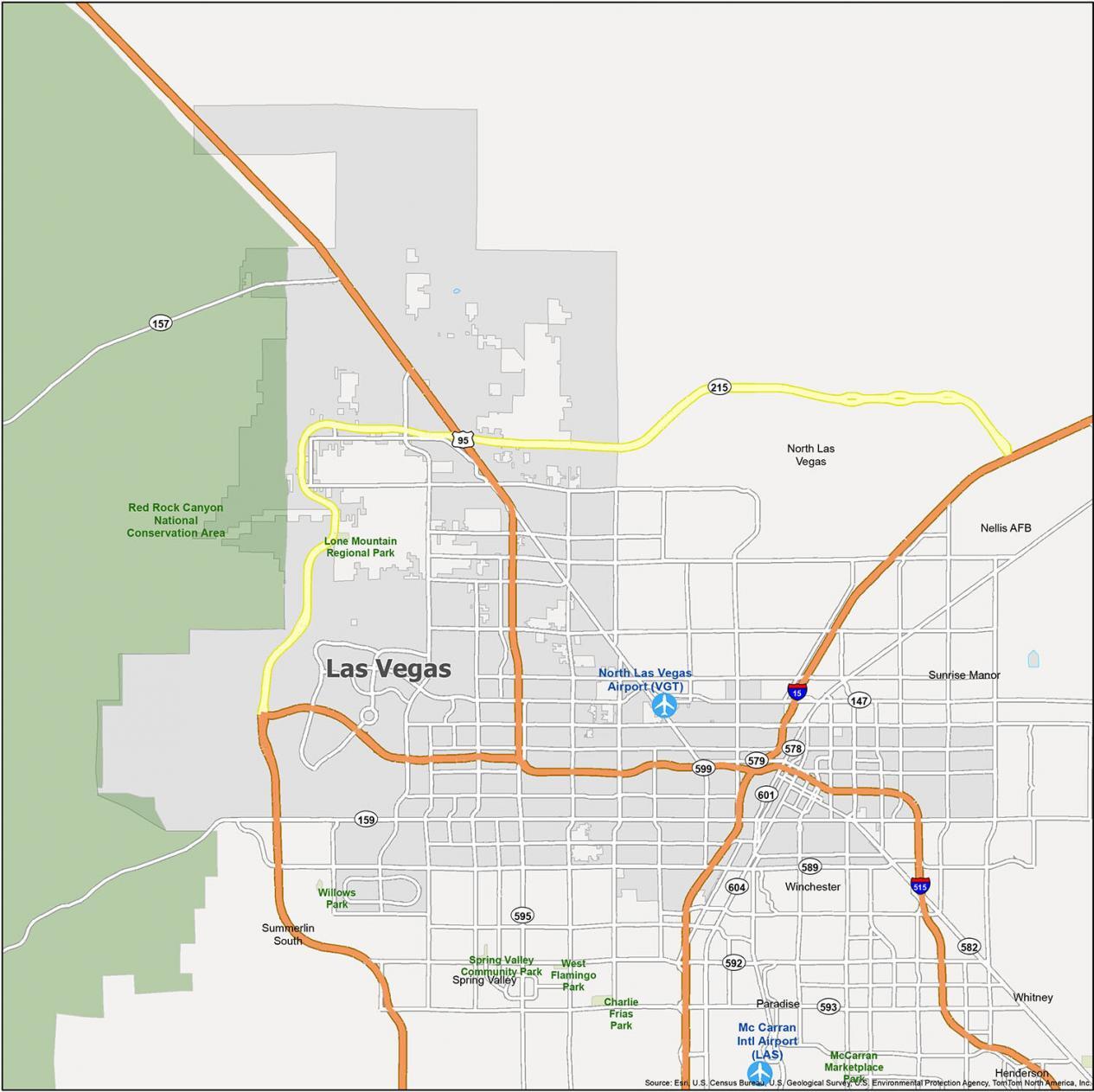 Airports: McCarran International Airport (LAS), North Las Vegas Airport (VGT)
Cities: Henderson, Las Vegas, North Las Vegas
Census-designated place (CDP): Enterprise, Nellis AFB, Paradise, Spring Valley, Summerlin South, Sunrise Manor, Whitney, Winchester
Parks: Charlie Frias Park, Lone Mountain Regional Park, McCarran Marketplace Park, Red Rock Canyon National Conservation Area, Spring Valley Community Park, Willows Park
Las Vegas, Nevada maps
Nevada map collection
References