Map of Nevada – Cities and Roads
Nevada Maps
Nevada Cities
About the map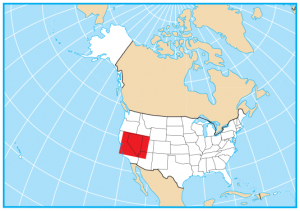 This Nevada map contains cities, roads, rivers and lakes. For example, Las Vegas, Henderson and Reno are major cities displayed in this map of Nevada.
The major tourist city is Las Vegas, the city that never sleeps. Las Vegas alone keeps the state alive. Nearly 50 million people visit here mostly for gambling and entertainment.
Nevada is unique because they bury nuclear waste here. The landscape is characterized as mostly desert and semi-arid terrain. The state borders California, Oregon, Idaho, Utah and Arizona.
State capital
Carson City
Major cities and towns
Las Vegas
Henderson
Reno
North Las Vegas
Carson City
Sparks
Boulder City
Caliente
Elko
Ely
Fallon
Lovelock
Wells
Winnemucca
Yerington
Battle Mountain
Austin
Beatty
Denio
Eureka
Gardnerville
Hawthorne
Indian Springs
McDermitt
Panaca
Pioche
Round Mountain
Ruth
Tonopah
Virginia City
Mesquite
Laughlin
Interstate highways
Interstate-11 (I-11)
Interstate-15 (I-15)
Interstate-80 (I-80)
Lakes, rivers and creeks
Humboldt River
Pyramid Lake
Lake Tahoe
Walker Lake
Lake Mead
Lake Mohave
Colorado River
Pacific Ocean
Landmarks in Nevada
Snake Range
Schell Creek Range
Egan Range
Grant Range
Sheep Range
Pahute Mesa
Monitor Range
Hot Creek Range
Ruby Mountains
Independence Mountains
Toiyabe Range
Shoshone Mountains
Stillwater Range
Carson Sink
Trinity Range
Black Rock Desert
Santa Rosa Range
Great Basin
Boundary Peak
Charleston Peak
Mount Grant
Wheeler Peak
References
A United States federal lands map where the US government owns. It includes national parks, Indian Lands, national forest and fish/wildlife.
This map of USA displays states, cities and census boundaries. An elevation surface highlights major physical landmarks like mountains, lakes and rivers.
This US time zone map shows the six time zones of the United States such as the Eastern, Central, Mountain, Pacific, Alaska and Hawaii-Aleutian time zones.
US State Maps
Select a state to view its map