Nevada County Map and Independent City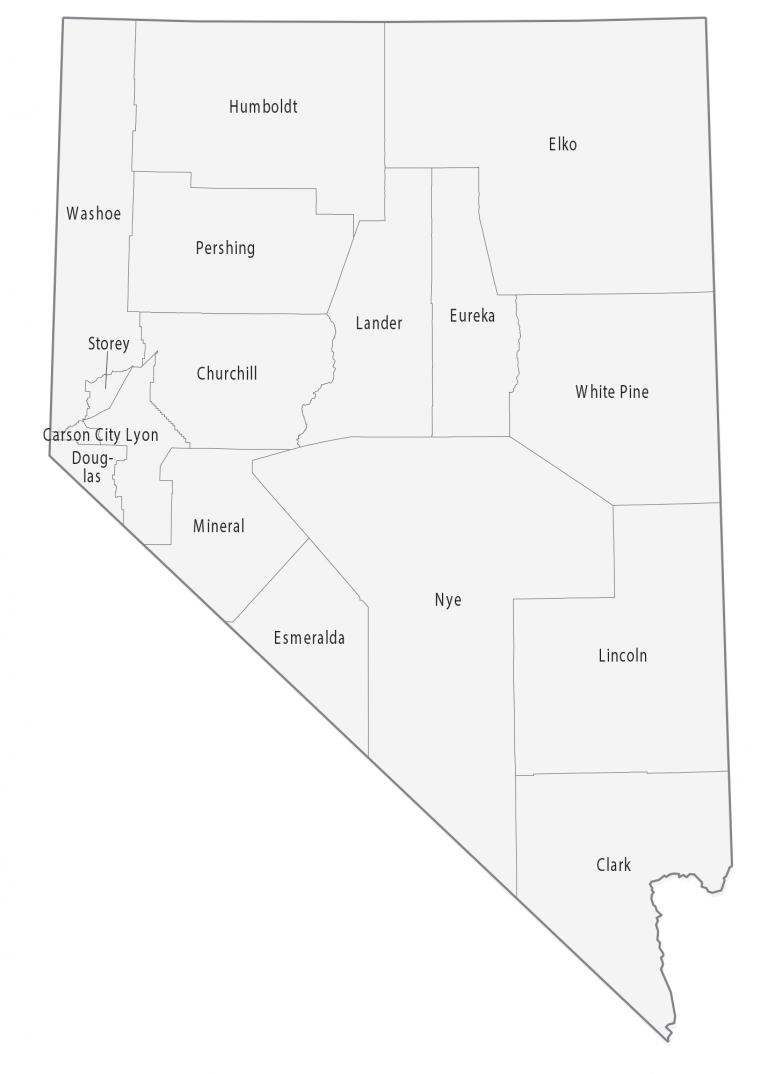 About the map
This Nevada county map displays its 16 counties and one independent city (Carson City). If you look outside of Nevada, the states of Maryland, Missouri, and Virginia also have independent cities. These government units are outside the jurisdiction of any county.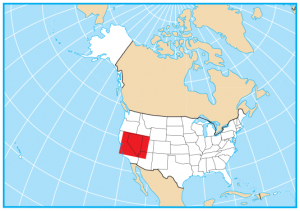 The most populated county in Nevada with 2.25 million people and is home to Las Vegas. In fact, it ranks 11th in all of the United States for the highest population. The least populated county in Nevada is Esmeralda County with just under 900 residents.
For area, Nye County and Elko County are the largest counties in Nevada occupying areas over 17,000 square miles. Both counties occupy desert-like terrain in central and northeast Nevada. The independent city of Carson City only occupies a bit over 150 square miles. Next, Storey County is quite small at a bit over 250 square miles in size.
Nevada map collection
You are free to use our county map of Nevada for educational and commercial uses. Attribution is required. How to attribute?
Nevada county list
| County Name | Population (2020 est) | County Map | Area (sq mi) | Locator Map | FIPS Code |
| --- | --- | --- | --- | --- | --- |
| Carson City | 56,034 | Carson City | 157.2 | Carson City Map | 32510 |
| Churchill County | 25,363 | Churchill County | 5024.1 | Churchill County Map | 32001 |
| Clark County | 2,315,963 | Clark County | 8099.9 | Clark County Map | 32003 |
| Douglas County | 49,088 | Douglas County | 737.8 | Douglas County Map | 32005 |
| Elko County | 53,006 | Elko County | 17206.2 | Elko County Map | 32007 |
| Esmeralda County | 886 | Esmeralda County | 3589.7 | Esmeralda County Map | 32009 |
| Eureka County | 2,065 | Eureka County | 4180 | Eureka County Map | 32011 |
| Humboldt County | 16,962 | Humboldt County | 9655.9 | Humboldt County Map | 32013 |
| Lander County | 5,514 | Lander County | 5519.5 | Lander County Map | 32015 |
| Lincoln County | 5,159 | Lincoln County | 10636.9 | Lincoln County Map | 32017 |
| Lyon County | 58,319 | Lyon County | 2016.2 | Lyon County Map | 32019 |
| Mineral County | 4,518 | Mineral County | 3813.1 | Mineral County Map | 32021 |
| Nye County | 48,054 | Nye County | 18164.6 | Nye County Map | 32023 |
| Pershing County | 6,573 | Pershing County | 6067.4 | Pershing County Map | 32027 |
| Storey County | 4,207 | Storey County | 263.8 | Storey County Map | 32029 |
| Washoe County | 477,082 | Washoe County | 6550.4 | Washoe County Map | 32031 |
| White Pine County | 9,466 | White Pine County | 8896.6 | White Pine County Map | 32033 |
References