About the map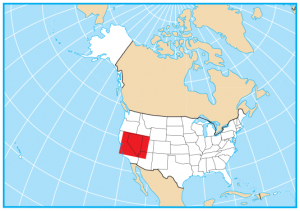 This Nevada State Map shows major landmarks and places in Nevada. For example, it features national forests, military bases, preserves, wildlife refuges and other federal lands in Nevada.
Great Basin National Park contains a scenic drive in the South Snake mountains eventually to the 4000-meter Wheeler Peak.
Death Valley National Park is the hottest, driest and lowest national park in the United States with steady droughts and record heat.
The state of Nevada also offers 3 national forests, 8 national wildlife refuges and 2 national conservation areas.
Federal lands
National Park (NP)
Great Basin National Park
Death Valley National Park
National Forests (NF)
Toiyabe NF
Inyo NF
Humboldt NF
National Wildlife Refuge (NWR)
Ash Meadows NWR
Lake Mohave NWR
Pahranagat NWR
Stillwater NWR
Fallon NWR
Ruby Lake NWR
Anaho Island NWR
Sheldon NWR
National Conservation Area (NCA)
Red Rock Canyon National Conservation Area
Emigrant Trails National Conservation Area
Other Landmarks
Stillwater Wildlife Management Area
Black Rock Desert/High Rock Canyon
Mohave Desert
Nevada lakes, rivers and reservoirs
Lakes, rivers and reservoirs
Lake Mead
Lahontan Reservoir
Rye Patch Reservoir
Humboldt River
Lake Tahoe
Atlantic Ocean
Indian Reserves (IR)
Fort Mojave IR
Moapa River IR
Las Vegas Colony IR
Duckwater IR
Fallon IR
Yerington IR
Walker River IR
Yomba IR
Te-Moak IR
Goshute IR
Pyramid Lake IR
Reno-Sparks IR
Fort McDermitt IR
Summit Lake IR
Duck Valley IR
Central Nevada Test Site Base Camp
Nellis Air Force Range
Nevada Test Site
Nellis Air Force Base
Fallon Naval Air Station
Fallon Naval Target Range
Hawthorne Army Ammunition Depot
Wendover Air Force Auxiliary Field
Nevada Map – Landmarks and places
Las Vegas
Reno
Carson City
Sparks
Henderson
Caliente
Carlin Elko
Ely
Lovelock
Wells
Winnemucca
Battle Mountain
Austin
Beatty
Eureka
Gardnerville
McDermitt
Panaca
Pioche
Round Mountain
Ruth
Tonopah
State capital
Carson City
References
Free US Maps
Select a state to view its map