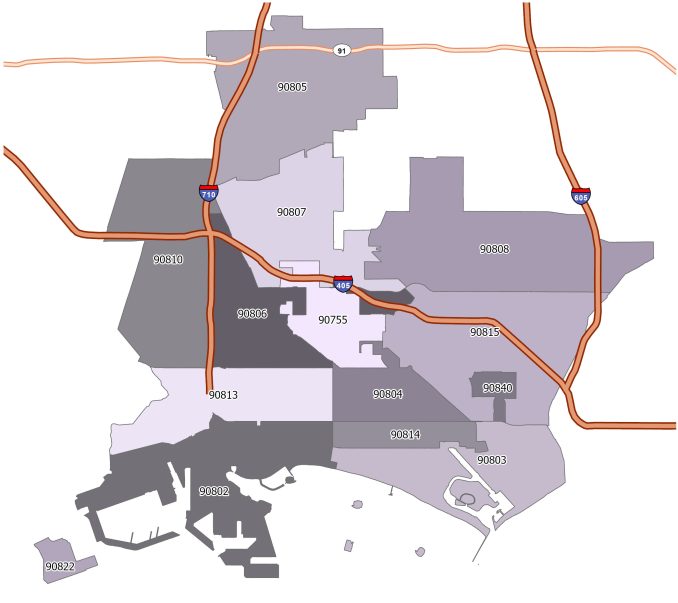 Understand the postal regions of Long Beach with this zip code map. On this map, you'll find interstate highways and postal regions that facilitate smooth mail delivery and precise addressing. Also, don't forget to take advantage of the option to download this map for your personal reference.
Long Beach map collection
Long Beach Zip Code Table
The table below includes all the zip codes in the Long Beach area with population and area. Don't forget to check out our map of Long Beach for street and general city information.
| Zip Code | Name | State | Population | Square Miles |
| --- | --- | --- | --- | --- |
| 90802 | Long Beach | CA | 39,858 | 6.1 |
| 90803 | Long Beach | CA | 34,999 | 4.51 |
| 90804 | Long Beach | CA | 42,370 | 2.2 |
| 90805 | Long Beach | CA | 94,287 | 7.5 |
| 90806 | Long Beach | CA | 43,526 | 3.82 |
| 90807 | Long Beach | CA | 31,947 | 5.02 |
| 90808 | Long Beach | CA | 38,094 | 7.73 |
| 90810 | Long Beach | CA | 37,742 | 6.31 |
| 90813 | Long Beach | CA | 58,639 | 4.09 |
| 90814 | Long Beach | CA | 18,006 | 1.34 |
| 90815 | Long Beach | CA | 39,852 | 6.94 |
| 90822 | Long Beach | CA | 0 | 0.53 |
| 90840 | Long Beach | CA | 0 | 0.49 |