Long Beach California Map

Map of Long Beach
This Long Beach map features roads/highways, reference information, and things to do. Discover the best attractions, and save time with this handy map collection and guide to Long Beach, California.
Long Beach is a city on the Pacific coast of the United States with a population of just under 470,000. It is home to some of the most breathtaking hikes and some of the most beautiful beaches in the world.
It's also just a short 25 miles (40 km) away from the largest city in California, Los Angeles. If you want to learn more about this city, we recommend you check out our interactive map of Long Beach, California to explore the surrounding area.
Jump To: Interactive Map | Printable Road Map | 10 Things to Do | Reference Map
Long Beach map collection
Interactive Map of Long Beach
Whether you're looking for hotels, restaurants, or attractions, this map is a great reference tool. This map provides a birds-eye view of the city that you can zoom in and out of to see specific areas. Explore the beaches, shopping, and restaurants with ease to find the perfect vacation spot.
Long Beach Road Map
This map of the city of Long Beach California shows the streets and highways that make up this city. Whether you're looking for places to visit in Long Beach or need to find the fastest way to get from point A to point B, this map will show you the road network.
Explore all the main roads in Long Beach, and maybe even learn a little bit about the city itself! For any highway information outside the city, take a look at this California road map.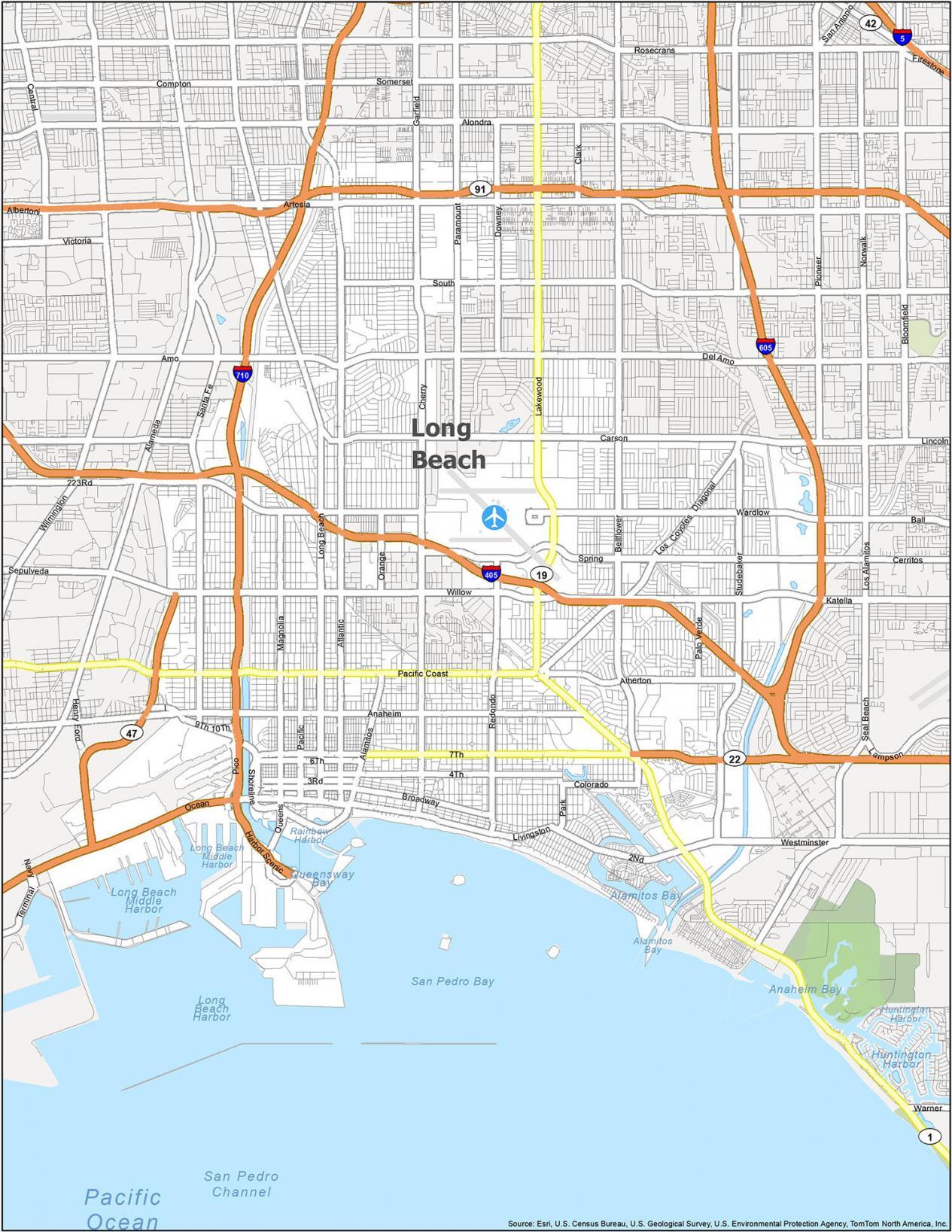 Interstate Highways: I-405, I-605, I-710
US Highways: 19, 22, 47, 91, 605, 710, Pacific Coast Hwy, Queens Hwy
Freeways/Parkways: Long Beach Fwy
Major Roads: 6th St, 7th St, Alamitos Ave, Alamitos St, Atlantic Ave, California Ave, Carson St, Chestnut Pl, Harbor Plz, Harbor Scenic Dr, Lakewood Blvd, Magnolia Ave, Martin Luther King Jr Ave, Ocean Blvd, Orange Ave, Panorama Dr, Queens Way, Queensway Dr, Shoreline Dr, Willow St
10 Things To Do in Long Beach
If you're planning a trip to the coast of California, there's no better place than the sunny city of Long Beach to get away from it all. Take a trip to the beautiful beach city of Long Beach California with this map and get a glimpse of all the amazing things to see and do.
This includes aquariums, gardens, and nature centers. If you are looking for an amazing vacation destination, then you need to go to Long Beach.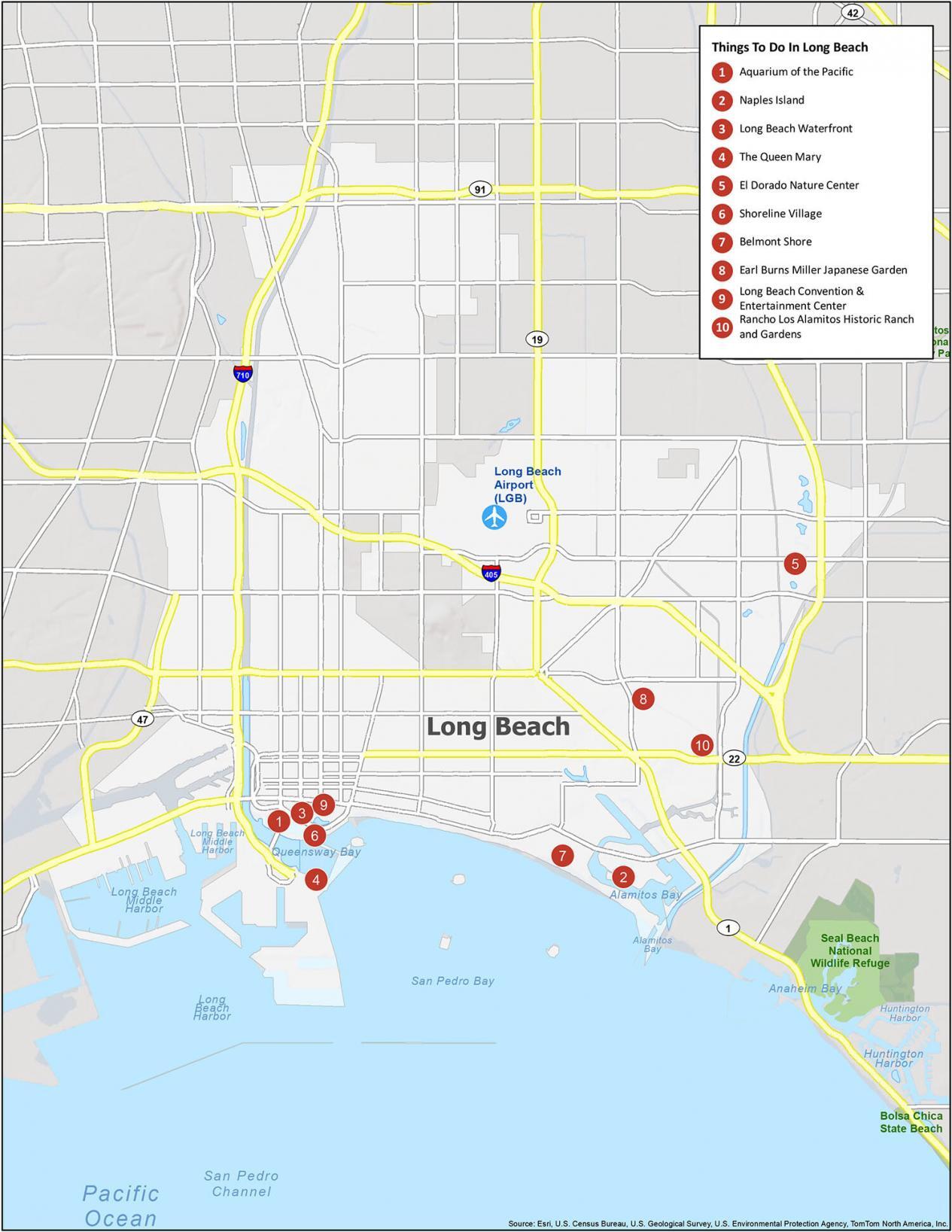 Long Beach is the 7th largest city in California with a wide range of attractions. But most of the top sites to visit are around its iconic waterfront. So without further ado… If you ever go to Long Beach, California, here are our recommendations for the top 10 things to do.
Aquarium of the Pacific
Naples Island
Long Beach Waterfront
The Queen Mary
El Dorado Nature Center
Shoreline Village
Belmont Shore
Earl Burns Miller Japanese Garden
Long Beach Convention Center
Rancho Los Alamitos Historic Ranch and Gardens
Long Beach Reference Map
The Long Beach California map is a great way to get a general idea of where the cities are in relation to each other. You'll find information about cities, towns, and the many attractions available to visitors. Plus, you'll find out all about the south shore such as its bays and harbors.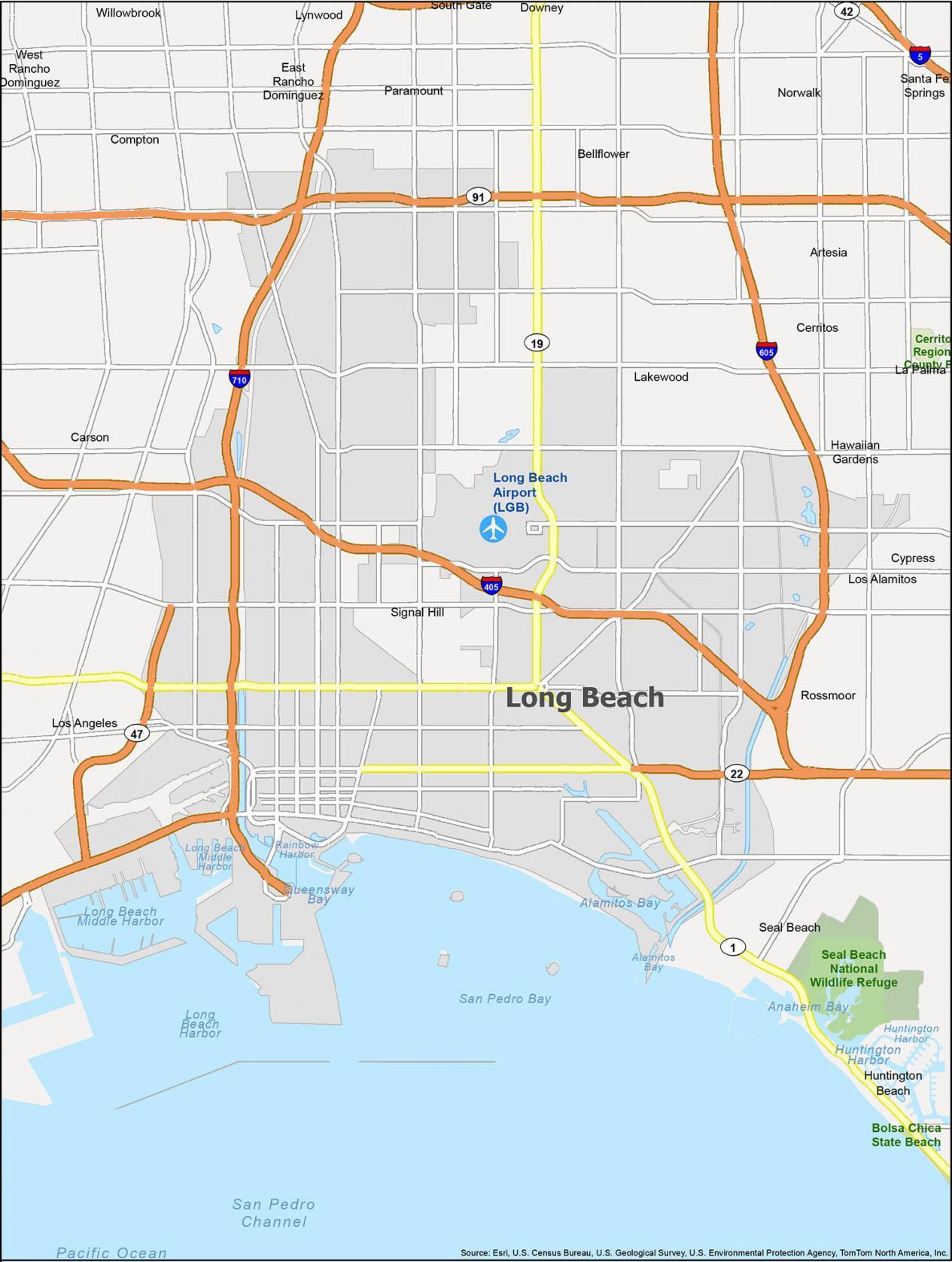 Airports: Long Beach Airport (LGB)
Cities: Artesia, Bellflower, Carson, Cerritos, Compton, Cypress, Downey, Hawaiian Gardens, Huntington Beach, La Palma, Lakewood, Long Beach, Los Alamitos, Los Angeles, Lynwood, Norwalk, Paramount, Santa Fe Springs, Seal Beach, Signal Hill, South Gate
Census-designated place (CDP): East Rancho Dominguez, Rossmoor, West Rancho Dominguez, Willowbrook
Water Features: Alamitos Bay, Anaheim Bay, Huntington Harbor, Long Beach Harbor, Pacific Ocean, Queensway Bay, Rainbow Harbor, San Pedro Channel
Long Beach, California maps
California map collection
References