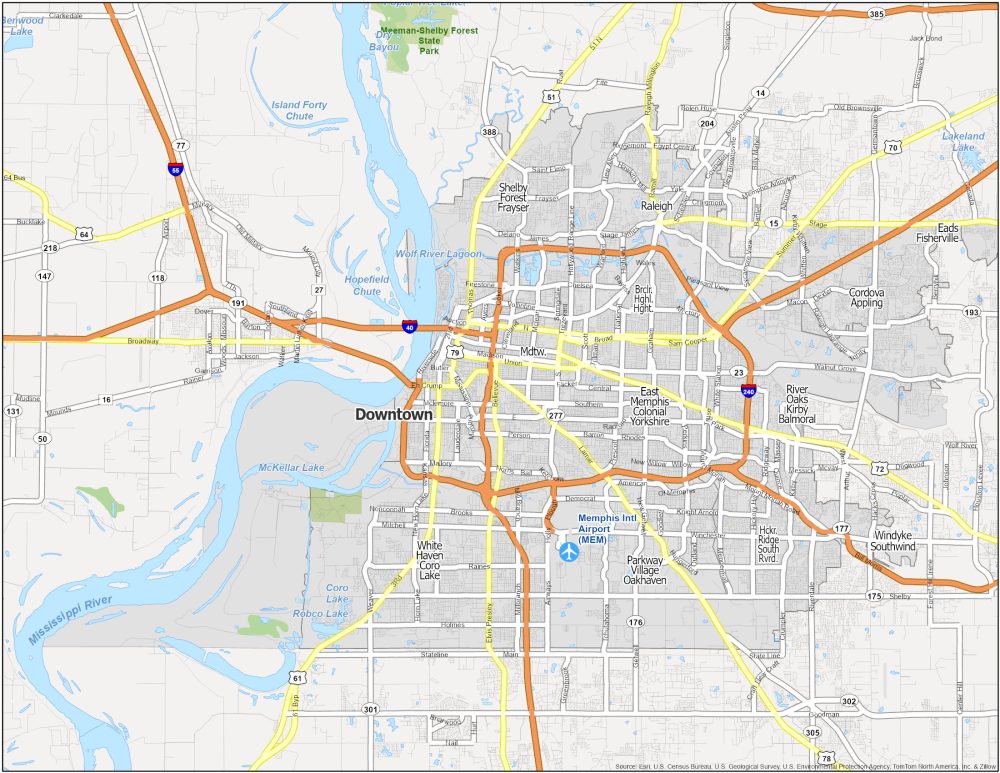 Neighborhoods in Memphis
Embark on an exciting journey through the heart of Memphis with our neighborhood map. Uncover the soulful diversity of this iconic city, as you explore its neighborhoods and immerse yourself in the local culture.
Downtown Memphis
Downtown Memphis is the bustling heart of the city, offering a mix of historical landmarks, trendy eateries, and live music venues. Be awed by the iconic Beale Street, known for its blues heritage. Then, explore attractions like the National Civil Rights Museum and the lively Tom Lee Park along the Mississippi River.
Midtown Memphis
Midtown exudes an exclusive Memphis vibe and is known for its artistic atmosphere. Stroll through the historic Cooper-Young district, packed with boutiques, art galleries, and delightful restaurants. The beautiful Overton Park, home to the Memphis Zoo and the Memphis Brooks Museum of Art, provides a serene escape within the city.
South Main Arts District
South Main Arts District is a revitalized area filled with art galleries, studios, and hip cafes, making it a go-to spot for art enthusiasts and foodies alike. Explore the art scene or catch a movie at the iconic Malco Theatre.
Harbor Town
Nestled along the Mississippi River, Harbor Town offers a picturesque setting with waterfront views and a serene environment. Enjoy a relaxing walk along the Riverwalk, dine at waterside restaurants, or partake in recreational activities at nearby Greenbelt Park.
East Memphis
East Memphis boasts a more residential ambiance with upscale neighborhoods, elegant shopping centers like the Oak Court Mall, and lush green spaces. Experience the cultural offerings at the Dixon Gallery and Gardens, or enjoy retail therapy at the sprawling Saddle Creek shopping district.
Central Gardens Historic District
Central Gardens, a beautiful historic district, showcases stunning architecture and tree-lined streets. Take a leisurely stroll and admire the well-preserved early 20th-century homes, or visit the Memphis Zoo, one of the oldest zoos in the United States.
Crosstown Concourse
Formerly a Sears distribution center, Crosstown Concourse has been transformed into a vibrant mixed-use development. Experience a blend of arts, shopping, dining, and healthcare services all under one roof at this urban hub.