Milwaukee Neighborhood Map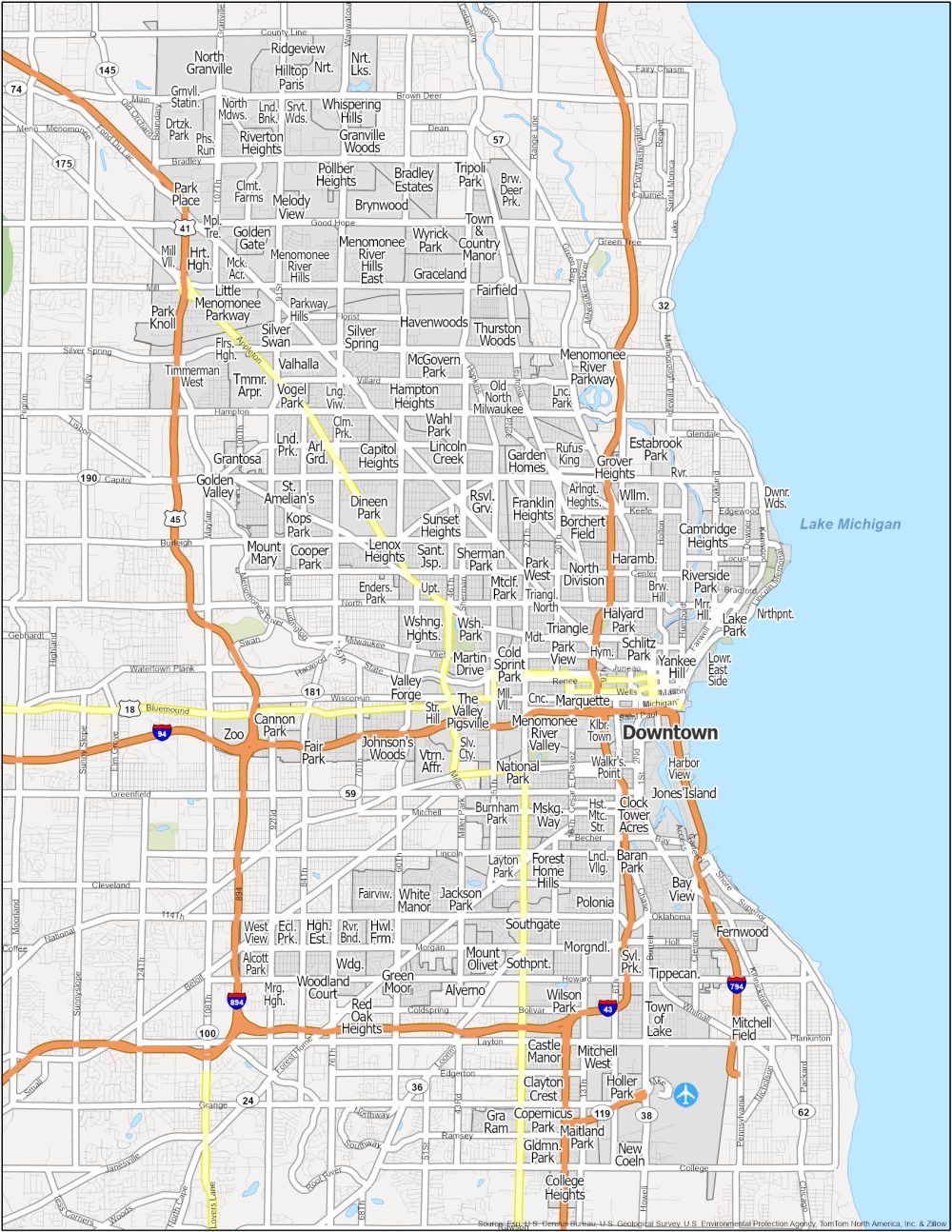 Neighborhoods in Milwaukee
Explore the neighborhoods of Milwaukee, where rich history, diverse cultures, and contemporary allure converge. This Milwaukee neighborhood map will get you to discover each unique community in the "Brew City".
East Side
Known for its lively atmosphere, the East Side offers a mix of students, young professionals, and families. This neighborhood is home to eclectic shops, trendy cafes, and beautiful Lake Michigan views.
Historic Third Ward
Immerse yourself in history while strolling through the cobblestone streets of the Historic Third Ward. This revitalized area boasts art galleries, boutique shops, and exceptional dining experiences.
Brady Street
Brimming with character and charm, Brady Street captivates visitors with its colorful murals, vintage shops, and cozy cafes. Explore the bustling nightlife and cultural events that make this area a must-visit destination.
Wauwatosa
Adjacent to Milwaukee, Wauwatosa offers a more suburban feel while providing access to various parks, shopping centers, and family-friendly activities. Enjoy the tranquility of this leafy neighborhood without sacrificing city conveniences.
Whitefish Bay
Nestled along the lakefront, Whitefish Bay boasts upscale living, top-rated schools, and a tight-knit community. Explore its parks, boutique shops, and cozy cafes for a relaxed and upscale experience.
Bay View
A favorite among artists and creatives, Bay View showcases a vibrant arts scene and a variety of unique bars and restaurants. Enjoy the scenic views of the lakefront and the laid-back community vibe.
Walker's Point
Renowned for its dining scene, Walker's Point is a culinary haven with numerous award-winning restaurants and craft breweries. The area also boasts a thriving community and hosts various cultural events.
Riverwest
Embrace the spirit in Riverwest, a neighborhood known for its community-centered approach and artistic flair. Experience a lively music scene, local cooperatives, and a close-knit, welcoming atmosphere.
Shorewood
Known for its picturesque tree-lined streets and historic architecture, Shorewood is a charming residential area. Its proximity to Lake Michigan and welcoming community make it a sought-after location.
Brewers Hill
With its historic industrial buildings and stunning views of the city, Brewers Hill has undergone significant revitalization. Enjoy the mix of modern living spaces, trendy eateries, and a strong sense of community pride.
Each of these neighborhoods contributes to the vibrant tapestry that makes Milwaukee a city with something to offer everyone.