Map of Reno
This Reno map includes highways, roads, and things to do in the city. You can also explore the city of Reno, Nevada with an interactive map by Google Maps.
Reno, Nevada is located in western Nevada at the border of California. It's situated in the Truckee Meadows Valley, close to the Sierra Nevada mountains and Lake Tahoe.
If you're in the market for an adventure, this map is your ticket. We've compiled the best things to do and see so you can get the most out of your time in the Silver State.
Jump To: Interactive Map | Printable Road Map | 10 Things to Do | Reference Map
Reno map collection
Interactive Map of Reno
This map offers quick and easy navigation of the city of Reno, Nevada. It includes information on restaurants, hotels, shopping locations, and more. Not only will this map help you plan your itinerary, but it will also make the most of your time by showing you how to get there. This interactive road map will help you find your way around the city of Reno. One click on the map and you will see the area and attractions are within your reach.
Reno Road Map
This is the perfect map for all your explorations. We've included a detailed street map of the highways and roads in the area. Whether you are visiting for a day, weekend, or more, you are sure to find your way around with the help of this detailed map. So get out there and start exploring and let this printable road map lead you around town. But if you plan to make a road trip outside the city, then make sure to download this Nevada road map before you go.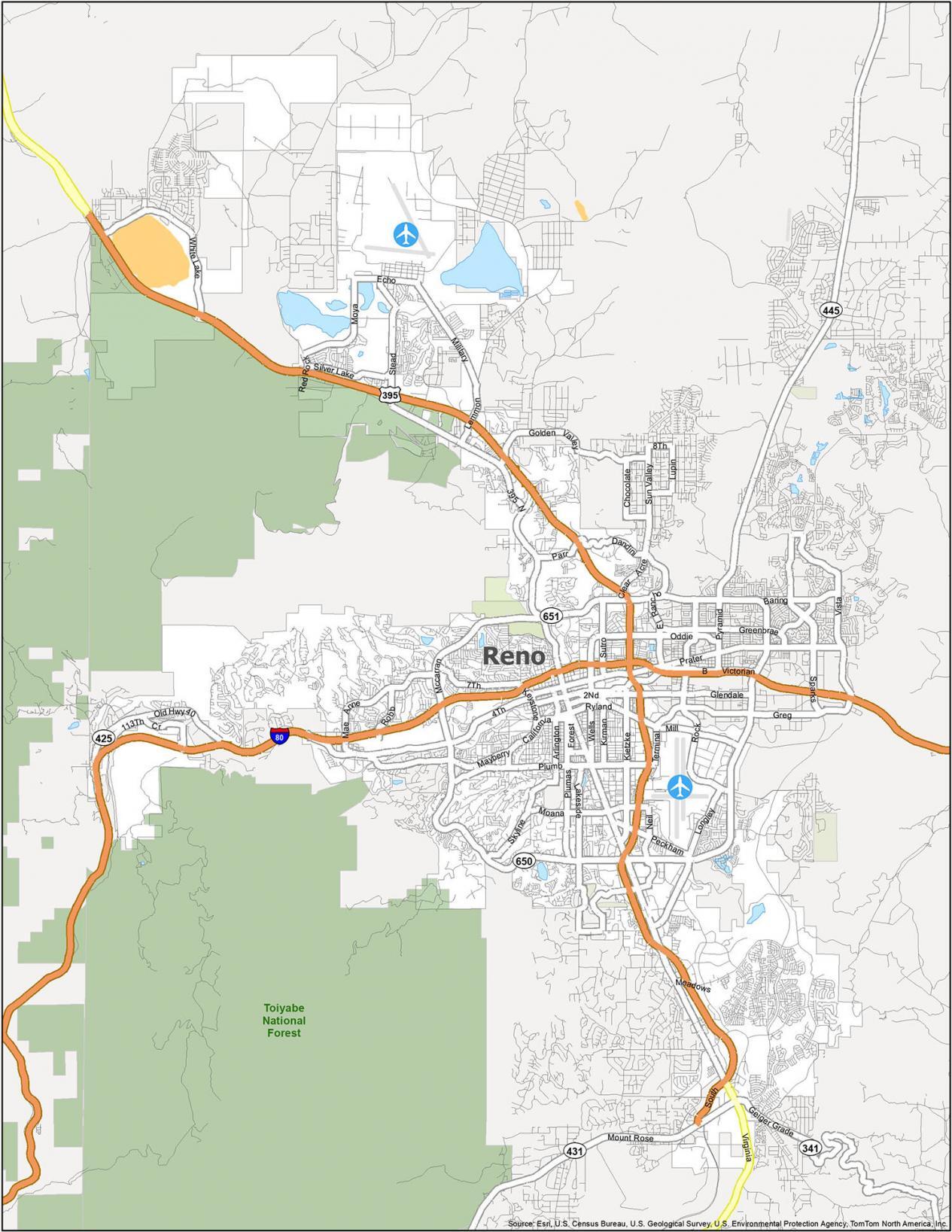 Interstate Highways: I-80
US Highways: 115, 341, 395, 431, 650, 651, Mount Rose Hwy, Old Hwy 40, South Fwy
Expressways/Parkways: Caughlin Pky, Meadows Pky, White Lake Pky
Major Roads: 2nd St, 4th St, 7th St, 113th Cr Rd, Arlington Ave, Boomtown Garson Rd, California Ave, Clear Acre Ln, Dandini Blvd, Del Monte Ln, Echo Ave, El Rancho Dr, Forest St, Geiger Grade Rd, Giroux St, Glendale Ave, Golden Valley Rd, Greg St, Huffaker Ln, Hunter Lake Dr, Keystone Ave, Kietzke Ln, Kirman Ave, Kuenzli St, Lakeside Dr, Lemmon Dr, Liberty St, Longley Ln, Mae Anne Ave, Mayberry Dr, McCarran Blvd, Mesa Park Rd, Military Rd, Mill St, Moana Ln, Mount Anderson St, Mount Rose St, Moya Blvd, Neil Rd, Oddie Blvd, Parr Blvd, Peckham Ln, Plumas St, Plumb Ln, Prater Way, Red Rock Rd, Reno Park Blvd, Robb Dr, Rock Blvd, Ryland St, Silver Lake Rd, Skyline Blvd, Stead Blvd, Sutro St, Terminal Way, Virginia St, Wells Ave
10 Things To Do in Reno
This guide will take you on a tour of the most important historical and cultural sites in the Reno area. Explore Reno like a local and find out what places are worth visiting and all the important sights and attractions that can help you plan your trip. Get out and learn about Reno with this map of things to do.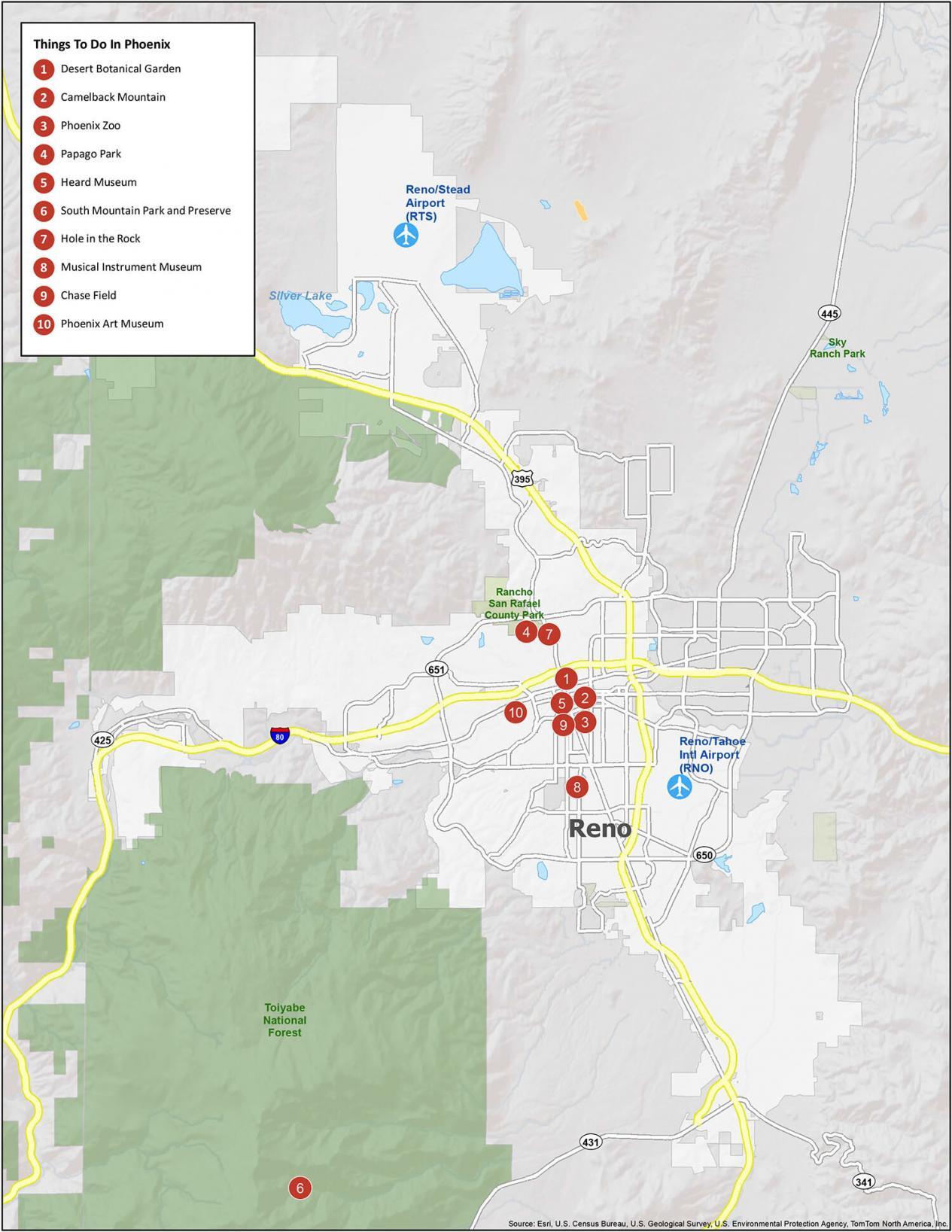 Reno is known for its casinos and entertainment. They call it the "biggest little city in the world". The more you think of it: That is quite the comical nickname. If you ever travel to Reno, we highly recommend these 10 things to do.
Reno Arch
National Automobile Museum
The Discovery – Terry Lee Wells Nevada Discovery Museum
Wilbur D. May Center
Truckee River Walk
Mt Rose
Rancho San Rafael Regional Park
Virginia Lake Park Playground
Nevada Museum of Art
Idlewild Park
Reno Reference Map
This map helps you get to know the city like a local. It includes a reference map of the city and surrounding areas with parks and other points of interest. Whether you're planning a vacation or just need a better understanding of the city, this map will help you find your way around.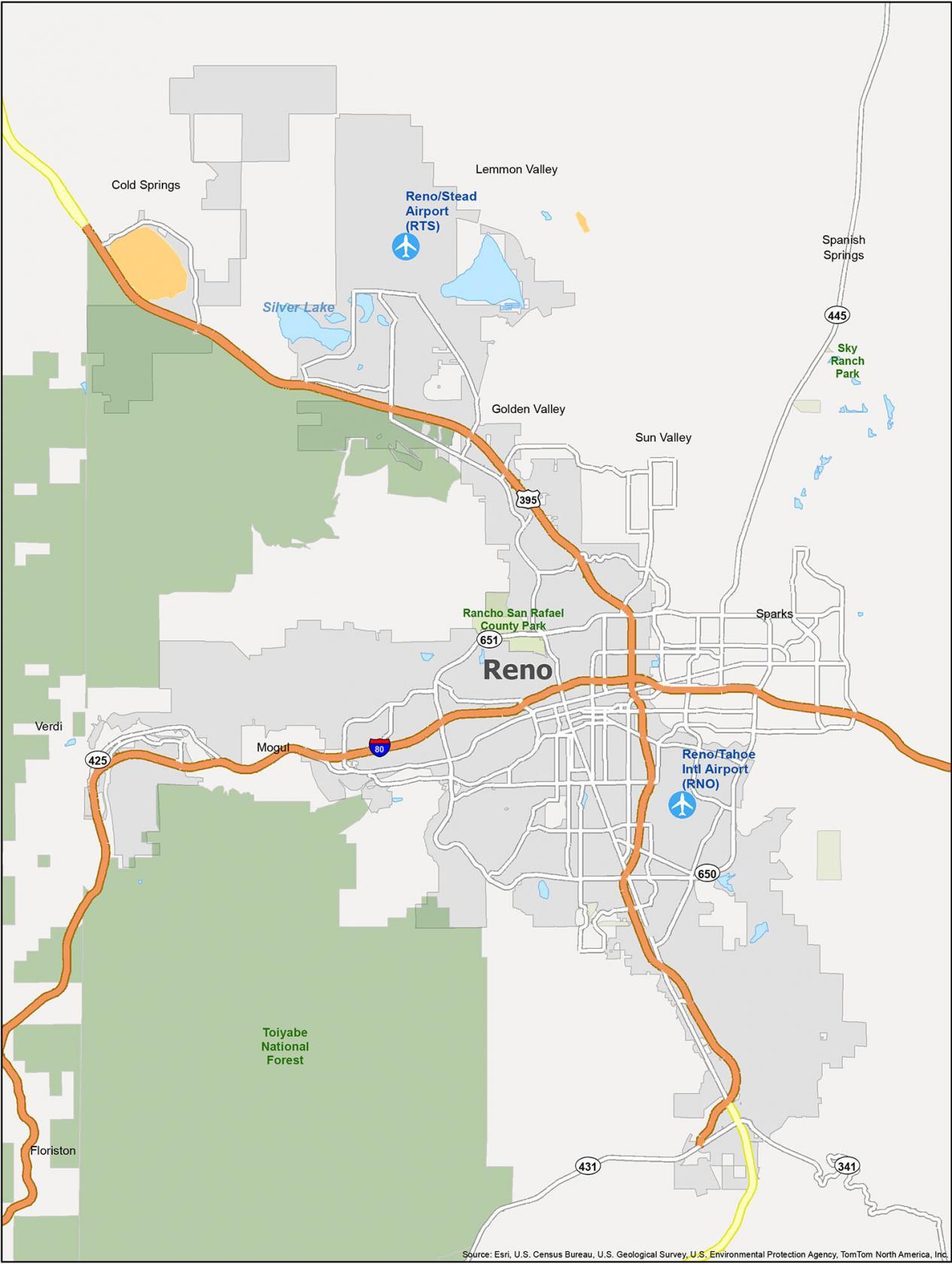 Airports: Reno-Tahoe International Airport (RNO), Reno-Stead Airport (RTS)
Cities: Reno, Sparks
Census-designated place (CDP): Cold Springs, Floriston, Golden Valley, Lemmon Valley, Mogul, Spanish Springs, Sun Valley, Verdi
Forests/Parks: Rancho San Rafael County Park, Toiyabe National Forest
Nevada map collection
References