New Hampshire Lakes and Rivers Map
About the map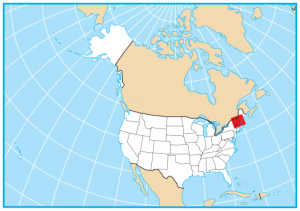 In this map, you will find major rivers, reservoirs, and lakes of New Hampshire like the Connecticut River and Lake Winnipesaukee. In general, the rivers of New Hampshire flow into the Atlantic Ocean.
The Connecticut River is a major feature in New Hampshire. In fact, it entirely forms the western border with the state of Vermont.
By far, the largest lake in New Hampshire is Lake Winnipesaukee at 44,586 acres in area. It's more than 5 times the size of the second-largest Umbagog Lake, which extends into Maine as well.
New Hampshire lakes, rivers and reservoirs
Major lakes of New Hampshire
Lake Winnipesaukee
Umbagog Lake
Lake Francis
Connecticut Lake
Squam Lake
Sunapee Lake
Newfound Lake
Ossipee Lake
Lake Wentworth
Winnisquam Lake
Rivers and streams
Connecticut River
Merrimack River
Contoocook River
Saco River
Ammonoosuc River
Ashuelot River
Pemigewasset River
Androscoggin River
Moore Reservoir
Upper Ammonoosuc River
Suncook River
Souhegan River
Salmon Falls River
Piscataqua River
Bays and reservoirs
Great Bay
Blackwater Reservoir
A USA map with states and cities that colorizes all 50 states in the United States of America. It includes selected major, minor and capital cities.
A physical map of the United States that features mountains, plateaus, lakes, rivers, cities and capitals. It includes inset maps for Hawaii and Alaska.
Free US Maps
Select a state to view its map