New Haven Connecticut Map
Map of New Haven
Ready, set, explore! It's time for a New Haven Connecticut map. It features roads/highways, points of interest, and things to do in the coastal city in the south of Connecticut.
It's the second-largest city in the state and home to the prestigious Yale University. Whether you are visiting for the first time or a seasoned New Haven local, find out everything there is to know with this New Haven map collection.
But first, you can get acquainted by interactively viewing the city in the Google Map of New Haven, Connecticut. Use this as your guide through the city and find local landmarks and ways of transportation.
Jump To: Interactive Map | Printable Road Map | 10 Things to Do | Reference Map
New Haven map collection
Interactive Map of New Haven
This map has everything you need to know about the city, from where to eat to where to find the best view. This interactive map is incredibly easy to use with the latest updated information for roads and places of interest. From restaurants to parks, and everything in between, this map will help you explore the city and find all the places you want to visit.
New Haven Road Map
This New Haven road map is your handy travel guide for your trip to the city. With a map at hand, you'll be able to navigate New Haven's streets and plan the perfect day. Use this printable map of the city to make your way around the city. Just follow this handy road map and you'll be able to get from point A to B. For any travel outside New Haven, take a look at this Connecticut road map for more highway information.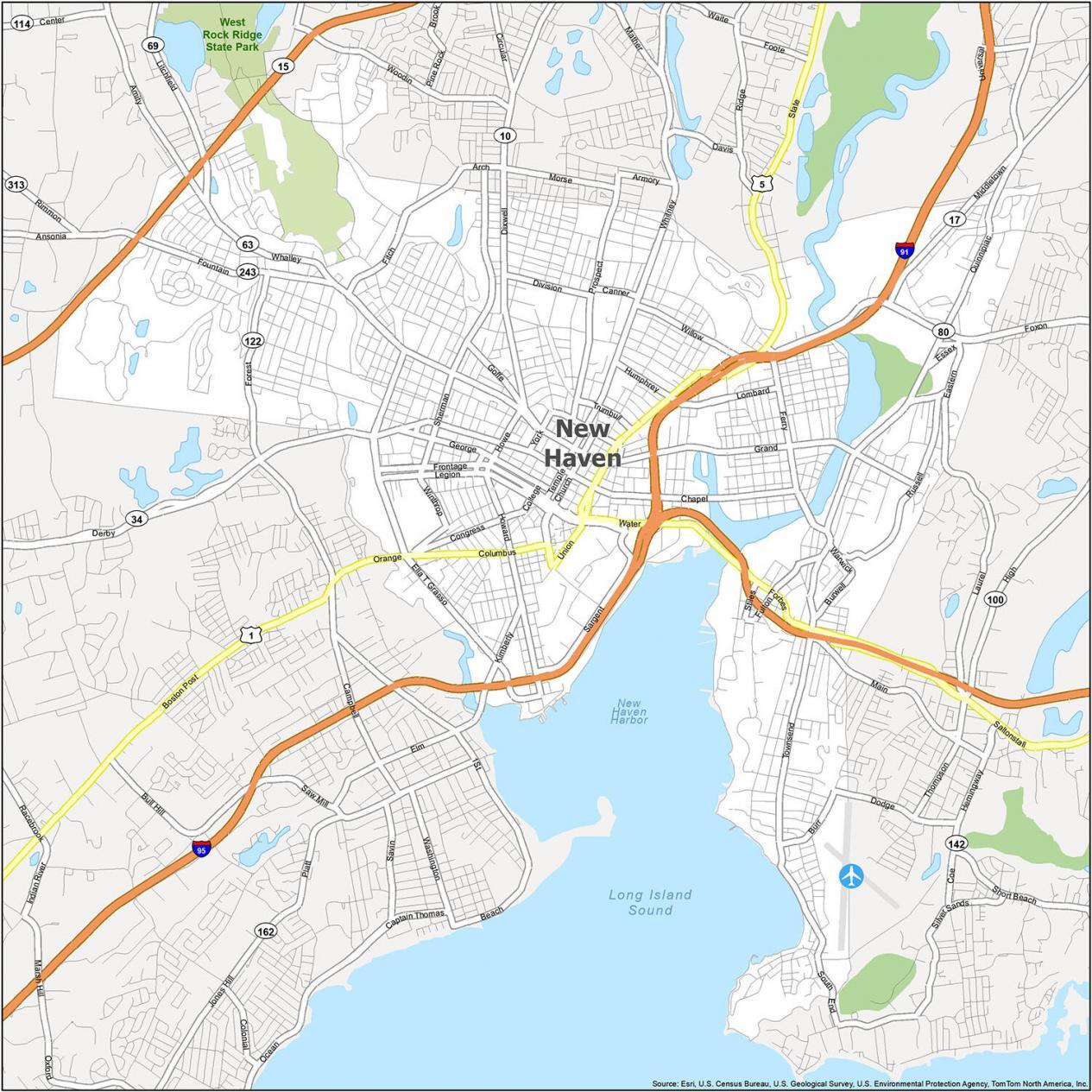 Interstate Highways: I-91, I-95
US Highways: 1, 5, 10, 15, 17, 34, 63, 69, 80, 122,
Parkways: Sherman Pky, Tower Pky
Major Roads: Amity Rd, Boston Post Rd, Brewery St, Church St, Columbus Ave, Congress Ave, Derby Ave, Ella T Grasso Blvd, Ferry St, Fitch St, Forbes Ave, Foxon Blvd, Frontage Rd, Fulton St, Kimberly Ave, Legion Ave, Middletown Ave, Orange Ave, Quinnipiac Ave, Sargent Dr, State St, Union Ave, Water St, Whalley Ave
10 Things To Do in New Haven
Discover the city and take in its most iconic locations. This map gives you a bird's eye view of what makes New Haven, Connecticut, one of the most remarkable cities in the United States. Not only can you get the lay of the land, but you can also find your way around and out, and help you make the most of your visit.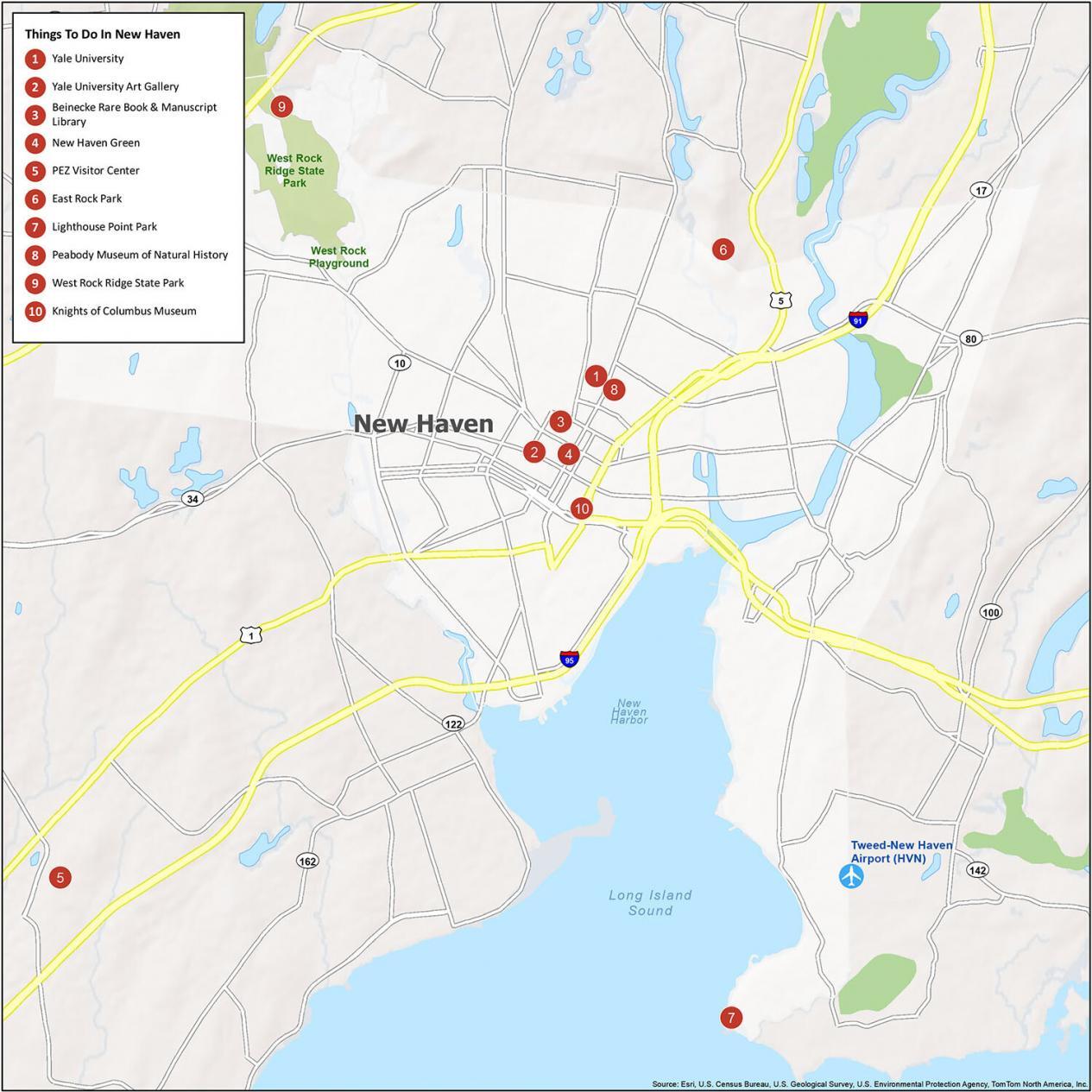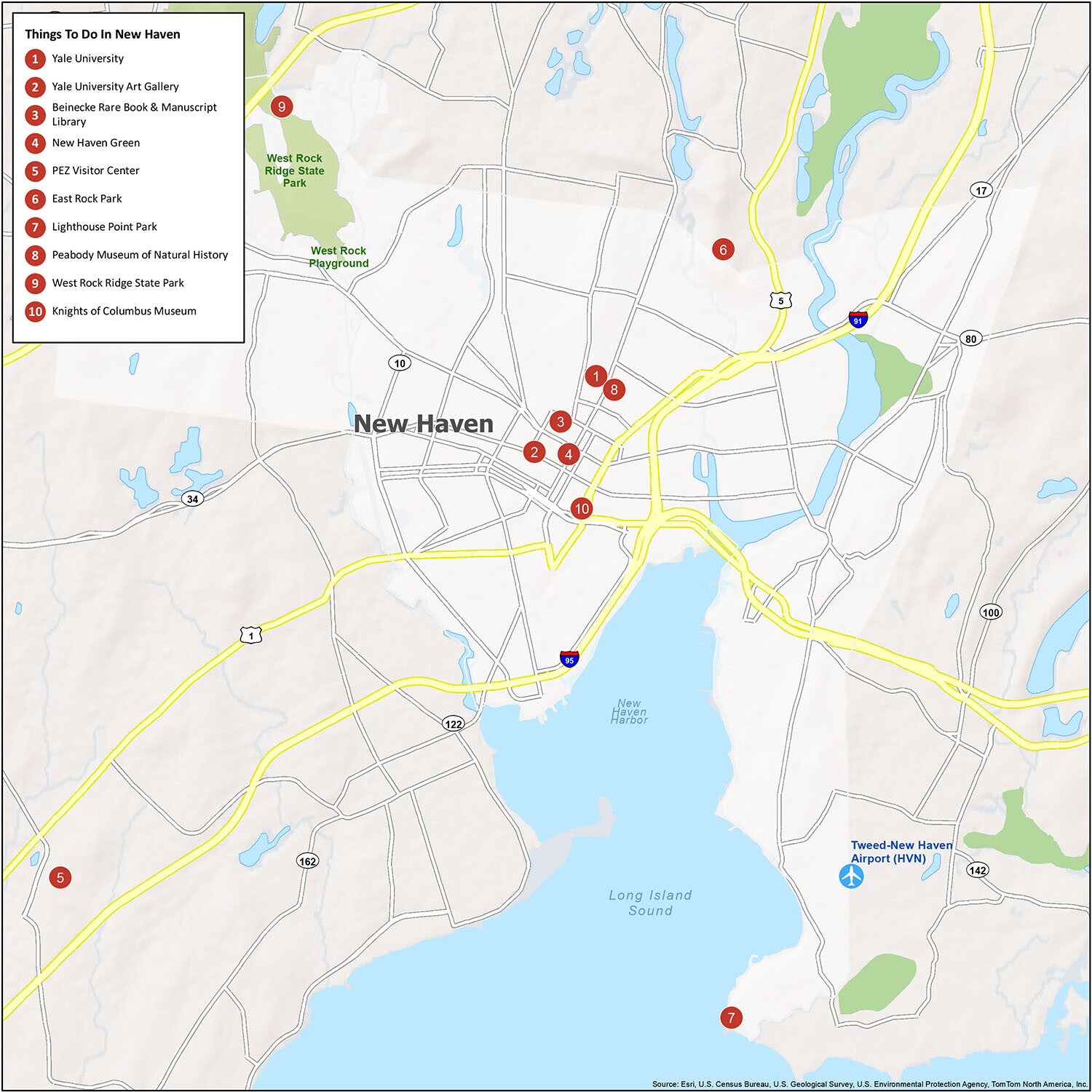 New Haven is known for being the home of Yale University and being the second-largest city in Connecticut. If you ever go to the Constitution State, here are our recommendations for the top 10 things to do.
Yale University
Yale University Art Gallery
Beinecke Rare Book & Manuscript Library
New Haven Green
PEZ Visitor Center
East Rock Park
Lighthouse Point Park
Peabody Museum of Natural History
West Rock Ridge State Park
Knights of Columbus Museum
New Haven Reference Map
This map is a perfect way to explore the city and find your way around. It includes state parks, harbors, lakes, and other points of interest. Whether you are walking, driving, or on public transportation, this reference map will help you learn more about New Haven, Connecticut.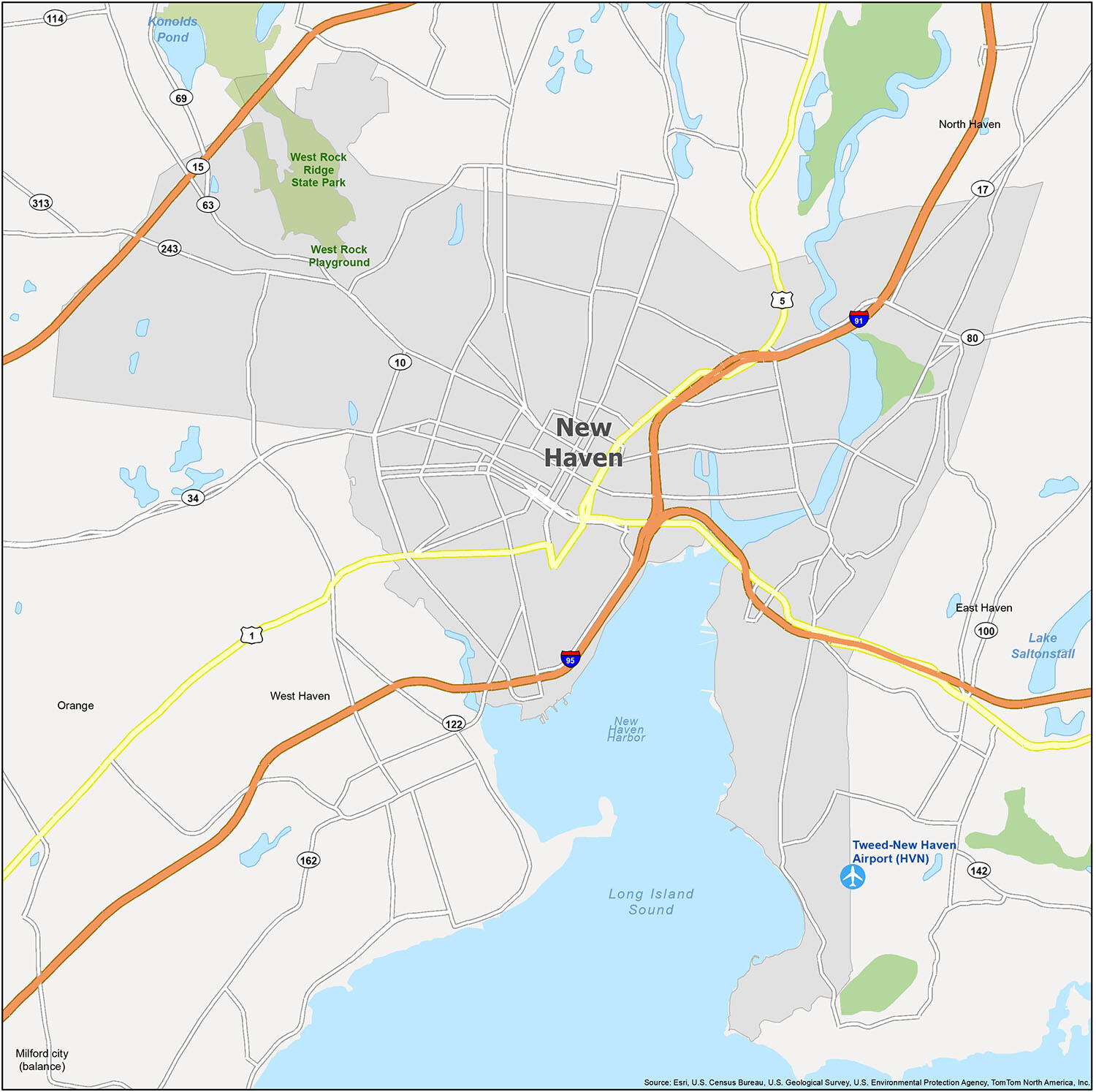 Cities: New Haven, West Haven
Census-designated place (CDP): East Haven, North Haven, Orange
Lakes: Lake Saltonstall, Long Island Sound, New Haven Harbor
Parks: West Rock Ridge State Park, West Rock Playground
Connecticut map collection
References