New Mexico Lakes and Rivers Map
New Mexico Maps
New Mexico City Maps
About the map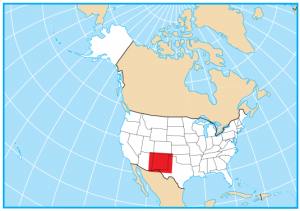 This map shows major rivers, reservoirs, and lakes of New Mexico like the Rio Grande and Pecos River. In general, rivers in New Mexico flow into the Gulf of Mexico and the Gulf of California.
The Rio Grande is one of the major rivers in New Mexico. In fact, it starts all the way north in Colorado. Then, it flows through New Mexico, including the west of Albuquerque.
By far, the largest lake in New Mexico is the Elephant Butte Lake at 36,500 acres. In fact, it's so large that it more than doubles the second largest lake, Navajo Lake at 15,610 acres.
New Mexico lakes, rivers and reservoirs
Lakes and reservoirs
Elephant Butte Reservoir
Conchas Lake
Caballo Reservoir
Navajo Reservoir
Abiquiu Reservoir
Canadian River
Red Bluff Lake
Two Rivers Reservoir
Lake Sumner
Eagle Nest Lake
Ute Reservoir
Lake McMillan
Rivers and streams
Pecos River
Rio Grande
San Juan River
Rio Chama
Rio Puerco
Gila River
Rio Hondo
Chaco River
Animas River
Vermejo River
Mora River
Cimarron River
Carrizo Creek
Ute Creek
Gallinas River
Penasco Rio
San Francisco River
Rio Salado River
Rio San Jose River
Zuni River
References
New Mexico Maps
New Mexico City Maps
US State Maps