Map of Oakland
Here is an Oakland map collection featuring highways, roads, places, and things to do. It also includes an interactive map to explore the city's attractions and neighborhoods.
Oakland is a city on the west coast of the state of California. With over 19 miles of coastline, it boasts beautiful panoramic views of the West Bay skyline. As a vibrant, diverse city, Oakland is a treasure trove of cultural experiences.
Whether you're planning a trip to California or just want to get to know the city better, this map will help you find all the things you'd like to see. Get the lay of the land with this Oakland map collection.
Jump To: Interactive Map | Printable Road Map | 10 Things to Do | Reference Map
Oakland map collection
Interactive Map of Oakland
Looking for a fun day of exploring the Bay Area? This interactive map is a must-have. The historic town of Oakland is located just east of San Francisco. The city is home to historic landmarks and hosts some of the most modern marvels and everything in between. With this interactive map, you can pinpoint your destination and learn about the city's history, architecture, and culture. Whether you are a local or a visitor, this map is a must-have to find attractions in Oakland.
Oakland Road Map
It's always a good idea to have a map on hand when you're traveling. With this printable Oakland road map, you'll be able to easily find your way through the city with ease. Whether you're a local looking to explore the city's many hiking and biking trails, or just visiting, you'll find something to keep you occupied in this charming California city. But if you plan on traveling outside the city, download our California road map for more highway information.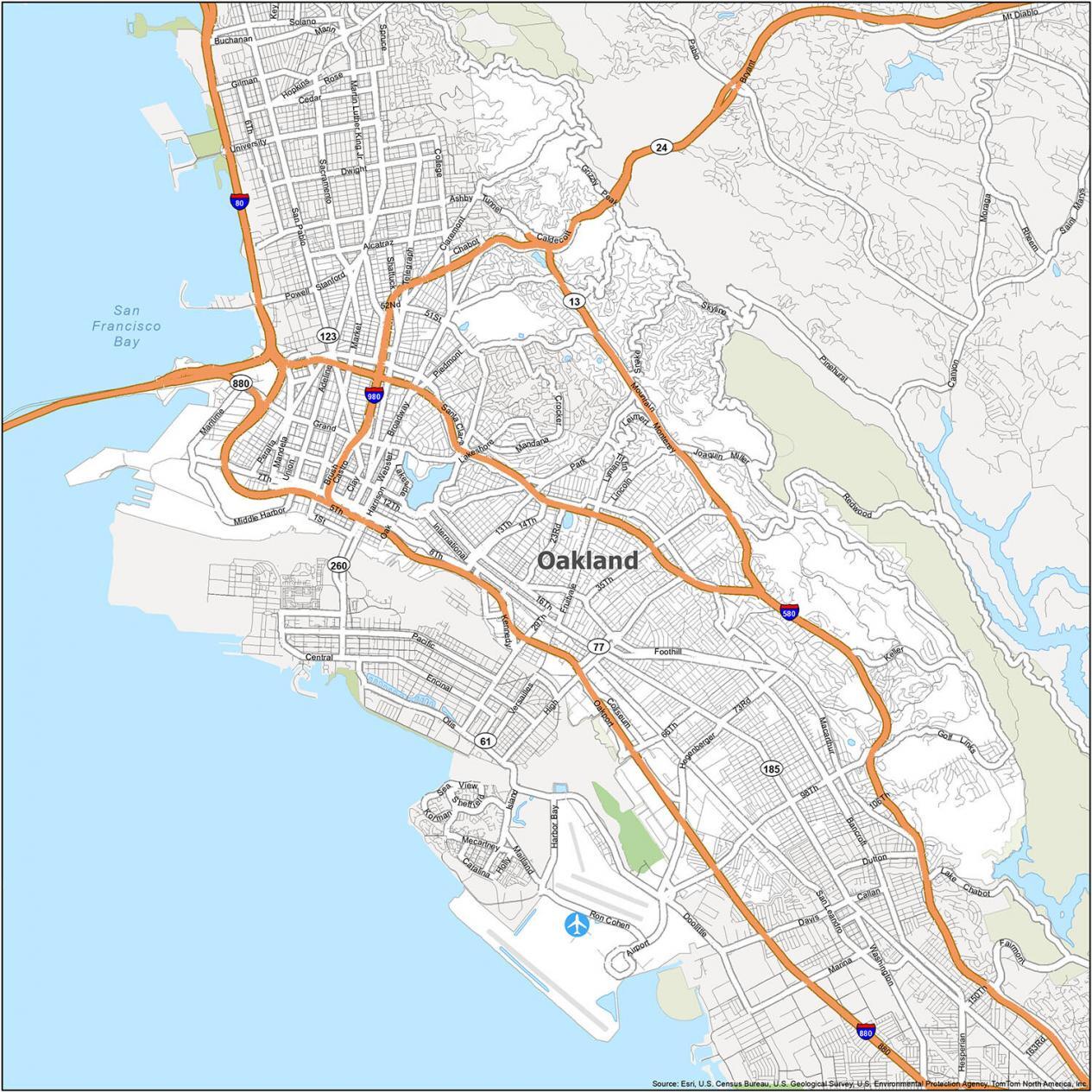 Interstate Highways: I-80, I-580, I-880, I-980
US Highways: 13, 24, 77, 185
Expressways/Parkways: Hegenberger Expy, Mandela Pky, Ron Cohen Pky
Major Roads: 12th St, 14th St, 42nd Ave, Alcatraz Ave, Broadway, Coliseum Way, College Rd, Frontage Rd, Grand Ave, Harrison St, High St, International Blvd, Mandana Blvd, Oakland Ave, Oakport St, Park Blvd, San Pablo Ave, Standford Ave, Tunnel Rd
10 Things To Do in Oakland
Looking for a quick, easy, and reliable way to explore Oakland? Oakland is known for its bustling downtown and its many parks. It's also home to many art galleries and museums. Get the most out of your visit to Oakland. Explore Oakland's great museums and landmarks with this easy-to-use map that is an invaluable resource. The city of Oakland has a lot to offer its visitors, so check out the following guide for some ideas on what to do in Oakland.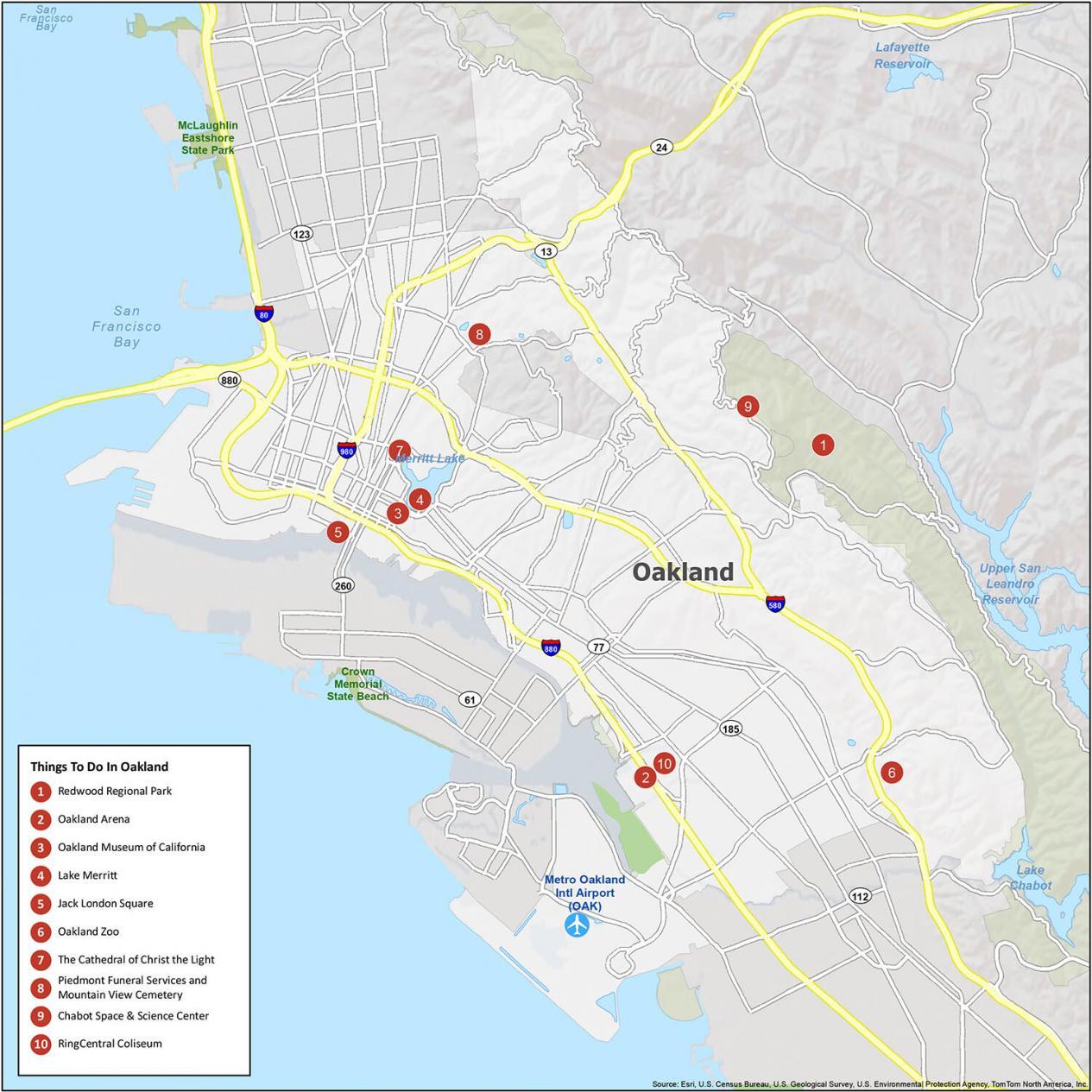 Despite the dangers of living in Oakland, there are a lot of neat tourist sites for visitors. Here is a list of what we would recommend if you travel to Oakland:
Redwood Regional Park
Oakland Arena
Oakland Museum of California
Lake Merritt
Jack London Square
Oakland Zoo
The Cathedral of Christ the Light
Piedmont Funeral Services and Mountain View Cemetery
Chabot Space & Science Center
RingCentral Coliseum
Oakland Reference Map
Oakland is a beautiful city with quirky neighborhoods and great views of the Bay Area. It's also one of the most ethnically diverse cities in the country. With this reference map of Oakland, we give you the power to explore Oakland and see it from a new perspective. You can find state parks and nearby populated areas. Get to know the city and its neighborhoods with this detailed map of Oakland.
Airports: Metro Oakland International Airport (OAK)
Cities: Alameda, Albany, Berkeley, Brisbane, Emeryville, Lafayette, Oakland, Orinda, Piedmont, Richmond, San Francisco, San Leandro
Towns: Moraga
Census-designated place (CDP): Ashland, Castro Valley
Bays/Lakes: Lake Chabot, Merritt Lake, San Francisco Bay
California map collection