Map of Oklahoma City
Howdy! This Oklahoma map collection features a map of Oklahoma with highways, roads, places of interest, and things to do. Then, check out our interactive map of Oklahoma City to explore OKC in more detail.
Oklahoma City is located in the central part of the state and is surrounded by several smaller cities and towns. However, it is the main urban center of the Oklahoma region and the state's capital. The city is home to a diverse population of around 645,000 people.
In this article, we'll be taking you on a whirlwind tour of everything you need to know about Oklahoma City – from its history to its quirky attractions to its must-see things to do, it's all right here.
Jump To: Interactive Map | Printable Road Map | 10 Things to Do | Reference Map
Oklahoma City map collection
Interactive Map of Oklahoma City
Oklahoma City is full of great things to see, from art museums to outdoor adventures. Our map will show you how to get around the city and help you find the best places to explore. Whether you are looking for hotels, attractions, or restaurants, you can find all the information you need with a quick tap.
Explore Oklahoma City with this map and discover the best areas to live, work, and play. While you're at it, make sure you're not missing any of the top attractions or dining spots in Oklahoma City.
Oklahoma City Road Map
Oklahoma City is one of the most vibrant cities in America, with a dynamic downtown and a growing skyline. This map will help you navigate the city and find your way to the attractions you want to see. It also displays color-coded highway options and major roads.
Get a bird's eye view of Oklahoma City with this map. Whether you're a tourist or a local, this map will help you get to know Oklahoma City better. But if you plan to travel outside the city, then download our Oklahoma road map for interstates and highway information.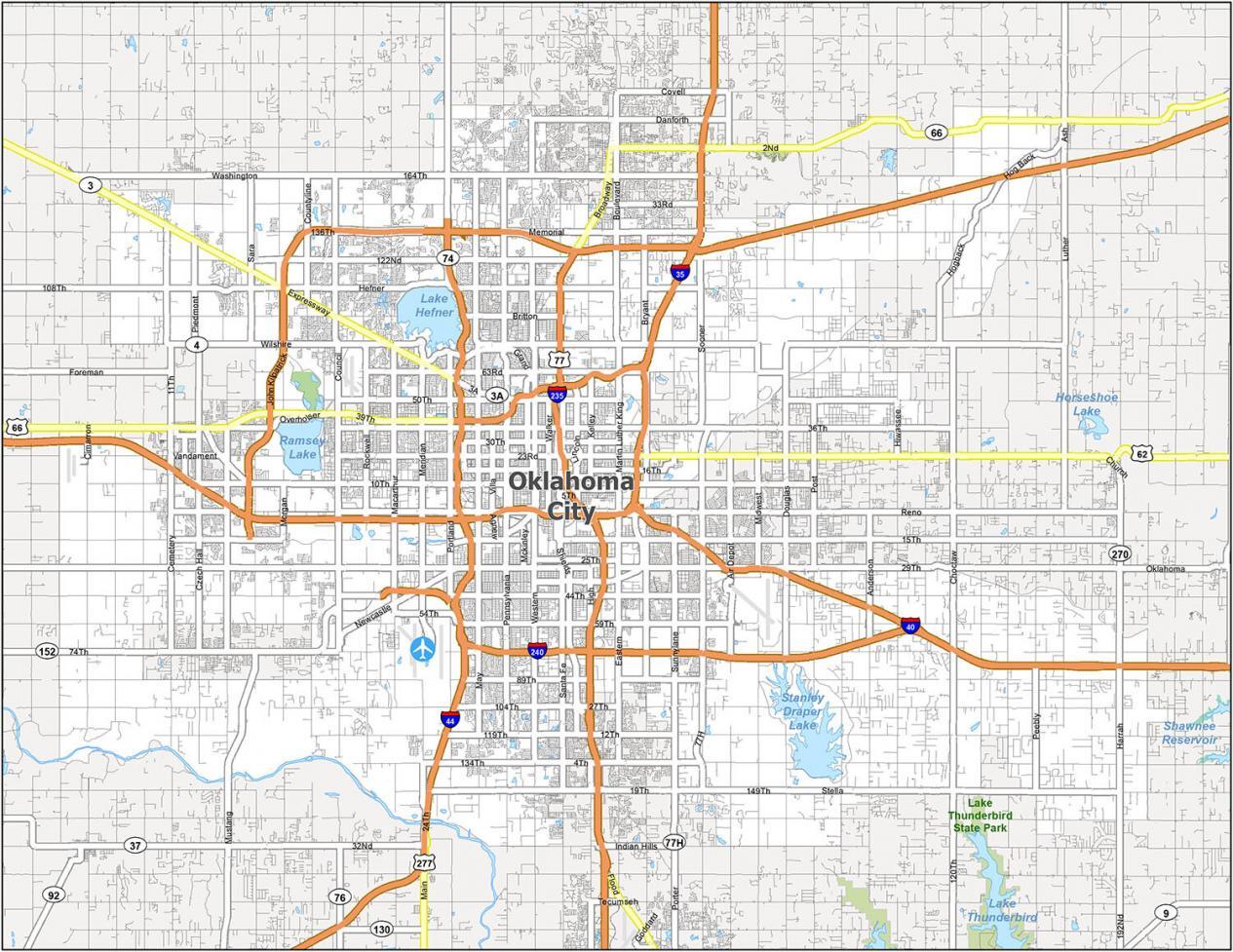 Interstate Highways: I-35, I-40, I-44, I-235, I-240
US Highways: 3, 4, 37, 62, 66, 74, 77, 152, John Kilpatrick Tpke
Expressways/Parkways: 39th Expy, Lake Hefner Pky, Memorial Pky
Major Roads: 4th St, 5th St, 6th St, 15th St, 23rd St, 29th St, 36th St, 39th St, 44th St, 74th St, 134th St, 149th St, Broadway Ave, California Ave, Cemetery Rd, Classen Blvd, Clear Springs Rd, Council Rd, Danforth Rd, Expressway St, Grand Blvd, Harrison Ave, Hefner Rd, K Gaylord Blvd, Meridian Ave, Morgan Rd, Mustang Rd, Newcastle Rd, Piedmont Rd, Portland Ave, Reno Ave, Santa Fe Ave, Sheridan Ave, Shields Blvd, Sooner Rd, Western Ave
10 Things To Do in Oklahoma City
Oklahoma City is a big city, so you're going to want to map it out. But, in case you didn't know, there's a lot more to this city than museums and BBQ. With our map, you can easily navigate the city and find all the attractions you enjoy.
You can use this map to plan your trip or use it on the go to get around. Download and print this map so you can find the top attractions to see in Oklahoma City.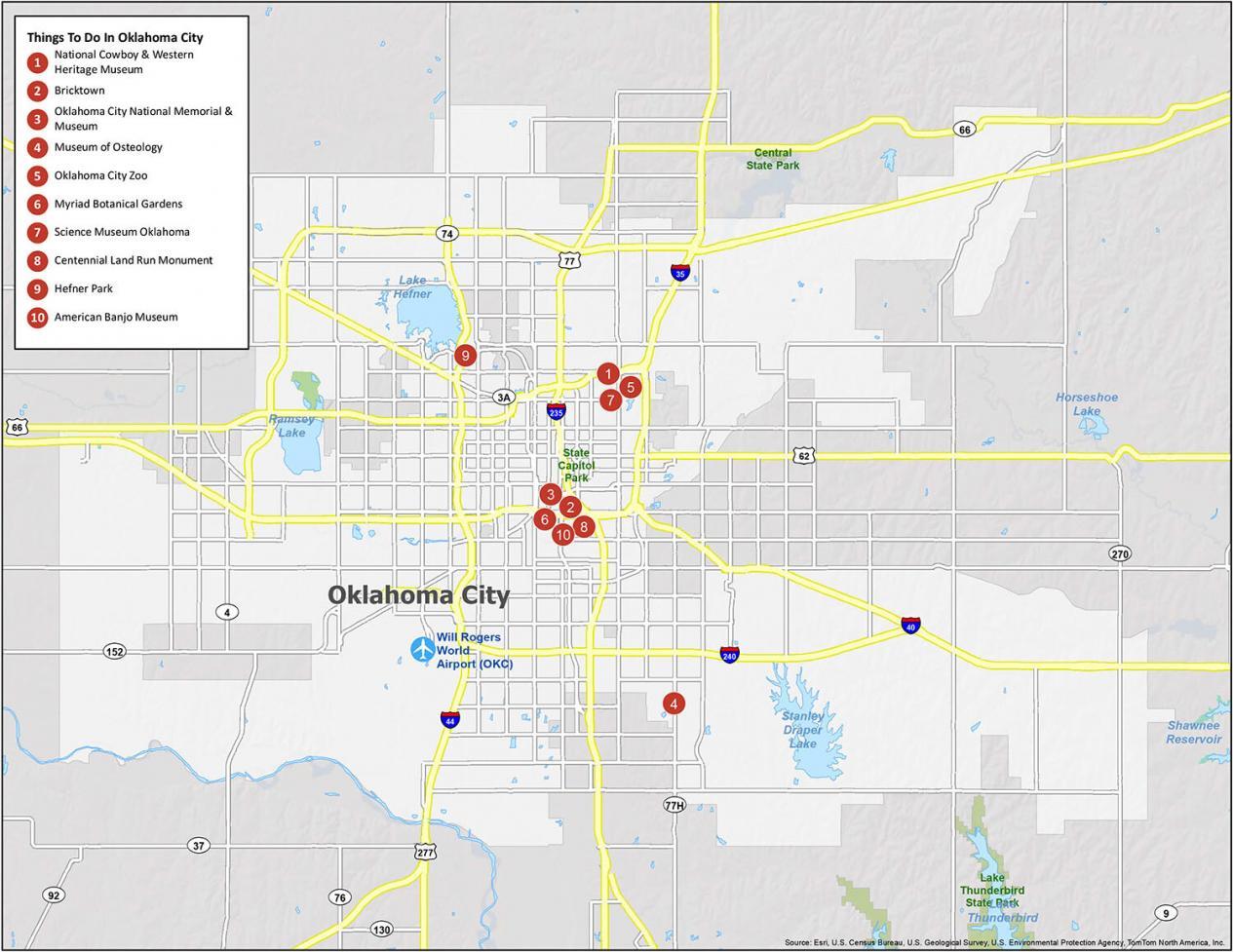 Oklahoma City is known for its musicians. It's also famous for some of its unique attractions like Bricktown and the National Cowboy & Western Heritage Museum. If you ever go there, we highly recommend these 10 things to do.
National Cowboy & Western Heritage Museum
Bricktown
Oklahoma City National Memorial & Museum
Museum of Osteology
Oklahoma City Zoo
Myriad Botanical Gardens
Science Museum Oklahoma
Centennial Land Run Monument
Hefner Park
American Banjo Museum
Oklahoma City Reference Map
This map of Oklahoma City has been designed to help you plan your own personal itinerary. You can explore the city on your own or find out what's on offer in Oklahoma City with the help of this map. This map is the perfect tool for anyone looking to explore the city. With detailed information on lakes, parks, and populated areas in the area, this reference map is a great resource for locals and visitors alike.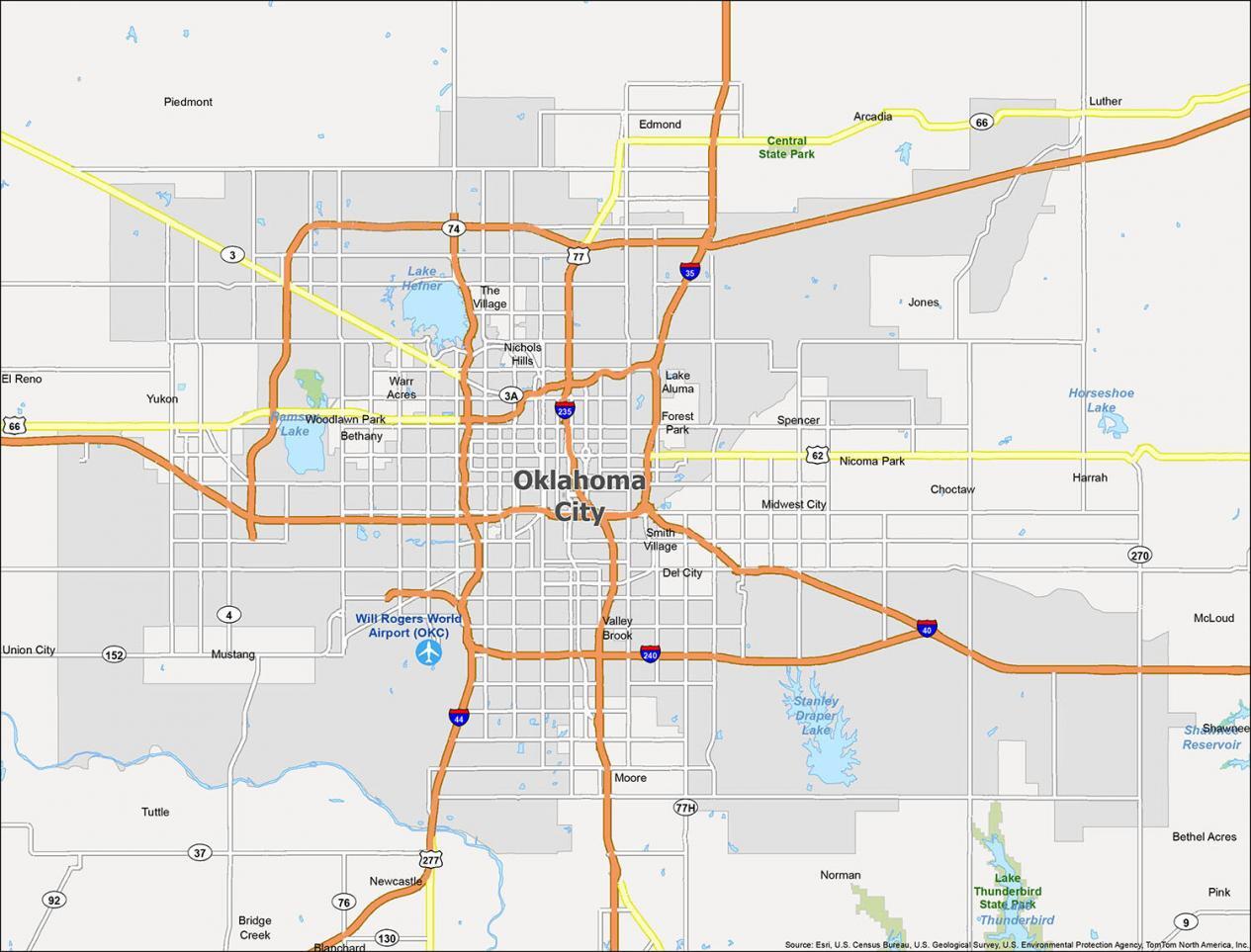 Airports: Will Rogers World Airport (OKC)
Cities: Bethany, Blanchard, Choctaw, Del City, Edmond, El Reno, Harrah, McLoud, Midwest City, Moore, Mustang, Newcastle, Nichols Hills, Nicoma Park, Norman, Oklahoma City, Piedmont, Shawnee, Spencer, The Village, Tuttle, Warr Acres, Yukon
Towns: Arcadia, Bethel Acres, Bridge Creek, Forest Park, Jones, Lake Aluma, Luther, Pink, Smith Village, Union City, Valley Brook, Woodlawn Park
Oklahoma City maps
Oklahoma map collection
References