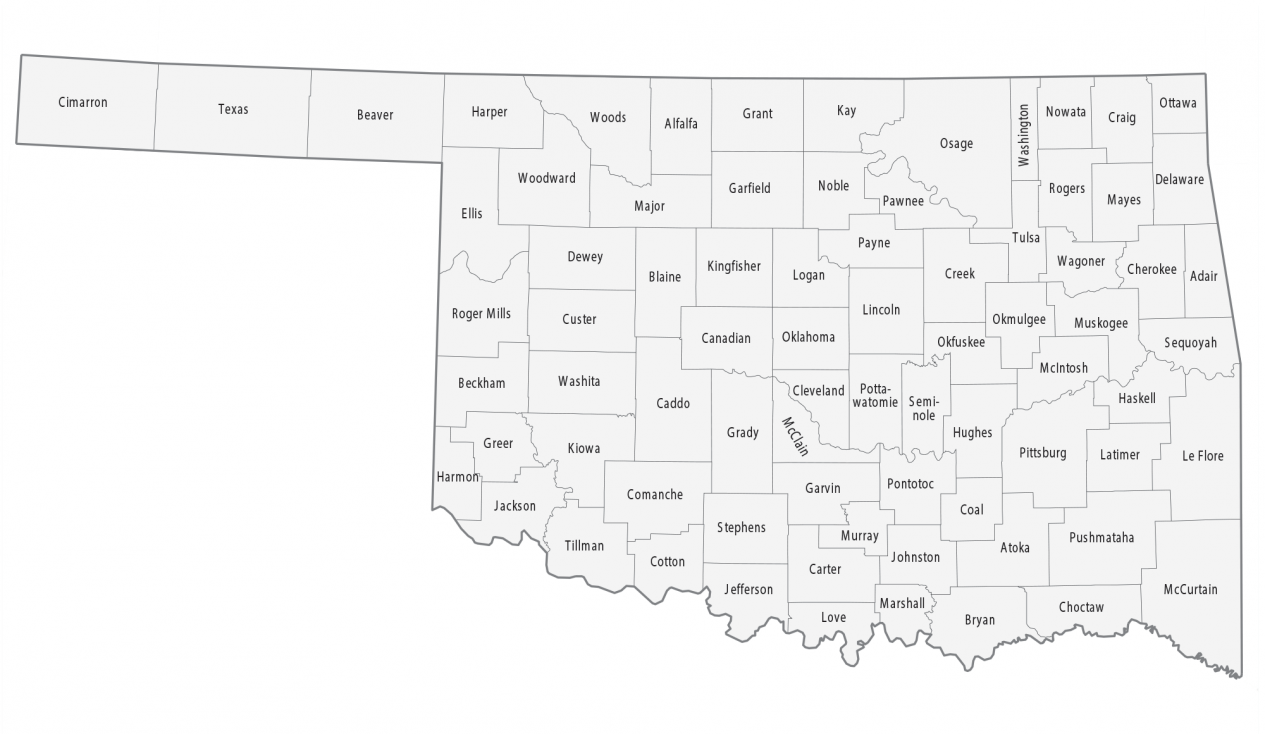 About the map
This Oklahoma county map displays its 77 counties. This tally of 77 ranks the 17th highest for the number of counties in the United States.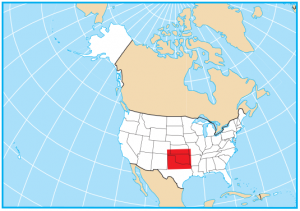 Oklahoma County is the most populated county in the state of Oklahoma with close to 800,000 people. This is primarily because the state capital, Oklahoma City, is located in this county. The least populated county in Oklahoma is Cimarron County with just over 2000 residents.
For size, Osage County is the largest, occupying an area of over 2300 square miles. Conversely, the smallest county in Oklahoma is Marshall County in southeast Oklahoma with an area of 422 square miles.
Oklahoma map collection
You are free to use our county map of Oklahoma for educational and commercial uses. Attribution is required. How to attribute?
Oklahoma County List
| County Name | Population (2020 est) | County Map | Area (sq mi) | Locator Map | FIPS Code |
| --- | --- | --- | --- | --- | --- |
| Adair County | 22,194 | Adair County | 577.1 | Adair County Map | 40001 |
| Alfalfa County | 5,702 | Alfalfa County | 881.3 | Alfalfa County Map | 40003 |
| Atoka County | 13,758 | Atoka County | 990 | Atoka County Map | 40005 |
| Beaver County | 5,311 | Beaver County | 1817.9 | Beaver County Map | 40007 |
| Beckham County | 21,859 | Beckham County | 903.9 | Beckham County Map | 40009 |
| Blaine County | 9,429 | Blaine County | 938.8 | Blaine County Map | 40011 |
| Bryan County | 47,995 | Bryan County | 942.7 | Bryan County Map | 40013 |
| Caddo County | 28,762 | Caddo County | 1290.2 | Caddo County Map | 40015 |
| Canadian County | 148,306 | Canadian County | 905 | Canadian County Map | 40017 |
| Carter County | 48,111 | Carter County | 833.7 | Carter County Map | 40019 |
| Cherokee County | 48,657 | Cherokee County | 775.2 | Cherokee County Map | 40021 |
| Choctaw County | 14,672 | Choctaw County | 796.6 | Choctaw County Map | 40023 |
| Cimarron County | 2,137 | Cimarron County | 1843.9 | Cimarron County Map | 40025 |
| Cleveland County | 284,014 | Cleveland County | 557.1 | Cleveland County Map | 40027 |
| Coal County | 5,495 | Coal County | 521.3 | Coal County Map | 40029 |
| Comanche County | 120,749 | Comanche County | 1083.7 | Comanche County Map | 40031 |
| Cotton County | 5,666 | Cotton County | 641.9 | Cotton County Map | 40033 |
| Craig County | 14,142 | Craig County | 762.7 | Craig County Map | 40035 |
| Creek County | 71,522 | Creek County | 969.8 | Creek County Map | 40037 |
| Custer County | 29,003 | Custer County | 1002.1 | Custer County Map | 40039 |
| Delaware County | 43,009 | Delaware County | 792.3 | Delaware County Map | 40041 |
| Dewey County | 4,891 | Dewey County | 1008.2 | Dewey County Map | 40043 |
| Ellis County | 3,859 | Ellis County | 1231.5 | Ellis County Map | 40045 |
| Garfield County | 61,056 | Garfield County | 1060 | Garfield County Map | 40047 |
| Garvin County | 27,711 | Garvin County | 813.7 | Garvin County Map | 40049 |
| Grady County | 55,834 | Grady County | 1105.4 | Grady County Map | 40051 |
| Grant County | 4,333 | Grant County | 1003.6 | Grant County Map | 40053 |
| Greer County | 5,712 | Greer County | 643.6 | Greer County Map | 40055 |
| Harmon County | 2,653 | Harmon County | 538.6 | Harmon County Map | 40057 |
| Harper County | 3,688 | Harper County | 1041.1 | Harper County Map | 40059 |
| Haskell County | 12,627 | Haskell County | 624 | Haskell County Map | 40061 |
| Hughes County | 13,279 | Hughes County | 815 | Hughes County Map | 40063 |
| Jackson County | 24,530 | Jackson County | 803.9 | Jackson County Map | 40065 |
| Jefferson County | 6,002 | Jefferson County | 773.3 | Jefferson County Map | 40067 |
| Johnston County | 11,085 | Johnston County | 658.5 | Johnston County Map | 40069 |
| Kay County | 43,538 | Kay County | 945 | Kay County Map | 40071 |
| Kingfisher County | 15,765 | Kingfisher County | 906 | Kingfisher County Map | 40073 |
| Kiowa County | 8,708 | Kiowa County | 1030.7 | Kiowa County Map | 40075 |
| Latimer County | 10,073 | Latimer County | 729.1 | Latimer County Map | 40077 |
| Le Flore County | 49,853 | Le Flore County | 1607.8 | Le Flore County Map | 40079 |
| Lincoln County | 34,877 | Lincoln County | 965.7 | Lincoln County Map | 40081 |
| Logan County | 48,011 | Logan County | 748.7 | Logan County Map | 40083 |
| Love County | 10,253 | Love County | 531.6 | Love County Map | 40085 |
| Major County | 40,474 | Major County | 958.2 | Major County Map | 40093 |
| Marshall County | 32,832 | Marshall County | 422.5 | Marshall County Map | 40095 |
| Mayes County | 19,596 | Mayes County | 683.5 | Mayes County Map | 40097 |
| McClain County | 7,629 | McClain County | 581.4 | McClain County Map | 40087 |
| McCurtain County | 16,931 | McCurtain County | 1898.8 | McCurtain County Map | 40089 |
| McIntosh County | 41,100 | McIntosh County | 715.8 | McIntosh County Map | 40091 |
| Murray County | 14,073 | Murray County | 425 | Murray County Map | 40099 |
| Muskogee County | 67,997 | Muskogee County | 839.9 | Muskogee County Map | 40101 |
| Noble County | 11,131 | Noble County | 742.5 | Noble County Map | 40103 |
| Nowata County | 10,076 | Nowata County | 580.9 | Nowata County Map | 40105 |
| Okfuskee County | 11,993 | Okfuskee County | 628.9 | Okfuskee County Map | 40107 |
| Oklahoma County | 797,434 | Oklahoma County | 718.3 | Oklahoma County Map | 40109 |
| Okmulgee County | 38,465 | Okmulgee County | 702.4 | Okmulgee County Map | 40111 |
| Osage County | 46,963 | Osage County | 2303.4 | Osage County Map | 40113 |
| Ottawa County | 31,127 | Ottawa County | 484.8 | Ottawa County Map | 40115 |
| Pawnee County | 16,376 | Pawnee County | 595.3 | Pawnee County Map | 40117 |
| Payne County | 81,784 | Payne County | 697.1 | Payne County Map | 40119 |
| Pittsburg County | 43,654 | Pittsburg County | 1375.6 | Pittsburg County Map | 40121 |
| Pontotoc County | 38,284 | Pontotoc County | 725.2 | Pontotoc County Map | 40123 |
| Pottawatomie County | 72,592 | Pottawatomie County | 793.2 | Pottawatomie County Map | 40125 |
| Pushmataha County | 11,096 | Pushmataha County | 1422.7 | Pushmataha County Map | 40127 |
| Roger Mills County | 3,583 | Roger Mills County | 1147 | Roger Mills County Map | 40129 |
| Rogers County | 92,459 | Rogers County | 711.5 | Rogers County Map | 40131 |
| Seminole County | 24,258 | Seminole County | 640.6 | Seminole County Map | 40133 |
| Sequoyah County | 41,569 | Sequoyah County | 714.3 | Sequoyah County Map | 40135 |
| Stephens County | 43,143 | Stephens County | 891.3 | Stephens County Map | 40137 |
| Texas County | 19,983 | Texas County | 2048.8 | Texas County Map | 40139 |
| Tillman County | 7,250 | Tillman County | 879.1 | Tillman County Map | 40141 |
| Tulsa County | 651,552 | Tulsa County | 586.9 | Tulsa County Map | 40143 |
| Wagoner County | 81,289 | Wagoner County | 592.1 | Wagoner County Map | 40145 |
| Washington County | 51,527 | Washington County | 424.2 | Washington County Map | 40147 |
| Washita County | 10,916 | Washita County | 1008.8 | Washita County Map | 40149 |
| Woods County | 8,793 | Woods County | 1289.8 | Woods County Map | 40151 |
| Woodward County | 20,211 | Woodward County | 1245.9 | Woodward County Map | 40153 |
References