About the map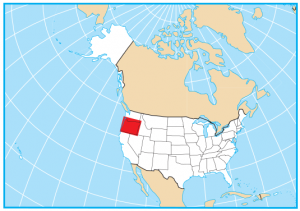 In this map, you will find major rivers, reservoirs and lakes of Oregon like Crater Lake and Goose Lake. In general, rivers in Oregon flow into the Pacific Ocean.
Some of the major rivers in Oregon are the Columbia River, Snake River and the Owyhee River. In fact, Oregon is bounded by Columbia River in the north and Snake in the north-east.
By far, Upper Klamath Lake is the largest lake in Oregon at 61,544 acres in area. Next, this is followed by Lake Wallula, Hells Canyon Reservoirs and Crater Lake. Also, Crater Lake is the deepest lake in all of the United States. And perhaps, one of the bluest in color.
Oregon lakes, rivers and reservoirs
Lakes and reservoirs
Upper Klamath Lake
Goose Lake
Summer Lake
Lake Abert
Harney Lake
Malheur Lake
Crater Lake
Warner Lakes
Lake Owyhee
Lake Billy Chinook
Wickiup Reservoir
Fern Ridge Lake
Pacific Ocean
Rivers and streams
Columbia River
Willamette River
Deschutes River
John Day River
Owyhee River
Snake River
Crooked River
Umpqua River
Rogue River
Umpqua River
Bear Creek
Williamson River
Sprague River
Lost River
Rattlesnake Creek
Donner und Blitzen River
Silver Creek
Silvies River
Willow Creek
Burnt River
Powder River
Imnaha River
Wallowa River
Umatilla River
Butter Creek
Willow Creek
Malheur River
Grande Ronde River
Nehalem River
Clackamas River
South Santiam River
McKenzie River
Klamath River
Siuslaw River
Coquille River
Illinois River
References
Free US Maps
Select a state to view its map
Still looking for a real map?
National Geographic
carries a full range of Country Maps, US Maps, World Maps, Regional Maps, Historical Maps and Celestial Maps.