Palm Springs California Map
Map of Palm Springs
In this map of Palm Springs California, we feature highways, roads, and landmarks so you can get the most out of your next trip to the "Golf Capital of the World".
Palm Springs is a tourist city in the state of California. It's located in southern California, next to the San Jacinto Mountains with the world-renowned Joshua Tree National Park just a short distance away.
Whether you are looking to explore the area or just want to know what is nearby, this Palm Springs map collection will provide you with valuable information. But first, explore Palm Springs with an interactive map provided by Google Maps.
Jump To: Interactive Map | Printable Road Map | 10 Things to Do | Reference Map
Palm Springs map collection
Interactive Map of Palm Springs
Palm Springs is one of America's most captivating resort cities, and this interactive map will help you find the best hotels, restaurants, and attractions. It shows you everything from the best places to shop, where to eat, where to stay, and which sites to see. This map is interactive, so you can zoom in and out, and is easy to use and explore all the fine details of Palm Springs, California.
Palm Springs Road Map
Palm Springs is a beautiful city, but it can also be difficult to find your way around. Whether you're in need of a map for your daily commute or a guide to popular local attractions, this map will help you make the most of your trip. This Palm Springs road map is more than just a map. It's the perfect companion to your vacation in Palm Springs, California. It is color-coded to show the interstates, highways, and major roads. But if you plan to travel outside the city, check out our California road map for more highway information.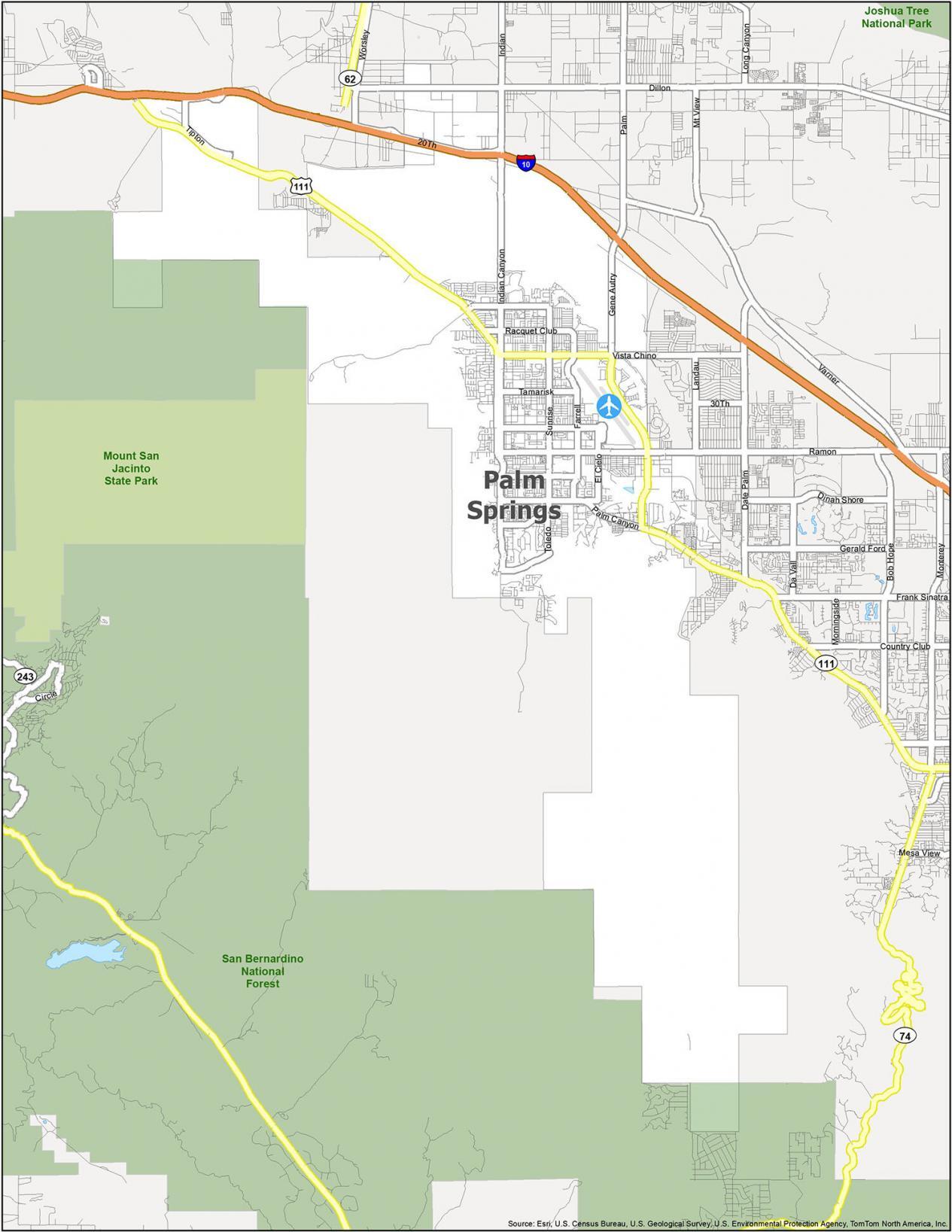 Interstate Highways: I-10
US Highways: 111
Major Roads: 20th Ave, Dillon Rd, El Cielo Rd, Escoba Dr, Farrell Dr, Gene Autry Trl, Indian Ave, Indian Canyon Dr, La Verne Way, Landau Blvd, Mesquite Ave, Murray Canyon Dr, Palm Canyon Dr, Racquet Club Rd, Ramon Rd, San Rafael Dr, Southland Dr, Sunrise Way, Tahquitz Canyon Way, Tahquitz Mccallum Way, Tahquitz Way, Tamarisk Rd, Tipton Rd, Toledo Ave, Vista Chino
10 Things To Do in Palm Springs
Palm Springs is a beautiful desert city in the American Southwest. This map of Palm Springs shows you the city's major attractions, points of interest, and the locations of some of the best parks, gardens, forests, museums, and mountains in Palm Springs. Take a journey of discovery as you explore your home away from home. You can explore the sights, attractions, and hidden gems of the desert city.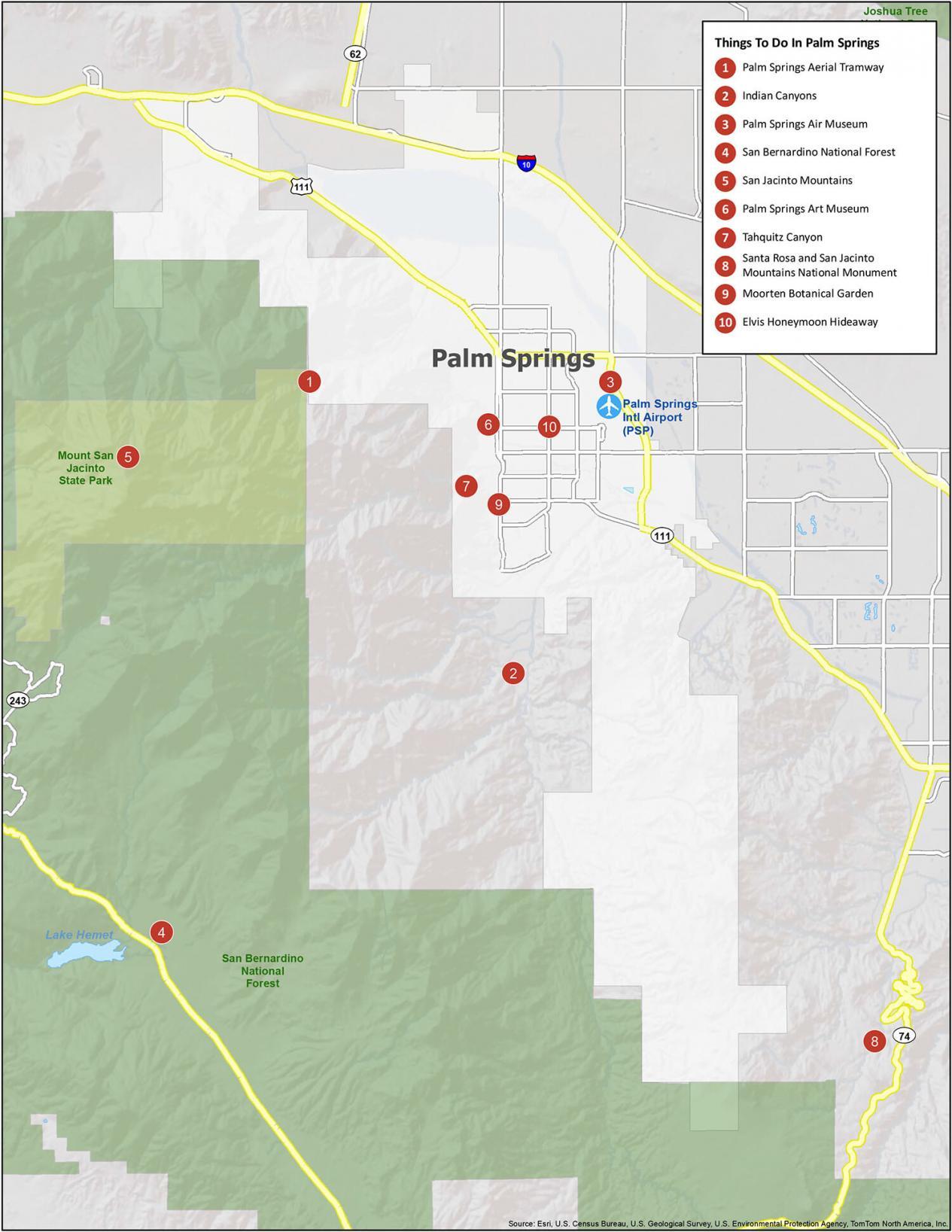 If you ever go to Palm Springs, California, we highly recommend these 10 things to do.
Palm Springs Aerial Tramway
Indian Canyons
Palm Springs Air Museum
San Bernardino National Forest
San Jacinto Mountains
Palm Springs Art Museum
Tahquitz Canyon
Santa Rosa and the San Jacinto Mountains National Monument
Moorten Botanical Garden
Elvis Honeymoon Hideaway
Palm Springs Reference Map
Palm Springs is a popular destination in the United States and has a rich culture and history. This reference map will help you explore Palm Springs with ease. Explore the different neighborhoods, districts, parks, and forests. No matter what it is you're looking for, this reference map is a helpful guide.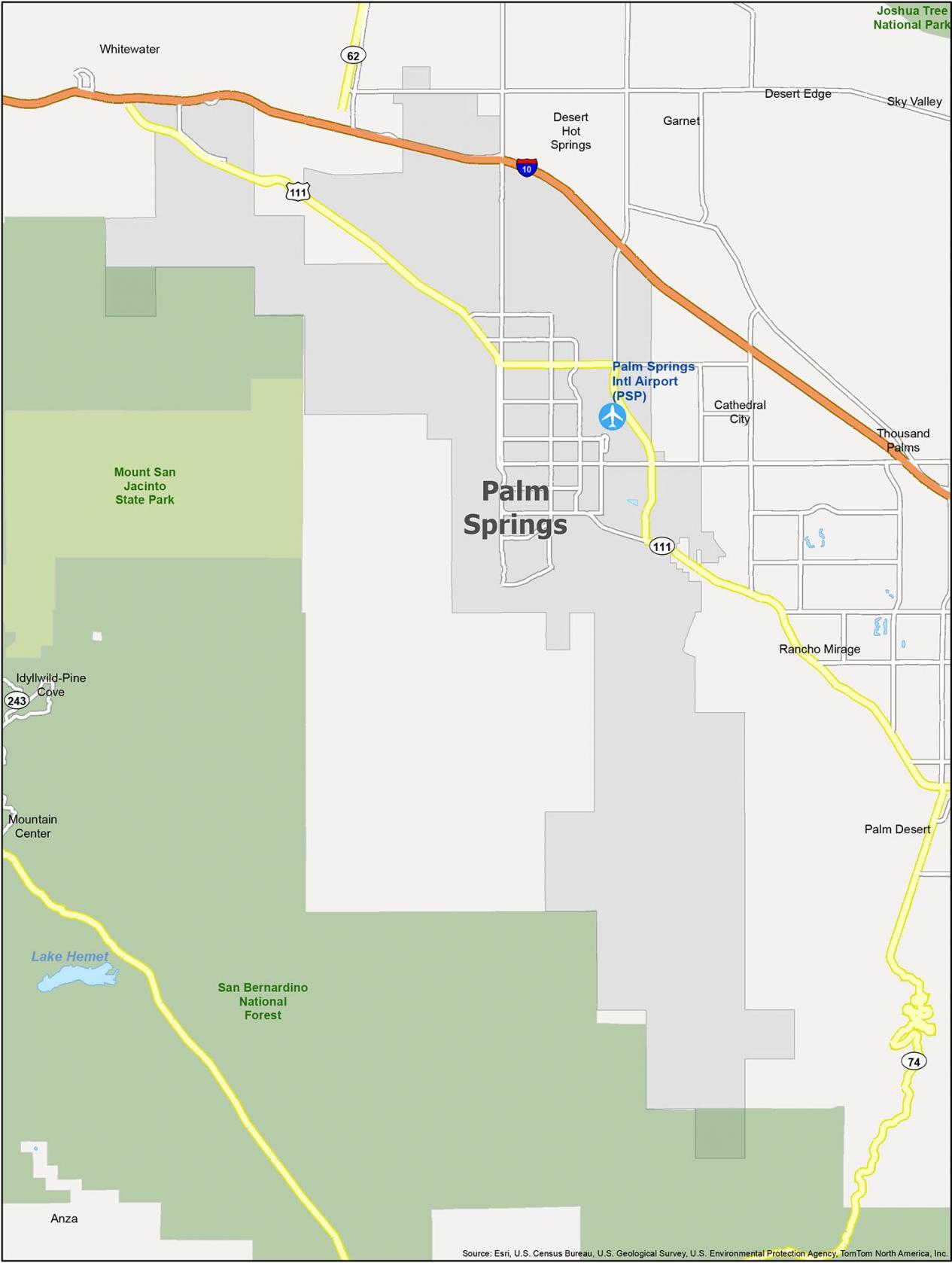 Airports: Palm Springs International Airport (PSP)
Cities: Cathedral City, Desert Hot Springs, Palm Desert, Palm Springs, Rancho Mirage
Census-designated place (CDP): Anza, Desert Edge, Garnet, Idyllwild-Pine Cove, Mountain Center, Sky Valley, Thousand Palms, Whitewater
Parks/Forests: Mount San Jacinto State Park, San Bernardino National Forest
California map collection
References