Pennsylvania State Map – Places and Landmarks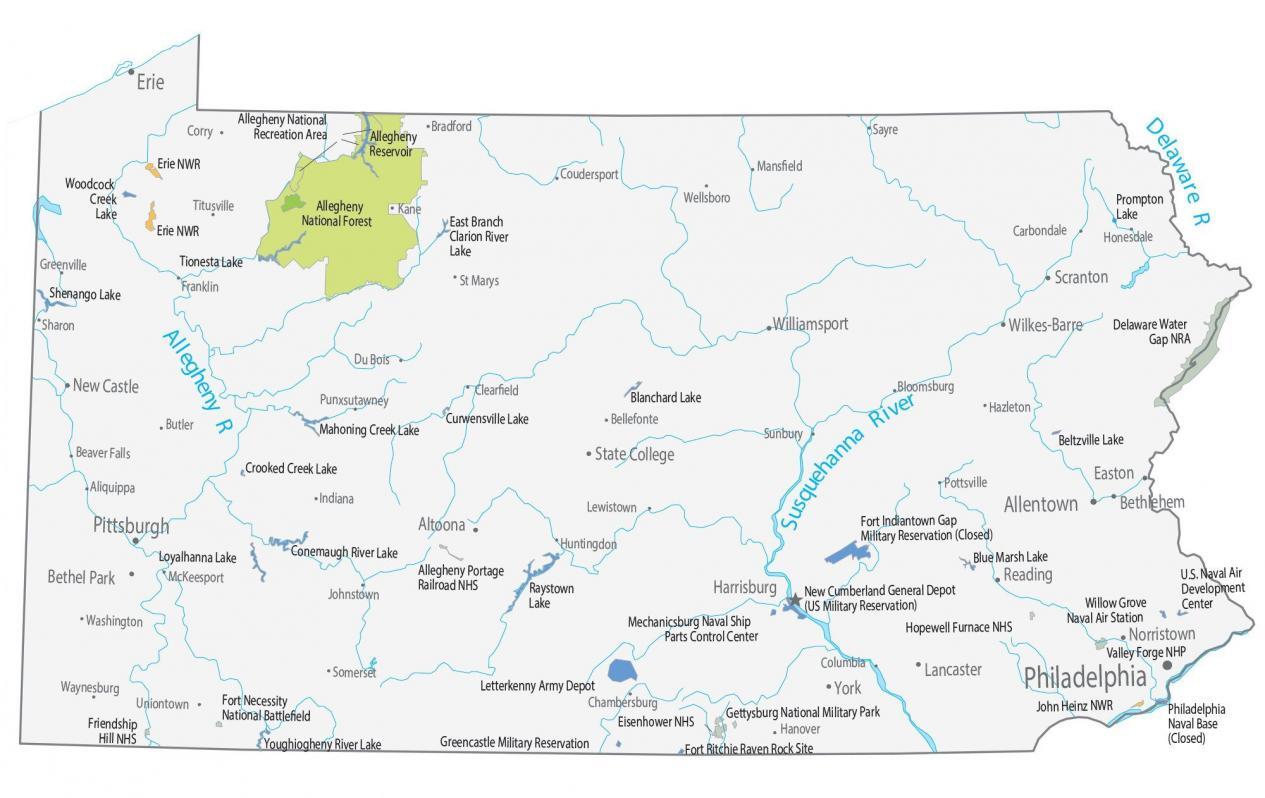 Download
Pennsylvania map collection
About the map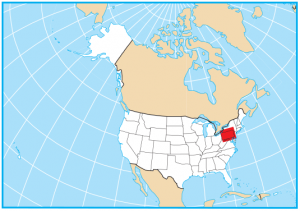 This Pennsylvania State Map shows major landmarks and places in Pennsylvania. For example, it includes national forests, military bases, preserves, wildlife refuges, and other federal lands in Pennsylvania.
As mentioned in the map of Pennsylvania, this state has a timeless history. This can be seen with its long list of historical sites.
For example, it includes the following national historic sites: Allegheny Portage Railroad, Hopewell Furnace and the Eisenhower National Historic Site. Not to mention the Valley Forge National Historic Park and Fort Necessity National Battlefield & Friendship Hill NHS.
Federal lands
National Forests (NF)
Allegheny National Forest
National Wildlife Refuge (NWR)
Erie NWR
John Heinz NWR
Historical sites
Hopewell Furnace National Historic Site
Valley Forge National Historic Park
Allegheny Portage Railroad National Historic Site
Eisenhower National Historic Site
Fort Necessity National Battlefield & Friendship Hill NHS
National Recreation (NRA)
Delaware Water Gap NRA
Allegheny NRA
Pennsylvania lakes, rivers and reservoirs
Lakes, rivers and reservoirs
Lake Erie
Prompton Lake
Allegheny Reservoir
East Branch Clarion River Lake
Woodcock Creek Lake
Tionesta Lake
Beltzville Lake
Blanchard Lake
Shenango Lake
Curwensville Lake
Mahoning Creek Lake
Blue Marsh Lake
Crooked Creek Lake
Raystown Lake
Conemaugh River Lake
Loyalhanna Lake
Youghiogheny River Lake
Rivers and streams
Susquehanna River
Delaware River
Allegheny River
Fort Indiantown Gap Military Reservation (Closed)
U.S. Naval Air Development
Willow Grove Naval Air Station
New Cumberland General Depot (US Military Reservation)
Mechanicsburg Naval Ship Parts Control Center
Philadelphia Naval Base (Closed)
Letterkenny Army Depot
Gettysburg National Military Park
Fort Ritchie Raven Rock Site
Greencastle Military Reservation
Pennsylvania Map – Landmarks and places
Philadelphia
Pittsburgh
Harrisburg
Altoona
Bethel Park
Bethlehem
Easton
Lancaster
New Castle
Norristown
Reading
Scranton
State College
Wilkes-Barre
Williamsport
York
Allentown
Erie
Aliquippa
Beaver Falls
Bellefonte
Bloomsburg
Bradford
Butler
Carbondale
Chambersburg
Clearfield
Columbia
Uniontown
Corry
Coudersport
Du Bois
St Marys
Franklin
Greenville
Hazleton
Honesdale
Huntingdon
Indiana
Kane
Lewistown
Mansfield
McKeesport
Pottsville
Sharon
Somerset
Sunbury
Titusville
Sayre
Washington
Waynesburg
Wellsboro
Punxsutawney
Hanover
Johnstown
State capital
Harrisburg
References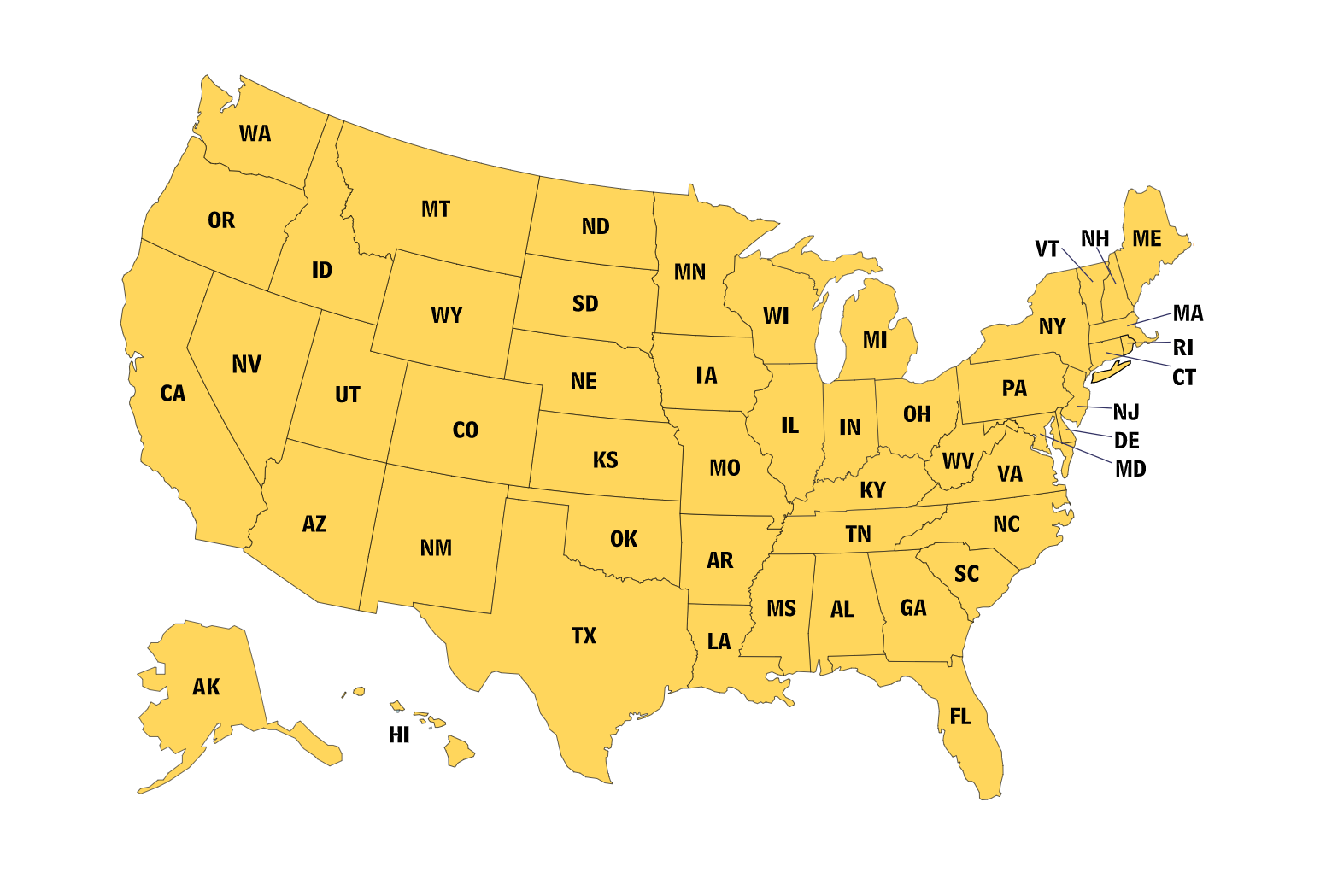 A US map collection with road maps, lakes, rivers, counties and major landmarks. Select from the 50 states of the United States. All US maps are free to use.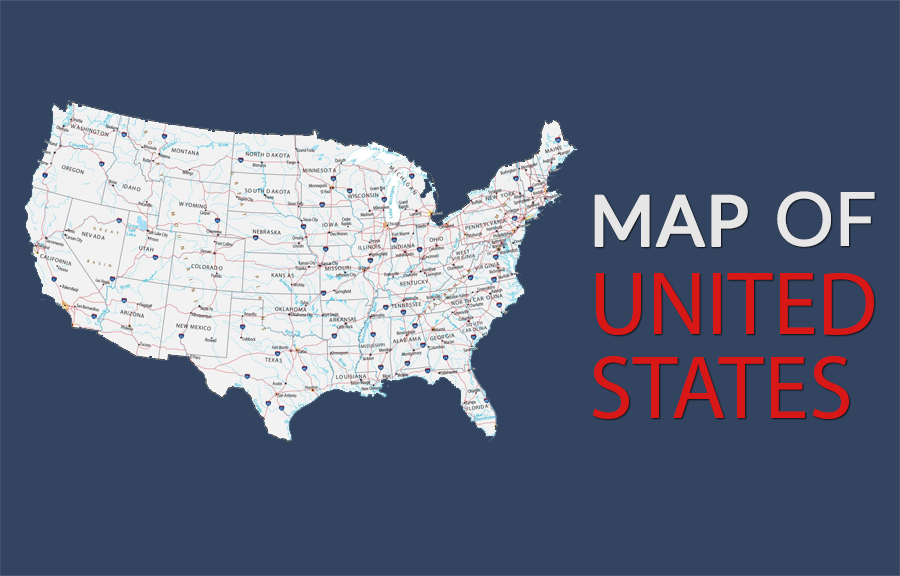 This map of the United States of America displays cities, highways, rivers and lakes. It includes the 50 states of America and capital of Washington, DC.
How much rain falls in the United States? Take a close look at this US precipitation map to see where it falls the most and least. You'll see it fluctuates.
A US road map that displays major interstate highways, limited-access highways and principal roads in the United States including states and capital cities.
This map of USA displays states, cities and census boundaries. An elevation surface highlights major physical landmarks like mountains, lakes and rivers.
Pennsylvania Maps
Pennsylvania Cities
Free US Maps
Select a state to view its map