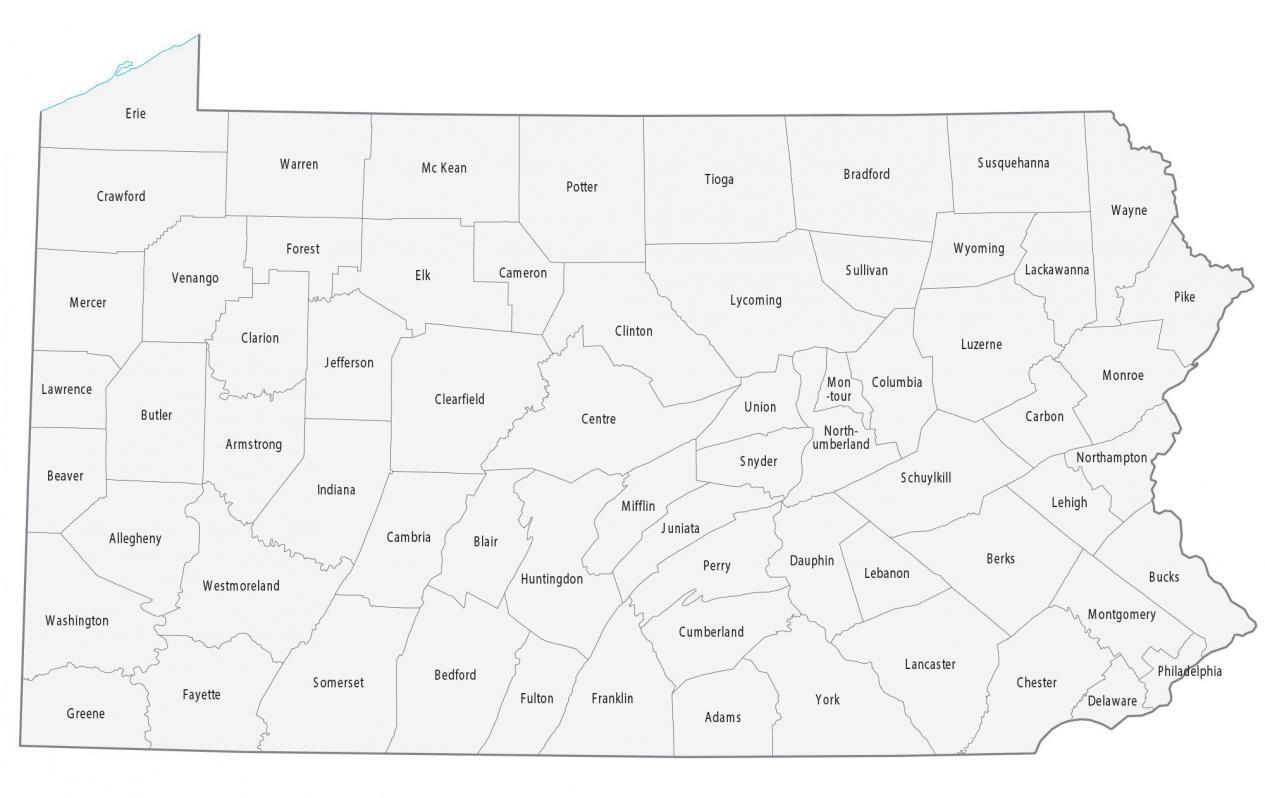 About the map
This Pennsylvania county map displays its 67 counties. Pennsylvania's tally of 67 counties ties for the 20th most in the United States. Both Florida and Alabama also have 67 counties.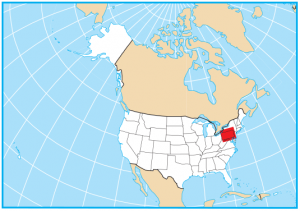 Philadelphia County is the most populous county in the United States with close to 1.6 million people. In fact, it has such a high population that it has the 23rd highest population of all counties in the nation. Following this, Allegheny, Montgomery, and Bucks County are the next most populated.
Conversely, Cameron County has the fewest people in the state of Pennsylvania with under 5000 people. For size, Lycoming County is the largest with an even 1250 square miles in area. But the smallest county in Pennsylvania is Montour County with an area of 132.2 square miles.
Pennsylvania map collection
You are free to use our county map of Pennsylvania for educational and commercial uses. Attribution is required. How to attribute?
Pennsylvania County List
| County Name | Population (2020 est) | County Map | Area (sq mi) | Locator Map | FIPS Code |
| --- | --- | --- | --- | --- | --- |
| Adams County | 102,742 | Adams County | 521.8 | Adams County Map | 42001 |
| Allegheny County | 1,211,358 | Allegheny County | 743.7 | Allegheny County Map | 42003 |
| Armstrong County | 64,162 | Armstrong County | 662.4 | Armstrong County Map | 42005 |
| Beaver County | 162,575 | Beaver County | 444 | Beaver County Map | 42007 |
| Bedford County | 47,817 | Bedford County | 1017 | Bedford County Map | 42009 |
| Berks County | 421,017 | Berks County | 865.9 | Berks County Map | 42011 |
| Blair County | 121,007 | Blair County | 526.5 | Blair County Map | 42013 |
| Bradford County | 60,221 | Bradford County | 1160.8 | Bradford County Map | 42015 |
| Bucks County | 627,987 | Bucks County | 621.8 | Bucks County Map | 42017 |
| Butler County | 189,135 | Butler County | 794.8 | Butler County Map | 42019 |
| Cambria County | 128,672 | Cambria County | 693.5 | Cambria County Map | 42021 |
| Cameron County | 4,330 | Cameron County | 398.6 | Cameron County Map | 42023 |
| Carbon County | 64,081 | Carbon County | 387.1 | Carbon County Map | 42025 |
| Centre County | 161,496 | Centre County | 1111.9 | Centre County Map | 42027 |
| Chester County | 526,759 | Chester County | 758.9 | Chester County Map | 42029 |
| Clarion County | 38,305 | Clarion County | 610 | Clarion County Map | 42031 |
| Clearfield County | 78,612 | Clearfield County | 1154.7 | Clearfield County Map | 42033 |
| Clinton County | 37,957 | Clinton County | 897 | Clinton County Map | 42035 |
| Columbia County | 64,842 | Columbia County | 489.8 | Columbia County Map | 42037 |
| Crawford County | 83,697 | Crawford County | 1037.8 | Crawford County Map | 42039 |
| Cumberland County | 255,857 | Cumberland County | 552.5 | Cumberland County Map | 42041 |
| Dauphin County | 279,874 | Dauphin County | 550.8 | Dauphin County Map | 42043 |
| Delaware County | 566,753 | Delaware County | 185.4 | Delaware County Map | 42045 |
| Elk County | 29,607 | Elk County | 832.2 | Elk County Map | 42047 |
| Erie County | 268,426 | Erie County | 804 | Erie County Map | 42049 |
| Fayette County | 128,126 | Fayette County | 798.3 | Fayette County Map | 42051 |
| Forest County | 6,965 | Forest County | 431.6 | Forest County Map | 42053 |
| Franklin County | 155,637 | Franklin County | 773 | Franklin County Map | 42055 |
| Fulton County | 14,501 | Fulton County | 438 | Fulton County Map | 42057 |
| Greene County | 35,621 | Greene County | 576.9 | Greene County Map | 42059 |
| Huntingdon County | 44,590 | Huntingdon County | 890 | Huntingdon County Map | 42061 |
| Indiana County | 83,664 | Indiana County | 834.7 | Indiana County Map | 42063 |
| Jefferson County | 43,108 | Jefferson County | 656.4 | Jefferson County Map | 42065 |
| Juniata County | 24,619 | Juniata County | 393.7 | Juniata County Map | 42067 |
| Lackawanna County | 208,989 | Lackawanna County | 464.5 | Lackawanna County Map | 42069 |
| Lancaster County | 546,192 | Lancaster County | 978.6 | Lancaster County Map | 42071 |
| Lawrence County | 85,083 | Lawrence County | 362.9 | Lawrence County Map | 42073 |
| Lebanon County | 141,663 | Lebanon County | 362.6 | Lebanon County Map | 42075 |
| Lehigh County | 370,802 | Lehigh County | 348 | Lehigh County Map | 42077 |
| Luzerne County | 316,982 | Luzerne County | 907.2 | Luzerne County Map | 42079 |
| Lycoming County | 113,209 | Lycoming County | 1242.9 | Lycoming County Map | 42081 |
| McKean County | 40,333 | McKean County | 983.5 | McKean County Map | 42083 |
| Mercer County | 108,545 | Mercer County | 682.7 | Mercer County Map | 42085 |
| Mifflin County | 46,064 | Mifflin County | 414.4 | Mifflin County Map | 42087 |
| Monroe County | 170,154 | Monroe County | 617.4 | Monroe County Map | 42089 |
| Montgomery County | 833,869 | Montgomery County | 487.8 | Montgomery County Map | 42091 |
| Montour County | 18,042 | Montour County | 132.2 | Montour County Map | 42093 |
| Northampton County | 305,892 | Northampton County | 376.9 | Northampton County Map | 42095 |
| Northumberland County | 90,258 | Northumberland County | 470.2 | Northumberland County Map | 42097 |
| Perry County | 46,212 | Perry County | 555.6 | Perry County Map | 42099 |
| Philadelphia County | 1,578,487 | Philadelphia County | 139.3 | Philadelphia County Map | 42101 |
| Pike County | 56,072 | Pike County | 566.1 | Pike County Map | 42103 |
| Potter County | 16,453 | Potter County | 1080.1 | Potter County Map | 42105 |
| Schuylkill County | 140,709 | Schuylkill County | 782.6 | Schuylkill County Map | 42107 |
| Snyder County | 40,317 | Snyder County | 337.9 | Snyder County Map | 42109 |
| Somerset County | 72,916 | Somerset County | 1081.6 | Somerset County Map | 42111 |
| Sullivan County | 5,913 | Sullivan County | 452.3 | Sullivan County Map | 42113 |
| Susquehanna County | 40,006 | Susquehanna County | 833.8 | Susquehanna County Map | 42115 |
| Tioga County | 40,381 | Tioga County | 1137.6 | Tioga County Map | 42117 |
| Union County | 44,294 | Union County | 318.9 | Union County Map | 42119 |
| Venango County | 50,328 | Venango County | 683 | Venango County Map | 42121 |
| Warren County | 38,911 | Warren County | 897 | Warren County Map | 42123 |
| Washington County | 206,803 | Washington County | 861.6 | Washington County Map | 42125 |
| Wayne County | 51,163 | Wayne County | 748.9 | Wayne County Map | 42127 |
| Westmoreland County | 347,087 | Westmoreland County | 1037.3 | Westmoreland County Map | 42129 |
| Wyoming County | 26,557 | Wyoming County | 404.8 | Wyoming County Map | 42131 |
| York County | 450,448 | York County | 921 | York County Map | 42133 |
References