Pittsburgh Map, Pennsylvania

Map of Pittsburgh
Use this Pittsburgh map collection with a road map, reference map, and things to do to get the most out of your next trip to the "Steel City". This detailed map covers the best spots to visit around the city.
Pittsburgh, Pennsylvania, is home to some of the most iconic locations in the country. From the gleaming steel and glass of the city's downtown to the pristine rivers and rolling hills of its neighborhoods, Pittsburgh is a city of the future, set against the backdrop of its rich history.
Whether you're a resident or a visitor to the city, it's a good idea to get to know your hometown or destination a little better. First, get better acquainted with Pittsburgh, Pennsylvania using our interactive provided by Google Maps.
Jump To: Interactive Map | Printable Road Map | 10 Things to Do | Reference Map
Pittsburgh map collection
Interactive Map of Pittsburgh
Pittsburgh, Pennsylvania, is well known as a vibrant, diverse city with a charming, old-world personality. This interactive map is perfect to get a taste of its charm that includes everything from restaurants to museums to parks and more. With this detailed up-to-date map, you can see everything that is happening in the city, from the best restaurants and nightlife. It's also perfect for finding tourist attractions, dining, lodging, and much more.
Pittsburgh Road Map
Whether you are planning a vacation or just want to know the lay of the land, this Pittsburgh road map will help you find your way around town. This should be your go-to map for navigating the streets of Pittsburgh and is the perfect tool for planning a weekend trip. You can easily navigate your way around the city which includes interstates, highways, and major roads. Get an eye-opening perspective of the city and plan your trip by viewing the layout of its transportation network. But if you want to take a road trip outside the city, then download our Pennsylvania road map to learn about all the highways in the state.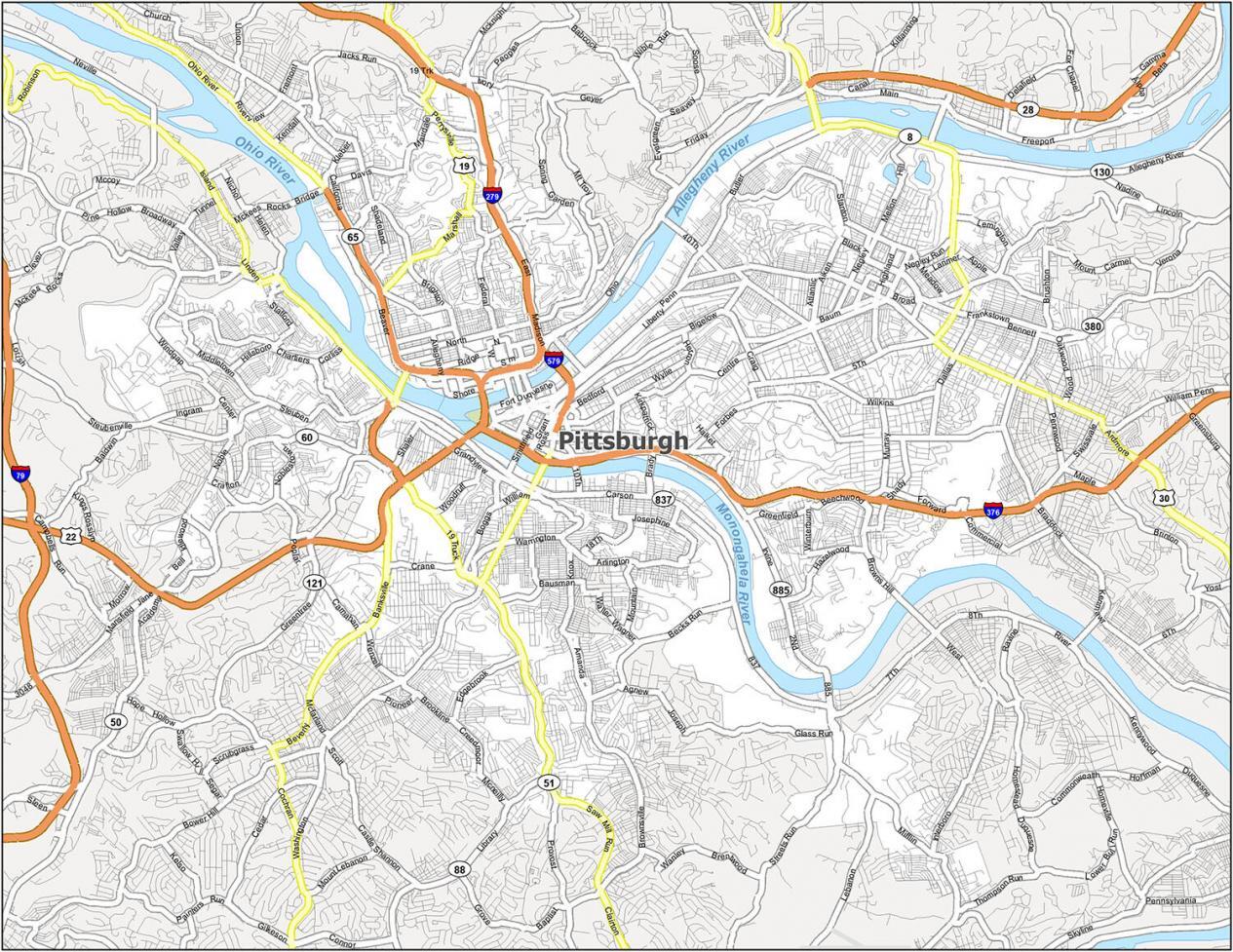 Interstate Highways: I-279, I-376, I-579
US Highways: 8, 19, 28, 50, 51, 60, 65, 88, 130, 380, 837, 885
Major Roads: 2nd Ave, 5th Ave, 9th St, 16th St, Anderson St, Banksville Rd, Bates St, Baum Blvd, Bennett St, Bigelow Blvd, Boulevard Of The Allies, Broad St, Butler St, Carson St, Centre Ave, Chestnut St, Crafton Blvd, Craig St, End Bridge, Euclid Ave, Frankstown Rd, Highland Ave, Irvine St, Ivory Ave, Lebanon Rd, Liberty Ave, Library Rd, Madison Ave, Main St, Marshall Ave, McKnight Rd, Mifflin Rd, Nelson Run Rd, Noble Ave, Noblestown Rd, Ohio River Blvd, Ohio St, Penn Ave, Penn Cir, Perrysville Ave, Saw Mill Run Blvd, Stanhope St, Steuben St, Washington Blvd
10 Things To Do in Pittsburgh
This map is the perfect way to discover what's near you and map out your next adventure. From Heinz Field to PNC Park, this handy map of the best attractions and things to do in Pittsburgh is an essential tool for your trip. With this map, you will be able to plan your next trip to Steel City and find what Pittsburgh has to offer.
Pittsburgh is known for steel, bridges, and its sports teams. If you ever go there, we highly recommend these 10 things to do.
Mount Washington
PNC Park
The Duquesne Incline
The Andy Warhol Museum
Point State Park
Heinz Field
Pittsburgh Zoo & PPG Aquarium
Phipps Conservatory and Botanical Gardens
Carnegie Science Center
National Aviary
Pittsburgh Reference Map
This reference map illustrates the city's neighborhoods, districts, major rivers, parks, and points of interest in this reference map. Pittsburgh is located in the southwest of Pennsylvania. Pittsburgh's Point State Park is where the Allegheny River and Monongahela River meet and its confluence forms the Ohio River.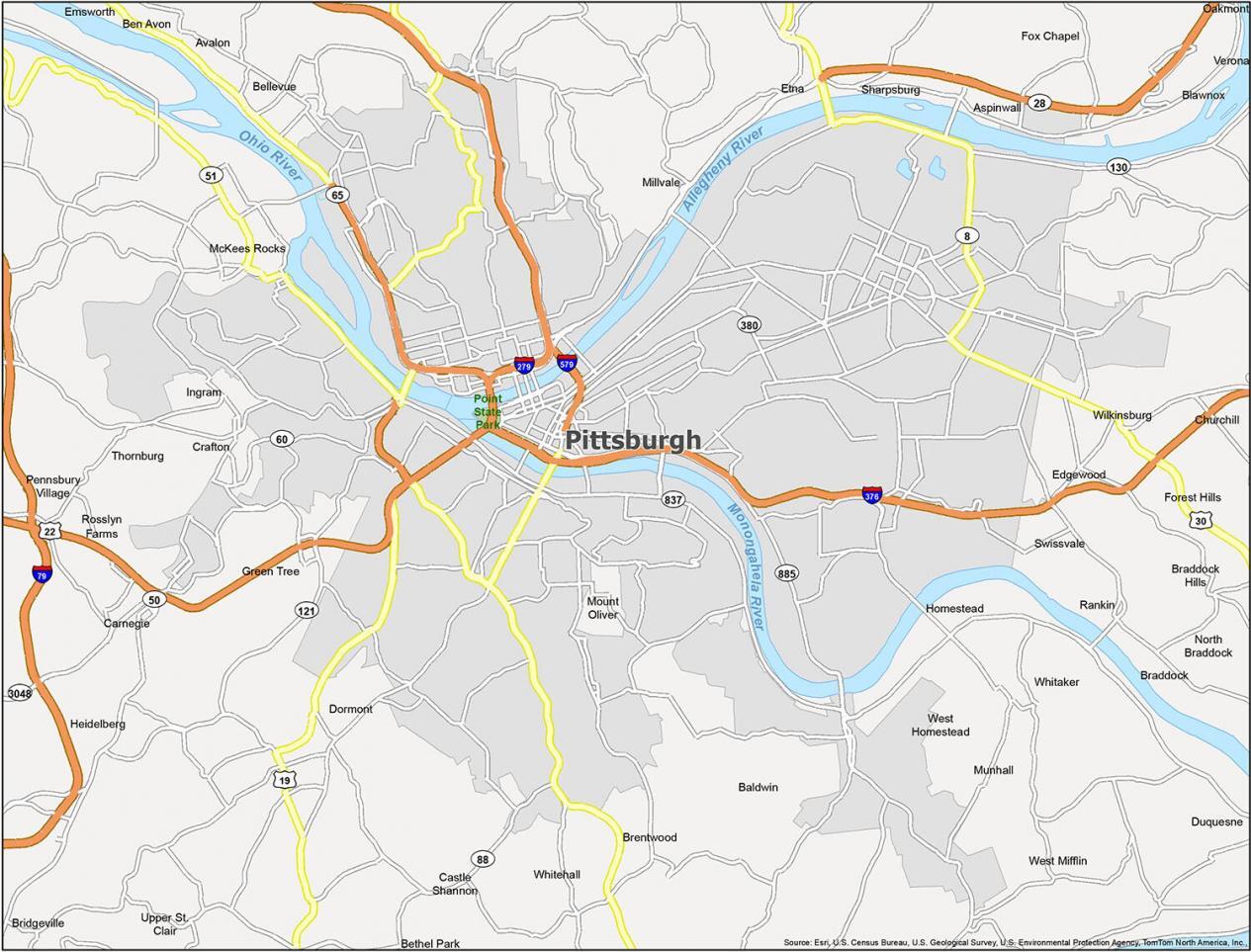 Airports: Pittsburgh International Airport (PIT)
Cities: Duquesne, McKeesport, Pittsburgh
Census-designated place (CDP): Upper St. Clair
Municipality: Bethel Park
Boroughs: Aspinwall, Avalon, Baldwin, Bellevue, Ben Avon, Blawnox, Braddock, Braddock Hills, Brentwood, Bridgeville, Carnegie, Castle Shannon, Churchill, Crafton, Dormont, Dravosburg, Edgewood, Emsworth, Etna, Forest Hills, Fox Chapel, Green Tree, Heidelberg, Homestead, Ingram, McKees Rocks, Millvale, Mount Oliver, Munhall, North Braddock, Oakmont, Pennsbury Village, Rankin, Rosslyn Farms, Sharpsburg, Swissvale, Thornburg, Verona, West Homestead, West Mifflin, Whitaker, Whitehall, Wilkinsburg
Pittsburgh map collection
Pennsylvania map collection
References