Map of Phoenix
This Phoenix map collection features highways, roads, places of interest, and things to do. One of the fastest-growing cities in the nation, Phoenix is known for its desert landscapes and year-round sunshine.
As the capital of the state of Arizona, the city nicknamed "The Valley of the Sun" is also an important business center and metropolitan area. If you're looking for a place that is constantly hot and has a lot to offer, look no further than Phoenix, AZ.
This map is your guide to all the places to visit in Phoenix, Arizona. Discover the best of what Phoenix has to offer—from the iconic skyline to the top tourist attractions and hotspots. First, let's start with an interactive map provided by Google.
Jump To: Interactive Map | Printable Road Map | 10 Things to Do | Reference Map
Phoenix map collection
Interactive Map of Phoenix
Phoenix, Arizona is located in the Salt River Valley and is nicknamed "The Valley of the Sun" because of its extreme heat and desert conditions. This interactive map displays a variety of information and ways to get around Phoenix. From its best local bars, restaurants, and shopping, discover what Phoenix has to offer with this interactive map. Finally, learn about the city in more detail like the metro and surrounding area, such as the 230 miles (370 km) distance to the Grand Canyon.
Phoenix Road Map
Whether you want to explore the city, plan a visit, or just want to make sure you see it all, this Phoenix road map will help you get around. This road map of Phoenix is color-coded so you can easily navigate the city and explore Phoenix with ease. It includes road information such as interstates, highways, and major routes. But if you plan on taking a road trip outside of Phoenix, then check out this Arizona road map for highway information. Either way, never get lost again with these city and state road maps.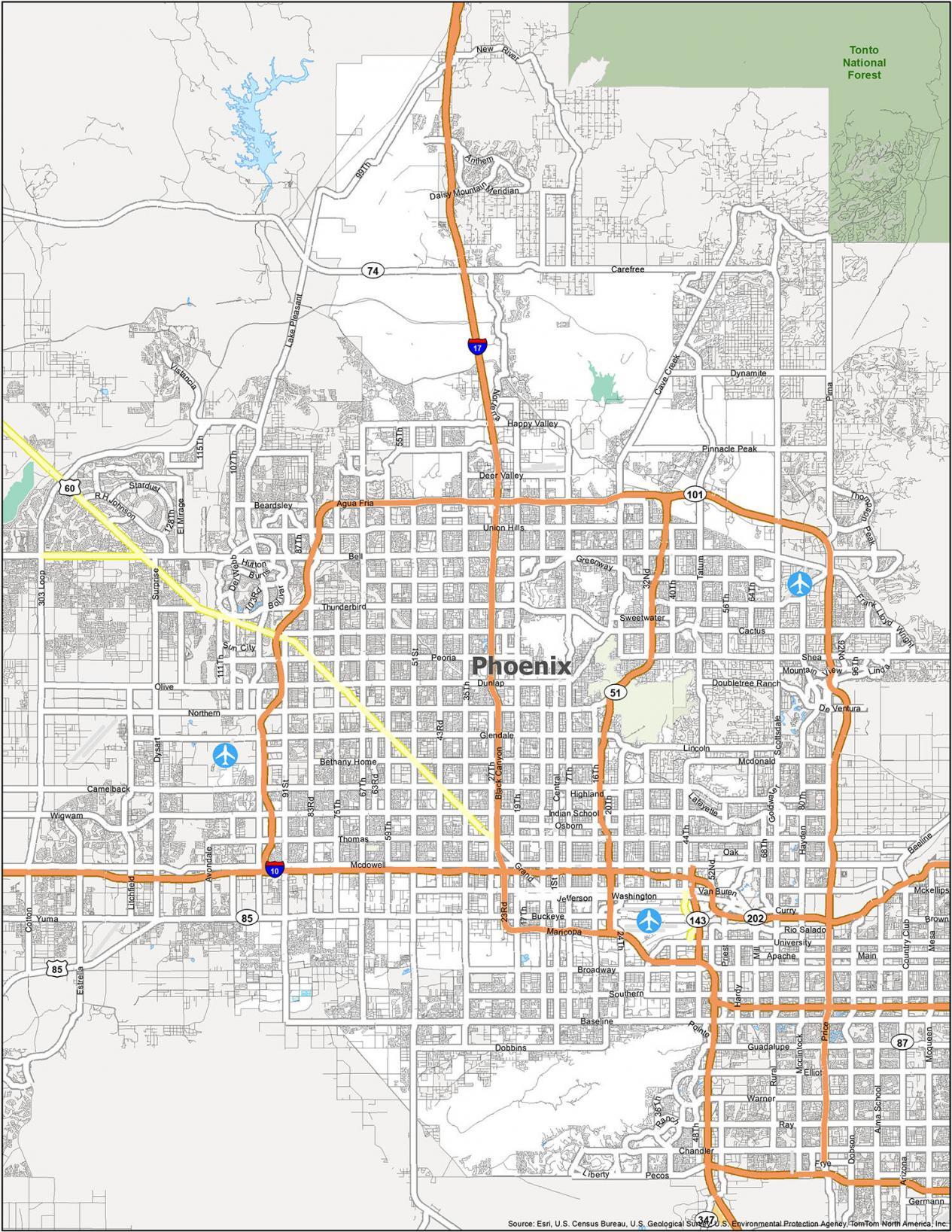 Interstate Highways: I-10, I-17
US Highways: 51, 60, 74, 85, 101, 143, 153, 202, Agua Fria Fwy, Black Canyon Hwy, Carefree Hwy, Maricopa Fwy, Pima Fwy
Expressways/Parkways: Black Mountain Pky, Desert Foothills Pky, Greenway Pky, Mountain Pky, Norterra Pky, North Valley Pky
Major Roads: 7th St, 19th Ave, 23rd Ave, 24th St, 40th St, 44th St, 48th St, 51st Ave, 59th Ave, 91st Ave, Baseline Rd, Beardsley Rd, Bell Rd, Buckeye Rd, Cactus Rd, Cave Creek Rd, Chandler Blvd, Dunlap Ave, Dynamite Blvd, Frank Lloyd Wright Blvd, Grand Ave, Indian School Rd, McDonald Dr, McDowell Rd, Olive Ave, Shea Blvd, Sky Harbor Blvd, Tatum Blvd, Thomas Rd, Union Hills Dr, University Dr
10 Things To Do in Phoenix
There are at least a dozen hidden gems in every city. And Phoenix is no exception. While everyone knows about the obvious ones like the Desert Botanical Garden and the Phoenix Zoo, not as many people know about the gems a little out of the way. Whether you are a tourist coming to visit the city or a resident who's looking for a new location to explore, this map will help you plan your trip and ensure you don't miss anything.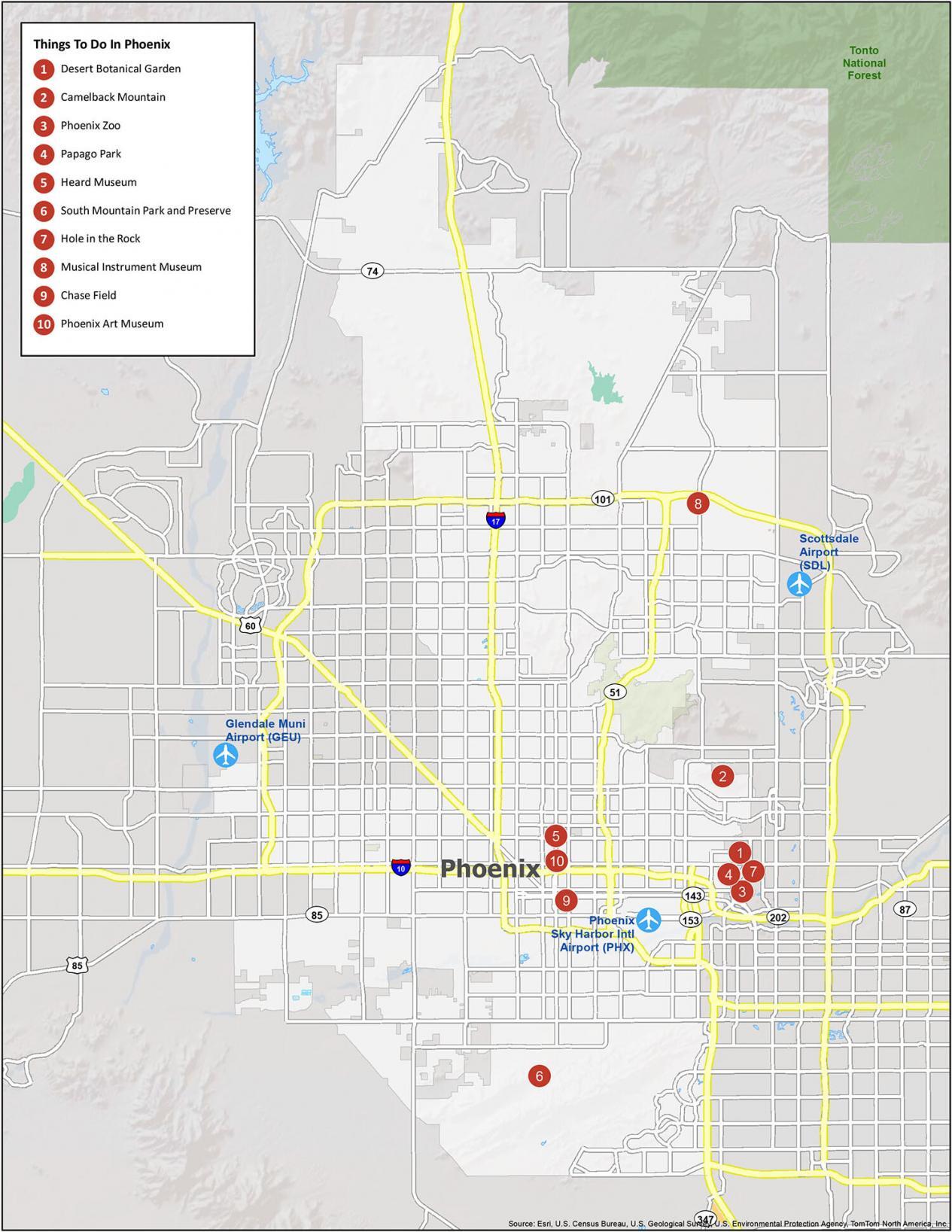 If you ever travel to Phoenix AZ, here is a list of the 10 things we recommend seeing during your stay.
Desert Botanical Garden
Camelback Mountain
Phoenix Zoo
Papago Park
Heard Museum
South Mountain Park and Preserve
Hole in the Rock
Musical Instrument Museum
Chase Field
Phoenix Art Museum
Phoenix Reference Map
There's no shortage of activities when you visit Phoenix. From historical sights to world-class hiking and golfing, there's something for everyone. This is a great map for Phoenix that will help you plan your visit by highlighting the major points of interest, like airports, populated areas, and more. But you also sketch out your own route in it and plan your own personal day out.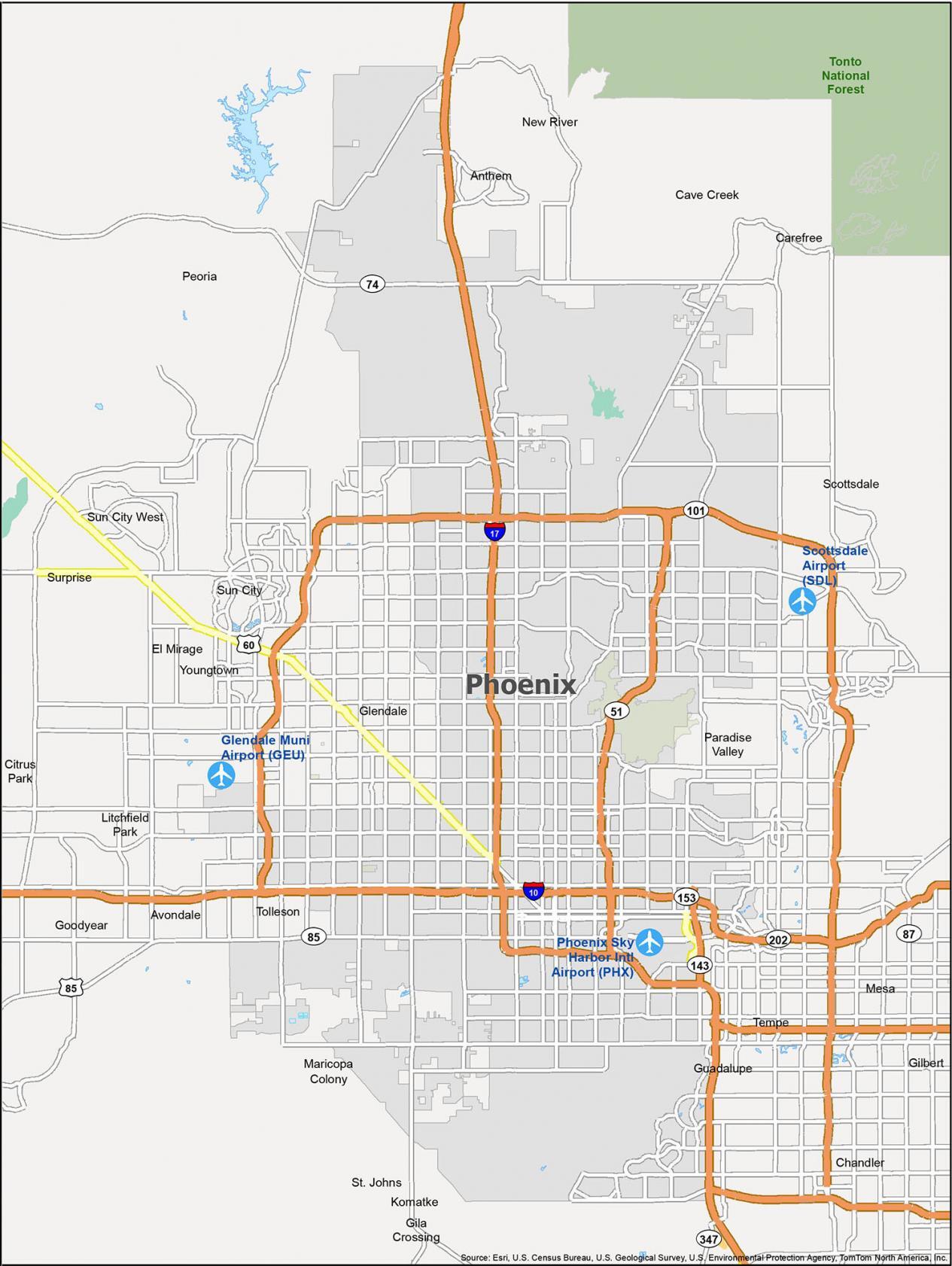 Airports: Phoenix Sky Harbor International Airport (PHX)
Cities: Avondale, Chandler, El Mirage, Glendale, Goodyear, Litchfield Park, Mesa, Peoria, Phoenix, Scottsdale, Surprise, Tempe, Tolleson
Towns: Carefree, Cave Creek, Gilbert, Guadalupe, Paradise Valley, Youngtown
Census-designated place (CDP): Anthem, Citrus Park, Gila Crossing, Komatke, Maricopa Colony, New River, St. Johns, Sun City, Sun City West
Phoenix, Arizona maps
Arizona map collection
References