Pittsburgh Neighborhood Map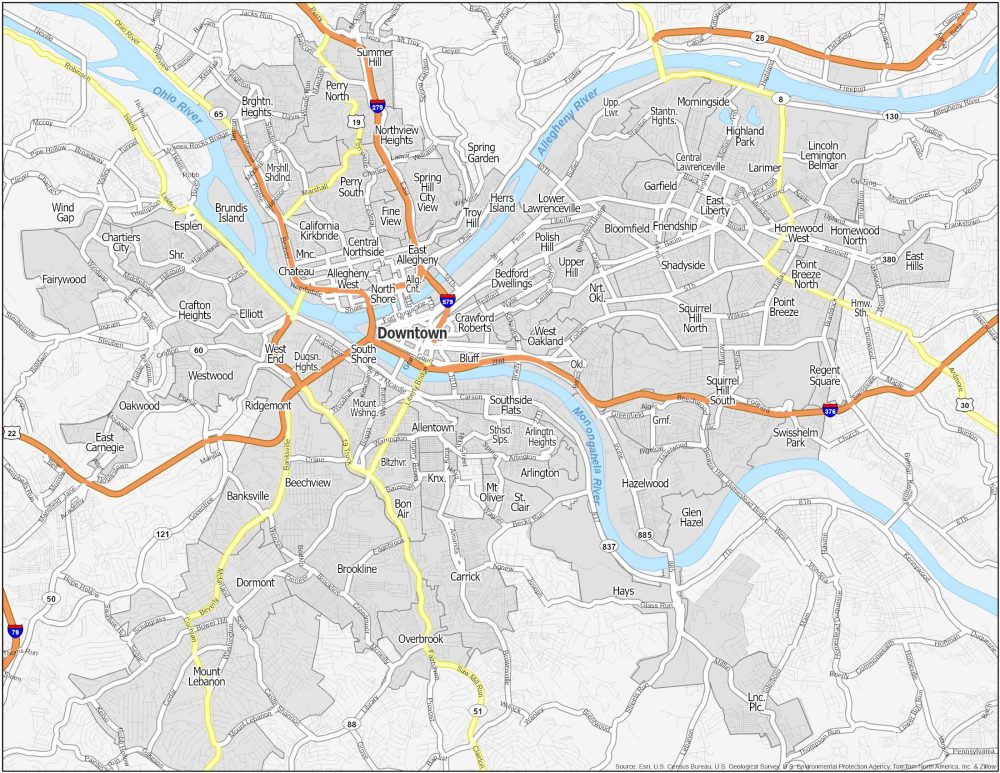 Pittsburgh map collection
Neighborhoods in Pittsburgh
Discover the richness of Pittsburgh's neighborhoods with our map, offering a glimpse into the communities that grace this dynamic city in southwestern Pennsylvania. Immerse yourself in the distinctive allure of each area within Steel City.
Shadyside
Located in the East End, Shadyside is an upscale and historic neighborhood known for its tree-lined streets, beautiful Victorian and Tudor homes, and a bustling commercial district along Walnut Street and Ellsworth Avenue.
Squirrel Hill
Nestled east of Downtown Pittsburgh, Squirrel Hill is a diverse and welcoming neighborhood with a strong sense of community. It contains a variety of shops, eateries, and cultural experiences along Forbes and Murray Avenue.
South Side
Located south of the Monongahela River, South Side is split into two distinct areas: South Side Flats and South Side Slopes. The Flats is known for its nightlife and entertainment scene along East Carson Street, while the Slopes offer stunning views of the city.
Strip District
Adjacent to Downtown along the Allegheny River, the Strip District is a bustling market district known for its diverse food offerings, specialty shops, and weekend farmer's markets. This makes it a food lover's paradise.
Oakland
Situated east of Downtown, Oakland is a lively college town home to prestigious universities like the University of Pittsburgh and Carnegie Mellon University. It offers a mix of student life, cultural institutions, and green spaces like Schenley Park.
Lawrenceville
Situated along the Allegheny River, Lawrenceville is an eclectic and trendy neighborhood filled with art galleries, boutiques, bars, and restaurants. It is found northeast of Downtown Pittsburgh and is divided into Lower Lawrenceville and Upper Lawrenceville.
Downtown
As the central business district of Pittsburgh, Downtown is the heart of the city. It is home to iconic landmarks like Point State Park, Market Square, and the Cultural District, making it a hub of commerce, entertainment, and cultural attractions.
Bloomfield
Situated northeast of Downtown, Bloomfield is known as Pittsburgh's "Little Italy" for its Italian heritage. It features an array of Italian restaurants, delis, and shops, creating a warm and welcoming atmosphere.
Highland Park
Found in the East End, Highland Park is a serene and picturesque neighborhood. It also had easy access to the stunning Highland Park Reservoir and the Pittsburgh Zoo & PPG Aquarium.
East Liberty
Located east of Downtown, East Liberty has undergone significant revitalization in recent years. It now features a blend of historic architecture and modern developments, along with a growing dining and shopping scene.
These are just a few of the many diverse and unique neighborhoods that contribute to Pittsburgh's diverse and thriving urban landscape. Each area offers its own distinctive character and experiences for visitors to enjoy.
Pennsylvania map collection