Map of Salt Lake City
This Salt Lake City map collection displays highways, roads, things to do, and reference information. Plus, you can also explore the city nicknamed "The Crossroads of the West" in more detail with an interactive map of Salt Lake City.
Salt Lake City is located in northern Utah between the Wasatch Mountains to the east and the Oquirrh Mountains to the west. The city is just a short distance away from the largest saltwater lake in the Western Hemisphere, the Great Salt Lake.
In addition, the city in Utah is home to one of the largest per capita Mormon populations in the United States and is also known for hosting the 2002 Winter Olympics. Today, it remains a popular tourist destination, thanks to its natural attractions and its diverse cultural experiences.
Jump To: Interactive Map | Printable Road Map | 10 Things to Do | Reference Map
Salt Lake City map collection
Interactive Map of Salt Lake City
From its iconic Temple Square to its beautiful lakes and mountains, Salt Lake City is a must-see destination in your travels. There is so much to do in Salt Lake City. Take advantage of this interactive map to find walking and biking trails, restaurants, hotels, shopping, and attractions. Whether you're visiting or just want to find out what Salt Lake City has to offer, this map is the one you need.
Salt Lake City Road Map
This Salt Lake City road map is perfect for finding directions during your adventure. It includes all the major interstates, highways, and roads. Because when you visit Salt Lake City, you need to know how to get to all the best places to go. This printable road map will help you find your way to the best attractions in the city. For any travel outside the city, take a look at this Utah road map for statewide highway information.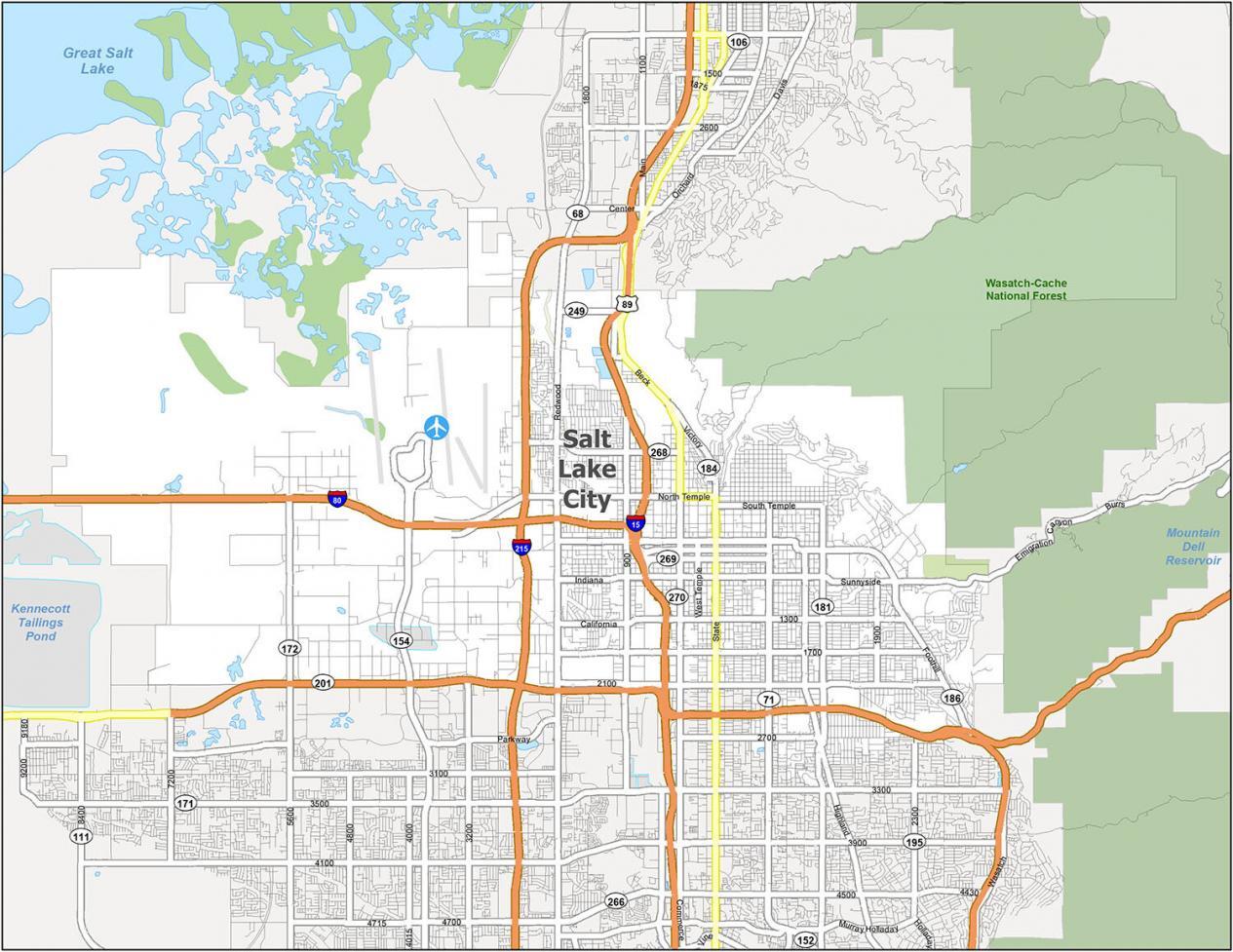 Interstate Highways: I-15, I-80, I-215
US Highways: 68, 71, 89, 171, 186, 201, 266
Major Roads: Beck St, California Ave, Chicago St, Columbus St, Emigration Canyon, Foothill Dr, Frontage Rd, Highland Dr, Indiana Ave, North Temple, Poplar Grove Blvd, Redwood Rd, Richmond St, South Temple St, State St, Sunnyside Ave, Victory Rd, Warm Springs Rd, West Temple
10 Things To Do in Salt Lake City
Salt Lake City is home to a variety of cultural attractions, including the Mormon Tabernacle Choir and the Salt Lake Temple. Accurate and detailed, this map will help you find all of the best attractions and landmarks in Salt Lake City. With this map, you will always be prepared to explore Salt Lake City and get the most out of your time there. Find the perfect day out for exploring the sights, sounds, and tastes of Salt Lake City.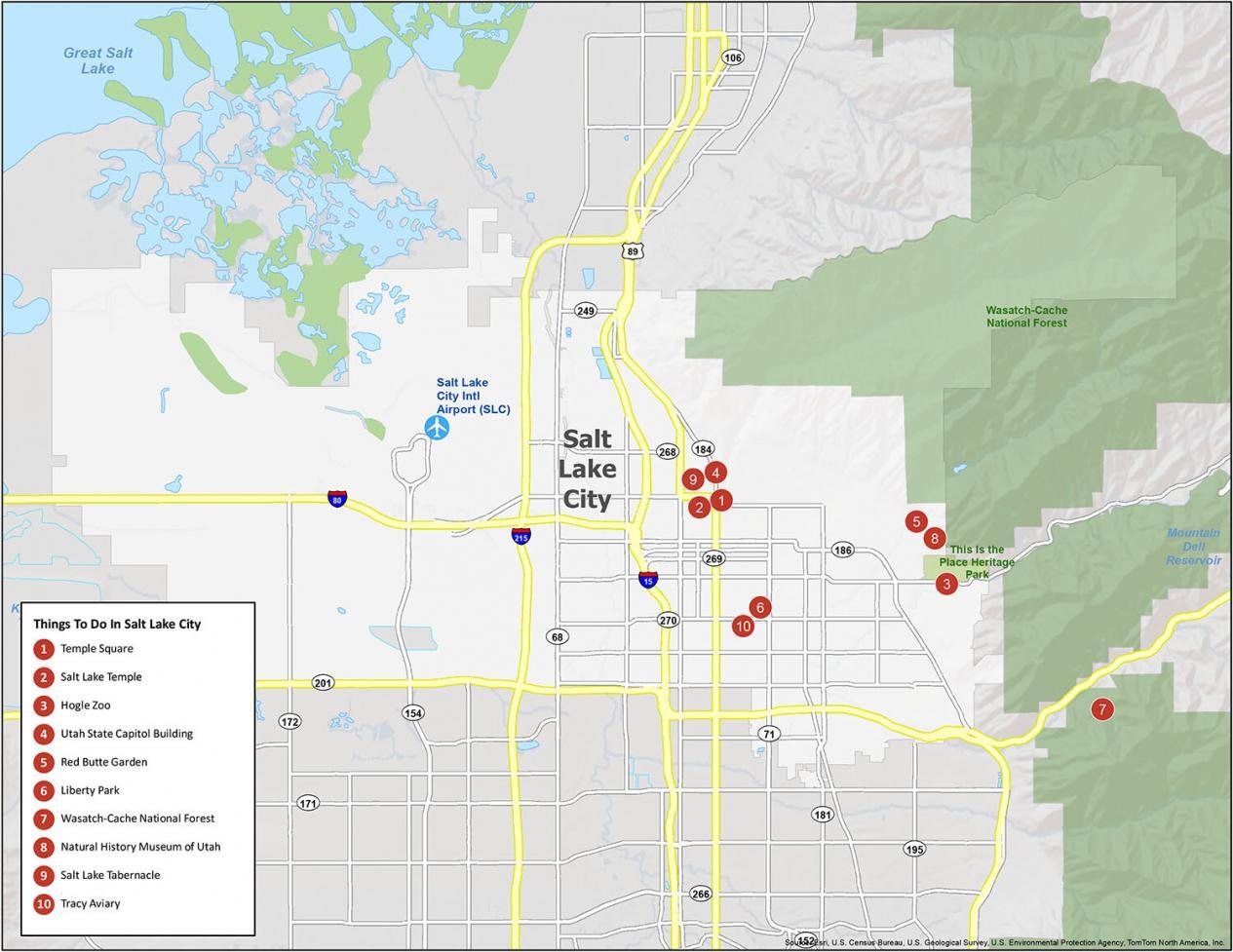 Salt Lake City is known for Mormonism and its incredible surrounding nature. If you ever travel to Salt Lake City, we highly recommend these 10 things to do.
Temple Square
Salt Lake Temple
Hogle Zoo
Utah State Capitol Building
Red Butte Garden
Liberty Park
Wasatch-Cache National Forest
Natural History Museum of Utah
Salt Lake Tabernacle
Tracy Aviary
Salt Lake City Reference Map
Our map is great for planning your perfect vacation. Experience all the beauty of Salt Lake City and its surrounding areas with this reference map. It includes parks, forests, and populated areas so you can get the most out of your vacation. You don't have to worry about getting lost on your trip to Salt Lake City. This map outlines what you need to know about the best of Salt Lake City.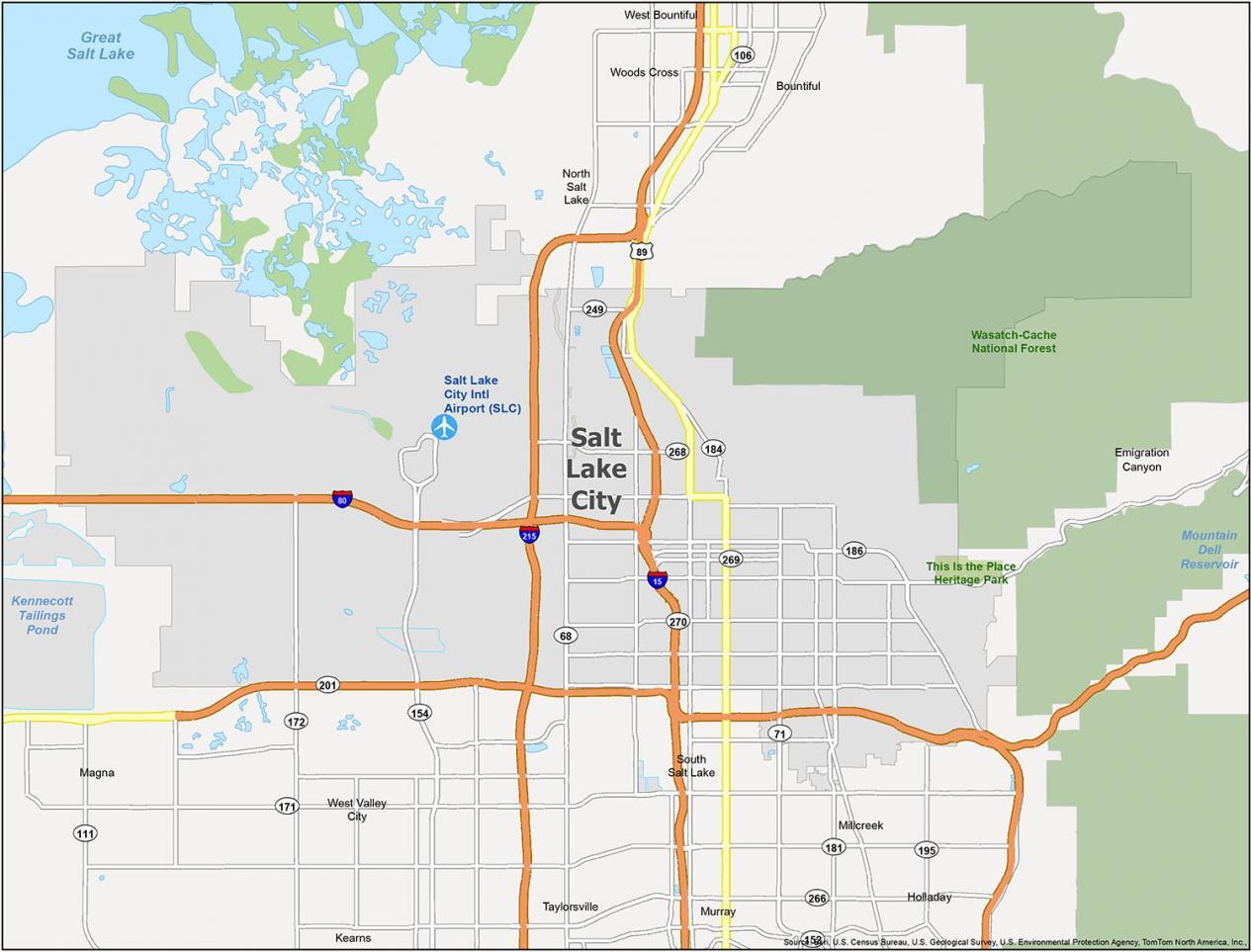 Airports: Salt Lake City International Airport (SLC)
Cities: Bountiful, Holladay, Millcreek, Murray, North Salt Lake, Salt Lake City, South Salt Lake, Taylorsville, West Bountiful, West Valley City, Woods Cross
Townships: Emigration Canyon, Kearns, Magna
Forests/Parks: This Is the Place Heritage Park, Wasatch-Cache National Forest
Salt Lake City maps
Utah map collection