Utah State Map – Places and Landmarks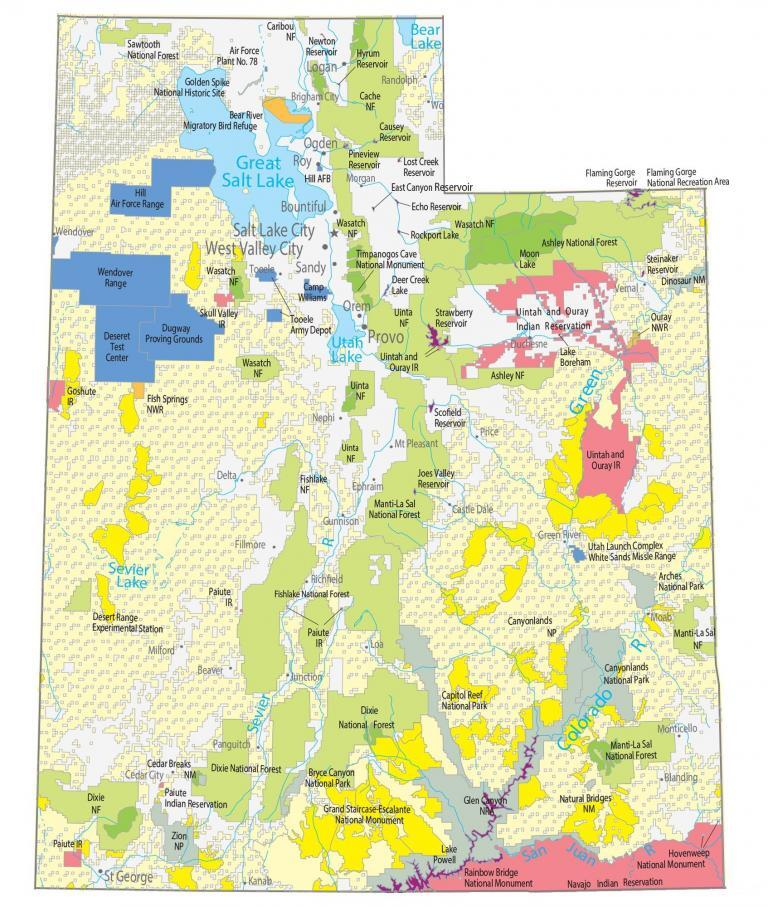 About the map
This Utah State Map shows major landmarks and places in Utah. For example, it includes national parks, forests, monuments, wildlife refuges, and federal lands in Utah.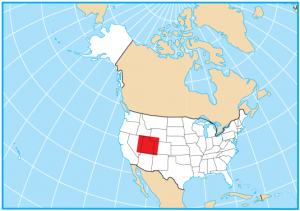 Utah is an absolute gem to visit in terms of parks, forests, and monuments. Count them. They have a total of five national parks including Arches National Park, Canyonlands National Park, Capitol Reef National Park, Zion National Park, and Bryce Canyon National Park.
There is no shortage of things to do in Utah, whether you're looking for an active vacation or something a little more laid back. From off-roading to hiking, you'll find plenty of adventures to suit any activity level.
Utah map collection
You are free to use our map of Utah for educational and commercial uses. Attribution is required. How to attribute?
Federal lands
National Park (NP)
Arches National Park
Canyonlands National Park
Capitol Reef National Park
Zion National Park
Bryce Canyon National Park
National Forests (NF)
Manti-La Sal NF
Dixie NF
Wasatch NF
Uinta NF
Fishlake NF
Ashley NF
Sawtooth NF
Cache NF
Caribou NF
National Wildlife Refuge (NWR)
Fish Springs NWR
Ouray NWR
National Monuments
Natural Bridges NM
Hovenweep NM
Cedar Breaks NM
Dinosaur NM
Timpanogos Cave NM
Rainbow Bridge NM
Grand Staircase-Escalante NM
National Recreation (NRA)
Glen Canyon NRA
Flaming Gorge NRA
Other Landmarks
Golden Spike National Historic Site
Migratory Bird Refuge
Utah lakes, rivers and reservoirs
Lakes and reservoirs
Great Salt Lake
Lake Boreham
Deer Creek Lake
Strawberry Reservoir
Scofield Reservoir
Flaming Gorge Reservoir
Lake Powell
Moon Lake
Sevier Lake
Utah Lake
Steinaker Reservoir
Hyrum Reservoir
Causey Reservoir
Pineview Reservoir
Hill AFB Reservoir
East Canyon Reservoir
Echo Reservoir
Rockport Lake
Joes Valley Reservoir
Rivers and streams
San Juan River
Sevier River
Indian Reserves (IR)
Navajo IR
Paiute IR
Uintah and Ouray IR
Skull Valley IR
Goshute IR
Army, naval and military
Utah Launch Complex
White Sands Missile Range
Tooele Army Depot
Dugway Proving Grounds
Wendover Range
Deseret Test Center
Desert Range Experimental Station
Camp Williams
Hill Air Force Range
Newton Reservoir Air Force
Plant No. 78
Utah Map – Landmarks and places
Salt Lake City
West Valley City
Provo
Bountiful
Logan
Ogden
Orem
St George
Roy
Sandy
Beaver
Blanding
Brigham City
Castle Dale
Cedar City
Delta
Duchesne
Ephraim
Fillmore
Green River
Gunnison
Junction
Kanab
Loa
Milford
Moab
Monticello
Morgan
Mt Pleasant
Nephi
Panguitch
Price
Randolph
Richfield
Tooele
Wendover
Woodruff
Vernal
State capital
Salt Lake City
References