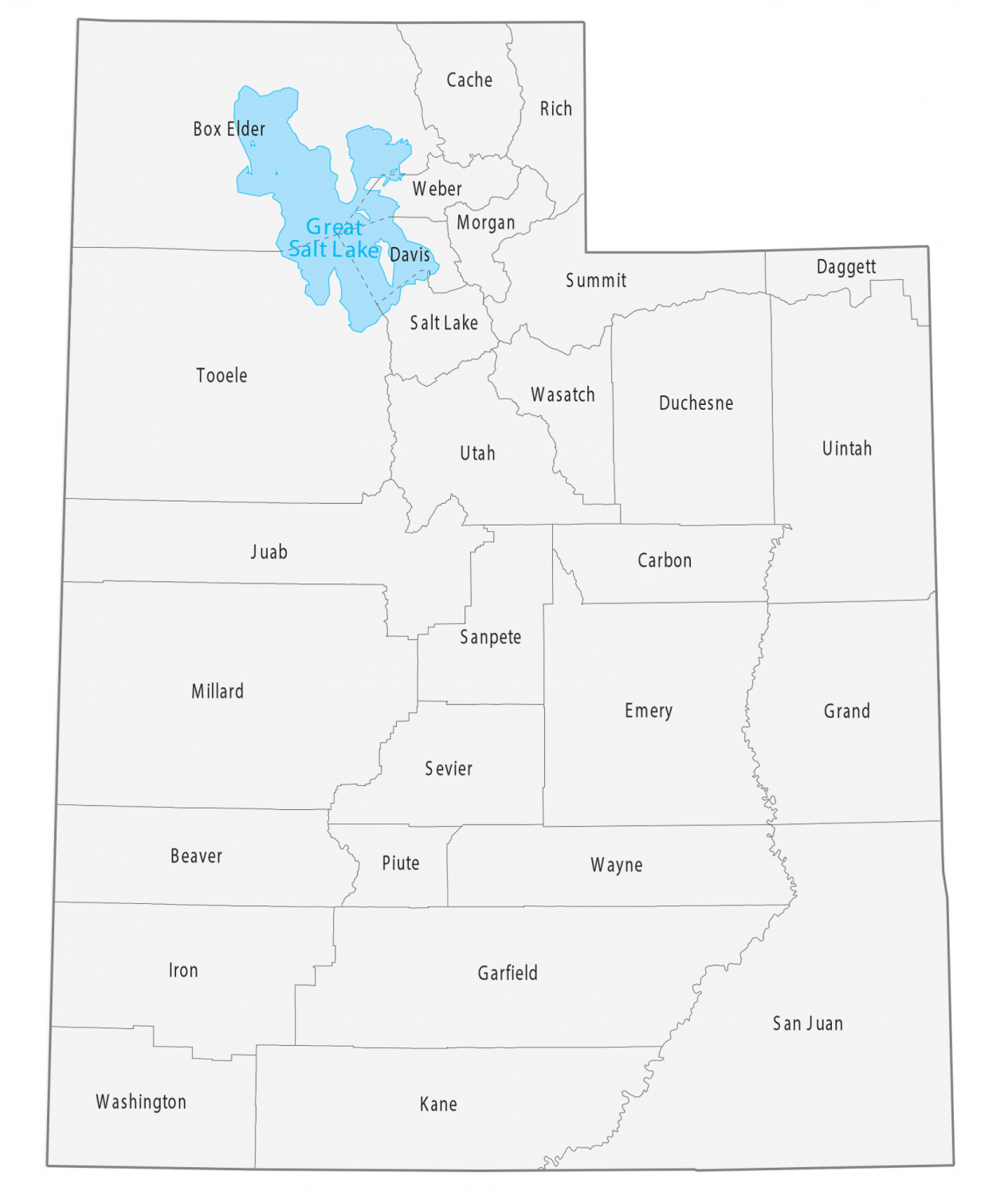 About the map
This Utah county map displays its 29 counties. Utah's tally of 29 counties represents the 14th fewest in the United States. It ties with Alaska, which mostly consists of boroughs, cities, and census districts.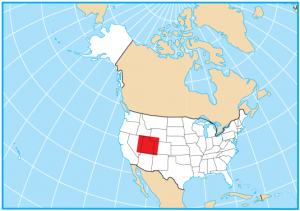 Salt Lake County has the highest population with over 1.16 million people. Most of the population is from Salt Lake City, the capital of Utah. In fact, this county is so highly populated that it's the 37th highest in the US. Conversely, Daggett County has the lowest population with under 1000 residents.
For size, San Juan County occupies the most area at close to 8000 square miles. San Juan County occupies most of the southeastern portion of the state of Utah. On the other hand, Morgan County is the smallest county and is just over 600 square miles.
Utah map collection
You are free to use our county map of Utah for educational and commercial uses. Attribution is required. How to attribute?
Utah lakes, rivers and reservoirs
Lakes and reservoirs
Great Salt Lake
Utah Lake
Lake Powell
Sevier Lake
Strawberry Reservoir
Starvation Reservoir
Flaming Gorge Reservoir
Bear Lake
Rivers and streams
Green River
Colorado River
Virgin River
San Juan River
Sevier River
White River
San Rafael River
Escalante River
Weber River
Duchesne River
Bear River
Paria River
Price River
Dirty Devil River
Provo River
Green River
Uinta River
Willow Creek
San Pitch River
Muddy Creek
Fremont River
Otter Creek
Sevier River
Bays
Beaver Dam Wash
Gilbert Bay
Gunnison Bay
Utah County List
| County Name | Population (2020 est) | County Map | Area (sq mi) | Locator Map | FIPS Code |
| --- | --- | --- | --- | --- | --- |
| Beaver County | 6,761 | Beaver County | 2592.3 | Beaver County Map | 49001 |
| Box Elder County | 57,007 | Box Elder County | 6729.2 | Box Elder County Map | 49003 |
| Cache County | 130,004 | Cache County | 1172.4 | Cache County Map | 49005 |
| Carbon County | 20,760 | Carbon County | 1484.7 | Carbon County Map | 49007 |
| Daggett County | 1,026 | Daggett County | 723 | Daggett County Map | 49009 |
| Davis County | 359,232 | Davis County | 633.9 | Davis County Map | 49011 |
| Duchesne County | 19,894 | Duchesne County | 3255.9 | Duchesne County Map | 49013 |
| Emery County | 10,147 | Emery County | 4472.2 | Emery County Map | 49015 |
| Garfield County | 5,050 | Garfield County | 5208.1 | Garfield County Map | 49017 |
| Grand County | 9,796 | Grand County | 3683.4 | Grand County Map | 49019 |
| Iron County | 56,814 | Iron County | 3301.8 | Iron County Map | 49021 |
| Juab County | 12,122 | Juab County | 3406.3 | Juab County Map | 49023 |
| Kane County | 7,914 | Kane County | 4108.4 | Kane County Map | 49025 |
| Millard County | 13,327 | Millard County | 6827.9 | Millard County Map | 49027 |
| Morgan County | 12,462 | Morgan County | 610.8 | Morgan County Map | 49029 |
| Piute County | 1,473 | Piute County | 765.8 | Piute County Map | 49031 |
| Rich County | 2,452 | Rich County | 1085.6 | Rich County Map | 49033 |
| Salt Lake County | 1,165,517 | Salt Lake County | 807.4 | Salt Lake County Map | 49035 |
| San Juan County | 15,278 | San Juan County | 7933.2 | San Juan County Map | 49037 |
| Sanpete County | 31,393 | Sanpete County | 1602.6 | Sanpete County Map | 49039 |
| Sevier County | 21,780 | Sevier County | 1918.3 | Sevier County Map | 49041 |
| Summit County | 42,499 | Summit County | 1883.4 | Summit County Map | 49043 |
| Tooele County | 74,512 | Tooele County | 7286.2 | Tooele County Map | 49045 |
| Uintah County | 35,970 | Uintah County | 4498.8 | Uintah County Map | 49047 |
| Utah County | 651,059 | Utah County | 2144.1 | Utah County Map | 49049 |
| Wasatch County | 35,300 | Wasatch County | 1205.9 | Wasatch County Map | 49051 |
| Washington County | 184,913 | Washington County | 2429.9 | Washington County Map | 49053 |
| Wayne County | 2,759 | Wayne County | 2466.5 | Wayne County Map | 49055 |
| Weber County | 262,658 | Weber County | 659.4 | Weber County Map | 49057 |
References