San Bernardino Map, California
Map of San Bernardino
Explore San Bernardino with this map collection. It features a road map, reference map, and things to do. You can also tour the city through the web map of San Bernardino provided by Google Maps.
Just 60 miles away from Los Angeles, San Bernardino is located in southwest California in the San Bernardino Valley. One key fact is that it's home to the first original McDonald's.
Although San Bernardino is a small city, it has a rich history that you can explore in California. There are plenty of things to do in San Bernardino, whether you're looking for cultural attractions or just some fun places to go shopping.
Jump To: Interactive Map | Printable Road Map | 10 Things to Do | Reference Map
San Bernardino map collection
Interactive Map of San Bernardino
This interactive map includes all the best items to see and do including its parks, attractions, and hotels. Find out where the best places to eat, drink, and explore are with our detailed map. Whether you're looking for a vacation or a family adventure, this interactive map is ideal for visitors who want to explore the area ahead of time.
San Bernardino Road Map
Discover what San Bernardino has to offer and get to know the area before your visit with this road map. View it on your phone or tablet, download it or print it out, and get ready for a memorable journey. With this detailed city map and information, you will always remain on the right track with highway and road information. If you are planning a trip to San Bernardino, this road map is perfect for you. For any travel outside the city, take a look at this road map of California.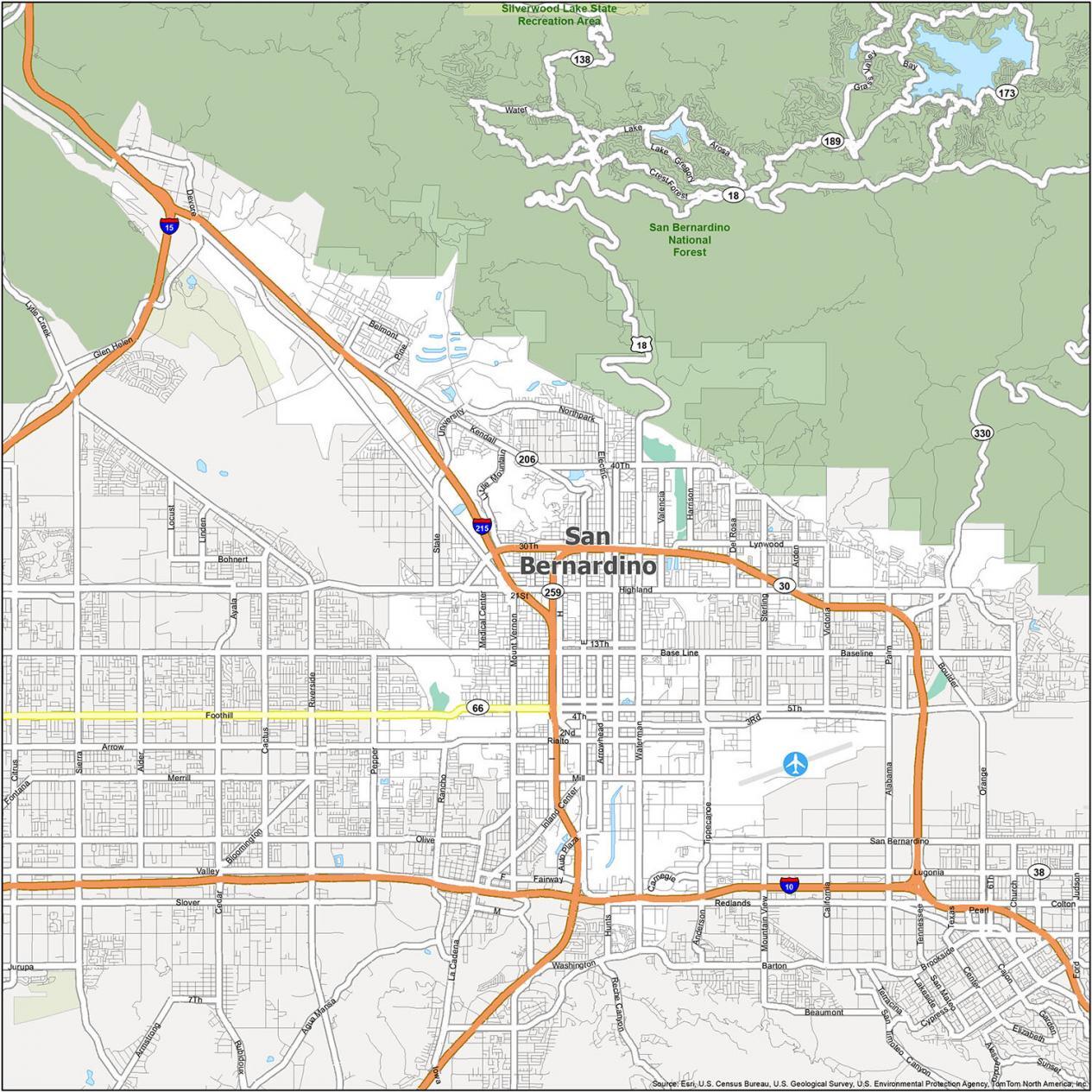 Interstate Highways: I-10, I-215
US Highways: 18, 30, 66, 206, 259, 330
Expressways/Parkways: University Pky
Major Roads: 2nd St, 5th St, 21st St, 30th St, Cajon Blvd, Foothill Blvd, Goodlett St, Herrington Ave, Highland Ave, Kendall Dr, Mount Vernon Ave, Mountain View Ave, Palm Ave, Rialto Ave, San Bernardino Ave, Waterman Ave
10 Things To Do in San Bernardino
Our easy-to-use attractions map lets you explore San Bernardino with a list of things to do. Our detailed maps are designed to help you locate all the major attractions, parks, and landmarks in the area. This map is perfect for those who are looking to take a quick trip to this beautiful city to explore its many attractions.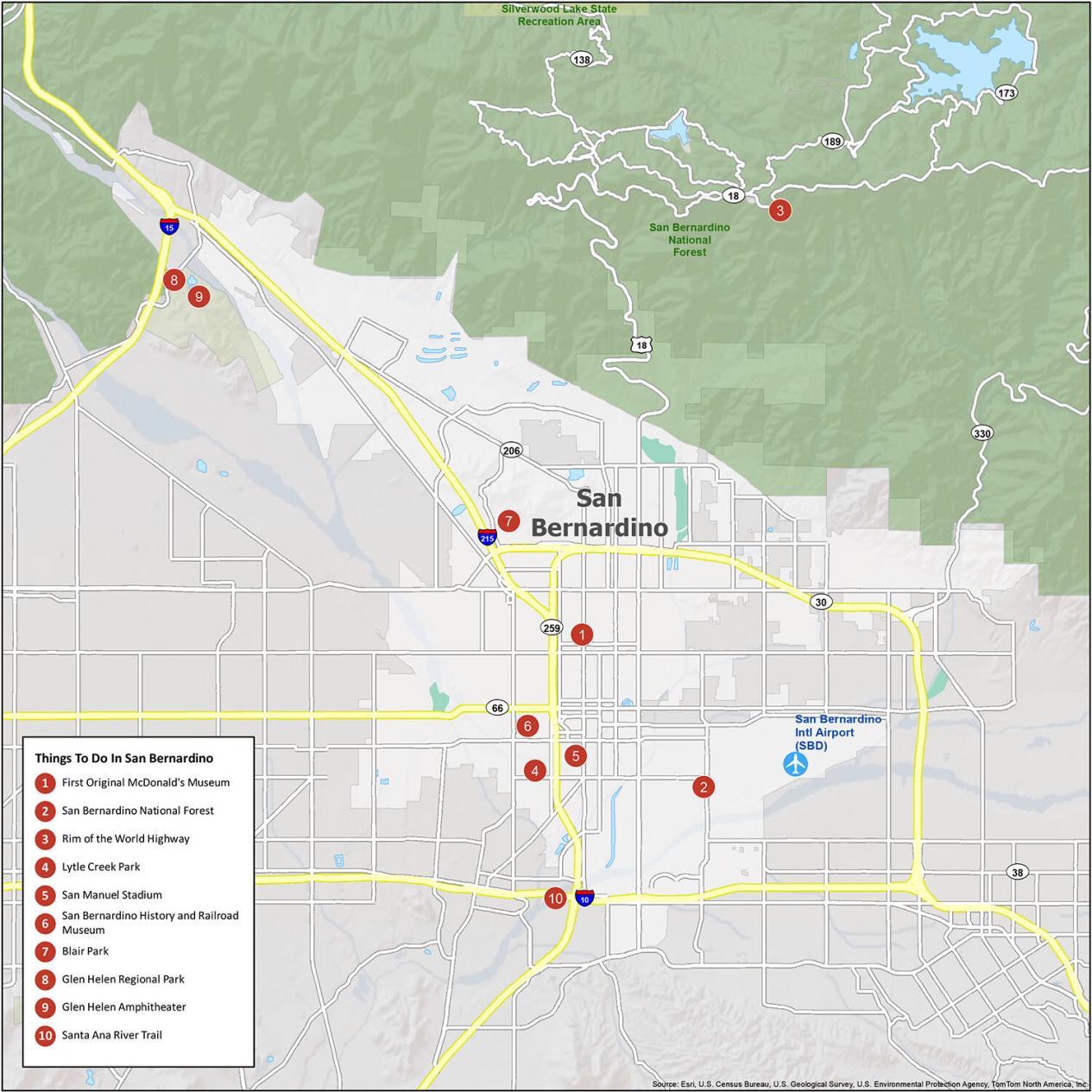 San Bernardino is home to the first original McDonald's. It's filled with beautiful nature, unique museums, and recreational parks. If you ever travel to San Bernardino, we highly recommend these 10 things to do.
First Original McDonald's Museum
San Bernardino National Forest
Rim of the World Highway
Lytle Creek Park
San Manuel Stadium
San Bernardino History and Railroad Museum
Blair Park
Glen Helen Regional Park
Glen Helen Amphitheater
Santa Ana River Trail
San Bernardino Reference Map
Whether you are planning a vacation, visiting family or friends, you will have no problem finding your way around with this reference map of the San Bernardino, California area. This map will help you plan your trip by providing detailed information about the area including lakes, forests, and populated areas.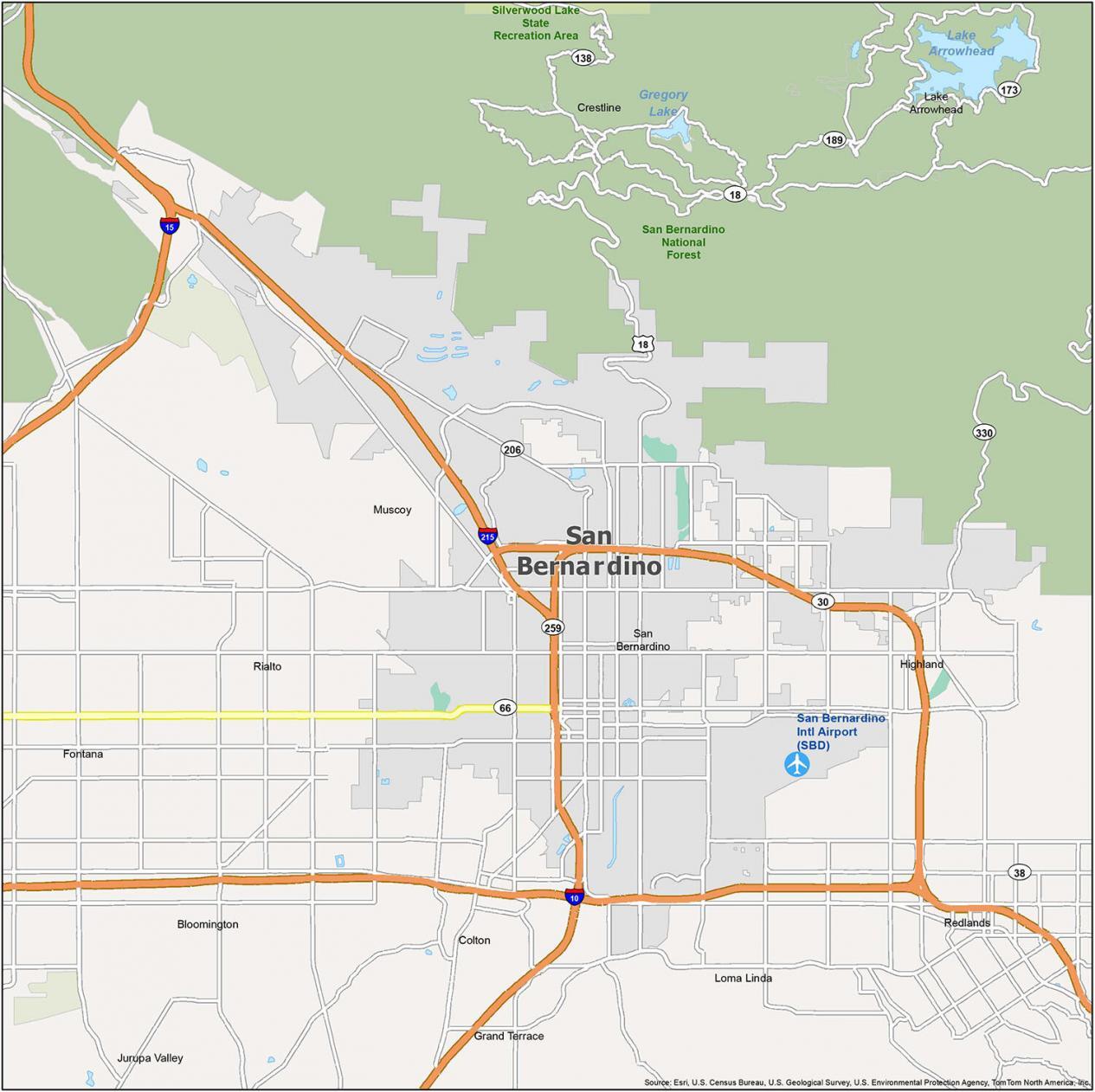 Airports: San Bernardino International Airport (SBD)
Cities: Colton, Fontana, Grand Terrace, Highland, Jurupa Valley, Loma Linda, Redlands, Rialto, San Bernardino
Census-designated place (CDP): Bloomington, Crestline
Forests/Parks: San Bernardino National Forest, Silverwood Lake State Recreation Area
San Bernardino maps
California map collection