San Diego Neighborhood Map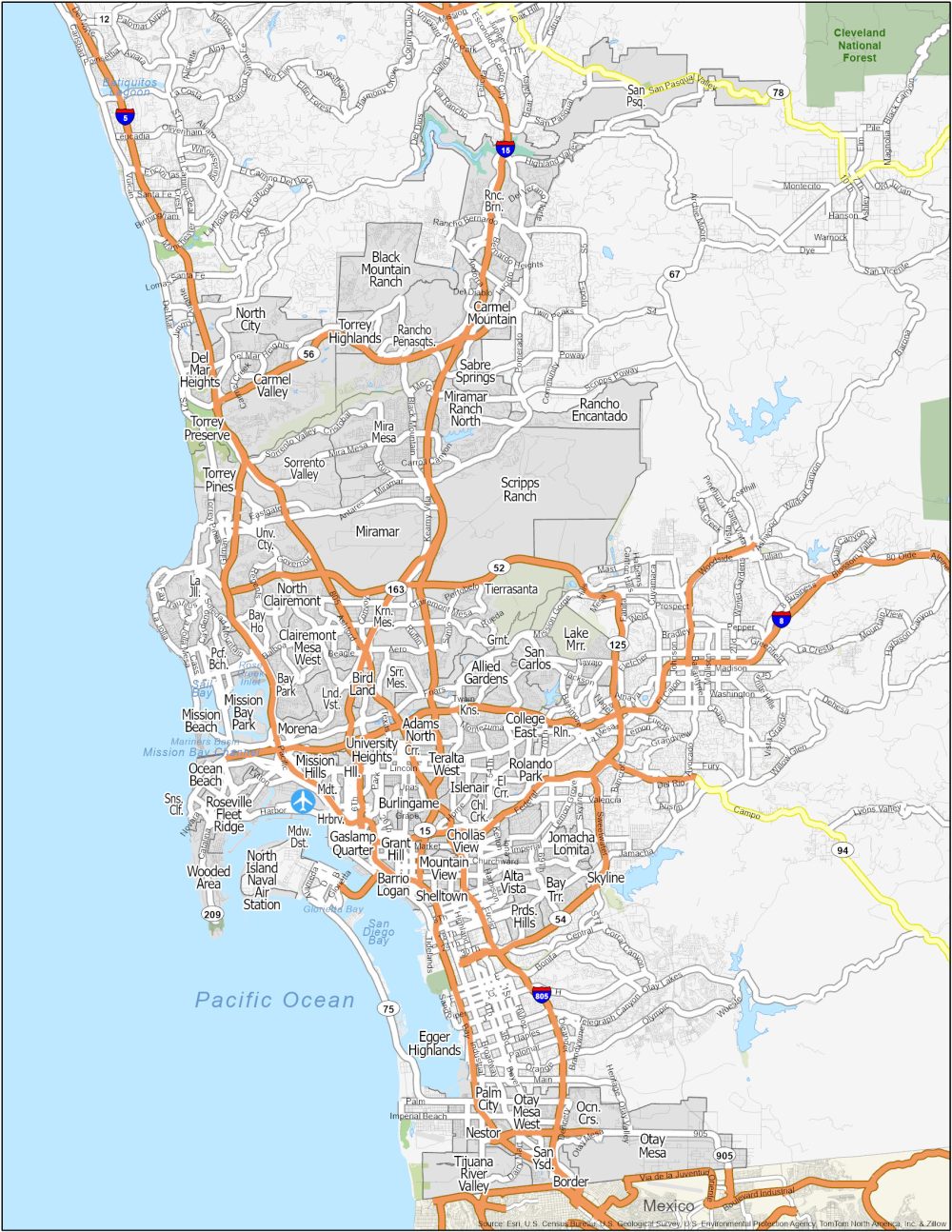 San Diego map collection
Neighborhoods in San Diego
Get to know the neighborhoods of San Diego, where sun-kissed beaches meet urban flair, and historical sites harmonize with modern vibes. Discover the laid-back vibes of Pacific Beach, ideal for surf enthusiasts and beach lovers, or immerse yourself in the artistic spirit of North Park.
Pacific Beach
Known for its lively coastal atmosphere, Pacific Beach is a popular neighborhood that offers a picturesque coastline, perfect for surfing, sunbathing, and beach volleyball. With an array of waterfront bars, restaurants, and shops along the lively boardwalk, this area attracts tourists seeking a fun-filled day by the sea.
Gaslamp Quarter
Embrace the historic charm and exciting nightlife of the Gaslamp Quarter, a bustling neighborhood in downtown San Diego. This entertainment hub boasts Victorian-era architecture, trendy boutiques, and a plethora of dining options, making it an ideal destination for those seeking a lively urban experience filled with music, theaters, and late-night revelry.
Hillcrest
A vibrant and inclusive neighborhood, Hillcrest boasts a lively community, diverse restaurants, and unique shops. The weekly farmer's market, street festivals, and annual Pride celebrations make Hillcrest a welcoming and dynamic area to explore.
Old Town
Step back in time and explore the historic roots of San Diego in Old Town, where preserved adobe buildings and museums showcase the city's early heritage. This culturally rich neighborhood is a gateway to Mexican cuisine, vibrant markets, and captivating folklore.
Kensington
Quaint and welcoming, Kensington offers a small-town feel within the city. This neighborhood features tree-lined streets, specialty boutiques, and a thriving community spirit, making it a delightful place to stroll and enjoy the local scenery.
Little Italy
Experience a slice of Italy in San Diego's Little Italy, a culturally rich neighborhood with a plethora of Italian restaurants, gelato shops, and art galleries. The weekly farmer's market and the cultural festivals add to the allure of this charming area, attracting foodies and art enthusiasts.
North Park
As an eclectic and hip neighborhood, North Park appeals to creative souls with its art galleries, vintage boutiques, and craft beer scene. Home to a diverse community, this area also hosts street fairs and art walks, making it an inviting spot for those seeking a lively atmosphere.
La Jolla
Nestled along the coastline, La Jolla exudes an upscale ambiance with its luxurious homes, boutique shopping, and fine dining establishments. The scenic cliffs and pristine beaches offer breathtaking views, making it a sought-after destination for relaxation and outdoor activities.
Mission Hills
Discover a peaceful oasis in Mission Hills, an elegant neighborhood with tree-lined streets, historic architecture, and picturesque gardens. This residential area offers a tranquil escape while being close to the city's attractions and amenities.
Coronado
Connected to San Diego by a bridge, Coronado is a picturesque island neighborhood known for its pristine beaches, upscale resorts, and the iconic Hotel del Coronado. With its relaxed atmosphere and charming village feel, Coronado is an idyllic spot for a laid-back coastal experience.
California map collection