San Francisco Neighborhood Map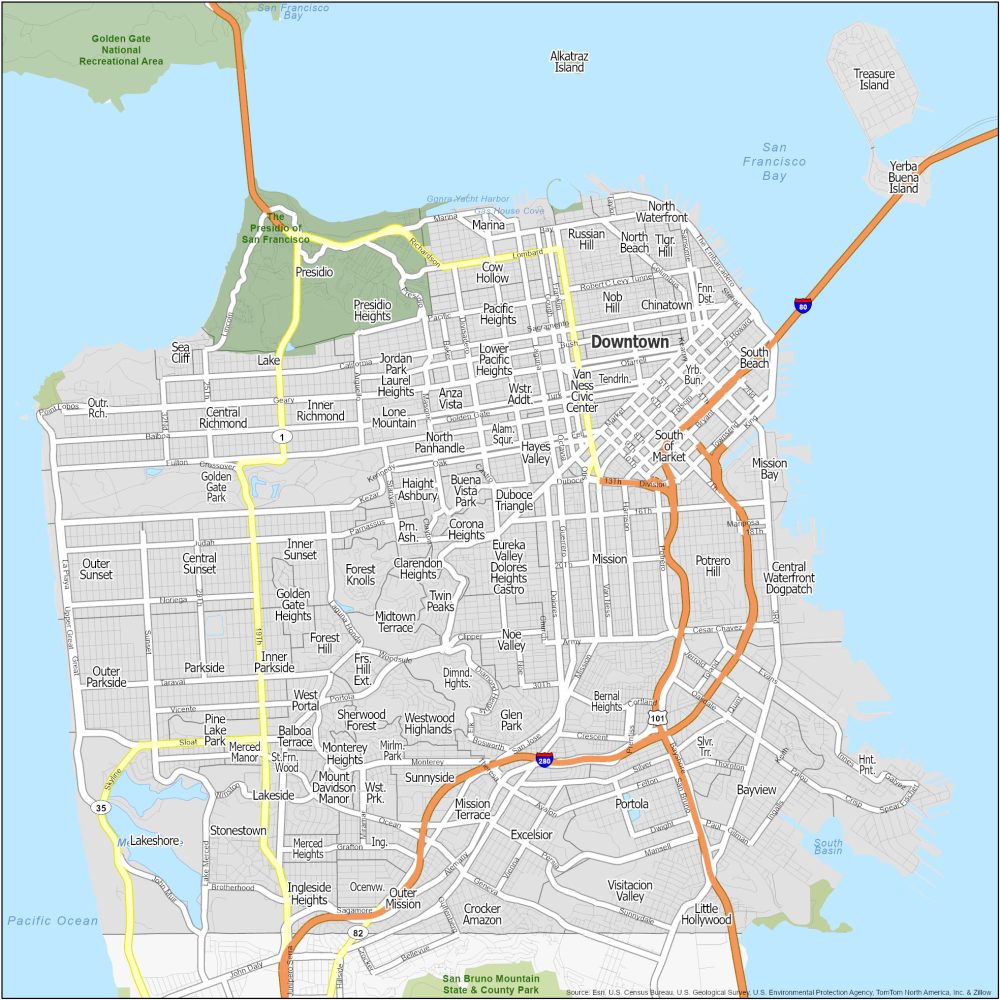 San Francisco map collection
Neighborhoods in San Francisco
Discover the diversity of San Francisco with this neighborhood map. From the artistic allure of the Mission District to the historic grandeur of Nob Hill, this San Francisco neighborhood map unveils its unique communities and distinct atmosphere.
| Neighborhood | Description |
| --- | --- |
| Pacific Heights | Affluent neighborhood with Victorian and Edwardian homes. |
| Nob Hill | Known for its upscale hotels, historic mansions, and views. |
| Marina District | Trendy area with waterfront views, shops, and restaurants. |
| North Beach | Vibrant Italian-American neighborhood with cafes and bars. |
| Castro | Historic LGBTQ+ district with a lively and inclusive vibe. |
| Inner Sunset | Residential area with a diverse community and local shops. |
| Mission District | Artsy neighborhood with murals, diverse cuisine, and culture. |
| Haight-Ashbury | Famous for its role in the 1960s counterculture movement. |
| Potrero Hill | Mix of residential and industrial areas with city views. |
| Inner Richmond | Residential area with parks, shops, and diverse eateries. |
| Noe Valley | Quaint residential area with cafes and family-friendly vibe. |
| Outer Sunset | Coastal neighborhood with beaches and a laid-back atmosphere. |
| South of Market (SoMa) | A dynamic area with tech offices, museums, and entertainment. |
| Hayes Valley | Trendy neighborhood with boutiques, cafes, and art galleries. |
| Russian Hill | Scenic neighborhood with iconic crooked Lombard Street. |
| Presidio | The former military base turned park with scenic views. |
| Twin Peaks | An elevated area offering panoramic views of the city. |
| Outer Richmond | Residential area with parks and proximity to the ocean. |
| Chinatown | Historic neighborhood with shops, restaurants, and culture. |
| West of Twin Peaks | Diverse residential area with parks and local businesses. |
Mission District
Known for its cultural vibe and vibrant street art, the Mission District is a culturally rich neighborhood in San Francisco. Explore its diverse culinary scene, unique boutiques, and iconic Mission Dolores Park, where locals gather to relax and enjoy the city's sunny days.
Nob Hill
Nestled atop one of San Francisco's famous hills, Nob Hill offers elegance and historic charm. Home to luxurious hotels, upscale residences, and landmarks like Grace Cathedral and the Cable Car Museum, this neighborhood exudes sophistication and breathtaking city views.
North Beach
Known as San Francisco's Little Italy, North Beach is a bustling neighborhood filled with Italian restaurants, coffeehouses, and charming bookstores. It's also adjacent to Washington Square Park and within walking distance of Coit Tower, providing visitors with an enjoyable mix of dining and cultural experiences.
SoMa (South of Market)
An evolving neighborhood with a mix of modern developments and historic warehouses, SoMa is a hub for tech companies and cultural venues. Discover the Yerba Buena Gardens, numerous art galleries, and the popular Museum of Modern Art (SFMOMA) in this dynamic district.
Haight-Ashbury
Embrace the spirit of the '60s in Haight-Ashbury, the birthplace of the hippie counterculture. With its vintage clothing stores, eclectic shops, and tie-dyed history, this neighborhood continues to celebrate its free-spirited past while offering a trendy mix of cafes and boutiques.
Marina District
Located by the waterfront, the Marina District offers picturesque views of the Golden Gate Bridge and Alcatraz Island. This trendy area is popular among young professionals and features trendy bars, upscale boutiques, and the scenic Marina Green Park for outdoor recreation.
Chinatown
Step into a world of culture and tradition in San Francisco's Chinatown, the oldest and one of the most iconic Chinatowns in North America. Stroll through its bustling streets, taste authentic cuisine, and marvel at the ornate architecture and lively festivals that showcase its rich heritage.
Castro
A symbol of LGBTQ+ pride and history, the Castro neighborhood is a welcoming and inclusive community. Experience its vibrant nightlife, colorful storefronts, and the historic Castro Theatre, a landmark that continues to host iconic film screenings and events.
Pacific Heights
Characterized by elegant Victorian and Edwardian homes, Pacific Heights is a residential neighborhood known for its stunning architecture and scenic views. Boutique shopping along Fillmore Street and the grandeur of Alta Plaza Park make this area a desirable place to live and visit.
Presidio Heights
Embrace tranquility and natural beauty in Presidio Heights, a leafy residential neighborhood bordering the Presidio, a former military base turned national park. Explore the Presidio's hiking trails, iconic landmarks like the Palace of Fine Arts, and charming Sacramento Street, home to chic boutiques and cafes.
California map collection