Santa Ana Map, California
Map of Santa Ana
This Santa Ana map collection features a road map, reference map, and things to do. If you really want to get to know the city, use the Santa Ana interactive map to explore your surroundings.
Santa Ana is a city located in southwestern California near Los Angeles and is the second-most populous city in Orange County. Santa Ana is home to a number of fascinating historical landmarks that make it a must-see city for history lovers.
It's also known for its palm trees, beaches, and nightlife. Whether you're looking for a place to live, work, raise your family, or just have some fun, this Santa Ana map collection has something for you.
Jump To: Interactive Map | Printable Road Map | 10 Things to Do | Reference Map
Santa Ana map collection
Interactive Map of Santa Ana
Get a sneak preview of what Santa Ana has to offer with this interactive map. See what attractions and neighborhoods are popular in the Santa Ana areas like the historical district and downtown. You can also get a snapshot of the best attractions to see where you can find the best restaurants, nightlife, and shopping.
Santa Ana Road Map
Use this Santa Ana road map to plan your route, or just to see what areas are most worth exploring. In addition, you can plan your route and see all of the places you need to visit in Santa Ana. This printable road map will help you get around the city with ease. For any travel outside Santa Ana, you can refer to our California road map for highway information.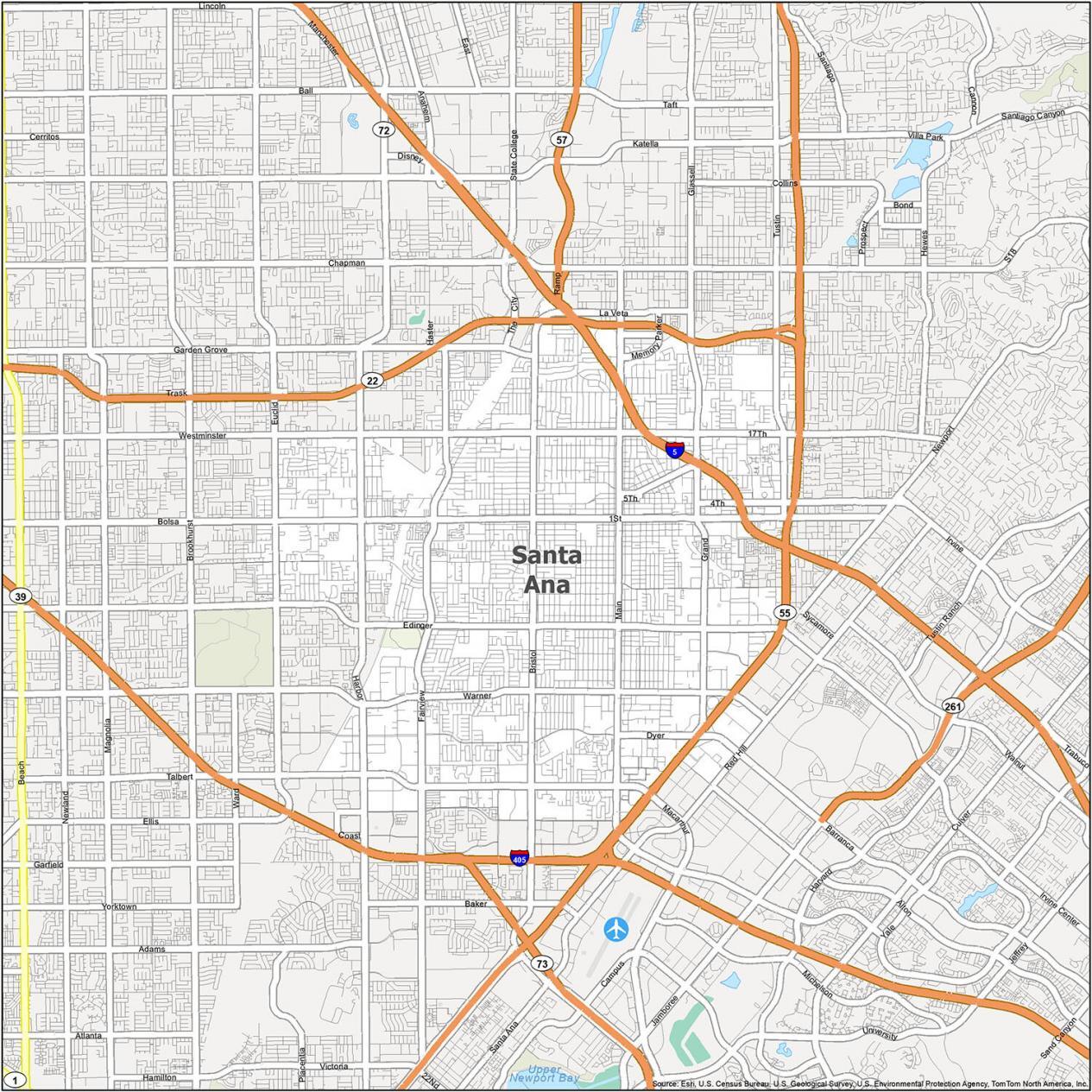 Interstate Highways: I-5
US Highways: 22, 55
Expressways/Parkways: Barranca Pky
Major Roads: 1st St, 4th St, 5th St, 17th St, Bristol St, Dyer Rd, Edinger Ave, Euclid St, Fairview St, Garden Grove Blvd, Grand Ave, Harbor Blvd, Hesperian St, Irvine Blvd, La Veta Ave, Mabury St, MacArthur Blvd, Main Place Dr, Main St, Memory Ln, Mortimer St, Owens Dr, Red Hill Ave, Santa Ana Blvd, Sunflower Ave, The City Dr, Tustin St, Warner Ave, Westminster Blvd
10 Things To Do in Santa Ana
If you're looking for a guide to explore the hidden gems of Santa Ana, look no further. Get a glimpse of the city and its attractions from this map. Not only will this map help you plan your visit, but it will also help you make better decisions about where to go and things to do.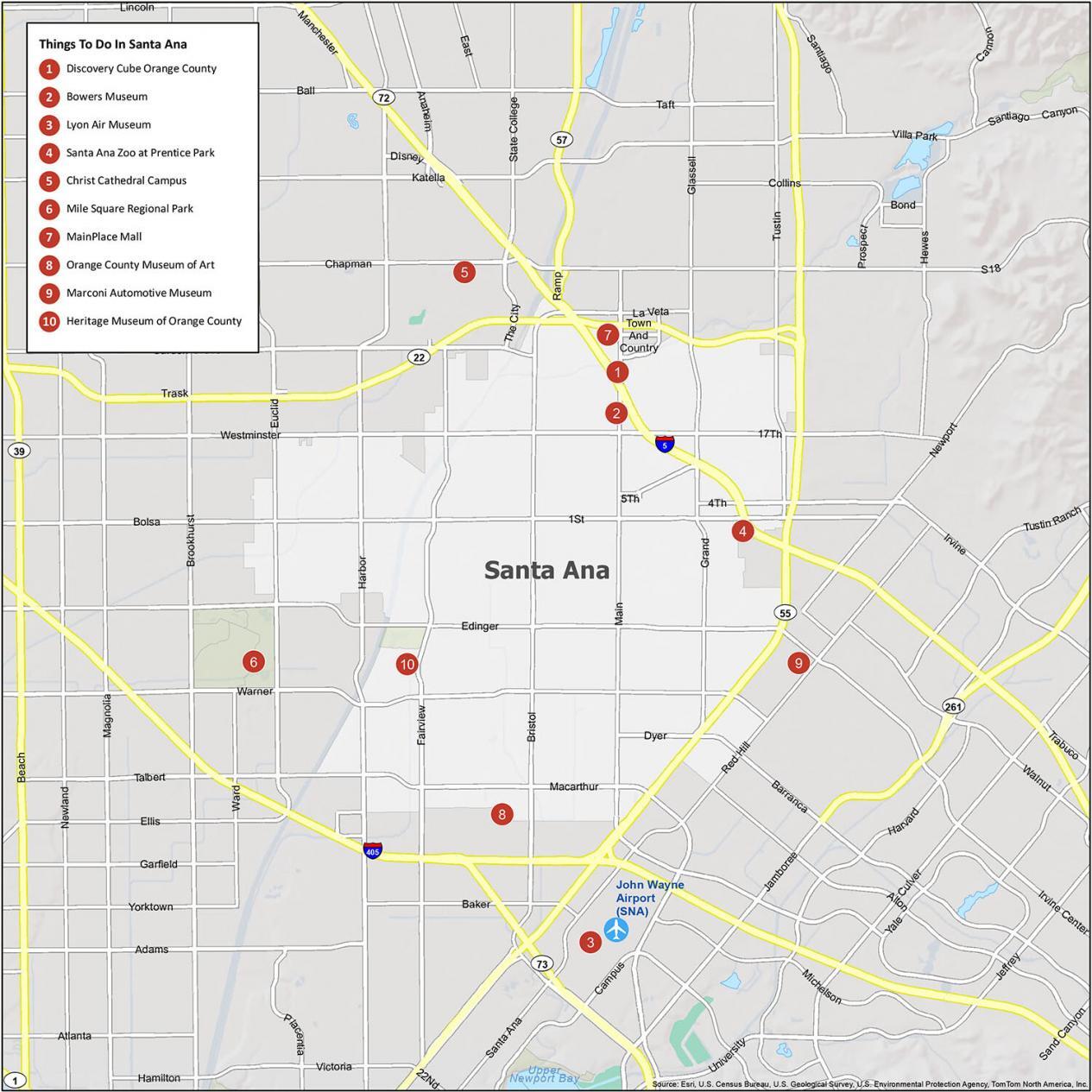 Santa Ana is known for its culture and art. If you ever travel there, we highly recommend these 10 things to do.
Discovery Cube Orange County
Bowers Museum
Lyon Air Museum
Santa Ana Zoo at Prentice Park
Christ Cathedral Campus
Mile Square Regional Park
MainPlace Mall
Orange County Museum of Art
Marconi Automotive Museum
Heritage Museum of Orange County
Santa Ana Reference Map
A map of Santa Ana is a great way to plan your next outing and see everything that the city has to offer. With this map, you can see all the different areas of Santa Ana and find out places of interest. This map will help you plan your next trip to Santa Ana and get a closer look at what this growing city has to offer.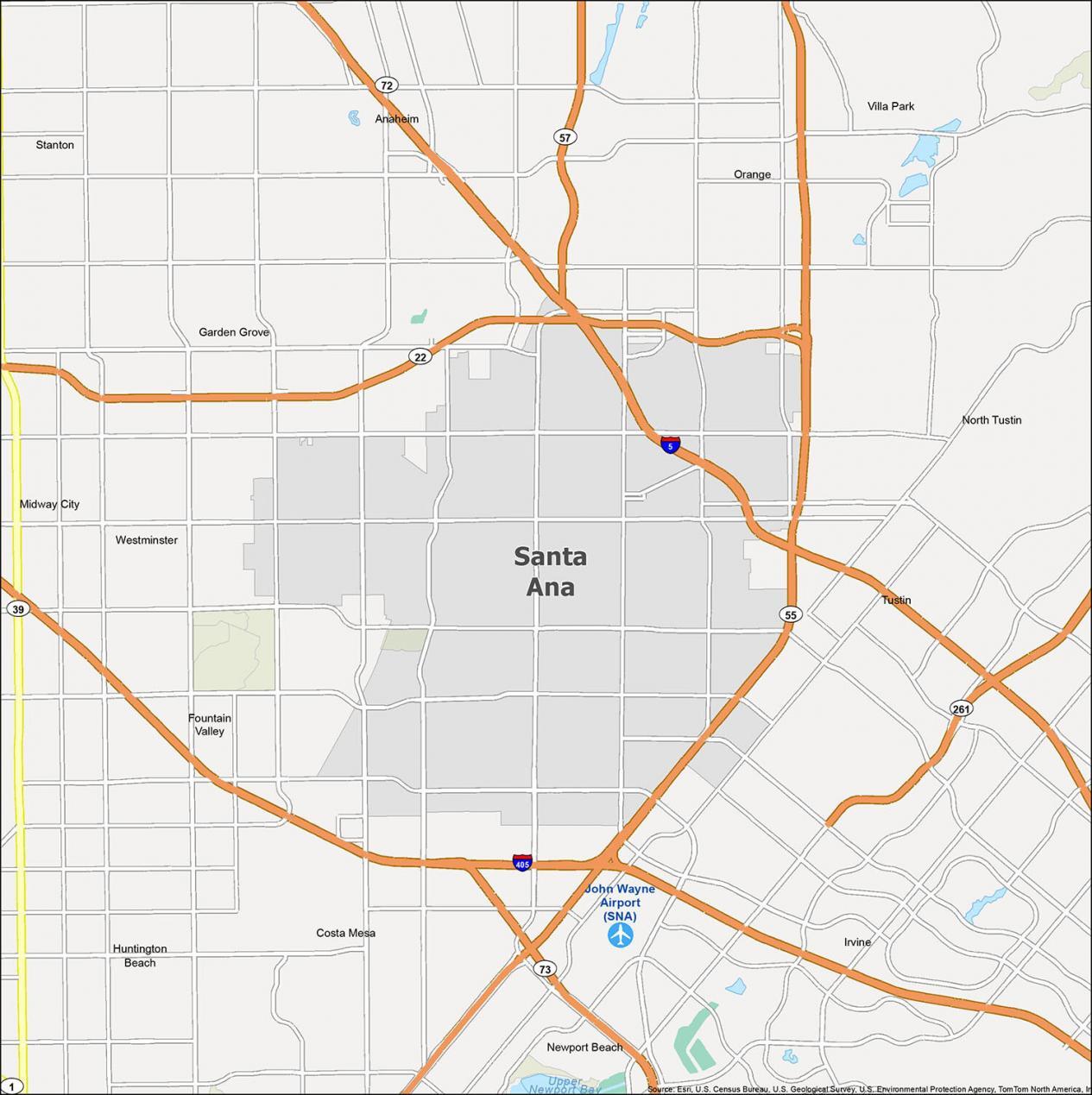 Airports: John Wayne Airport (SNA)
Cities: Anaheim, Costa Mesa, Fountain Valley, Garden Grove, Huntington Beach, Irvine, Newport Beach, Orange, Santa Ana, Tustin, Villa Park, Westminster
Census-designated place (CDP): North Tustin
California map collection