Map of Savannah
This Savannah Georgia map displays roads, highways, and things to do. If you want to explore the city in more detail, check out our interactive map provided by Google Maps.
Savannah is located in east Georgia along the Atlantic Ocean. It borders the state of South Carolina in the north. While the Little Ogeechee River outlines its southern border, it's the Savannah River that delineates its northern border.
Whether you're looking for a vacation or an adventure, there's plenty to explore in Savannah. To help you plan your trip, we've compiled this Savannah map collection to learn more about the city.
Jump To: Interactive Map | Printable Road Map | 10 Things to Do | Reference Map
Savannah map collection
Interactive Map of Savannah
Get a detailed, up-to-date map of the Savannah area. With this interactive map, you will be able to get a better understanding of the city and its attractions. It's easy to use and allows you to zoom in and out so you can get a better view of the entire city. This will also help you plan your trip and make the most out of your time in Savannah.
Savannah Road Map
This map offers a variety of options to explore the city and its attractions. Use this road map to plan your Savannah trip and get a sense of the landmarks and attractions that you will want to visit. This road map provides a snapshot of Savannah's interstates, highways, and roads. Download and print this map and plan your route today. But if you plan on leaving the city, take a look at our Georgia road map with statewide highway information.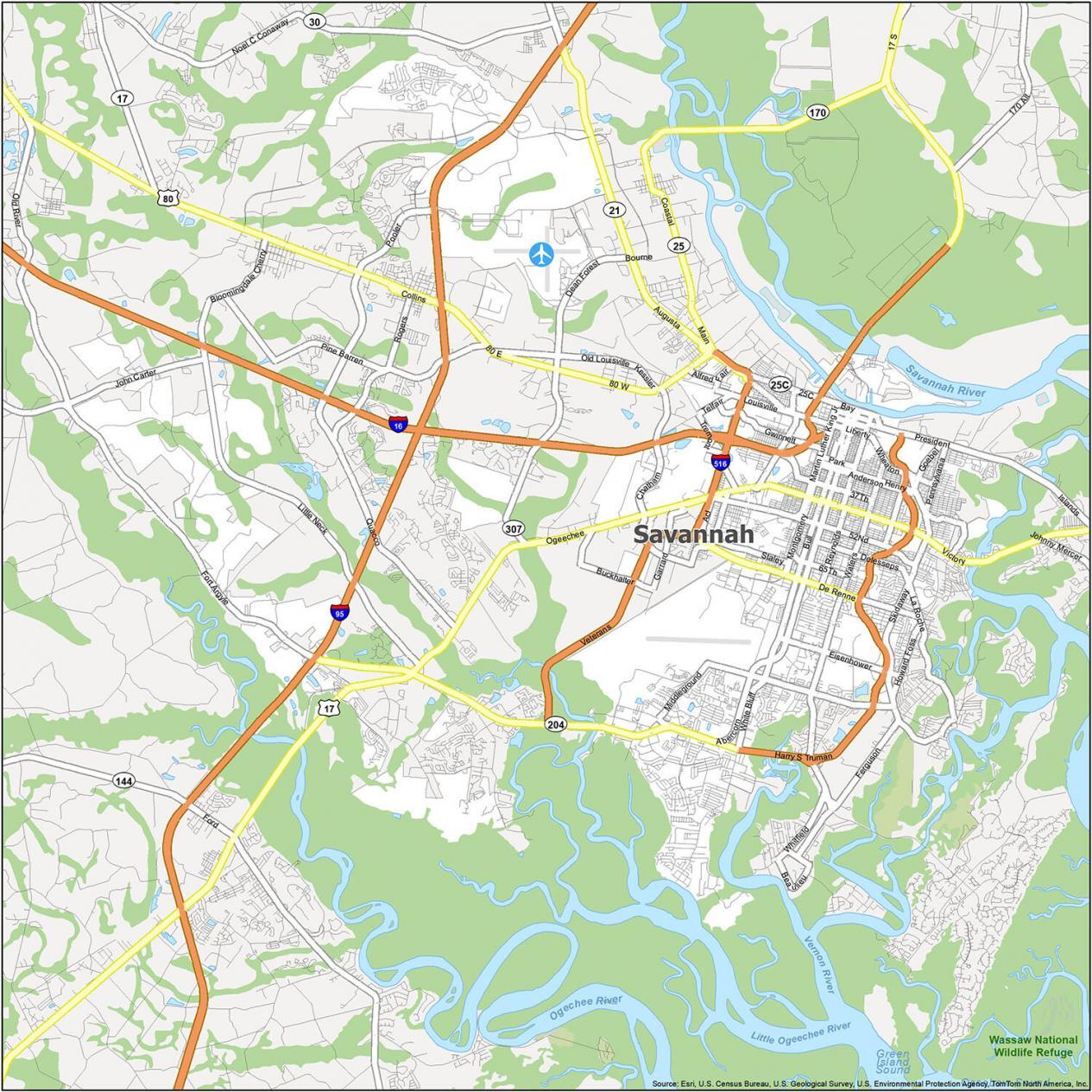 Interstate Highways: I-16, I-95, I-516
US Highways: 17, 21, 80, 204, Dean Forest Hwy
Expressways/Parkways: Abercorn Expy, Chatham Pky, Harry S Truman Pky, Liberty Pky, Veterans Pky
Major Roads: 37th St, Abercorn St, Augusta Ave, Bay St, Brampton Ave, Broad St, Broughton St, De Renne Ave, General Mcintosh Blvd, Lathrop Ave, Main St, Martin Luther King Jr Blvd, Montgomery Cross Rd, Ogeechee Rd, President St, Victory Dr
10 Things To Do in Savannah
Get a taste of the city and its history through this map designed to help you plan your stay in Savannah. This map will guide you and help you see important sights and attractions as you explore the city. From historical sites, museums, and parks, this map will give you the information you need to plan your trip.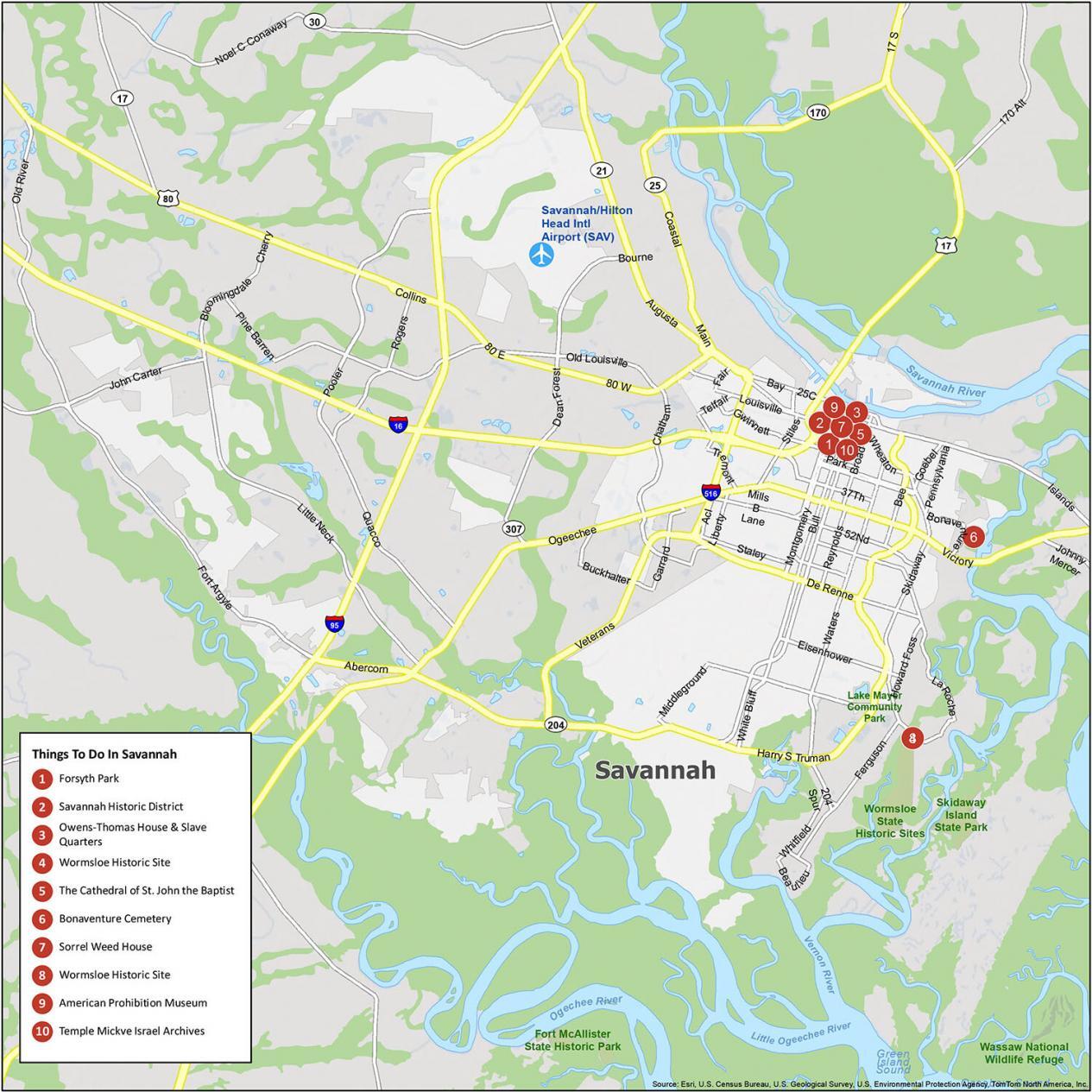 Savannah is known for its rich history, architecture, and picturesque views. If you ever travel to Savannah, we highly recommend these 10 things to do.
Forsyth Park
Savannah Historic District
Owens-Thomas House & Slave Quarters
Wormsloe Historic Site
The Cathedral of St. John the Baptist
Bonaventure Cemetery
Sorrel Weed House
Wormsloe Historic Site
American Prohibition Museum
Temple Mickve Israel Archives
Savannah Reference Map
Get a sneak peek of the parks, forests, and populated areas that are available in Savannah Georgia. Whether you're looking for an amazing view, history, or culture, this Savannah Georgia reference map can help you plan the perfect stay.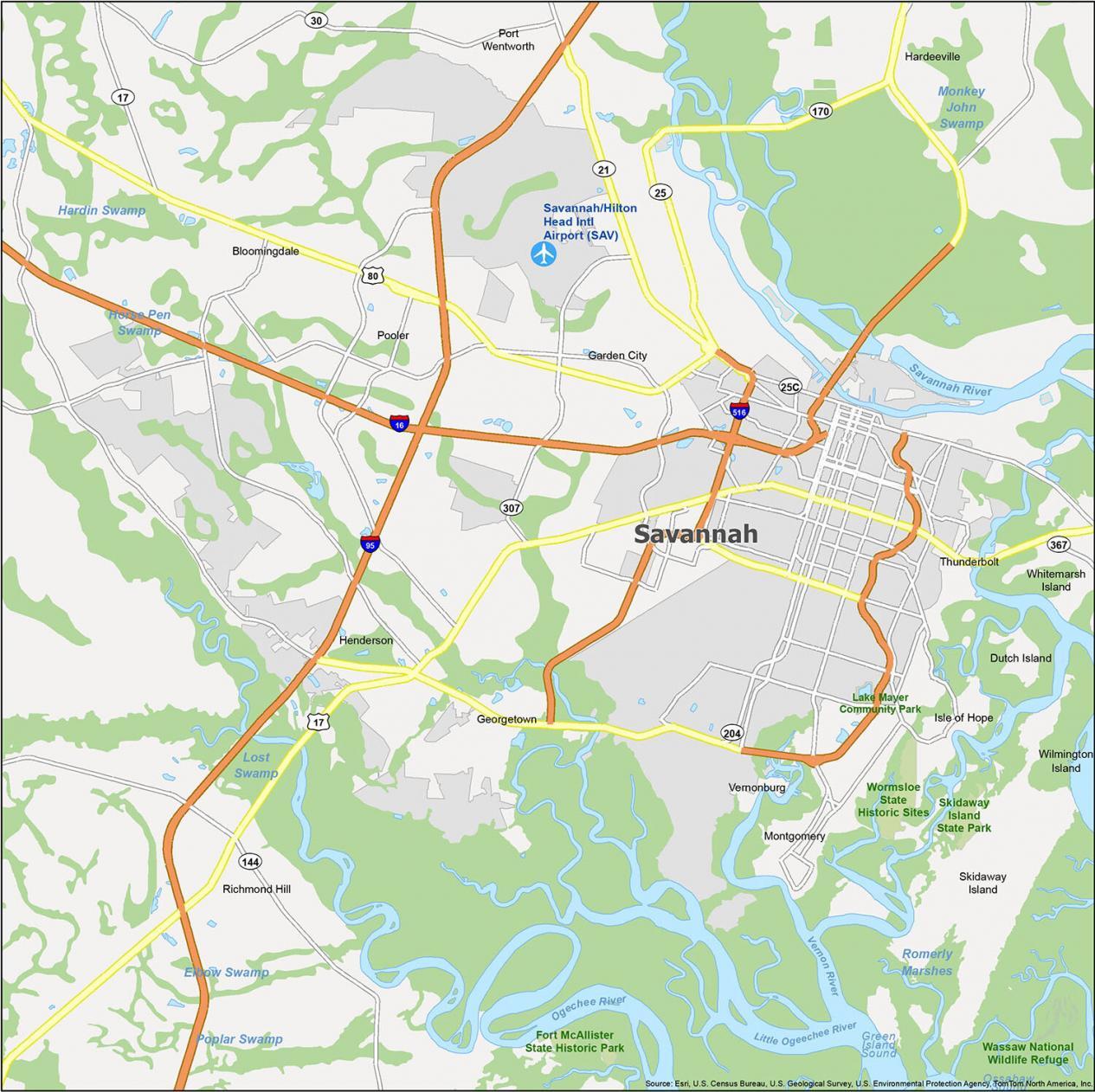 Airports: Savannah/Hilton Head International Airport (SAV)
Cities: Bloomingdale, Garden City, Hardeeville, Pooler, Port Wentworth, Richmond Hill, Savannah
Census-designated place (CDP): Dutch Island, Georgetown, Henderson, Isle of Hope, Montgomery, Skidaway Island, Whitemarsh Island, Wilmington Island
Towns: Thunderbolt, Vernonburg
Parks/Forests: Fort McAllister State Historic Park, Lake Mayer Community Park, Skidaway Island State Park, Wassaw National Wildlife Refuge, Wormsloe State Historic Sites
Georgia map collection
References