St. Louis Neighborhood Map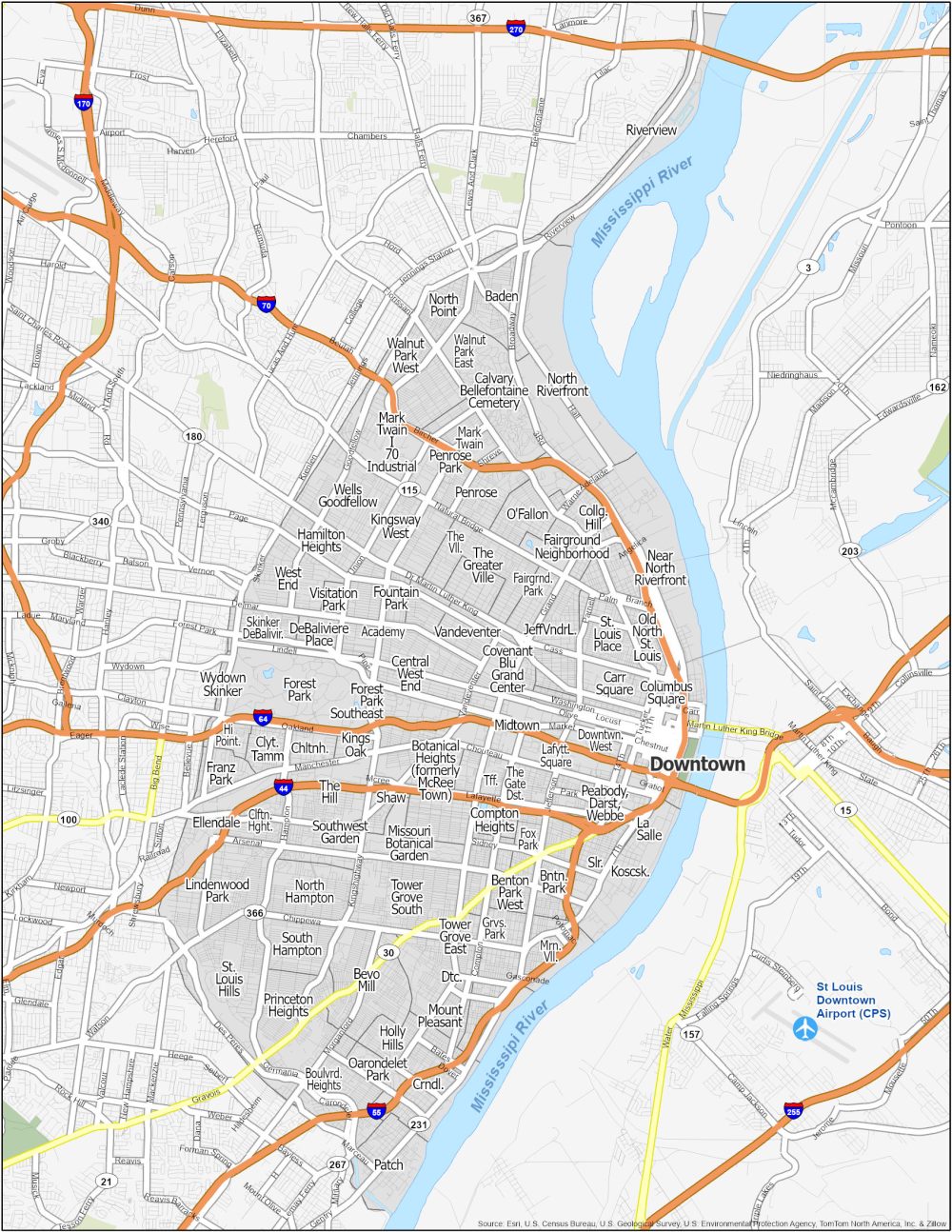 St. Louis map collection
Neighborhoods in St. Louis
Explore the communities of St. Louis through this neighborhood map. From the buzzing neighborhood of Soulard to the artistic flair of The Grove, uncover the distinct personalities with this St. Louis neighborhood map.
Soulard
Known for its historic red-brick architecture and lively atmosphere, Soulard offers a unique blend of entertainment. For instance, it has a bustling farmers' market, a blues music scene, and annual Mardi Gras celebrations.
Tower Grove South
Characterized by its tree-lined streets and proximity to Tower Grove Park, this neighborhood is ideal for those seeking a peaceful residential area with easy access to outdoor activities and local eateries.
Lafayette Square
Embodying Victorian elegance, Lafayette Square is dotted with beautifully restored historic homes and surrounded by charming parks. It's a picturesque neighborhood perfect for leisurely strolls and relaxed living.
Shaw
A neighborhood with a blend of architectural styles, Shaw stands out with its stunning red-brick homes and well-preserved architecture. Residents enjoy the neighborhood's cultural events and access to the Missouri Botanical Garden.
Forest Park Southeast
Commonly known as The Grove, this neighborhood is a mix of residential and commercial spaces, offering a wide range of dining options, bars, and community events.
The Central West End
This upscale neighborhood is home to grand Victorian mansions, chic boutiques, and a thriving cultural scene. With its proximity to Forest Park, the Central West End is a haven for art enthusiasts, foodies, and outdoor enthusiasts.
The Grove
As an artistic neighborhood, The Grove boasts a mix of galleries, trendy bars, and live music venues. It's a vibrant hub for creativity and community engagement.
The Hill
Renowned for its Italian heritage, The Hill is a food lover's paradise, offering a wide range of authentic Italian restaurants and bakeries. This welcoming community is also rich in culture and history.
The Loop
Situated around Delmar Boulevard, The Loop is a vibrant and diverse area packed with shops, restaurants, and live music venues. Its lively atmosphere draws in both locals and visitors.
Dogtown
Named for its dog-friendly reputation, Dogtown is a close-knit community. It's known for its lively St. Patrick's Day celebrations and cozy Irish pubs.
These are just a few examples of the many unique neighborhoods that contribute to the dynamic and lively character of St. Louis. But there's a lot more that makes St Louis such an exciting place to explore. So get out and experience barbecue, jazz, and blues music in St. Louis for yourself.
Missouri map collection