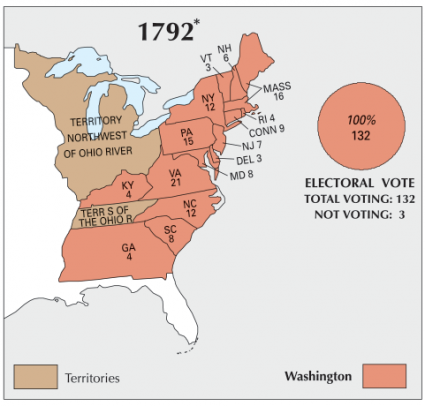 In 1792, George Washington served his second term as president. For the most part, he didn't have an opposition after winning 132 total (or 100%) of electoral votes.
However, the race for the vice presidency was much more competitive. Eventually, the people voted John Adams as vice president.
1792 was the first election where two major parties started to form. The Democratic-Republicans were against the Federalists with the main belief that the Constitution gave too much power to the government.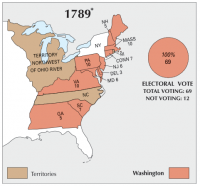 « PREVIOUS
1789 Election Map

NEXT »
1796 Election Map
You are free to use our US election maps for educational and commercial uses. Attribution is required. How to attribute?
George Washington
The first president of the United States (second term)
Vice President: John Adams
Total Votes: 132
Electoral Vote: 100%
Political Party: Independent

1792 Election Timeline
1789: George Washington
1792: George Washington
1796: John Adams
1800: Thomas Jefferson

1804: Thomas Jefferson
1808: James Madison
1812: James Madison
1816: James Monroe

US Election Map Collection