Thomas Jefferson vs John Adams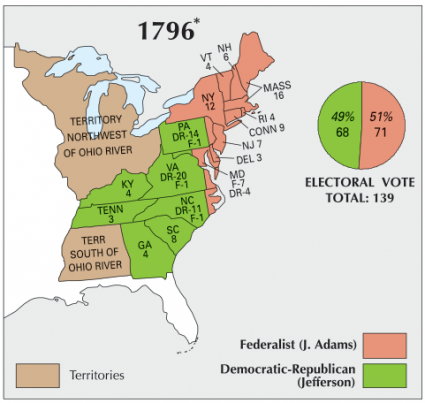 In this election, George Washington refused to run for a third term. So unlike past elections, the presidency was mostly up in the air without a clear winner.
This election included Tennessee. But it was a two-party system between the Democratic-Republicans and Federalists.
John Adams claimed the spot as second President of the United after receiving 71 electoral votes. But it was a close race as Thomas Jefferson finished with 68 electoral votes.
« PREVIOUS
1792 Election Map

NEXT »
1800 Election Map
John Adams
Second president of the United States
Vice President: Thomas Jefferson
Total Electoral Votes: 71
Electoral Vote: 51%
Political Party: Federalist

1796 Election Timeline
1789: George Washington
1792: George Washington
1796: John Adams
1800: Thomas Jefferson

1804: Thomas Jefferson
1808: James Madison
1812: James Madison
1816: James Monroe

US Election Map Collection