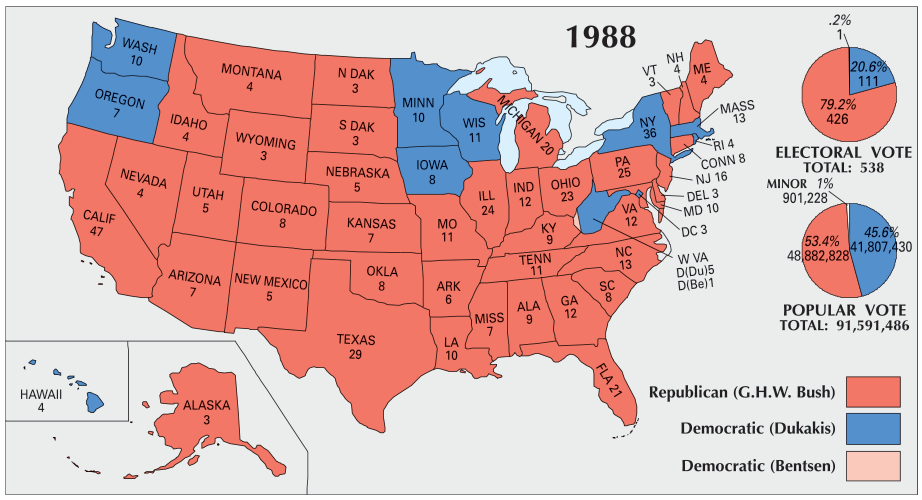 Download
You are free to use our US election maps for educational and commercial uses. Attribution is required. How to attribute?
Election of 1988 Summary
This was the 51st presidential election in American history. The economy was in stride. Reagan finished with strict penalties for drug traffickers. And as the tradition goes, Reagan decided to not run for a third term.
For the Republicans, the front-runner became George H.W. Bush. Then, Michael Dukakis got the nod for the Democrats. But George H.W. Bush had a much more aggressive campaign than Dukakis. Also, he had a bit of momentum from Reagan's success.
When the votes were counted, George H.W. Bush easily won with 426 electoral votes and 53.4% of the popular vote.

« PREVIOUS
1984 Election Map

NEXT »
1992 Election Map
George H.W. Bush
Fortieth president of the United States
Vice President: George H. W. Bush
Total Electoral Votes: 426
Electoral Vote: 79.2%
Political Party: Republican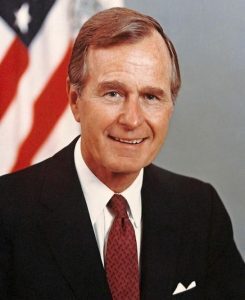 1988 Election Timeline
1976: Jimmy Carter
1980: Ronald Reagan
1984: Ronald Reagan
1988: George H.W. Bush

1992: Bill Clinton
1996: Bill Clinton
2000: George W. Bush
2004: Barack Obama

US Election Map Collection