Map of Adelaide, Australia

Adelaide Map
This Adelaide map is for getting acquainted with the capital city of South Australia and the fifth-most populous city in Australia.
You'll be able to view everything from highways, roads, major attractions, communities, and places of interest.
No matter your reason in Adelaide, this printable map is free to use so you don't get lost in this cosmopolitan coastal city.
Jump To: Interactive Map | Printable Road Map | 10 Things to Do | Reference Map
Adelaide map collection
Interactive Map of Adelaide
If you're looking for the latest information, get immersed in this interactive map. Whether you're looking for shopping, dining, or a relaxing night out on the town, you can explore Adelaide with great detail using this map. Plus, you can turn on the imagery to get a bird's eye view of everything that makes Adelaide so special.
Adelaide Road Map
We designed this Adelaide road map for you to visualize the transportation network of Adelaide on a single page. One of the challenges is getting all the residential street names labeled. But we were able to get highway numbers and major street names for general reference.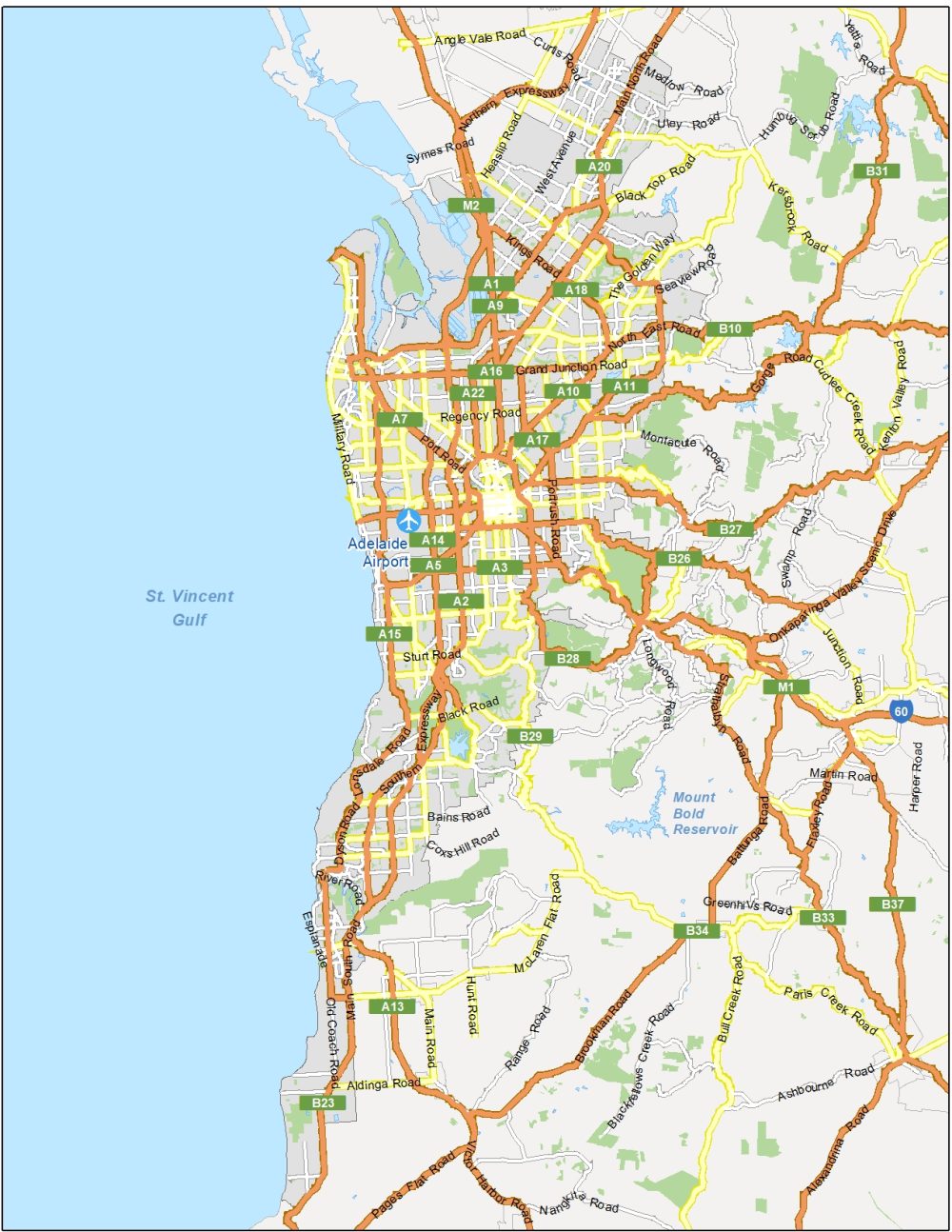 Highways/Motorways: A1, A2, A3, A7, A14, A17, A20, A22, B10, B23, B26, B27, B28, B29, B31, B34, M2, Northern Expressway, Southern Expressway, Salisbury Highway, Anzac Highway, Port River Expressway
Major Roads: Tapleys Hill Road, Grand Junction Road, Greenhill Road, Port Road, Northern Connector, Port Wakefield Road, Marion Road, Lower North East Road, Commercial Road, Lonsdale Road, Sir Donald Bradman Drive, Brighton Road, McIntyre Road, The Grove Way, Gorge Road, Main North Road, Churchill Road, Kings Road, Dyson Road, Fullarton Road, Hancock Road, Payneham Road, Magill Road, South Road, Flagstaff Road, Cross Road, Ocean Boulevard
10 Things To Do in Adelaide
No matter your age, Adelaide has something for everyone. First, we'd recommend Adelaide Central Market. Dating back to 1869, this historic market sells a range of fresh produce, cheeses, meats, and organic foods. Next on our list is the Adelaide Oval, which holds major concerts and sporting events. From there, Adelaide has a range of attractions like its art galleries, museums, gardens, parks, and an iconic zoo located in the center of the city.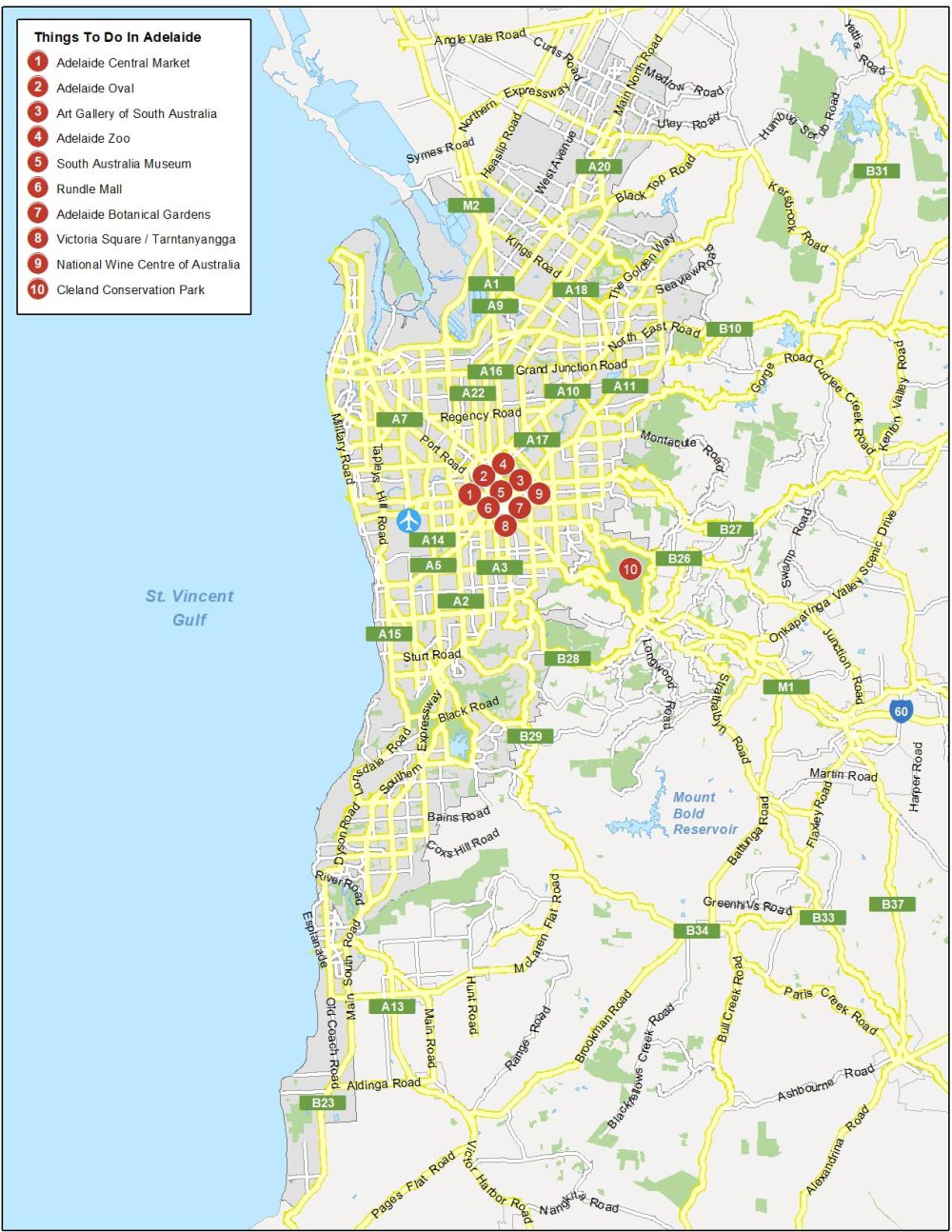 Adelaide is the fifth-most populous city in Australia (after Perth, Brisbane, Melbourne, and Sydney) and is the capital city of the state of South Australia. Here's a list of the top 10 things to do in Perth.
Adelaide Central Market
Adelaide Oval
Art Gallery of South Australia
Adelaide Zoo
South Australia Museum
Rundle Mall
Adelaide Botanical Gardens
Victoria Square / Tarntanyangga
National Wine Centre of Australia
Cleland Conservation Park
Adelaide Reference Map
This reference map of Adelaide highlights all the important populated places. You'll be able to see places of interest in a single printable map. Please feel free to print our map and use it for your next adventure in Adelaide.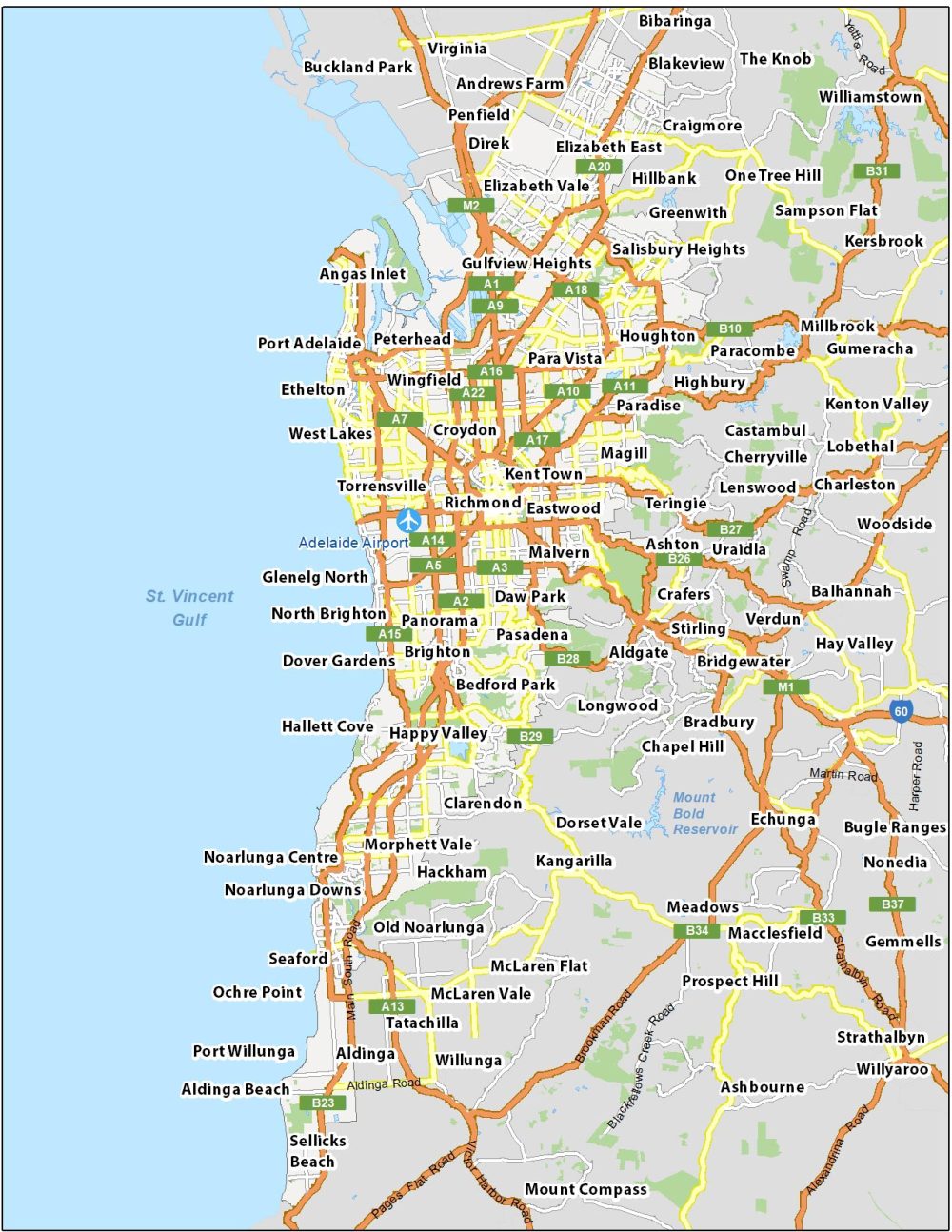 Airports: Adelaide Airport
Water and Islands: St.Vincent Gulf, Mount Bold Reservoir
Communities: Croydon, Happy Valley, Clarendon, Glenelg, Panorama, Eastwood, Richmond, Torrensville, Brighton, Malvern, Magill, Wingfield, Peterhead, Hillbank, Magill, Elizabeth, Pasadena, Hallett Cove, Seaford, Noarlunga, Aldinga, Blakeview, Greenwith, Hackham
Australian city map collection