Map of Melbourne, Australia

Melbourne Map
Today, we'll show you a set of maps of Melbourne, Australia that you can download and print. Our map collection includes a highway map, a neighborhood map, and an attractions map.
So if you have any desire for a high-quality map of Melbourne, make sure to check out our free maps below.
Jump To: Interactive Map | Printable Road Map | 10 Things to Do | Reference Map
Melbourne map collection
Interactive Map of Melbourne
First, we want you to check out an interactive map of Melbourne with all the latest information. If you wish to enjoy Melbourne cuisine or find the hottest shopping district, this interactive map has everything you need.
Melbourne Road Map
This printable road map displays the transportation network of Melbourne, Australia. You'll find highway numbers and street names so you can navigate around the city. Although we can't include residential street names, it's still an excellent tool for a driving reference map.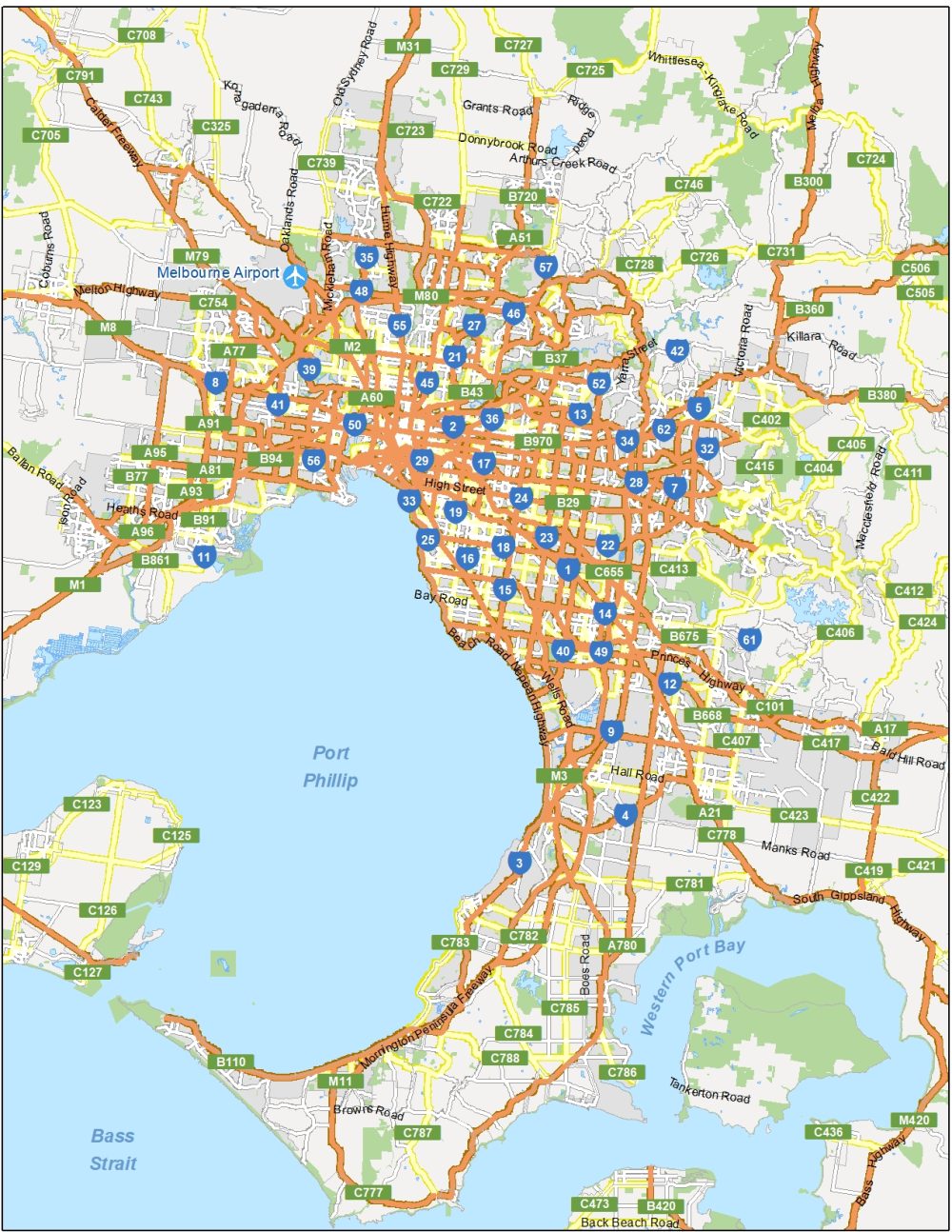 Highways: 1, 10, 11, 12, 13, 14, 15, 16, 17, 18, 19, 2, 20, 21, 22, 23, 24, 25, 26, 27, 28, 29, 3, 30, 32, 33, 34, 35, 36, 37, 38, 39, 4, 40, 41, 42, 44, 45, 46, 47, 48, 49, 5, 50, 52, 55, 56, 57, 58, 6, 60, 61, 62, 7, 8, 83, 87, 9, A21, A51, A60, A77, A780, A81, A93, A95, A96, B29, B37, B43, B53, B59, B77, B91, B92, B94, BR 1, BR 10, BR 2, BR 3, BR 6A, BR 6B, BR4, BR5, M1, M11, M2, M3, M31, M420, M780, M79, M8, M80
Freeways: Calder Freeway, Eastern Freeway, Frankston Freeway, Hume Freeway, Monash Freeway, Princes Freeway, Mornington Peninsula Freeway, South Gippsland Freeway, West Gate Freeway, Western Freeway, Melton Highway
Major Roads: CityLink, Geelong Ring Road, High Street, Bay Road, Wells Road, Heath's Road, Victoria Road, Yarra Street, Hall Road, Boes Road, Mickleham Road
10 Things To Do in Melbourne
Fancy watching a cricket match? How about an African-themed zoo? These are some of the activities you can engage in Melbourne. Whether you want to relax at one of Melbourne's museums or wander Queen Victoria Market, there's plenty to do in Australia's second most populous city.
Melbourne is the most populous city in the state of Victoria and is the second most populous in Australia (after Sydney). Here's a list of the top 10 things to do in Melbourne.
Queen Victoria Market
Melbourne Cricket Ground
National Gallery of Victoria
Melbourne Skydeck
Werribee Open Range
Melbourne Museum
Royal Botanic Gardens Victoria
Scienceworks
Fitzroy Gardens
Shrine of Remembrance
Melbourne Reference Map
Want to find somewhere special to visit in Melbourne? You can try this map of Melbourne neighborhoods to see if we have it. You'll find all the most popular points of interest inside and just on the outskirts of Melbourne.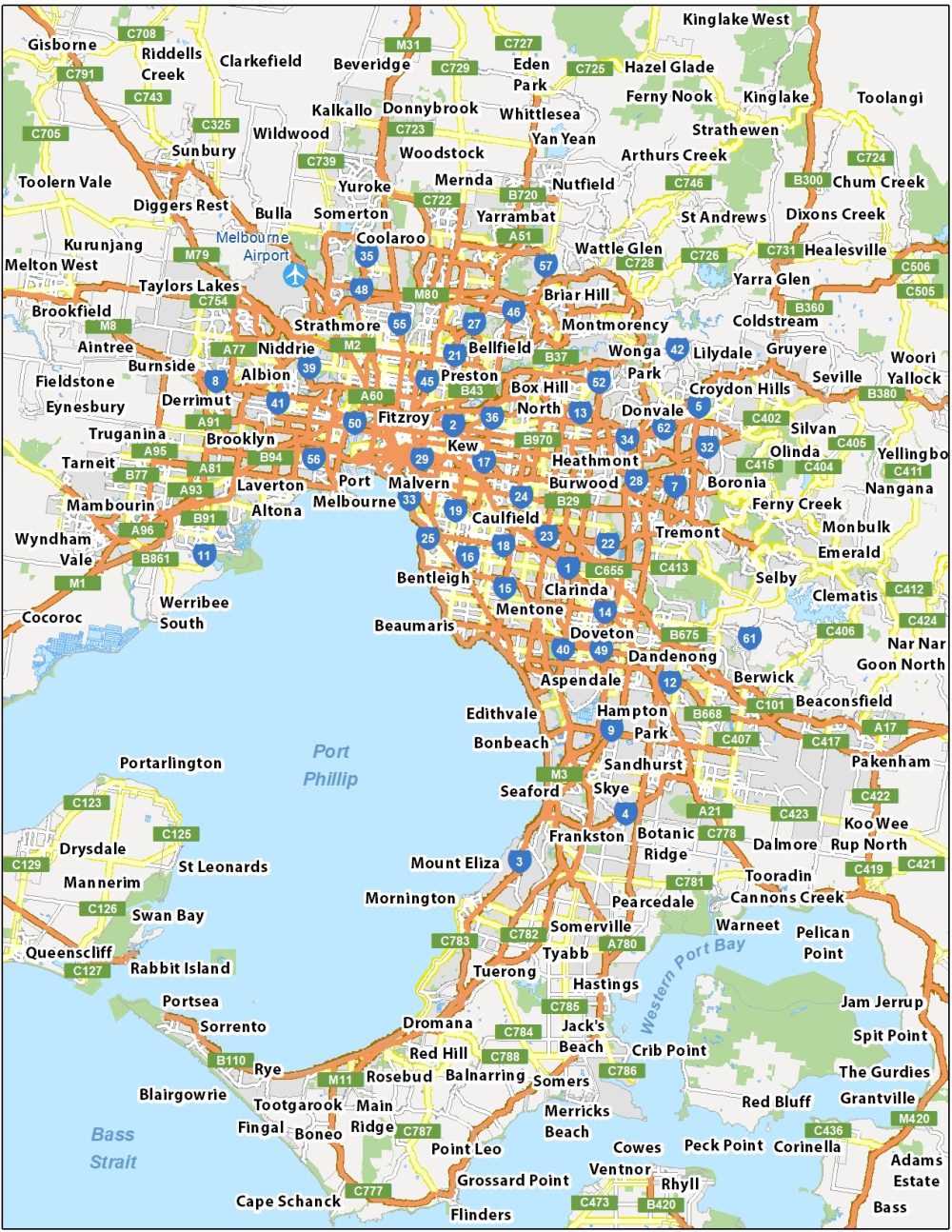 Airports: Melbourne Airport
Water Features: Port Phillip, Western Port Bay, Bass Strait
Communities: Rye, Rosebud, Dromana, Mornington, Frankston, Dandenong, Croydon Hills, Preston, Taylors Lakes, Melton, Sunbury, Mernda, Doncaster, Laverton
Australian city map collection