Map of Sydney, Australia
Sydney, Australia is an ideal travel destination for those looking for a bit of everything. But you'll want to download our map of Sydney before you go.
We've designed 3 free maps to help you plan your trip. Our map collection includes a highway map, interactive map, and neighborhood map.
So be sure to print it out and carry it with you. That way, you can enjoy the perfect visit and take in as much as you can in Sydney, Australia.
Jump To: Interactive Map | Printable Road Map | 10 Things to Do | Reference Map
Sydney map collection
Interactive Map of Sydney
Sydney is a world-class city with a lot of sights to see. From its dramatic coastal scenery to its premier shopping districts, Sydney is a must-see for any traveler. As a major tourist hub, it is easy to get lost in the hustle and bustle of the big city. This interactive map includes all the major attractions, as well as all the latest public transport routes to help get you moving.
Sydney Road Map
Our road map of Sydney shows its transportation system in just a single glance. This includes color-coded highways and major routes to help you identify where you're going. You'll be able to see street names too so you can find any major intersection you want to visit.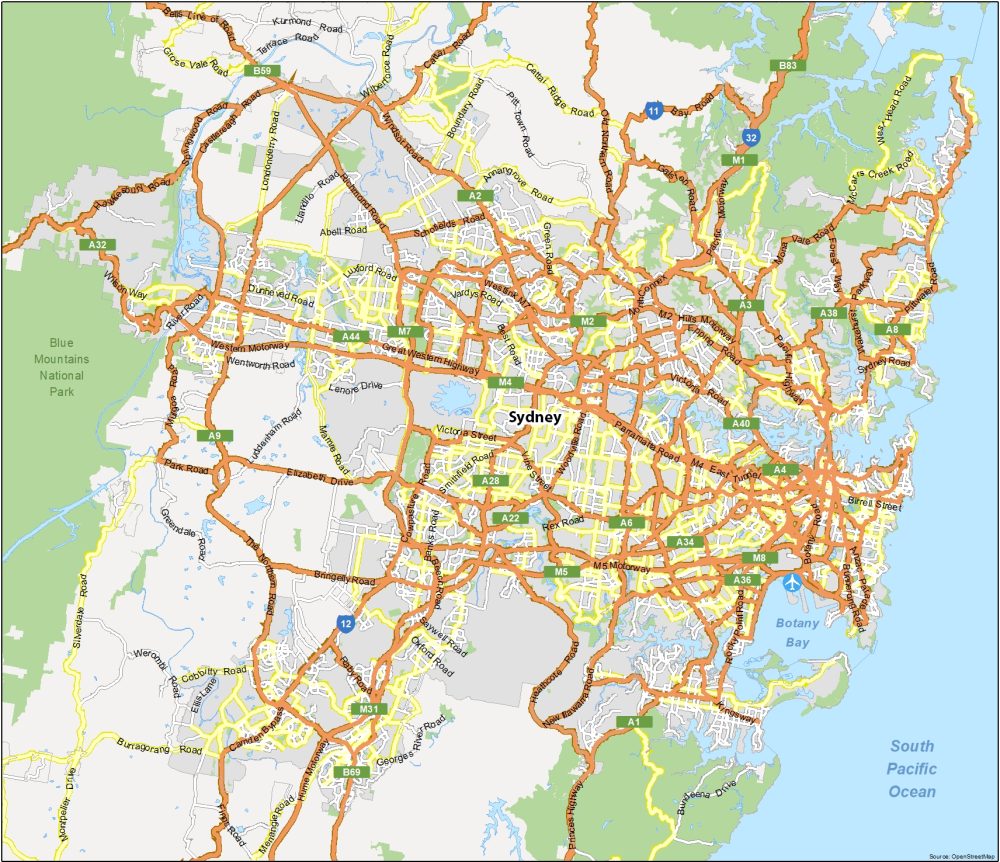 Highways/Motorways: 11, 12, 32, A1, A2, A3, A4, A8, A9, A22, A28, M2, M4, M5, M7, M31
Major Roads: Hume Motorway, Camden Valley Way, Richmond Road, Pacific Highway, Windsor Road, Anzac Parade, Cowpasture Road, Epping Road, Campbelltown Road, NorthConnex, Elizabeth Drive, Heathcote Road, Barrenjoey Road, Kingsway, Wakehurst Parkway, The Horsley Drive, Woodville Road, Hoxton Park Road, Henry Lawson Drive, Camden Bypass, Schofields Road, Botany Road, Quakers Hill Parkway
10 Things To Do in Sydney
With its famous beaches and lively cityscape, there is so much to take in and see in Sydney. Topping our list of attractions is the Sydney Opera House. Not only is its distinct architecture regarded as one of the world's most famous designs, but it's still possible to buy tickets and enjoy a performance of a live opera. Sydney is also filled with many interesting historical sites, such as Hyde Park and Queen Victoria Building. Overall, Sydney is a great place to visit, and with our map, you can easily plan an A+ trip.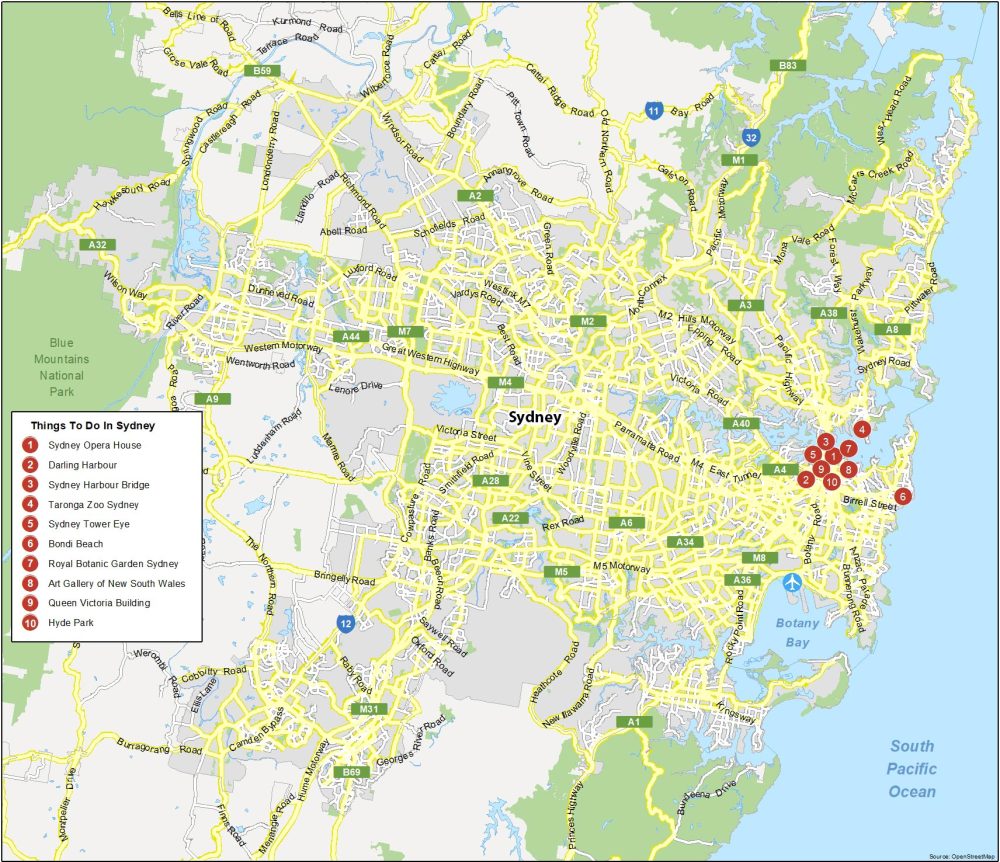 Sydney is the most populous city in Australia and is the capital city of the state of New South Wales. Here are the top 10 attractions that we recommend.
Sydney Opera House
Darling Harbour
Sydney Harbour Bridge
Taronga Zoo Sydney
Sydney Tower Eye
Bondi Beach
Royal Botanic Garden Sydney
Art Gallery of New South Wales
Queen Victoria Building
Hyde Park
Sydney Reference Map
This reference map can help you familiarize yourself with "what" is located "where". We've included any populated place or point of interest on this map without getting too cluttered. It's not limited to only the big city. But you can find what lies outside the city's boundaries for the perfect road trip.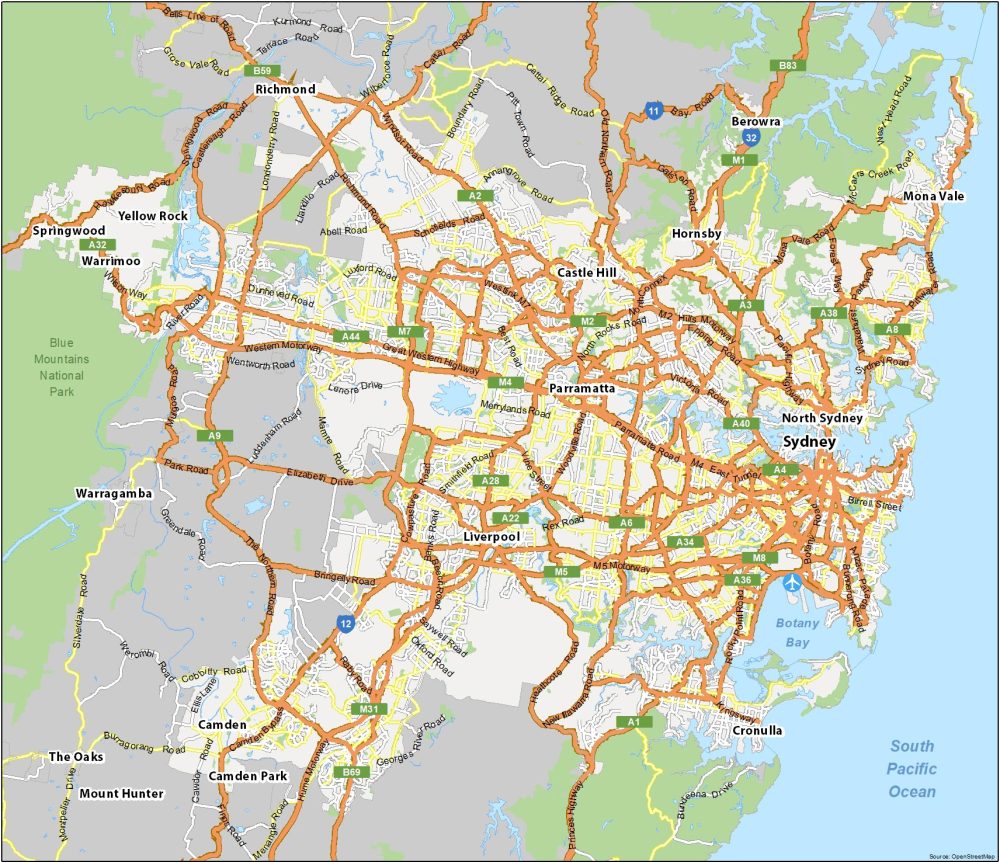 Airports: Sydney International Airport (SYD)
Water Features: South Pacific Ocean, Botany Bay
Communities: Berowra, Blacktown, Blaxland, Bringelly, Brooklyn, Brownlow Hill, Camden, Camden Park, Camden South, Campbelltown, Castle Hill, Chatswood, Cobbitty, Cowan, Cronulla, Faulconbridge, Glenbrook, Hawkesbury Heights, Hornsby, Kurmond, Kurrajong, Lapstone, Liverpool, Luddenham, Manly, Menangle, Miranda, Mona Vale, Mount Druitt, Mount Hunter, Mulgoa, Narellan, North Sydney, Parramatta, Penrith, Richmond, Silverdale, Springwood, The Oaks, Theresa Park, Valley Heights, Warragamba, Warrimoo, Windsor, Yellow Rock
Australian city map collection