Our Cairns map collection displays major highways, roads, populated places, and things to do.
Many people consider Cairns as an entryway to Australia's Great Barrier Reef. But it's much more than that.
The city is a perfect fit for anyone who seeks a relaxed type of lifestyle. Yet it still has the vibrant markets and culture that make it a top travel destination.
Jump To: Interactive Map | Printable Road Map | 10 Things to Do | Reference Map
Cairns map collection
Interactive Map of Cairns
This interactive map can help you find anything you're looking for. It has restaurants, hotels, museums, transit, and things to do. Before you go, make sure to explore everything this interactive map has to offer.
Cairns Road Map
For those in need of a quick, printable map of Cairns, this is it. This map displays highways and major routes, including street names. So if you're looking to navigate around the city, make sure to print it out and keep it in a safe spot.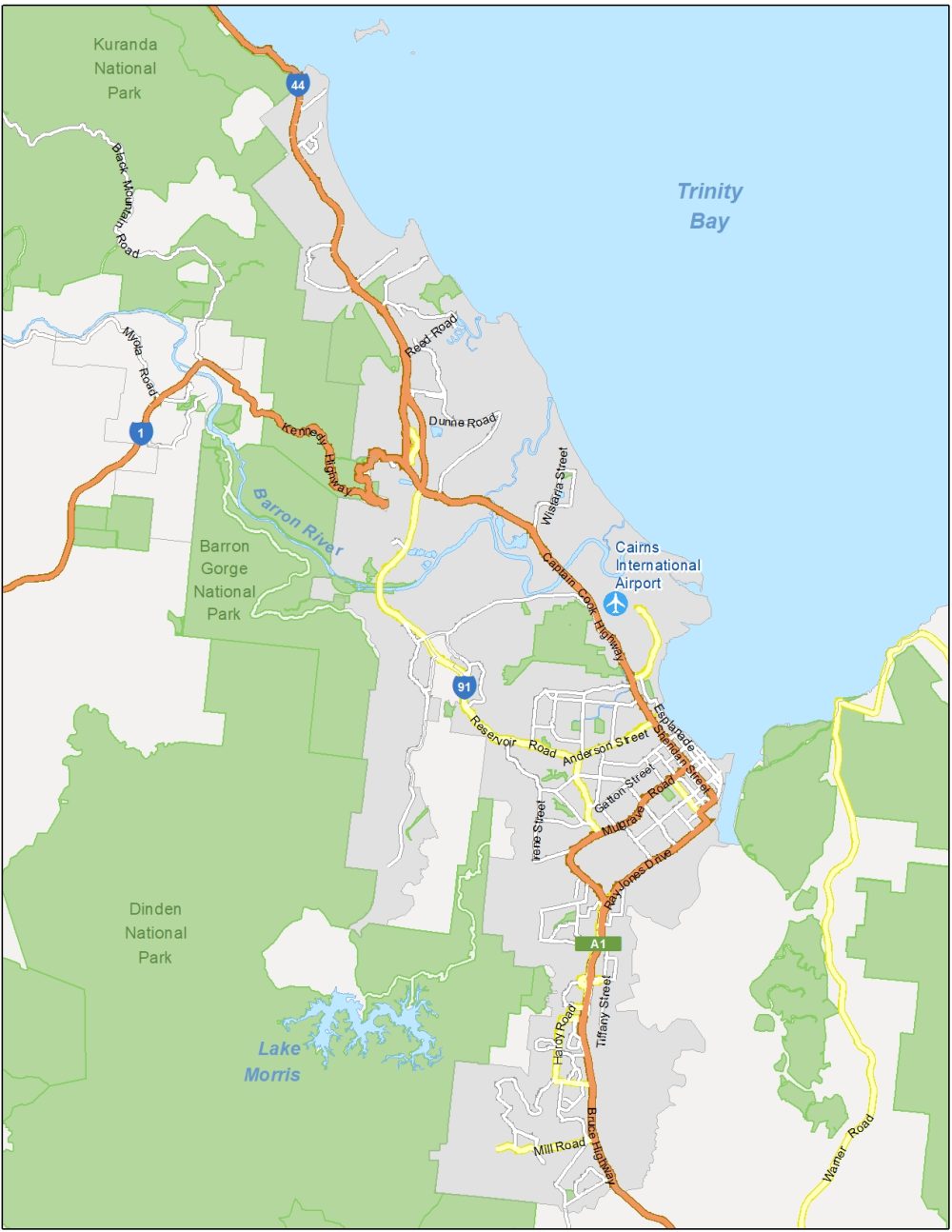 Highways/Motorways: 1, 91, A1, Bruce Highway, Kennedy Highway, Captain Cook Highway
Major Roads: Reservoice Road, Mulgrave Road, Sheridan Street, Hardy Road, Mill Road, Warner Road, Tiffany Street, Galton Street, Dunne Road, Reed Road, Black Mountain Road, Wistaria Street
10 Things To Do in Cairns
For any outdoor adventurer, Cairns is a paradise waiting for you. Our list of things to do is filled with outdoor activities including gardens, beaches, and lagoons. But Cairns is also perfect for that rainy day with busking markets, scenic railways, and a top-notch aquarium.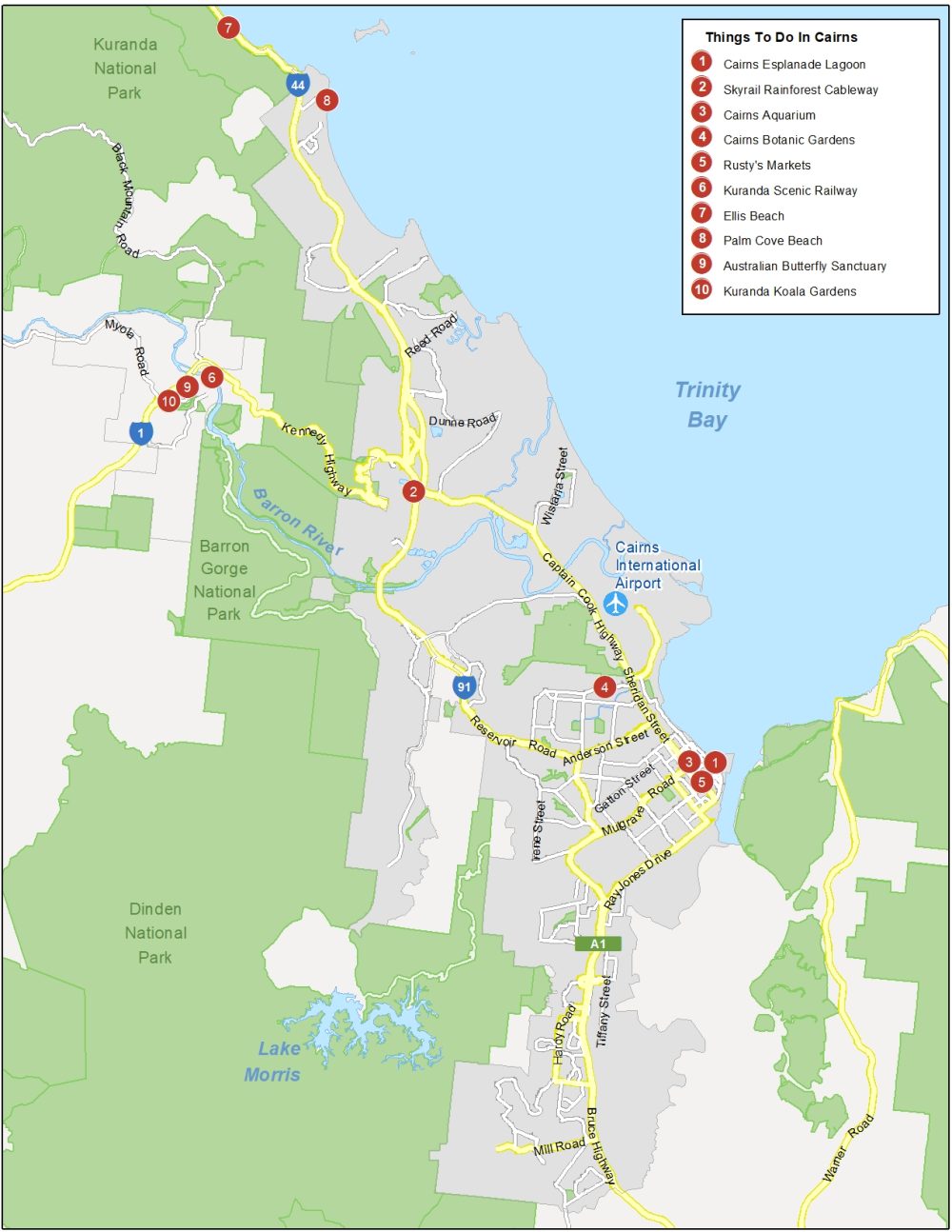 Cairns is one of the biggest tourist cities in Australia. If you're thinking about staying in Cairns, Australia, here's a list of the top 10 things to do.
Cairns Esplanade Lagoon
Skyrail Rainforest Cableway
Cairns Aquarium
Cairns Botanic Gardens
Rusty's Markets
Kuranda Scenic Railway
Ellis Beach
Palm Cove Beach
Australian Butterfly Sanctuary
Kuranda Koala Gardens
Cairns Reference Map
This reference map highlights any area of interest or populated place within Cairns. Use this map to help you get familiar with the city. Learn more about the important neighborhoods and regions of the city of Cairns.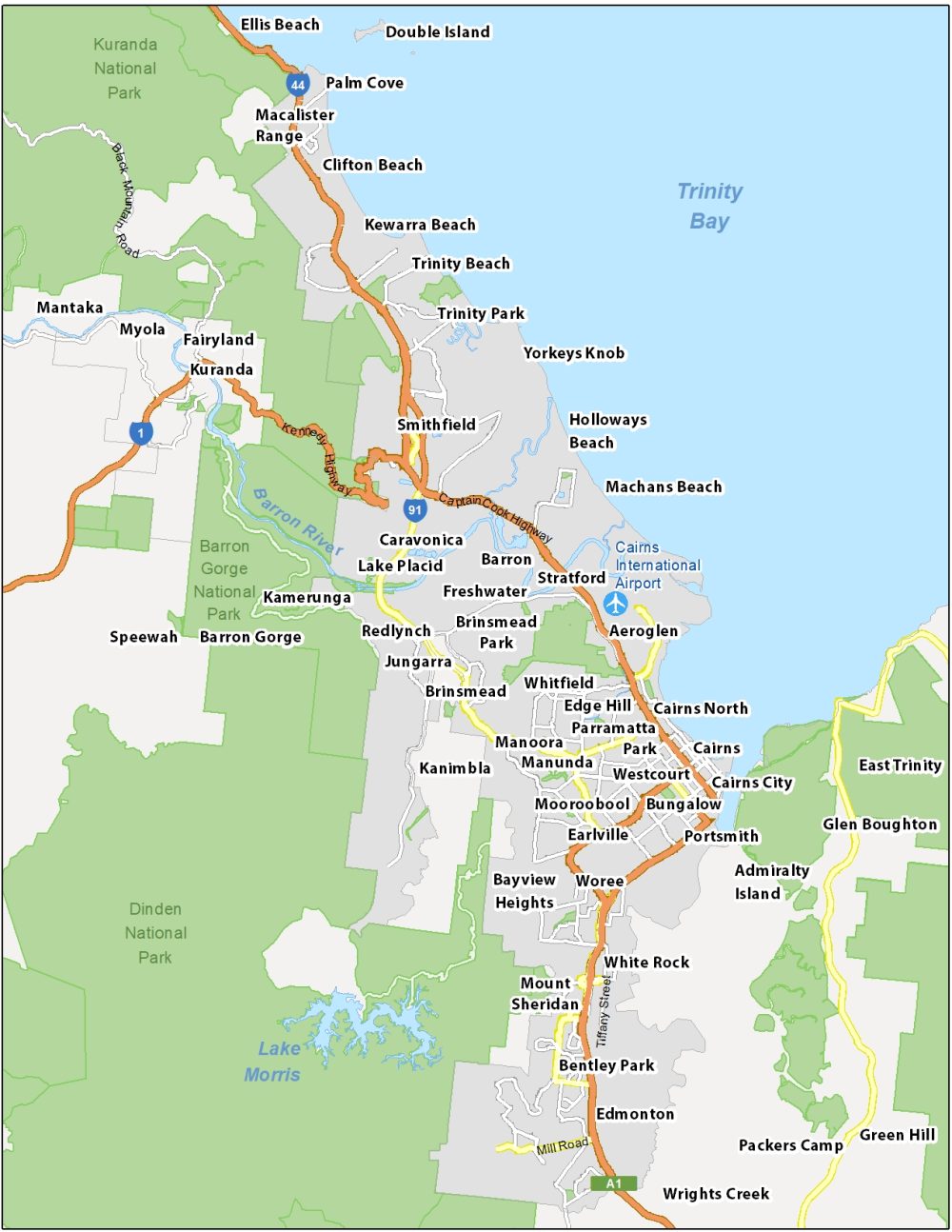 Airports: Cairns International Airport
Water Features: Trinity Bay, Lake Morris, Barron River
Parks: Dinden National Park, Barron Gorge National Park, Kuranda National Park
Communities: Mooroobool, Earlville, Bungalow, Portsmith, Westcourt, Manoora, Manunda, Redlynch, Kanimbla, Kamerunga, Bayview Heights, Kuranda, Myola
Australian city map collection