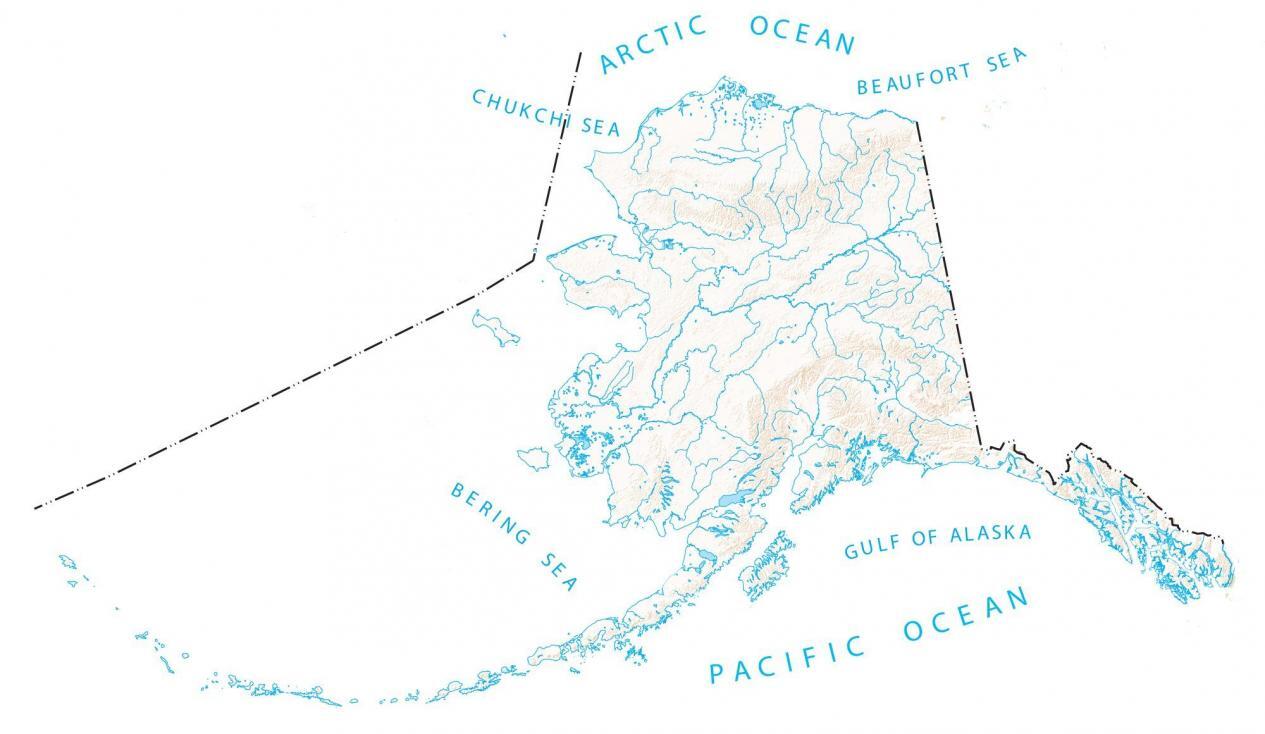 About the map
Rivers and lakes of Alaska flow into the Pacific Ocean and Arctic Ocean. In this map, you will find major rivers, reservoirs and lakes of Alaska. For example, it has the Yukon, Koyukuk and Noatak rivers.
This Alaska lakes and rivers map is from the National Map. You can download and use this map for free and for any purpose.
If you would like the original source of this map, you can download it from the link below. But it contains neighboring territories and surrounding ocean.
Alaska Lakes and Rivers Map – National Map
Alaska map collection





Alaska rivers and lakes map
Oceans, lakes and bays
Arctic Ocean
Pacific Ocean
Bering Sea
Beaufort Sea
Gulf Of Alaska
Chukchi Sea
Iliamna Lake
Bristol Bay
Shelikof Strait
Cook Inlet
Other water features
Prince William Sound
Kotzebue Sound
Norton Sound
Rivers and streams
Yukon River
Kuskokwim River
Koyukuk River
Kobuk River
Noatak River
Colville River
Porcupine River
Dixon River
Tanana River
Susitna River
Copper River
Alaska rivers and streams
| Name | Longitude | Latitude |
| --- | --- | --- |
| Alagnak River | -156.329 | 59.140 |
| Alatna River | -155.055 | 67.779 |
| Allen River | -158.568 | 60.045 |
| Anaktuvuk River | -151.309 | 68.583 |
| Andreafsky River | -161.957 | 63.143 |
| Angle Creek | -155.747 | 58.246 |
| Aniak River | -159.251 | 61.349 |
| Aniakchak River | -157.961 | 56.912 |
| Anvik River | -160.660 | 63.346 |
| Apoon Pass | -163.895 | 62.926 |
| Atchuelinguk River | -161.630 | 62.589 |
| Avalik River | -158.870 | 70.027 |
| Awuna River | -157.280 | 69.181 |
| Beaver Creek | -147.358 | 65.413 |
| Beluga River | -151.216 | 61.241 |
| Big River | -154.678 | 62.122 |
| Birch Creek | -145.526 | 65.299 |
| Black River | -142.556 | 66.409 |
| Buckland River | -160.692 | 65.839 |
| Canning River | -146.400 | 69.783 |
| Chakachatna River | -152.145 | 61.221 |
| Chandalar River | -146.411 | 67.011 |
| Chandler River | -151.913 | 69.085 |
| Charley River | -142.915 | 65.167 |
| Chatanika River | -146.641 | 65.297 |
| Chena River | -147.100 | 64.844 |
| Chilikadrotna River | -154.292 | 60.703 |
| Chilkat River | -135.738 | 59.315 |
| Chistochina River | -144.661 | 62.782 |
| Chitina River | -141.858 | 61.072 |
| Chuilnuk River | -162.550 | 62.081 |
| Chulitna River | -149.044 | 63.285 |
| Coleen River | -142.394 | 68.415 |
| Crooked Creek | -160.065 | 60.326 |
| Delta River | -145.831 | 63.217 |
| Dennison Fork | -142.325 | 63.506 |
| Dishna River | -157.454 | 63.091 |
| East Fork Andreafsky River | -162.154 | 62.596 |
| East Fork Chandalar River | -144.541 | 68.841 |
| East Fork Kuskokwim River | -154.099 | 63.106 |
| Egegik River | -156.982 | 58.139 |
| Emanvicrok Channel | -161.441 | 66.590 |
| Etivluk-Nigu River | -156.241 | 68.266 |
| Firth River | -142.095 | 68.794 |
| Foraker River | -152.168 | 63.795 |
| Fortymile River | -140.765 | 64.370 |
| Gakona River | -145.224 | 62.581 |
| Goodpaster River | -144.553 | 64.527 |
| Grayling Fork | -140.723 | 66.059 |
| Grayling Fork Black River | -141.713 | 66.195 |
| Gulkana River | -145.427 | 62.461 |
| Herron River | -152.262 | 63.617 |
| Hodzana River | -148.919 | 66.727 |
| Hogatza River | -154.163 | 66.644 |
| Hoholitna River | -156.476 | 60.985 |
| Holitna River | -157.758 | 60.969 |
| Hulahula River | -144.542 | 69.389 |
| Huslia River | -156.829 | 65.985 |
| Iditarod River | -158.421 | 62.224 |
| Ikpikpuk River | -154.836 | 69.735 |
| Innoko River | -156.318 | 63.086 |
| Ipewik River | -164.590 | 68.566 |
| Itkillik River | -150.858 | 69.917 |
| Ivishak River | -146.954 | 68.904 |
| Jago River | -143.577 | 69.345 |
| John River | -151.961 | 68.097 |
| Kandik River | -141.741 | 65.533 |
| Kanektok River | -160.428 | 59.896 |
| Kantishna River | -150.598 | 64.291 |
| Kashunuk River | -165.469 | 61.390 |
| Kateel River | -158.583 | 65.386 |
| Ketik River | -159.036 | 69.734 |
| Kigalik River | -156.505 | 69.361 |
| Killik River | -154.818 | 67.913 |
| King Salmon River | -156.693 | 58.283 |
| Kinia River | -164.326 | 60.183 |
| Klutina River | -145.529 | 61.900 |
| Kokolik River | -162.334 | 69.771 |
| Kokwok River | -158.293 | 59.674 |
| Kolavinarak River | -164.511 | 60.490 |
| Kongakut River | -142.398 | 68.960 |
| Koyuk River | -162.851 | 65.431 |
| Kuk River | -159.691 | 70.162 |
| Kukpowruk River | -162.755 | 69.518 |
| Kukpuk River | -164.656 | 68.233 |
| Kuparuk River | -150.220 | 69.599 |
| Kupchuk River | -159.216 | 60.765 |
| Kuzitrin River | -163.632 | 65.444 |
| Kwethluk River | -161.038 | 60.344 |
| Kwikpak Pass | -164.017 | 62.792 |
| Ladue River | -140.922 | 63.272 |
| Maclaren River | -146.720 | 62.936 |
| Marsh Fork | -146.458 | 68.705 |
| Matanuska River | -147.956 | 61.811 |
| Maybe Creek | -153.690 | 69.271 |
| Mckinley River | -151.459 | 63.618 |
| Melozitna River | -153.445 | 65.652 |
| Middle Fork Chandalar River | -147.920 | 67.473 |
| Middle Fork Chena River | -144.948 | 65.083 |
| Middle Fork Chistochina River | -144.662 | 63.018 |
| Middle Fork Gulkana River | -145.892 | 62.917 |
| Middle Fork Koyukuk River | -149.886 | 67.512 |
| Mosquito Fork | -143.537 | 63.979 |
| Muddy River | -151.806 | 64.005 |
| Mulchatna River | -154.202 | 60.771 |
| North Fork Chandalar River | -149.338 | 68.027 |
| North Fork Fortymile River | -142.000 | 64.372 |
| North Fork Huslia River | -157.805 | 65.928 |
| North Ladue River | -140.914 | 63.550 |
| Nabesna River | -142.780 | 62.442 |
| Naknek River | -156.688 | 58.694 |
| Nanushuk River | -150.574 | 68.900 |
| Nation River | -141.536 | 65.351 |
| Nazuruk Channel | -161.070 | 66.793 |
| Nelchina River | -146.732 | 62.008 |
| Nenana River | -148.028 | 63.376 |
| Newhalen River | -154.905 | 59.842 |
| Nizina River | -142.808 | 61.370 |
| Noatak River | -162.435 | 67.932 |
| Nonvianuk River | -155.737 | 59.043 |
| Nowitna River | -155.268 | 63.631 |
| Nushagak River | -156.252 | 60.657 |
| Nuyakuk River | -157.811 | 59.918 |
| Old Crow River | -139.891 | 68.104 |
| Preacher Creek | -145.543 | 65.804 |
| South Fork Buckland River | -159.851 | 65.712 |
| South Fork Fortymile River | -141.767 | 64.127 |
| South Fork Huslia River | -158.503 | 65.551 |
| South Fork Koyukuk River | -150.268 | 67.044 |
| Salcha River | -144.736 | 64.754 |
| Salmon River | -159.736 | 67.336 |
| Salmon Fork | -140.751 | 66.676 |
| Sandy River | -159.696 | 56.095 |
| Selawik River | -159.515 | 66.595 |
| Sheenjek River | -143.659 | 68.951 |
| Shotgun Creek | -157.880 | 60.777 |
| Skwentna River | -152.882 | 61.677 |
| Slana River | -143.902 | 62.951 |
| Slow Fork Kuskokwim River | -153.706 | 63.287 |
| Squirrel River | -161.201 | 67.236 |
| Stony River | -153.795 | 61.310 |
| Susitna River | -147.215 | 62.821 |
| Swift River | -155.227 | 61.526 |
| Swift Fork | -152.745 | 63.336 |
| Takayofo Creek | -155.948 | 58.176 |
| Taku River | -133.711 | 58.556 |
| Talkeetna River | -148.757 | 62.522 |
| Tana River | -142.770 | 61.095 |
| Tazlina River | -145.815 | 62.098 |
| Teklanika River | -149.530 | 64.428 |
| Tetlin River | -142.551 | 63.149 |
| Titaluk River | -156.069 | 69.496 |
| Titnuk Creek | -156.962 | 60.981 |
| Togiak River | -159.578 | 59.731 |
| Tok River | -143.825 | 63.244 |
| Tolovana River | -149.653 | 65.022 |
| Tonclonukna Creek | -153.330 | 63.370 |
| Toolik River | -149.236 | 69.497 |
| Tuksuk Channel | -166.009 | 65.207 |
| Ugashik River | -157.247 | 57.619 |
| Unalakleet River | -159.994 | 63.995 |
| Unuk River | -130.881 | 56.248 |
| Utukok River | -161.802 | 69.947 |
| West Fork Gulkana River | -145.825 | 62.601 |
| West Fork Sustina River | -147.501 | 63.300 |
| West Fork Yentna River | -152.060 | 62.396 |
| White River | -140.847 | 61.771 |
| Wind River | -147.438 | 68.338 |
| Wood River | -147.847 | 63.770 |
| Yentna River | -150.766 | 61.841 |
Alaska lakes and reservoirs
| Name | Latitude | Longitude |
| --- | --- | --- |
| Iliamna Lake | 59.553 | -155.085 |
| Teshekpuk Lake | 70.593 | -153.574 |
| Becharof Lake | 57.918 | -156.394 |
| Dall Lake | 60.312 | -163.738 |
| Naknek Lake | 58.649 | -155.965 |
| Lake Clark | 60.206 | -154.349 |
| Tustumena Lake | 60.184 | -150.872 |
| Inland Lake | 66.473 | -159.848 |
| Lake Nerka | 59.535 | -158.8 |
| Upper Ugashik Lake | 57.676 | -156.695 |
| Nuyakuk Lake | 59.944 | -158.765 |
| Aropuk Lake | 61.154 | -163.777 |
| Lower Ugashik Lake | 57.509 | -156.882 |
| Kukaklek Lake | 59.17 | -155.341 |
| Tazlina Lake | 61.873 | -146.455 |
| Kayigyalik Lake | 61.027 | -162.542 |
| Nunavakpak Lake | 60.803 | -162.626 |
| Nonvianuk Lake | 58.999 | -155.383 |
| Chikuminuk Lake | 60.219 | -158.944 |
| Skilak Lake | 60.423 | -150.351 |
| Nunavakanukakslak Lake | 60.898 | -162.34 |
| Kgun Lake | 61.553 | -163.772 |
| Lake Beverley | 59.659 | -158.729 |
| Iliuk Arm Naknek Lake | 58.525 | -155.553 |
| Takslesluk Lake | 61.073 | -162.873 |
| Imuruk Lake | 65.598 | -163.2 |
| Kegum Kagati Lake | 60.339 | -164.34 |
| Lake Aleknagik | 59.348 | -158.82 |
| Lake Sungovoak | 71.092 | -156.502 |
| Lake Chauekuktuli | 60.04 | -158.861 |
| Nunavakanuk Lake | 62.059 | -164.675 |
| Whitefish Lake | 61.371 | -160.015 |
| Nunavaugaluk Lake | 59.234 | -158.929 |
| Tetlin Lake | 63.092 | -142.753 |
| Lake Minchumina | 63.887 | -152.245 |
| Lake Brooks | 58.505 | -155.92 |
| Klutina Lake | 61.694 | -145.934 |
| Lake Grosvenor | 58.674 | -155.257 |
| Chakachamna Lake | 61.209 | -152.584 |
| Krusenstern Lagoon | 67.147 | -163.626 |
| Lake Louise | 62.328 | -146.545 |
| Nuigalak Lake | 61.523 | -164.66 |
| Arhymot Lake | 61.623 | -160.359 |
| Harlequin Lake | 59.459 | -138.919 |
| Tikchik Lake | 59.954 | -158.325 |
| Nanvaranak Lake | 62.643 | -163.527 |
| Alsek Lake | 59.199 | -138.134 |
| Naluakruk Lake | 70.834 | -153.573 |
| Sinclair Lake | 71 | -154.789 |
| Kenai Lake | 60.409 | -149.553 |
| Puk Palik Lake | 61.038 | -163.251 |
| Lake Tusikvoak | 71.078 | -156.123 |
| Malaspina Lake | 59.803 | -140.134 |
| Walker Lake | 67.124 | -154.374 |
| Telaquana Lake | 60.954 | -153.885 |
| Miles Lake | 60.68 | -144.651 |
| Upnuk Lake | 60.357 | -158.882 |
| Aiautak Lagoon | 68.299 | -166.282 |
| Lake Kulik | 59.783 | -158.778 |
| Eek Lake | 60.502 | -161.729 |
| Beluga Lake | 61.404 | -151.593 |
| Bow Lake | 59.87 | -163.57 |
| Susitna Lake | 62.411 | -146.655 |
| Crosswind Lake | 62.351 | -146.021 |
| Ualik Lake | 59.092 | -159.439 |
| Togiak Lake | 59.627 | -159.612 |
| Black Lake | 56.458 | -158.992 |
| Karluk Lake | 57.366 | -154.05 |
| Amanka Lake | 59.096 | -159.222 |
| Okalik Lake | 70.82 | -153.391 |
| Lake Coville | 58.756 | -155.605 |
| Sikolik Lake | 70.168 | -161.487 |
| Old John Lake | 68.073 | -145.046 |
| Sukok Lake | 71.056 | -156.809 |
| Chandalar Lake | 67.511 | -148.536 |
| Kukaklik Lake | 61.641 | -160.536 |
| Nashak Lake | 61.43 | -164.801 |
| Ewan Lake | 62.426 | -145.79 |
| Kulik Lake | 61.703 | -160.7 |
| Inner Lake George | 61.284 | -148.536 |
| Takrak Lake | 70.234 | -159.109 |
| Devil Mountain Lakes | 66.396 | -164.495 |
| Mother Goose Lake | 57.204 | -157.323 |
| Tuklomarak Lake | 66.445 | -160.077 |
| Kakhonak Lake | 59.49 | -154.207 |
| Imikruk Lagoon | 67.68 | -164.31 |
| Lake Itinik | 70.655 | -158.557 |
| Kolekfikpuk Lake | 60.012 | -163.069 |
| Kilusiktok Lake | 70.972 | -157.059 |
| Twin Lakes | 60.649 | -153.883 |
| Healy Lake | 63.975 | -144.734 |
| Berg Lake | 60.412 | -143.811 |
| Tundra Lake | 61.223 | -155.734 |
| Feniak Lake | 68.249 | -158.314 |
| Vundik Lake | 67.363 | -143.831 |
| Lake George | 63.784 | -144.531 |
| Norutak Lake | 66.8 | -154.316 |
| Bear Lake | 56.002 | -160.231 |
| Nutuvukti Lake | 66.985 | -154.696 |
| Lake Tuvak | 70.705 | -158.413 |
| Kagankaguti Lake | 61.717 | -165.269 |
| Kontrashibuna Lake | 60.176 | -154.033 |
| Lake Narvakrak | 68.002 | -161.731 |
| Evrulivik Lake | 71.026 | -156.674 |
| Tunusiktok Lake | 69.561 | -162.245 |
| Lake Schrader | 69.379 | -144.989 |
| Chignik Lake | 56.267 | -158.848 |
| Sixmile Lake | 63.047 | -158.113 |
| Fish Lake | 65.068 | -151.358 |
| Partway Lake | 61.639 | -163.476 |
| Reindeer Lake | 71.127 | -155.713 |
| Summit Lake | 63.122 | -145.539 |
| Iniakuk Lake | 67.134 | -153.225 |
| Chandler Lake | 68.229 | -152.712 |
| Kingaglia Lake | 61.587 | -163.61 |
| Niglaktak Lake | 66.597 | -159.936 |
| Chelatna Lake | 62.479 | -151.456 |
| Paxson Lake | 62.908 | -145.541 |
| Lake Todatonten | 66.151 | -152.945 |
| Imakruak Lake | 70.776 | -153.989 |
| Crescent Lake | 60.372 | -152.939 |
| Upper Tazimina Lake | 60.044 | -154.132 |
| Sandy Lake | 56.153 | -159.945 |
| Little Lake Clark | 60.412 | -153.695 |
| Pugutak Lake | 69.606 | -162.202 |
| Graphite Lake | 67.063 | -143.431 |
| Frazer Lake | 57.258 | -154.142 |
| Tractor Lake | 70.929 | -157.19 |
| Kinaruk Lake | 60.548 | -164.289 |
| Tonsina Lake | 61.478 | -145.534 |
| Shogvik Lake | 66.656 | -160.088 |
| Two Lakes | 61.124 | -153.799 |
| Kenibuna Lake | 61.168 | -152.92 |
| Ikmakrak Lake | 70.478 | -157.476 |
| Eklutna Lake | 61.376 | -149.051 |
| Van Cleve Lake | 60.702 | -144.375 |
| Turquoise Lake | 60.788 | -153.943 |
| Kisaralik Lake | 60.322 | -159.342 |
| Bering Lake | 60.299 | -144.32 |
| Killeak Lakes | 66.328 | -164.109 |
| Nulvororok Lake | 66.888 | -161.643 |
| Minto Lakes | 64.904 | -148.778 |
| Kimouksik Lake | 71.119 | -156.597 |
| Nishlik Lake | 60.466 | -158.916 |
| Big Lake | 61.617 | -156.855 |
| Kawialik Lake | 61.723 | -165.179 |
| Coghill Lake | 61.094 | -147.819 |
| Willow Lake | 65.69 | -156.067 |
| Wien Lake | 64.352 | -151.298 |
| Kushtaka Lake | 60.381 | -144.115 |
| Lake Selby | 66.87 | -155.682 |
| Ekalgruak Lake | 70.966 | -156.393 |
| Wild Lake | 67.502 | -151.572 |
| Lower Tazimina Lake | 59.994 | -154.487 |
| Ohtig Lake | 66.573 | -143.747 |