Map of Anaheim
Anaheim is home to one of the most famous theme parks in the world – Disneyland! If you plan on going to Anaheim, make use of our Anaheim map collection, which includes a road map, things to do, and an interactive map. All are available to download, including our California map.
When visiting Anaheim, not only will you be able to enjoy its iconic theme park, but there are plenty of other things to do as well. For instance, it offers sports teams like the Anaheim Angels baseball team, Anaheim Ducks hockey team, and UC Irvine basketball games.
Anaheim is also home to hundreds of different restaurants, from local favorites to national chains. But it's also filled with other incredible landmarks and places to visit. With attractions like Downtown Disney, Knotts Berry Farm, and more, it's no wonder why it's so popular as a tourist destination among locals and visitors alike.
Jump To: Interactive Map | Printable Road Map | 10 Things to Do | Reference Map
Anaheim map collection
Interactive Map of Anaheim
Anaheim is the largest city in Orange County, California. It is located near the Pacific coast of Southern California, about 30 miles south of downtown Los Angeles. It has a total population of over 350,000 people, making it the 10th most populated city in California. In this interactive map of Anaheim, you can explore the city to see what businesses are nearby.
Anaheim Road Map
Anaheim is bordered by the City of Fullerton to the north and Santa Ana to the south. To its east are the Sierra Nevada mountains with outdoor activities like camping, hiking, and even snowshoeing. If you are planning a trip to this city, this Anaheim map will provide you with helpful information about the city of Anaheim and its surrounding areas. Finally, make this your go-to road guide, along with our California road map.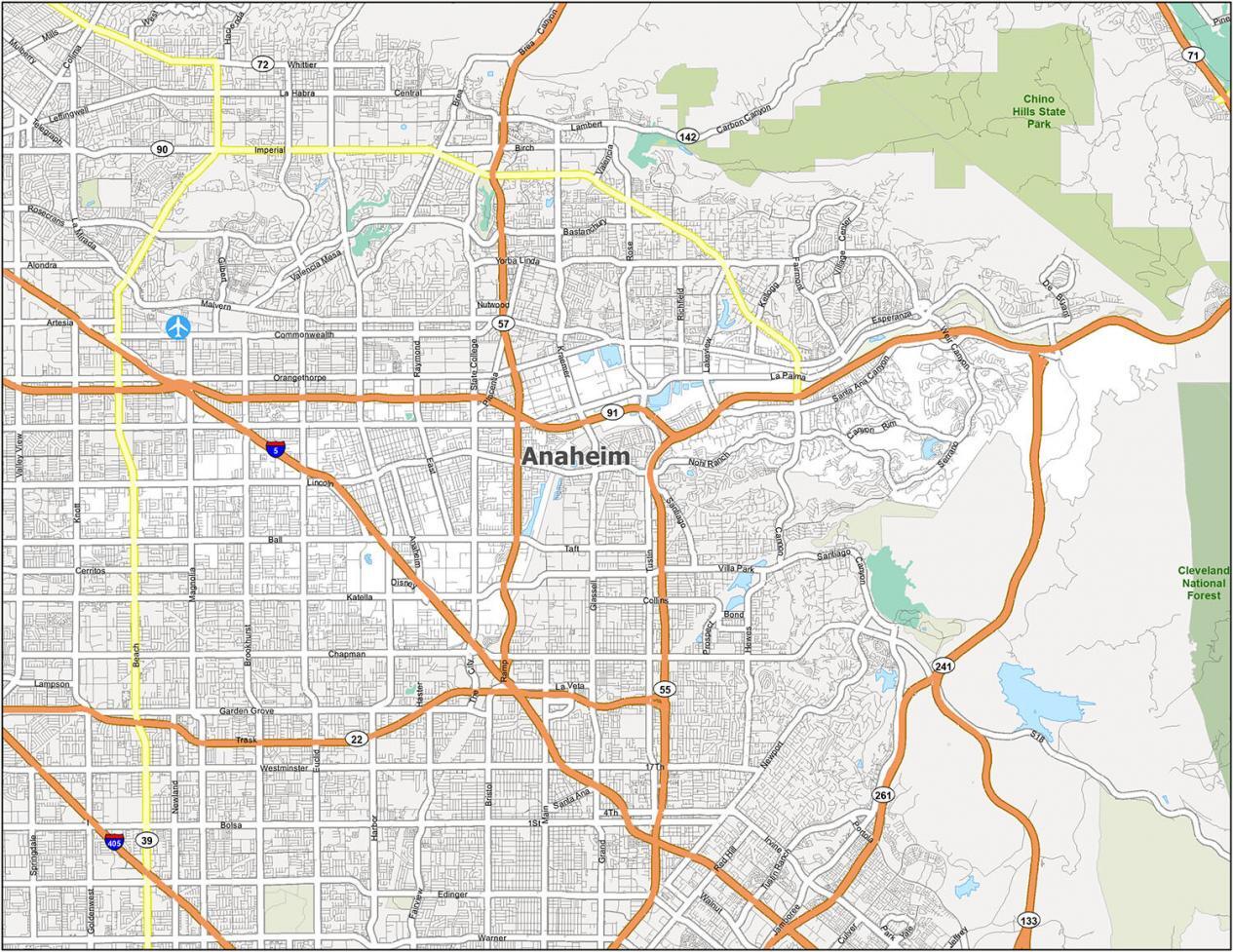 Interstate Highways: 5
State Highways: 22, 39, 55, 57, 72, 91, 241
Major Roads: Anaheim Blvd, Beach Blvd, Brookhurst St, Chapman Ave, Disney Way, Euclid St, Harbor Blvd, Haster St, Imperial Hwy, Katella Ave, La Palma Ave, Lincoln Ave, Manchester Ave, Orangethorpe Ave, Tustin Ave
Roads: Ball Rd, Canyon Rim Rd, Cerritos Ave, Chapman Ave, Disneyland Dr, East St, Fairmont Blvd, Glassell St, Gypsum Canyon Rd, Knott St, Kraemer Blvd, La Palma Ave, Lakeview Ave, Magnolia Ave, Manchester Ave, Nohl Ranch Rd, Orangethorpe Ave, Placentia Ave, Raymond Ave, Richfield Rd, Santa Ana Canyon Rd, Serrano Ave, State College Blvd, Weir Canyon Blvd, Yorba Linda Blvd
10 Things To Do in Anaheim
Although Anaheim is best known for Disneyland, it also has a wide range of entertainment opportunities, including shopping and dining in the Downtown Disney District. Plus, there are also a lot of restaurants in Anaheim that make this city a great place to dine out. The city also has an abundance of sports teams that offer a plethora of activities for residents to cheer for.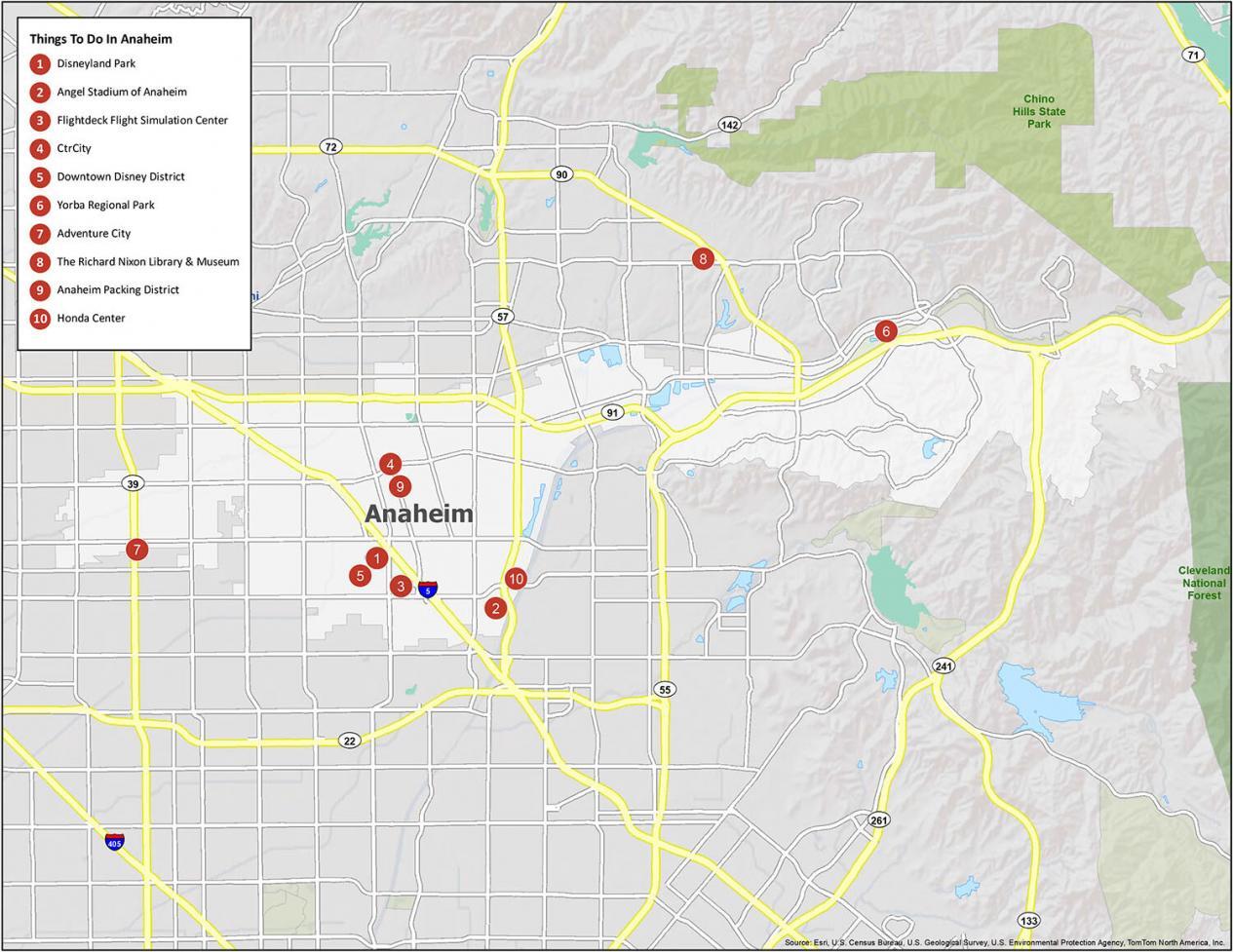 Anaheim is one of the most popular cities to visit in California! If you plan to visit, here are recommended sites to visit:
1. Disneyland Park
2. Angel Stadium of Anaheim
3. Flightdeck Flight Simulation Center
4. CtrCity
5. Downtown Disney District
6. Yorba Regional Park
7. Adventure City
8. The Richard Nixon Library & Museum
9. Anaheim Packing District
10. Honda Center
Anaheim California Map
Anaheim, California is a city of diverse neighborhoods and cultures. So whether you're visiting or moving here, be sure to use our Anaheim map when you need some information on this California hub. Plus, there are museums and cultural institutions for those who like to explore different cultures or spend time with family members from other countries.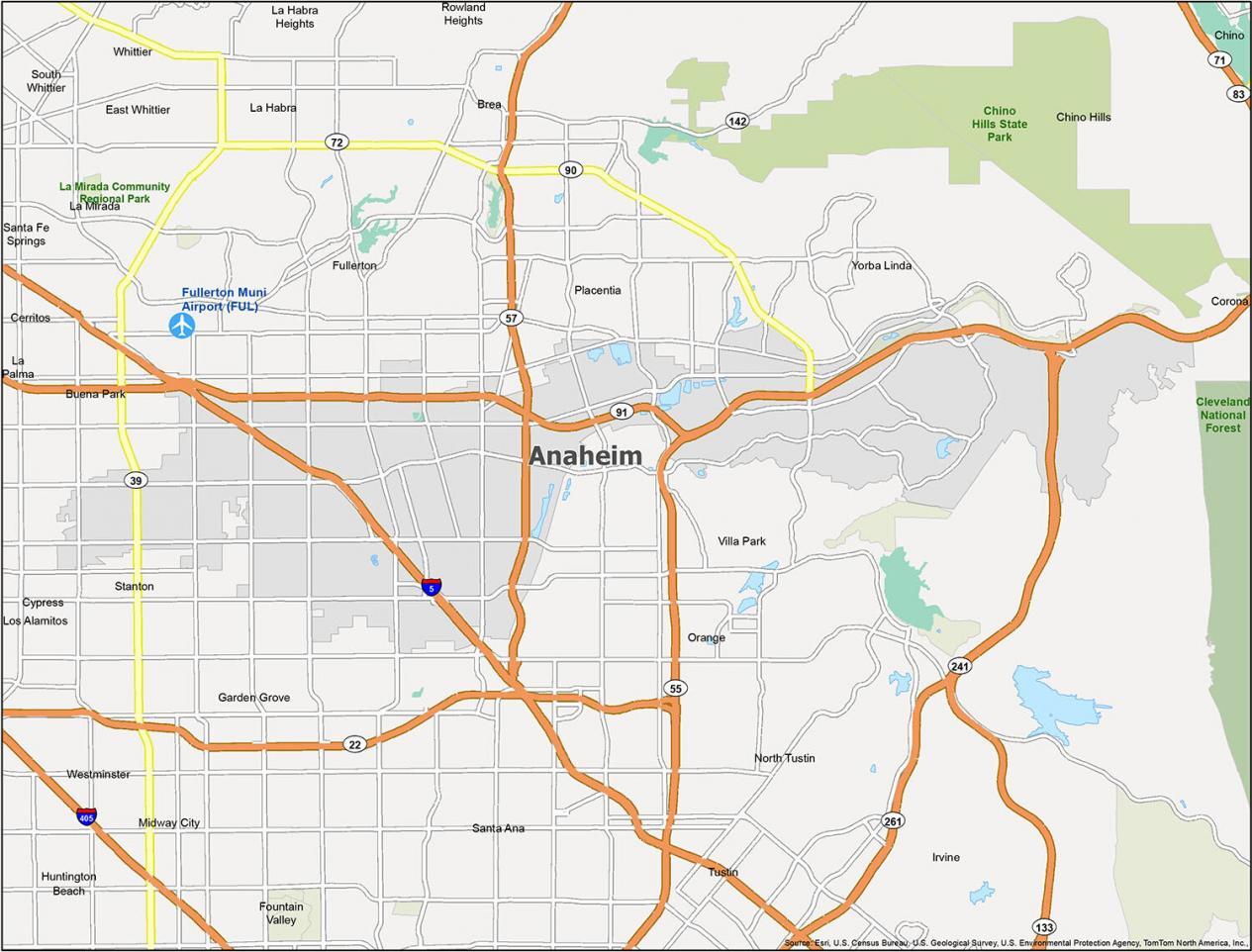 Census Designated Place (CDP): East Whittier, Midway City, North Tustin, Rowland Heights, South Whittier
City: Anaheim, Brea, Buena Park, Cerritos, Chino, Chino Hills, Corona, Cypress, Fountain Valley, Fullerton, Garden Grove, Huntington Beach, Irvine, La Habra, La Habra Heights, La Mirada, La Palma, Los Alamitos, Orange, Placentia, Santa Ana, Santa Fe Springs, Stanton, Tustin, Villa Park, Westminster, Whittier, Yorba Linda
California map collection