Maps for the Dead: A List of the Best Halloween Maps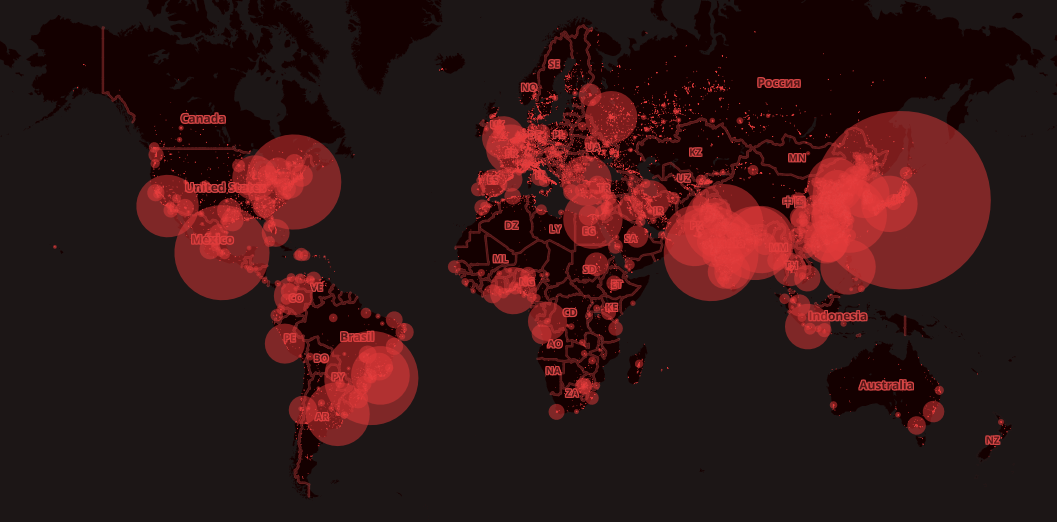 Halloween Maps to Get You in the Spirit of Halloween
The origin of Halloween is fascinating.
Halloween originated as an Irish tradition. The Irish would carve turnips to scare bad spirits away. Eventually, pumpkins were carved like lanterns because pumpkins were plentiful in the United States.
When you think of it:
Different cultures have similar traditions.
In Japan on O-bon, the Japanese used lanterns to lure ancestors to them (instead of scaring them away).
In Mexico on the Day of the Dead, people honor the deceased. The skull parade masks or dolls represent the dead – portrayed as enjoying life.
No matter where you're from, almost all cultures recognize spirits aka the dead. So we bring these 5 Halloween maps for the dead to get you in the spirit of Halloween.
1. The Geography of Horror: Horror Films Mapped Out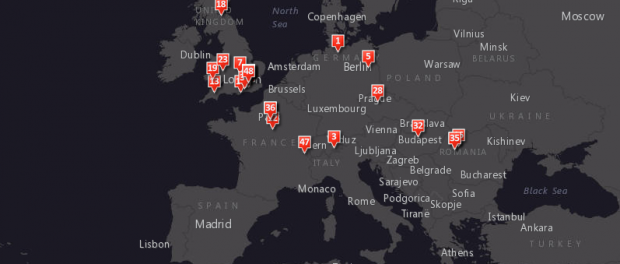 I jumped out of my seat when Leatherface chainsawed out of the closet in the Texas Chainsaw Massacre. The chainsaw brattling still gives me chills.
Why do people watch horror movies? It's the adrenaline rush. When you watch a horror movie, you can face your fears without any consequences.
Dracula was a horror movie classic… So was Godzilla at one time.
All the BEST Halloween horror classics since the dawn of time are put on Esri's Geography of Horror map.
It guides you through the locations of the top-rated horror movies and where they took place. From Tokyo to Los Angeles, your favorite kill-count kings (or queens) are mapped.
Who knew Asian horror films exploded in popularity from the years 2000 to 2010?
Who knew that out of the top 200 classic horror movies, only one took place in South America. That movie was the Creature From the Black Lagoon in the Amazon rainforest.
What was the one horror movie that took place in Antarctica? The shape-shifting alien from the Thing wreaked havoc on a team of scientists at Amundsen-Scott South Pole Station in Antarctica.
Because you don't really understand your data until you put it on a map.
2. The Halloween Themed Map
Only in this Mapbox Halloween Map can you find water the color of blood orange with the creepiest font available on the internet.
The spooky adjectives at the front of place names are a nice touch. Eerie Minneapolis. Spooky Chicago. Haunted Colombia.
Out of all the Halloween maps, this map is the best-themed one:
Scroll, pan, zoom like there's no tomorrow…
Because this map knows only one thing – and that's Halloween.
24-7.
365 days a year.
This Halloween map is no tricks. And all treat.
3. A Halloween Cemetery Map: Where are the Bodies?
Where are the dead celebrities buried?
Esri's Halloween Cemetery Map allows you to tour cemeteries of some of the most famous actors, writers, musicians, and authors that walked the planet.
Unearthing celebrity burial sites including John Wilkes Booth, Bonnie and Clyde, James Dean, John Lennon, William Shakespeare, and Frank Sinatra.
It's the geography of celebrity cemeteries.
Select or search for a celebrity.
The story map pinpoints their cemetery somewhere on Earth.
A neat tool.
And one of a kind.
4. Map of the Dead: Zombie Apocalypse Map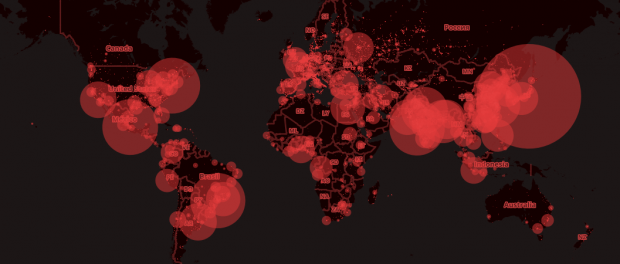 So… you're worried about a zombie apocalypse, are you?
With the Map of the Dead by your side, you don't have to sweat anything.
It helps you find places that are likely to have resources to help survive a zombie apocalypse.
Type in a city, address, or postal code.
Using the keymap as your reference, you can find pharmacies (for antibiotics or morphine), hardware stores (to build your own weapons), and other resources to survive the attack. The place list menu gives you the exact name of each zombie survival resource.
You've never been so prepared to survive a zombie attack in your life.
**This web map has been taken down due to changes in Google Maps API pricing**
5. Yarr, Pirate Maps
Yer not still usin' them Google Maps arr ye?
Why ye scurvy dogs be doin' that?
Because everything is really piratey in Yarr, Pirate Maps.
All embedded in a pirate scroll, this map carves out features in a pirate theme. Halloween maps like this show how different Google Maps can be to the user.
It's like Long John Silver meets Google Maps.
Next time you're in the ocean, give the Pirate map a test run:
Because we all know that pirates know directions in the ocean like no other.
Getting You in the Spirit with 5 Halloween Maps
If you're not in the spirit with these Halloween maps yet – we hope you've at least received some mapping inspiration.
Zombies, pirates, cemeteries, horror films…
Halloween is creeping up.
And these 5 maps topped the list of Halloween maps. But none made our epic list of maps.
But did we miss anything?
Let us know your favorite Halloween maps below.