Map of Cleveland
This Cleveland map collection features a road map, reference map, and things to do. But if you really want to get yourself familiarized with the Cleveland area, take a look at our interactive map.
Cleveland has provided some of the country's most iconic landmarks. It's home to the Rock and Roll Hall of Fame, a Christmas Story's House, and many other hidden gems.
As the second-largest city in Ohio, Cleveland has so much to see and do so this map will help you find everything. This map collection is a great way to get a sense of what you'll experience during your stay in Cleveland.
Jump To: Interactive Map | Printable Road Map | 10 Things to Do | Reference Map
Cleveland map collection
Interactive Map of Cleveland
With this map, you can locate everything that you need in the Cleveland area. Whether you are a tourist, a resident, or just want to enjoy Cleveland's cultural and historical sites, this map has you covered. This interactive map includes the best attractions, restaurants, and other important points of interest in Cleveland. Get the inside scoop on the best things to do, where to stay, and where to eat with the map below.
Cleveland Road Map
Whether you're visiting the city for the first time or you're an avid traveler, this map is perfect for you. It displays everything from interstates (like I-71, I-77, and I-90) highways, and major roads. It's all conveniently available in one printable road map of the city. So when you navigate your way around the streets, this road map helps you find your way around and never get lost. Or if you want to explore outside the city, use our Ohio road map.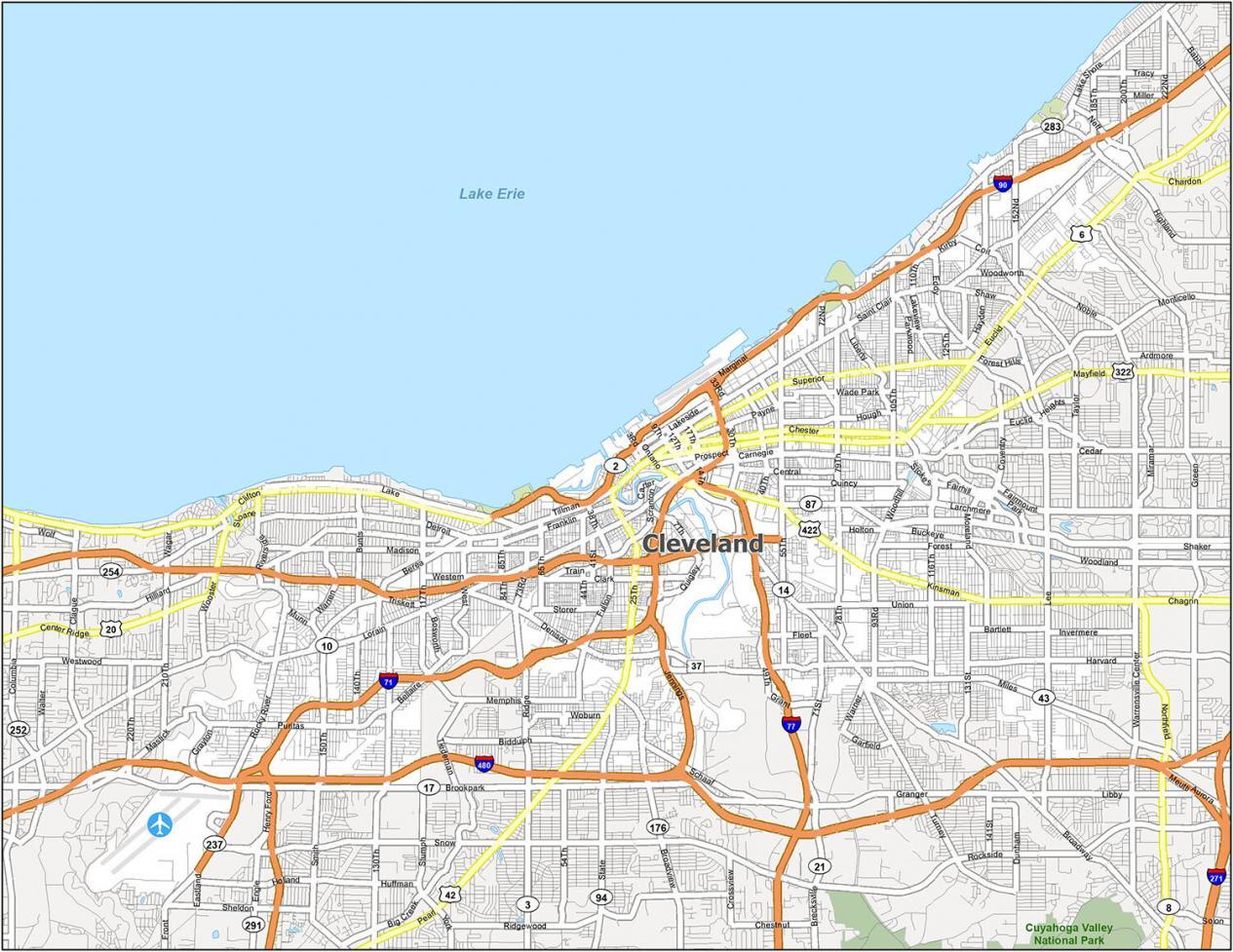 Interstate Highways: I-71, I-77, I-90, I-480, I-490
US Highways: 2, 6, 10, 14, 17, 20, 37, 42, 87, 94, 176, 237, 322, 422, Jennings Fwy
Major Roads: 100th St, 13th St, 18th St, 25th St, 26th St, 30th St, 55th St, Access Rd, Broadview Rd, Broadway Ave, Brookpark Rd, Buckeye Rd, Carnegie Ave, Chester Ave, Clark Ave, Clifton Blvd, Detroit Ave, Euclid Ave, Grayton Rd, Henritze Ave, Kinsman Rd, Lake Shore Blvd, Liberty Blvd, Lorain Ave, Marginal Dr, Mayfield Rd, Miles Ave, Ontario St, Pearl Rd, Public Sq, Riverside Dr, Rockefeller Ave, Rocky River Dr, Saint Clair Ave, Shaker Blvd, State Rd, Superior Ave, West Blvd, Western Ave, Woodhill Rd, Woodland Rd
10 Things To Do in Cleveland
Explore Cleveland, Ohio with this map that includes everything from the best local attractions to the top sporting venues. Located on the southern shore of Lake Erie, the city is renowned for its cultural heritage, municipal music institutions, and sports teams. Cleveland is also host to a number of large sporting teams, such as the Browns (football), Indians (baseball), and the Cavaliers (basketball).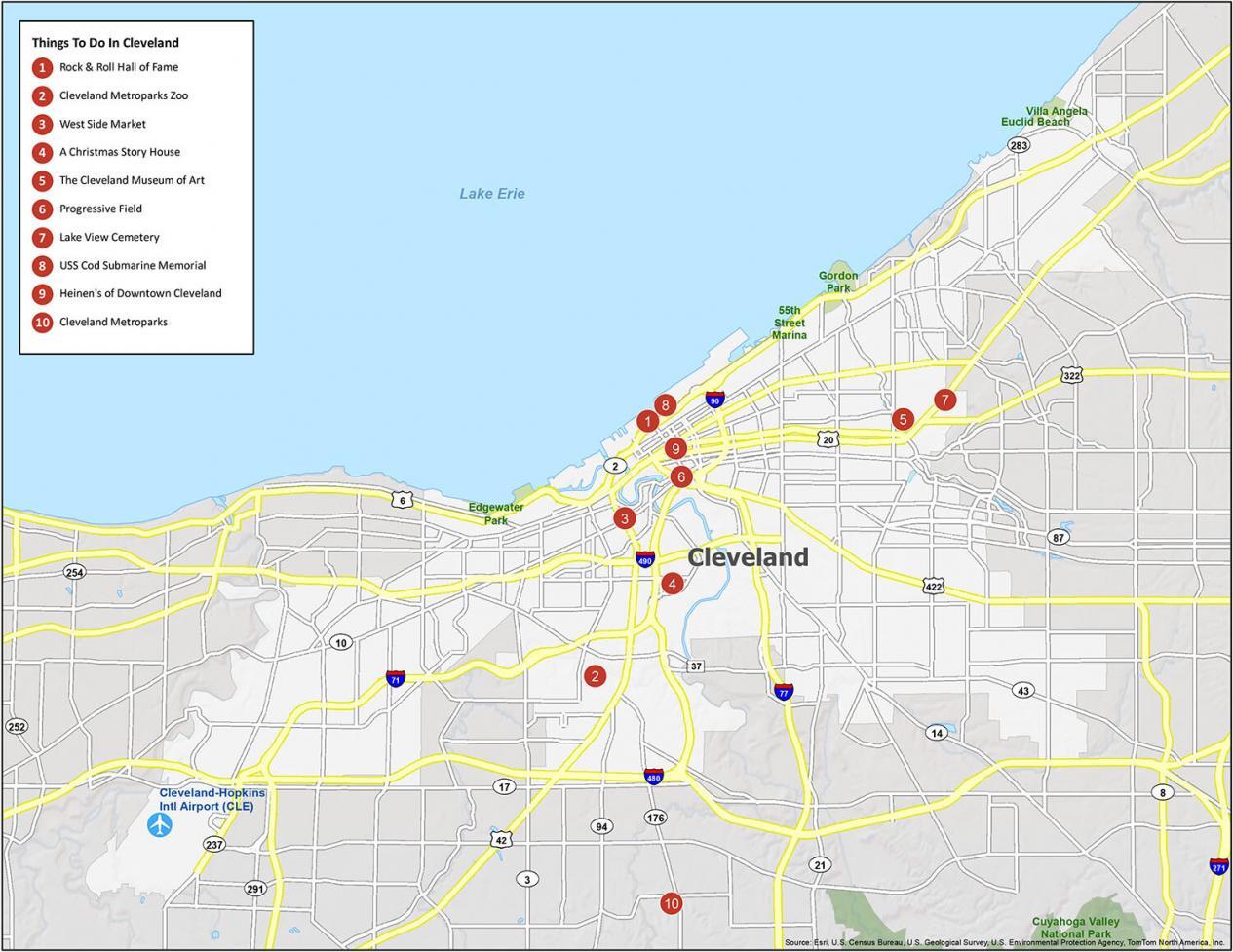 Cleveland has something for everyone. Check out our map with things to do for a list of travel recommendations for Cleveland, Ohio. And it all kicks off with Cleveland's very own Rock & Roll Hall of Fame.
Rock & Roll Hall of Fame
Cleveland Metroparks Zoo
West Side Market
A Christmas Story House
The Cleveland Museum of Art
Progressive Field
Lake View Cemetery
USS Cod Submarine Memorial
Heinen's of Downtown Cleveland
Cleveland Metroparks
Cleveland Reference Map
Get the most out of your trip to Cleveland with this comprehensive map. The city's metro area has 375,000 people, making it the 2nd most populous in Ohio. This makes it smaller than Columbus, but larger than Cincinnati. Our map provides a bird's eye view of the city, so you can see everything from its parks, surrounding places, and neighborhoods.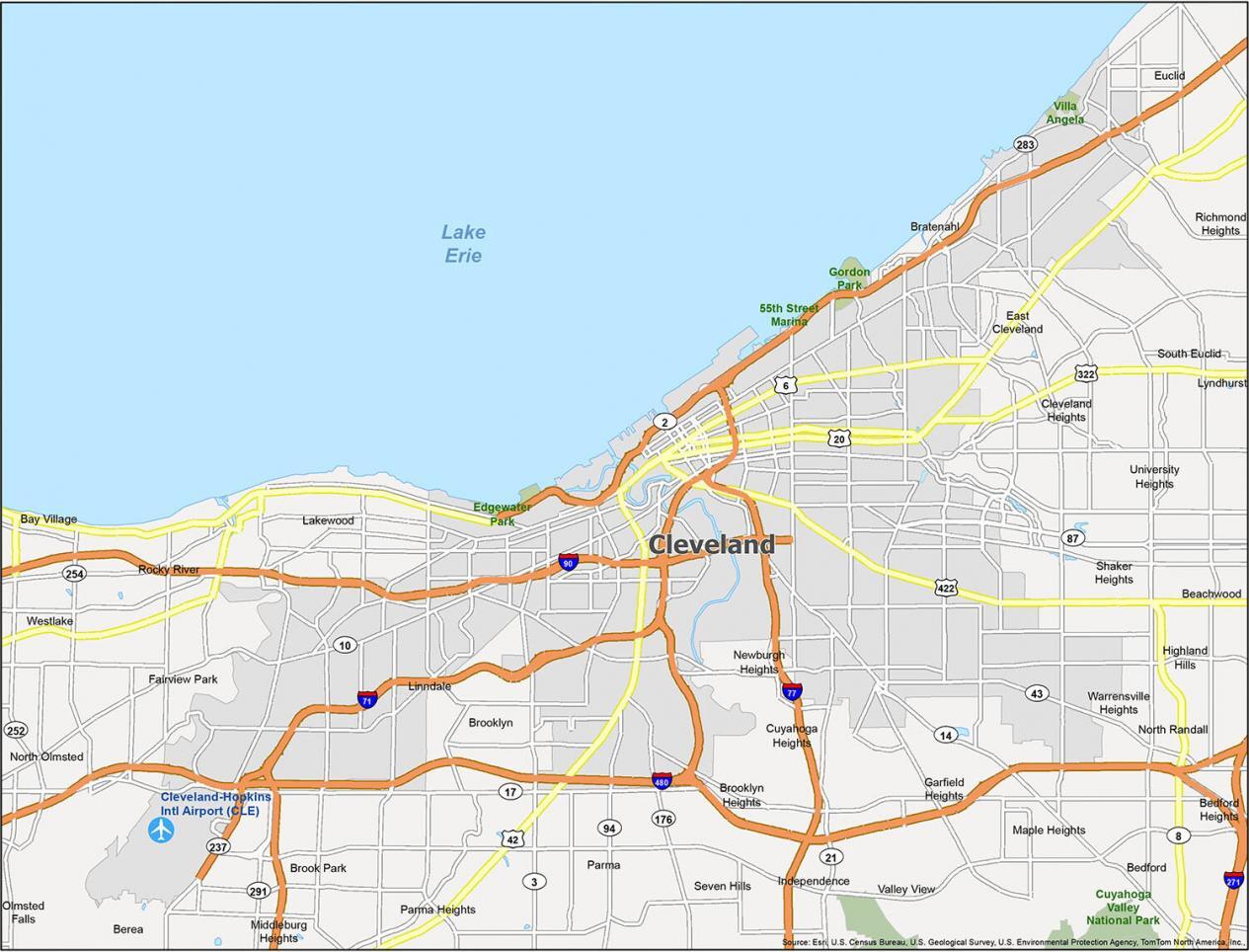 Airport: Cleveland-Hopkins International Airport (CLE)
Cities: Bay Village, Beachwood, Bedford, Bedford Heights, Berea, Brook Park, Brooklyn, Cleveland, Cleveland Heights, East Cleveland, Euclid, Fairview Park, Garfield Heights, Independence, Lakewood, Lyndhurst, Maple Heights, Middleburg Heights, North Olmsted, Olmsted Falls, Parma, Parma Heights, Richmond Heights, Rocky River, Seven Hills, Shaker Heights, South Euclid, University Heights, Warrensville Heights, Westlake
Villages: Bratenahl, Brooklyn Heights, Cuyahoga Heights, Highland Hills, Linndale, Newburgh Heights, North Randall, Valley View, Walton Hills